Looking for fun activities for children who love cooking and baking?
We got you!
This free printable chef craft template is the ideal activity to improve your child's fine motor skills, concentration, imagination and creativity.
This simple printable chef craft template would be great to use as coloring worksheets, stencils, crafts, room décor and more.
If your young kids are studying the alphabet, include this free printable chef craft template to learn the /C/ sound, as well as writing the letters.
Finished working on this little chef craft pattern?
Let's move on to more printable templates! Check out these lists of easy cut-and-paste crafts that begins with the letter C:
This cute printable chef craft template has a step-by-step directions and tutorial video that's easy to follow for the little crafters. 


Need more crafty fun? Check out our Firefighter, Farmer and Construction Worker craft.
 T
hey are perfect for those days when staying indoors is the only thing your family can do!
*By the way, this post may contain affiliate links which means I may receive a small commission at no additional cost to you if an item is purchase through that link. For more information, click here.*
Free Printable Cut and Paste Chef Craft
Ideas for Easy Preschool Paper Chef Craft
We list down all the amazing ideas on how to maximize the use of this free printable chef craft template.
1. Great Cookbooks for Kids
Let your kids enjoy the process of making this easy cut-and-paste chef craft.
Once they are finished, use the chef craft as you read books about chef, cooking or baking.
Regular reading to your preschoolers helps them to communicate well, brain development, improves literacy skills and bond with them.
2. Count and Cook with your Kids
If you are planning to teach your preschooler the basic math, be sure to include this simple printable chef paper craft template in your next lessons.
Print as many as you need, encourage your child to count the finished chef craft templates afterwards.
Did you know that you can also teach your kids to count through cooking or baking?
My kids and I often bond in the kitchen as we bake cookies and cupcakes.
We love to pair this hobby with educational learning.
We let the children count the cookies and cupcakes we made before offering it to our family, friends and neighbors.
It's a great opportunity to introduce addition and subtraction to young kids.

3. Community Helper Puppets
Support your little one's imagination using our free printable community helper crafts, whether they like to be a nurse, dentist, firefighter, police officer, veterinarian or any profession.
Create many community helper puppets including this free printable chef craft template.
We came up with two options on making a cute puppet character!
You can either glue the finished chef craft on a small paper lunch bag or glue a popsicle stick at the back of the chef craft.
It's time to motivate our kids to make a dialogue or short story while using the simple printable chef craft template in a chef dramatic play or puppet show.
4. Fun Bonding Time!
Becoming a chef or baker sounds awesome because you can make and discover new recipes which you share with others.
Grab all the common craft items and sit down with your preschooler as you color, cut and paste the craft patterns together.
We usually use these adorable crafts as part of our DIY greeting cards.
Once your child is satisfied with the outcome of their little chef craft, glue it on a folded construction paper.
Let your preschool or kindergarten kids express themselves by writing a message to the receiver.
Glitters, sequins and ribbons are always a nice addition to these thoughtful cards.
If you desire for more designs on your greeting cards, we highly recommend these:
There are a lot of great ideas in making these free printable cut-and-paste chef craft worksheets with your little learners.
We are happy to be part of your preschool lesson plan and craft activities!


Chef Craft Supplies Needed
Keep scrolling to get your very own chef craft today and start with your little ones and their community helper craft buddies today!
Chef Craft Instructions
Let your child choose which free printable chef craft template they want to make first.
Then, download and print it on a white sheet of paper.
Have your preschooler work on their scissor skills by cutting out the chef craft into individual pieces.
Get your glue stick and start attaching the chef's upper and lower body together.
Next, glue the arms on each side of the body.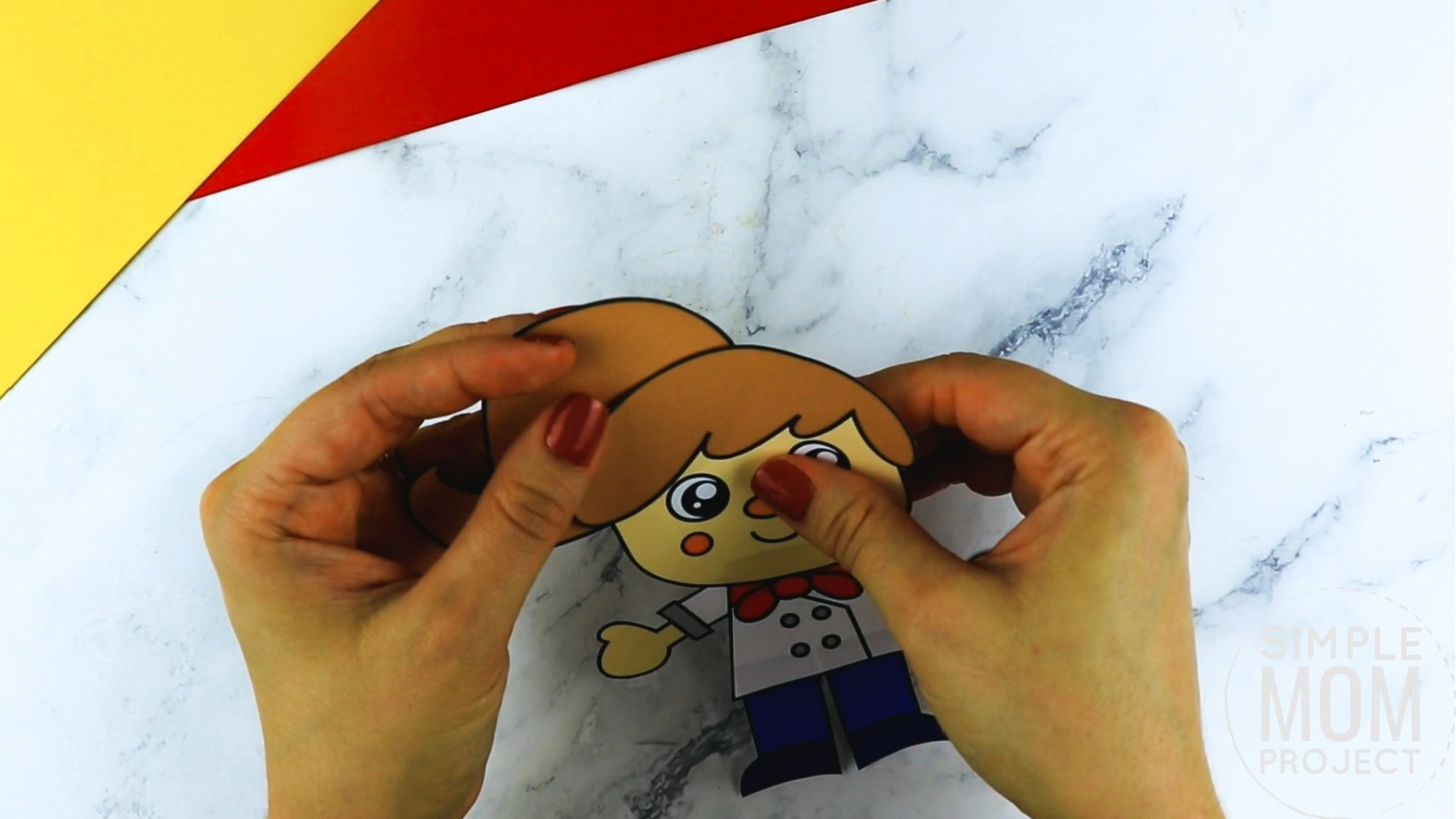 Glue the head and her beautiful hair.
Don't forget to attach the chef hat and your little cute chef is complete.
This cut-and-paste chef craft is really easy and quick to make!
More Options to Choose:
You can print the blank version and trace the cut outs on card stock paper for a sturdier chef craft,
Print the chef template in color for a simple and easy rainy day craft or,
Print the blank chef template and use it as a fun coloring sheet activity and then glue the pieces of the chef craft together.
Free Printable Chef Craft Template
In these printable templates, you can download all the three pdf files!
A black and white drawing where your child can fill in with the most amazing colors.
Two colored pages of chef drawing if your child likes to proceed in cutting and gluing the pieces together.
Don't forget to share your learning plans in the comments.
Need more community helper fun? Check out our packed list of community helpers for simple craft fun with your little ones.  
When you have finished, be sure to share your creation on Simple Mom Project's Facebook Page and follow me on Pinterest!

Kaitlen D.
More Fun Community Helper Crafts