We love spring time! It's the perfect time to fill our home and garden with beautiful flowers. Nothing brings more joy than watching our kids grow their own flowers and plants
Our printable flower craft templates are ideal for keeping toddlers and preschoolers busy even after gardening. Making these simple printable flower stencil helps children practice their fine motor skills and use recycled materials to create simple flower crafts.
Flower Cut and Paste Crafts for Kids
Use the flower cut out template for coloring, stencils, decorations and more. Let your kids relax, concentrate and enhance their creativity with these simple flower templates.
With that in mind, here's the flower that are featured in these floral craft bundles: 
Cactus Craft
Daffodil Flower Craft
Daisy Craft
Lily Craft
Petunia Flower Craft
Rose Craft
Sunflower Craft
Tulip Craft
You can purchase all these fun flowers to color and build with your little loves for $5.00.
OR
If coloring isn't your thing, you can purchase a full color flower set for the same price.
Need both?
Choose full color flowers to color on your own combined together for just $8.00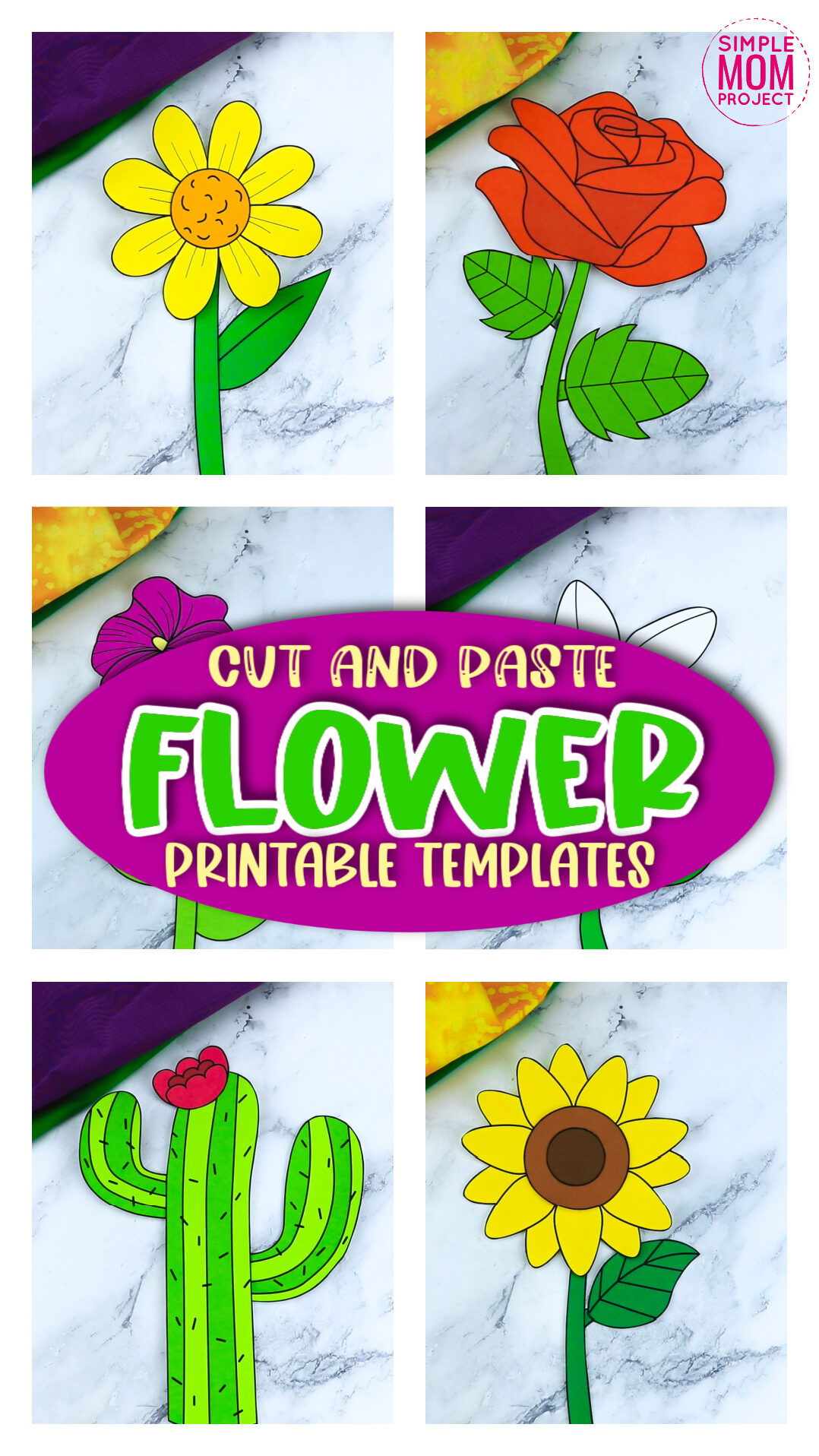 Great Ideas for Using Flower Craft Printable Templates:
There are so many ways you can celebrate and spend quality time with your little ones while getting creative.
These printable flower crafts are a fun way to share the love with own children or in your classroom without much prep. Here are some fun ways to use these adorable flowers.
1. Gardening with Kids
While the kids are home, it's the perfect opportunity for them to learn the basic life cycle process. These easy printable flower craft templates will help teach your preschoolers about flowers, plants and even insects.
2. Learn How to Count
There are plenty of great opportunities for learning how to count when you use this simple printable flower craft templates. Once your child is done making their favorite flower, count the number of pedals on each flower. Then, count the leaves, different colors of the flower, how many parts there are to the flower and so forth. The counting options are almost endless with flowers!
Check back soon for more simple printable craft projects for moms and children of all ages.
3. Building Fine Motor Skills
Making these flower crafts will helps children develop their fine motor skills. If your child knows how to use scissors properly, encourage them to try and cut along the lines of the flower by themselves.
Provide your kids with some construction paper glue the flower craft template to. Once they are finished, they can complete their work of art by adding a beautiful butterfly or even a tree.
Allow your little one to get creative with color and patterns as they explore the different types of butterflies. Don't let your little ones have all the fun, we got varieties of flowers for you to print and put together too.
Need more spring time crafts? Grab your net and catch our bug craft templates too. 
You May Also Like: