It's important for children to know who is working in their community.
Get your little one excited with this free printable farmer craft template!
This simple printable farmer craft worksheet gives your child the opportunity to practice their fine motor skills, hand-eye coordination and coloring at home or in the classroom.
The free printable farmer craft template is also perfect for studying the alphabet letters.
If you are planning to teach your little learner the /F/ sound or how to write the capital F and lowercase letter, use our farmer craft printable template as an example.
When your kids are done working with the three sets of farmer craft templates, do the other community helper crafts such as this free printable construction worker craft or maybe the mail carrier craft.
We included a simple step-by-step directions and tutorial video as you make this easy cut-and-paste farmer craft.


Need more crafty fun? Check out our Cow Craft, Pig Craft and Horse Craft.
 T
hey are perfect for those days when staying indoors is the only thing your family can do!
*By the way, this post may contain affiliate links which means I may receive a small commission at no additional cost to you if an item is purchase through that link. For more information, click here.*
Free Printable Cut and Paste Farmer Craft
Ideas for Easy Preschool Paper Farmer Craft
Below are the lists of amazing craft ideas on how to incorporate this free printable farmer pattern template in your daily life with your children.
1. Our Favorite Farmer Books for Kids
Make every day a great opportunity to build your child's reading skills by providing a variety of good books for kids.
Reading a book to your little one helps build their vocabulary and learning abilities.
Here are some of my children's favorite farm books that's perfect pair with this simple farmer craft template.
2. Let's Sing a Nursery Rhyme
"Old MacDonald had a farm"
"E-I-E-I-O"
"And on that farm, he had a cow"
"E-I-E-I-O"
We know you are familiar with this classic nursery rhyme.
Use our free printable farmer craft template when you sing a nursery rhyme to your little ones.
It will entertain them for hours and at the same time, it can help benefit a child's learning and development.
Children are most likely to develop skills faster when they are having fun.
Notice how your kids can eventually identify the different farm animals and the sounds they make in this traditional children's song.
Here are some of the farm animals that are included in the Old Macdonald song which you can use while you sing along.

3. Farmer Theme Event
Kids enjoy being part of such unforgettable events like family gatherings.
Encourage your little one to join the preparation by making art and craft projects.
If you are looking for a perfect theme for your next family gathering, we've got you covered!
Have your child enjoy coloring, cutting and gluing together the farmer pattern pieces.
The most amazing part of this farmer craft is, you can combine it with lots of craft materials to form a party garland, cupcake toppers, food table displays and more.
When your child is done working with this cut-and-paste farmer craft, we suggest adding these easy crafts to your barnyard or farm theme event.
4. Creativity and Fun Pretend Play
Pretend play or imaginative play is important for every child as they grow up.
It encourages children to use their creativity and imagination to make scenarios they experienced or would like to experience.
Once your child is done making this free printable farmer craft template, let's make a farm play set.
You can trace the different farm equipment on cardboard and let your little one paint them.
We also have this free printable watering pail template and sun template for your reference.
For the farmer's tractor, cut and glue some popsicle sticks to form a tractor shape.
Let your child paint the popsicle sticks however they desire.
Glue a small button as the front tire and a larger button at the back of the tractor.
Your kids and their friends will definitely have a good time with these pretend play ideas.
We hope you enjoyed these wonderful ideas we listed in making this simple cut and paste farmer craft template.


Farmer Craft Supplies Needed
Keep scrolling to get your very own farmer craft today and start with your little ones and their community helper craft buddies today!
Farmer Craft Instructions
We know you're excited to build your own farmer artwork craft!
Print one or more of these free printable farmer craft templates on a white sheet of paper.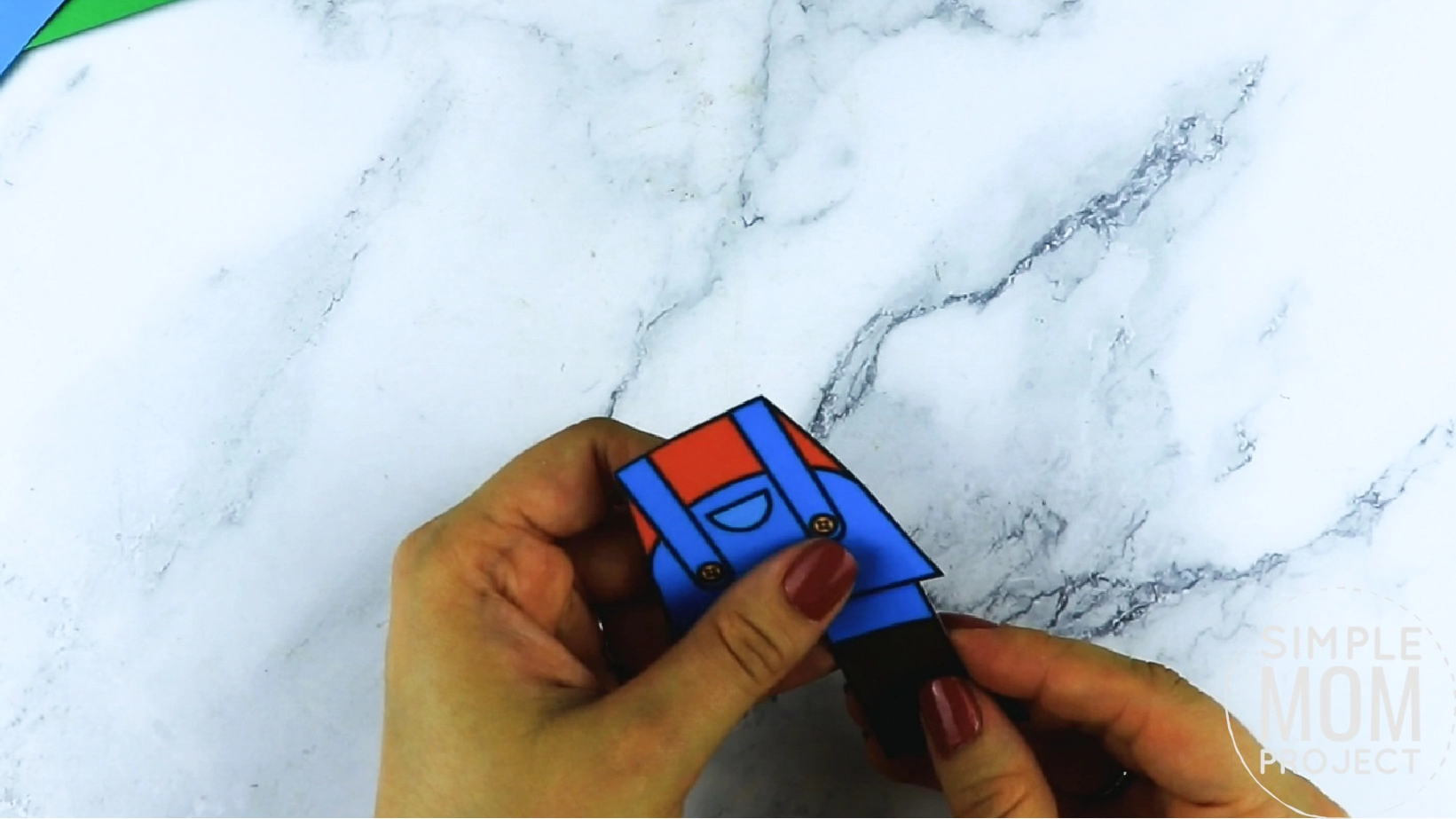 Let your child work on those scissor skills by cutting out each pattern piece of the farmer craft.
Use a glue stick to attach the legs and arms on the body.
Next, glue the pitchfork on the farmer's hand.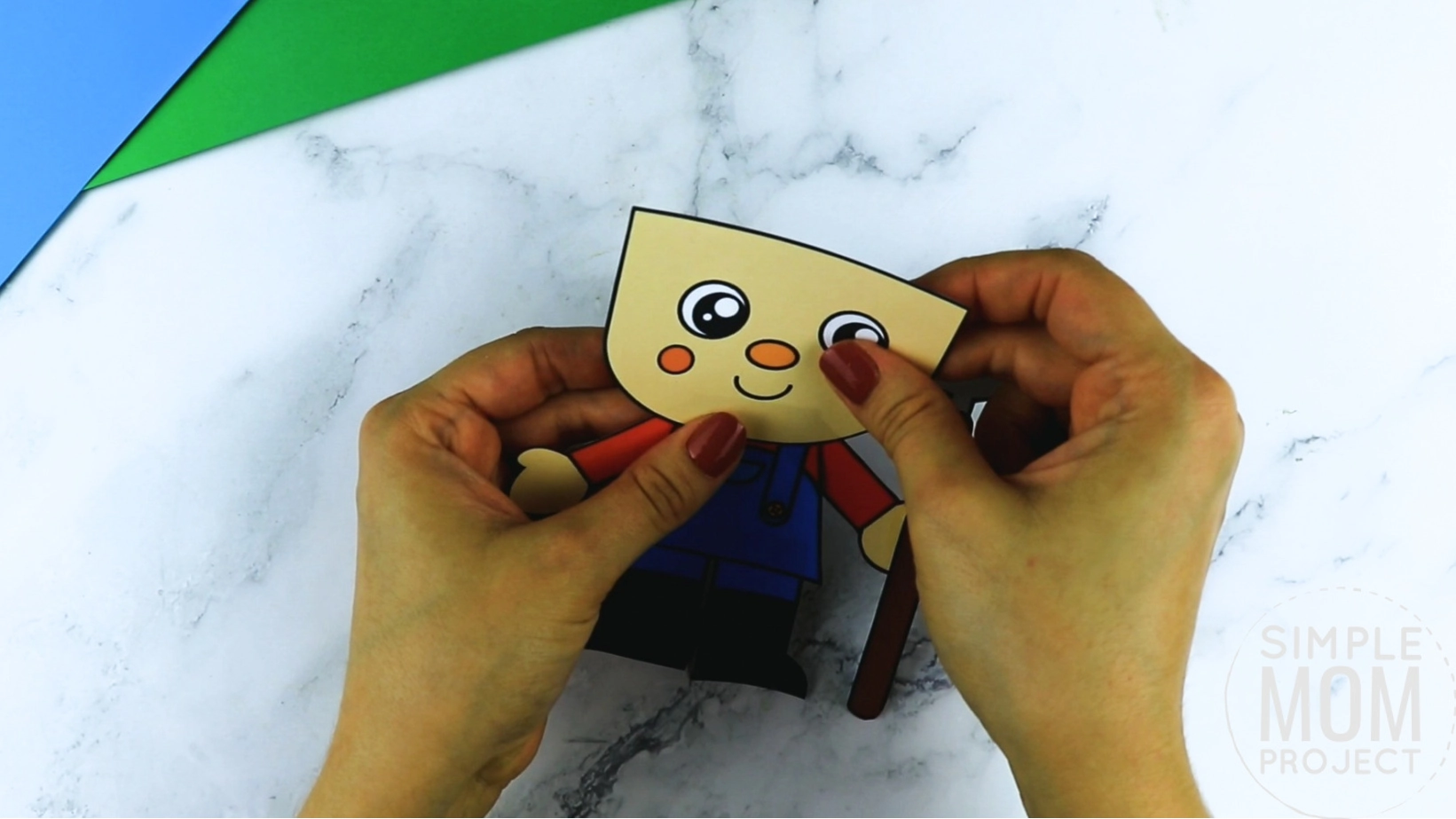 Glue the head, and its straw hat on top of his head.
Now, your child can play with this farmer craft along with other community helper crafts.
This preschool craft activity gives the kids hours of fun!
More Options to Choose:
You can print the blank version and trace the cut outs on card stock paper for a sturdier farmer craft,
Print the farmer template in color for a simple and easy rainy day craft or,
Print the blank farmer template and use it as a fun coloring sheet activity and then glue the pieces of the farmer craft together.
Free Printable Farmer Craft Template
Our free printable farmer craft template will surely keep the toddler, preschool or kindergarten kids occupied for hours because it comes with three versions!
We have the plain farmer template with no color for young children to practice coloring.
Then, we have two sets of colored farmer printable templates where kids can directly cut it out.
Don't forget to share your learning plans in the comments.
Need more community helper fun? Check out our packed list of community helpers for simple craft fun with your little ones.  
When you have finished, be sure to share your creation on Simple Mom Project's Facebook Page and follow me on Pinterest!

Kaitlen D.
More Fun Community Helper Crafts