I'm really excited to share fun and community helper character themed friends perfect for kindergarten, pre-k and toddler age kids. These characters are really great for any time of year, but especially when the lesson of the month is on community helpers of course!
These community heroes can even be a great way to keep that first grade student to shorten their screen time and build their fine motor skills by practicing with safety scissors. Kids of all ages love doing cut and paste craft and who doesn't love a classic community helper characters?
This entire set is perfect for making wonderful memories together. The best part is that they're easy enough for toddlers and preschoolers, yet even older kids will have fun building heroes together. From nurses to farmers, and chefs to a mail carriers, these are a fun activity for any community helpers activities you have lined up in your preschool theme unit.

Be sure to check out our community helper themed activities for lots of ideas for any day of the week.
With that in mind, here's the helpers that are featured in these Community Helper craft bundles: 
Chef
Construction Worker
Doctor
Farmer
Firefighter
Mail Carrier
Nurse
Police Officer
Teacher
Veterinarian
Please keep in mind we try to be as versatile as possible, but if any of the characters based on race or gender offend you, we are terribly sorry in advance as this is never our intent.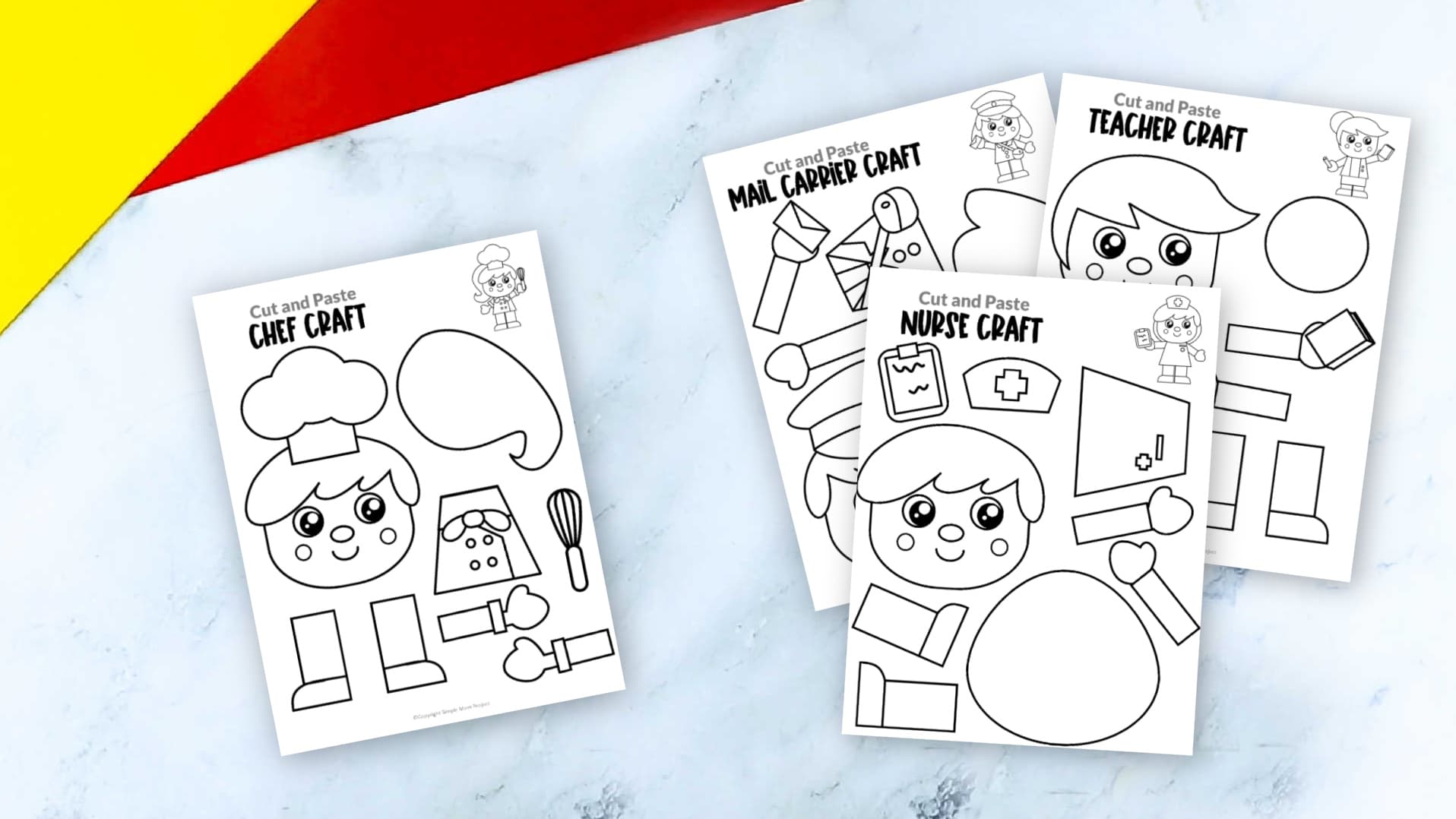 You can purchase all these fun community helper characters pre-colored and build with your little loves for $6.00.
OR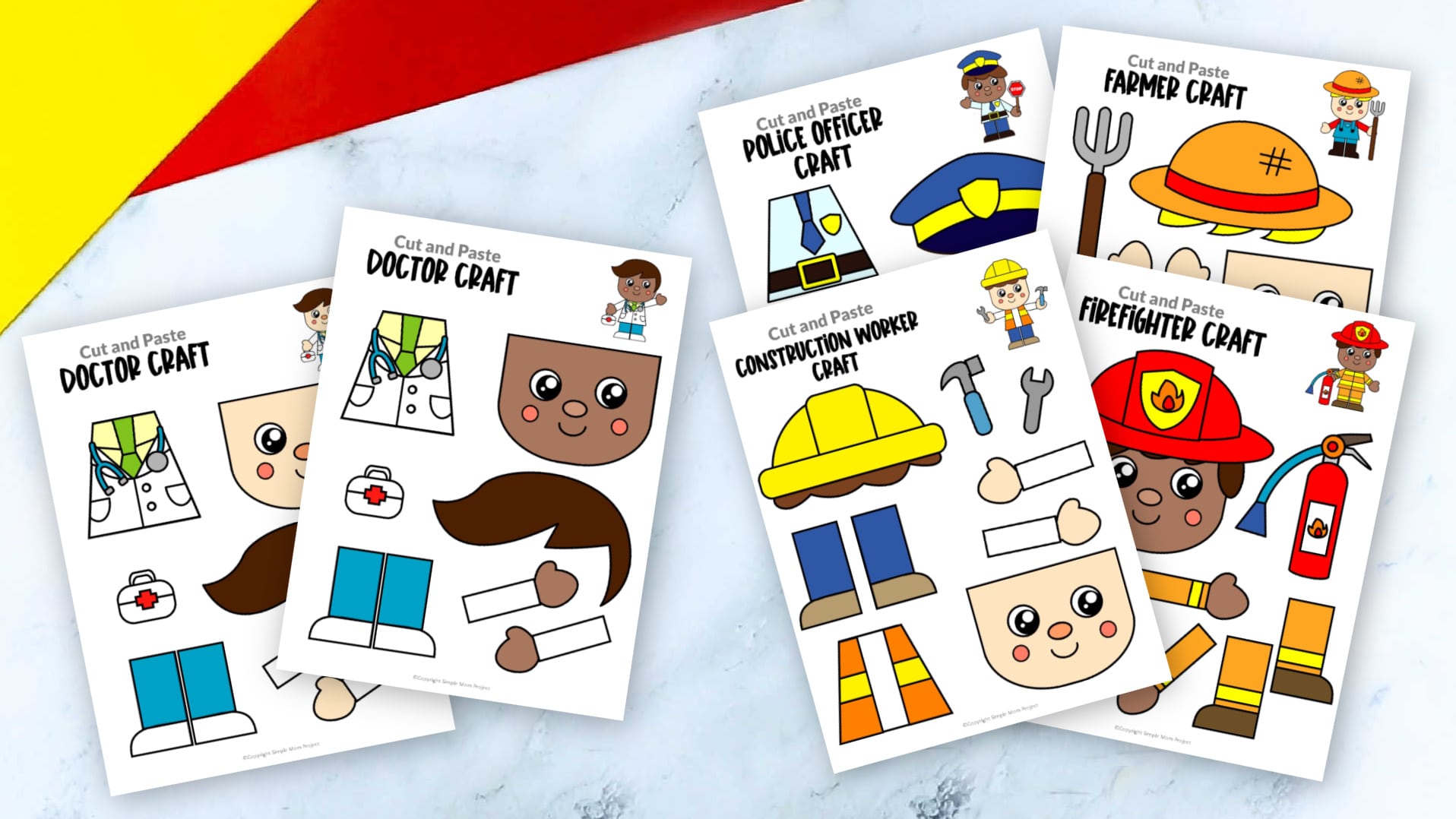 If you're little one is one to handle a challenge, print the ones that need to be colored first and then have them cut and paste the community helper friends together for the same price. Use markers, crayons or paint. Whatever their hearts desire.
Have kids that have a variety of needs? 
Choose full color Community Helper friends to color on your own combined together for just $8.00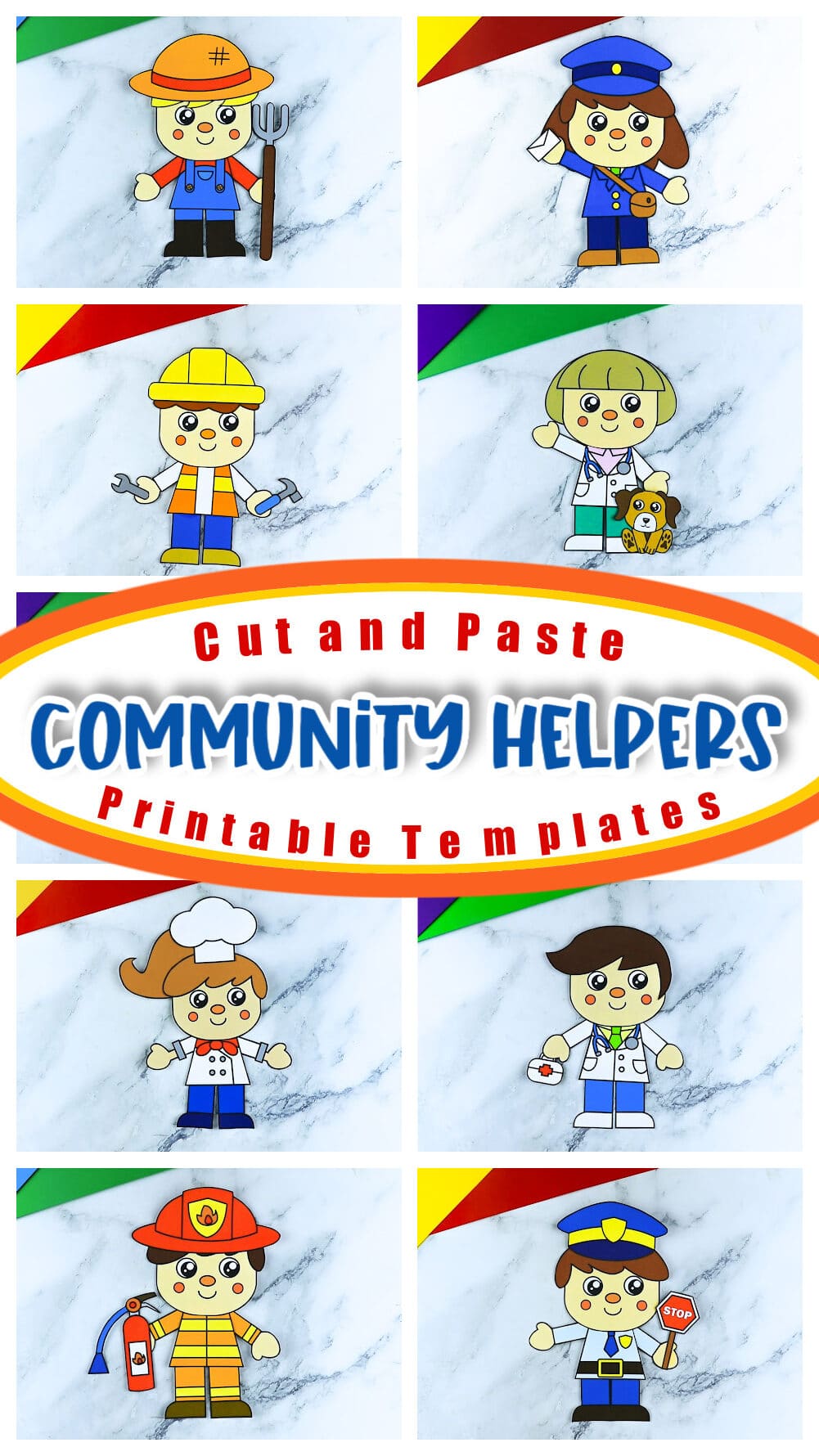 Great Ideas for Using Community Helper Character Printable Templates:
There are so many ways you can celebrate and spend quality time with your little ones while getting creative.
These printable helper friend crafts are a fun way to share the love with own children or in your classroom without much prep. Here are some fun ways to use these adorable community helpers.
Community Helper Dramatic Play Activities:
Do you have a little one that loves playing pretend? These make great playtime activities! After you done with these fun cut and paste worksheets, why not have your little one dress up in their favorite helper? Is it veterinarians that your kindergarten kiddos love or do they love pretending to drive to the grocery store and deliver fresh produce as a farmer?
Community Helper Theme Puppets:
The fun of building these community heroes doesn't have to stop after you've cleaned up all the scrap paper. Bring out those Popsicle sticks that you bought months ago and are collecting dust in your cabinets. Once you've got all dust bunnies off, glue a stick behind each friend and you and your pre-k students can put on a fun puppet show together!
Community Helpers Math Lesson:
You can really turn any play and craft time into a fun activity of learning! Before you glue all the pieces together, ask your kindergarten or first grade kiddos to tell you how many pieces there are by counting them! Then, practice math concepts by doing some subtraction problems. For example, in this community helpers math lesson, start with the initial number of pieces, as you glue them together start subtracting from the pile. Your kids will get a nice lesson accomplish all while having fun at the same time! Win, win in my book if you ask me.
Community Helper Literacy Fun:
Need a fun idea to get your kids to be interested in reading? After you are finished with these printable crafts, grab the book you have assigned for the community helpers preschool lesson and act our the characters in the book with these fun friends. You can even go one step further and ask your little ones to make hospitals or police stations out of play dough first and then act them out.
Check back soon for more simple printable activities that are tons of fun for both moms and children of all ages.
More Fun Character Crafts: