Looking for a free and fun cut and paste craft to help your little one learn phonics and trace letters of the alphabet?
Look no further! We give you this free printable letter S craft template that's perfect for children of all ages.
Making this simple printable letter S for snake craft activity improves your child's fine motor skills and creative minds.
Cut out the letter S snake drawing and use it for coloring, craft, stencil, preschool lesson plan and more.
If you're enjoying this cut-and-paste printable letter S craft template, you will definitely have a lot of fun making our other letter S craft templates.
We have the free printable seahorse craft, spider craft, snail craft, seal craft, snowman craft, sun template and star template.
Scroll down and learn how to make your own letter S for snake craft with our easy step-by-step instructions and tutorial video.


Need more crafty fun? Check out our Letter F, Letter N and Letter W craft.
 T
hey are perfect for those days when staying indoors is the only thing your family can do!
*By the way, this post may contain affiliate links which means I may receive a small commission at no additional cost to you if an item is purchase through that link. For more information, click here.*
Free Printable Cut and Paste Letter S Craft
Ideas for Easy Preschool Paper Letter S Craft
Here are some of the brilliant ideas that will help you incorporate this simple printable letter S craft template with your toddler, preschool and kindergarten.
1. Great ABC Books for Kids
Help your kids recognize the alphabet letters by pairing this simple printable letter S craft template with one of these awesome educational books.
Reading to our children on a daily basis motivates them to learn how to communicate, improves vocabulary skills and brain development.
2. Fascinating Snake Facts
Some people fear snakes while others keep them as pets.
No matter how you feel about snakes, you can use our crafts preschool printable letter S template if your kids are learning facts about snakes.
Did you know that snakes can't bite or chew?
They have to swallow their prey whole, that's why snakes have flexible jaws.
Did you know that snakes cannot hear sounds?
Snakes don't have external ears to hear sounds, thus, they use their lower jaw to judge the movement through vibrations on the ground.
Have you ever seen a shed snakeskin?
Snakes shed their skin a number of times a year to allow for further growth.
Most snakes rub their body against rocks, trees and other rough things to peel their old skin.
3. Enhance Writing Skills
There are a lot of fun ways to teach your preschooler how to write.
Children can practice writing using the letters of their name, or use our preschool printable alphabet craft templates.
Since we are learning the /S/ sound this week, let's grab the opportunity to enhance our kids' writing skills.
Print out traceable letter S worksheets, both the upper and lowercase letter.
Using a marker, draw directional arrows for each letter and teach your child to write the letter from the top to bottom.
Practice as often as possible until your little one masters the proper grip.
4. Letter of the Week: Letter S
Children love the process of coloring, cutting and sticking to transform this free printable letter S template into amazing snake craft ideas.
Wondering what's great about our alphabet printable crafts?
We've got lots of simple printable templates that start with letter S, like the free printable sun template and the star template where you can turn into invitation cards!
Let your child unleash their creativity in designing these two awesome templates.
Fold the construction paper in half and glue the cut-out sun or star template in the front page.
Using a black marker or glitter pen, write down all the party details and distribute it to your guests for a memorable event.
We are confident that your toddler, preschooler and kindergartener will gain a lot of knowledge and skills in making this easy cut-and-paste printable letter S craft template.


Letter S Craft Supplies Needed
Printable Letter S Template (FOUND AT THE BOTTOM)
Keep scrolling to get your very own letter s craft today and start with your little ones and their alphabet craft buddies today!
Letter S Craft Instructions
Print out the chosen free printable letter S for snake craft template on a white sheet of paper.
Help your little one to cut the easy printable letter S patterns into individual pieces.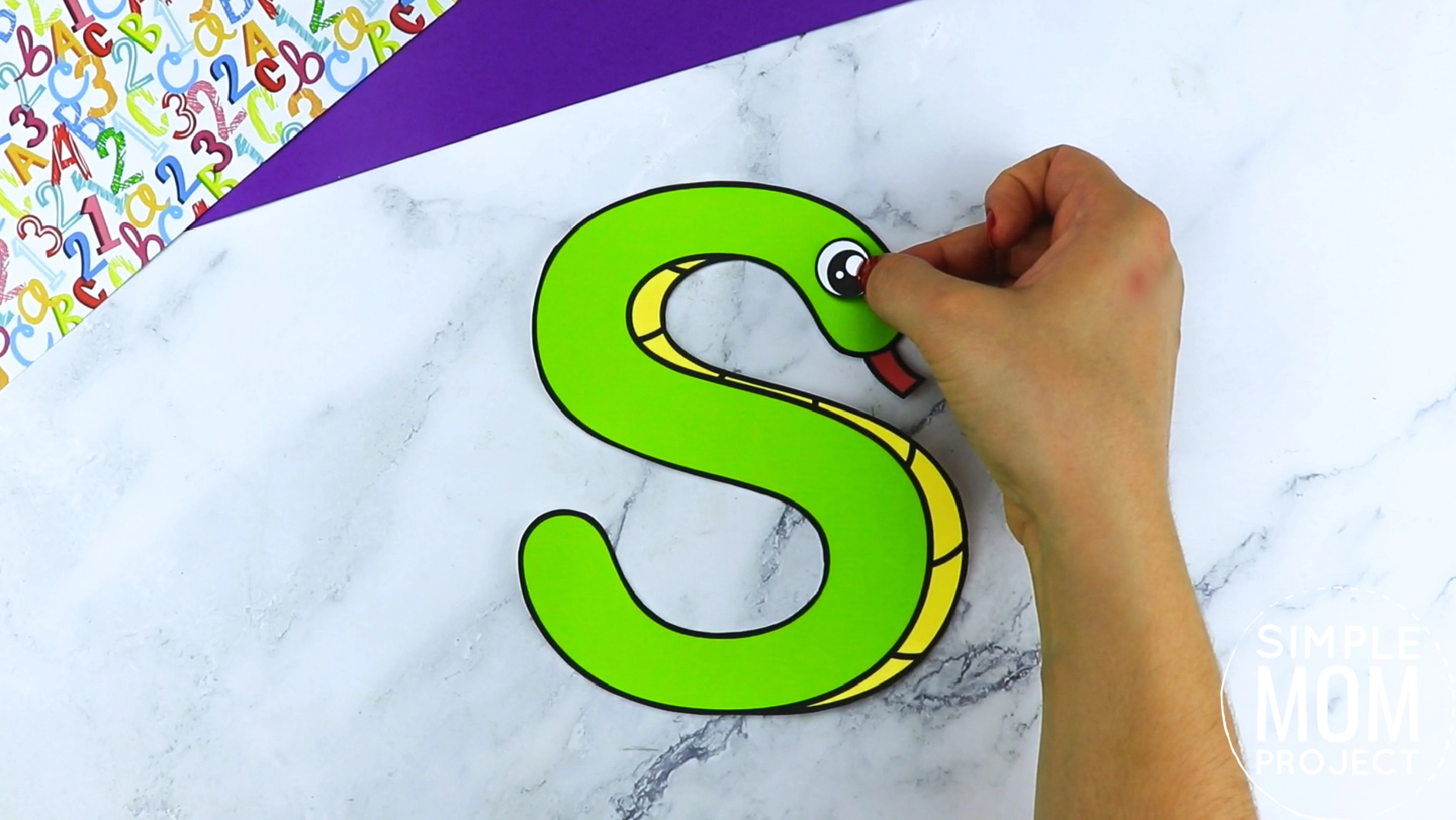 Using a glue stick, attach the snake's eyes and tongue.
Your friendly snake craft is complete and ready to be part of your alphabet letters chart.
More Options to Choose:
You can print the blank version and trace the cut outs on card stock paper for a sturdier letter s craft,
Print the letter s template in color for a simple and easy rainy day craft or,
Print the blank letter s template and use it as a fun coloring sheet activity and then glue the pieces of the letter s craft together.
Free Printable Letter S Craft Template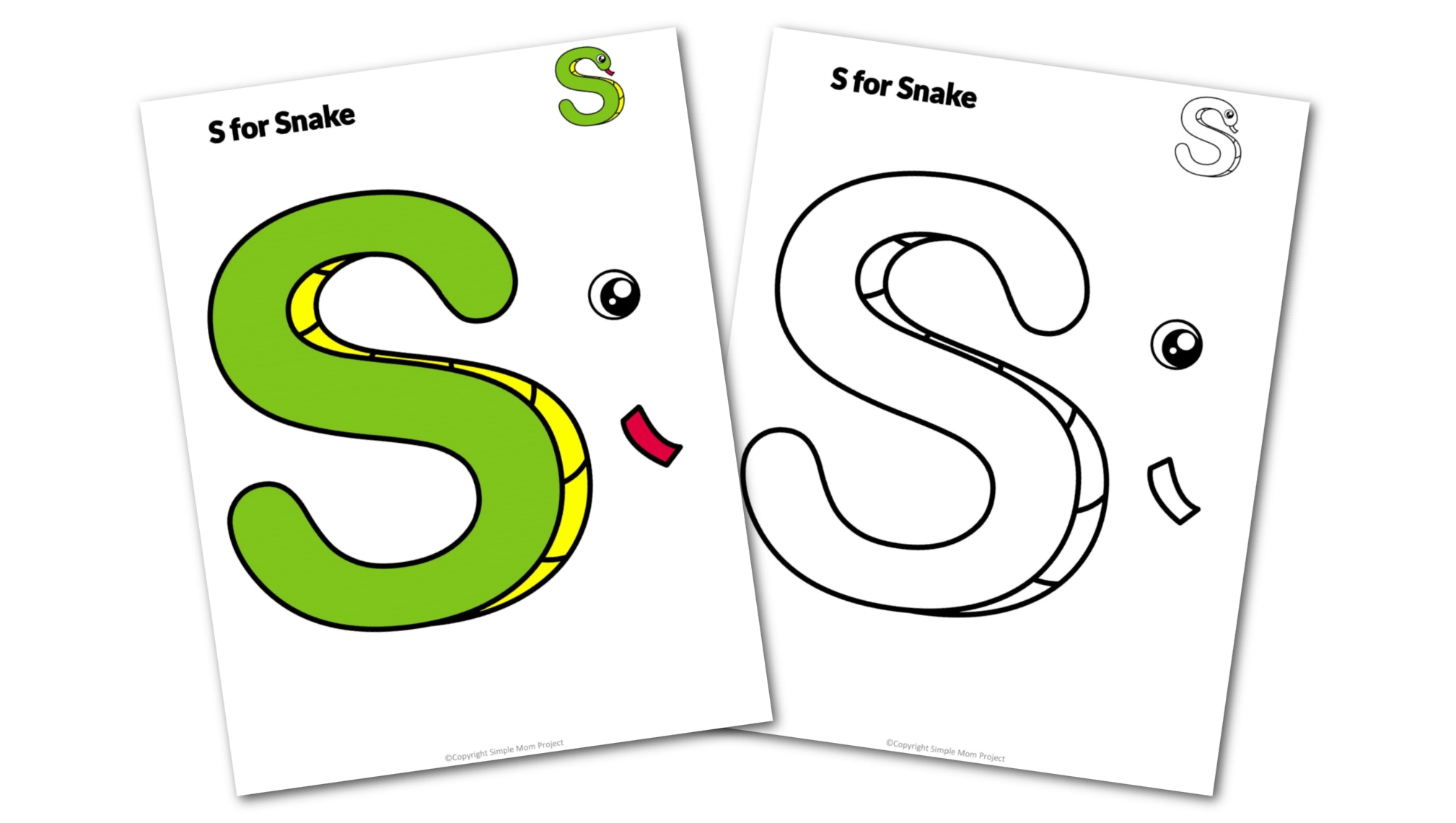 Download and get the two versions of this preschool letter S printable template now.
We have the plain letter S for snake drawing template with no color for your child to fill in with different colors.
We also have the colored letter S for snake craft templates where they can easily cut and paste the patterns together.
Don't forget to share your learning plans in the comments.
Need more alphabet letters fun? Check out our packed list of alphabet for simple craft fun with your little ones.  
When you have finished, be sure to share your creation on Simple Mom Project's Facebook Page and follow me on Pinterest!

Kaitlen D.
More Fun Alphabet Crafts