Parents can help their children learn the alphabet through fun and exciting activities at home.
If you're looking for a letter of the week craft idea, here's our free printable letter C craft template suitable for kids of all ages!
Encourage your child to practice those scissor skills and letter recognition by working on this easy printable letter C craft template.
This fun alphabet activity will boost your little one's creativity or get some inspiration, like making handprint crab craft, car craft and more DIY crafts that start with letter C.
Check out the step-by-step instructions below or watch the video tutorial on how to make this cut and paste letter C craft.
Share it with your friends and family for a memorable alphabet activity.


Need more crafty fun? Check out our Letter M , Letter S and Letter H craft.
 T
hey are perfect for those days when staying indoors is the only thing your family can do!
*By the way, this post may contain affiliate links which means I may receive a small commission at no additional cost to you if an item is purchase through that link. For more information, click here.*
Free Printable Cut and Paste Letter C Craft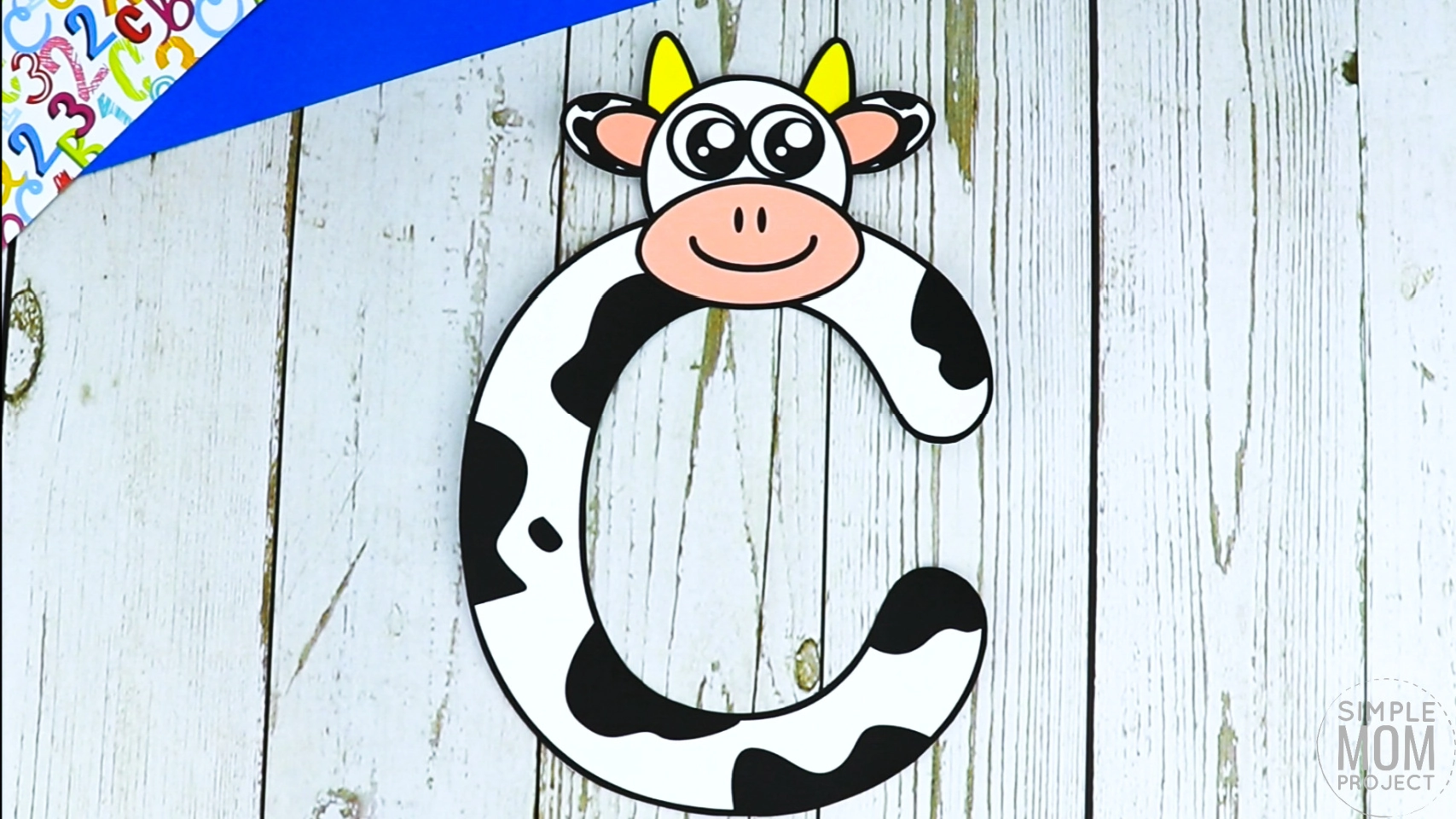 Ideas for Easy Preschool Paper Letter C Craft
We came up with a few wonderful ideas that will help you incorporate this easy cut and paste letter C craft with your toddler, preschool and kindergarten.
1. Letter C Book List for Kids
My little learners enjoyed listening and reading alphabet books.
Read a book about things that start with letter C and repeat it as often as possible to help them familiarize themselves with the alphabet at a young age.
We'd love to share with you these lists of my kids' favorite books to read for letter C.
2. C is for Cow Facts
We incorporate this farm animal to our preschool printable letter C craft template.
Hence, let's know all the incredible facts about cows that we can share with our kids afterwards.
Did you know that all cows are female? It's true!
The adult males are called bulls while their babies are called calves.
Did you know that cows are herbivores?
Which means they like to eat plants, grass and sometimes grain.
Did you know that cattle are colorblind to red and green colors?
But they can detect the smell up to six miles away.
3. Learn the Letter C
Children learn best when they are having fun!
Once your child is done working on this free printable letter C craft template, pin it up on their lesson board for a great visual aid.
Learn new vocabulary and teach your child the C sound with this simple printable letter C craft template.
Lists down all the basic words that start with letter C like cat, car, cow, carrot, cupcake, etc and help them to correctly pronounce it.
4. Letter C Cow Puppet Craft
Grab all the classic materials needed because today, we are going to make a cute letter C cow puppet craft! 
Download and print out the simple printable letter C craft template.
Let your child work on coloring, cutting and putting together the letter C craft.
Cut the finished letter C craft template out from the printable template.
Using a hot glue gun, attach the large popsicle stick at the back of the finished letter C cow craft template.
Now, your kids have a friendly letter C cow puppet!
Include this in your mini puppet show at your home and encourage children to use their imagination to come up with a dialogue.
We hope you enjoy these marvelous letter C craft ideas.
We are confident your children will ask for more printed alphabet craft templates!


Letter C Craft Supplies Needed
Printable Letter C Template (FOUND AT THE BOTTOM)
Keep scrolling to get your very own letter c craft today and start with your little ones and their alphabet craft buddies today!
Letter C Craft Instructions
Let your child choose which version of this simple printable letter C craft template they want to do first.
Print it on a white sheet of paper then cut out the letter C craft into individual pieces.
If you think your preschooler can properly hold scissors, you can let them have a go.
Using a glue stick, attach the cow's head on top of the letter C.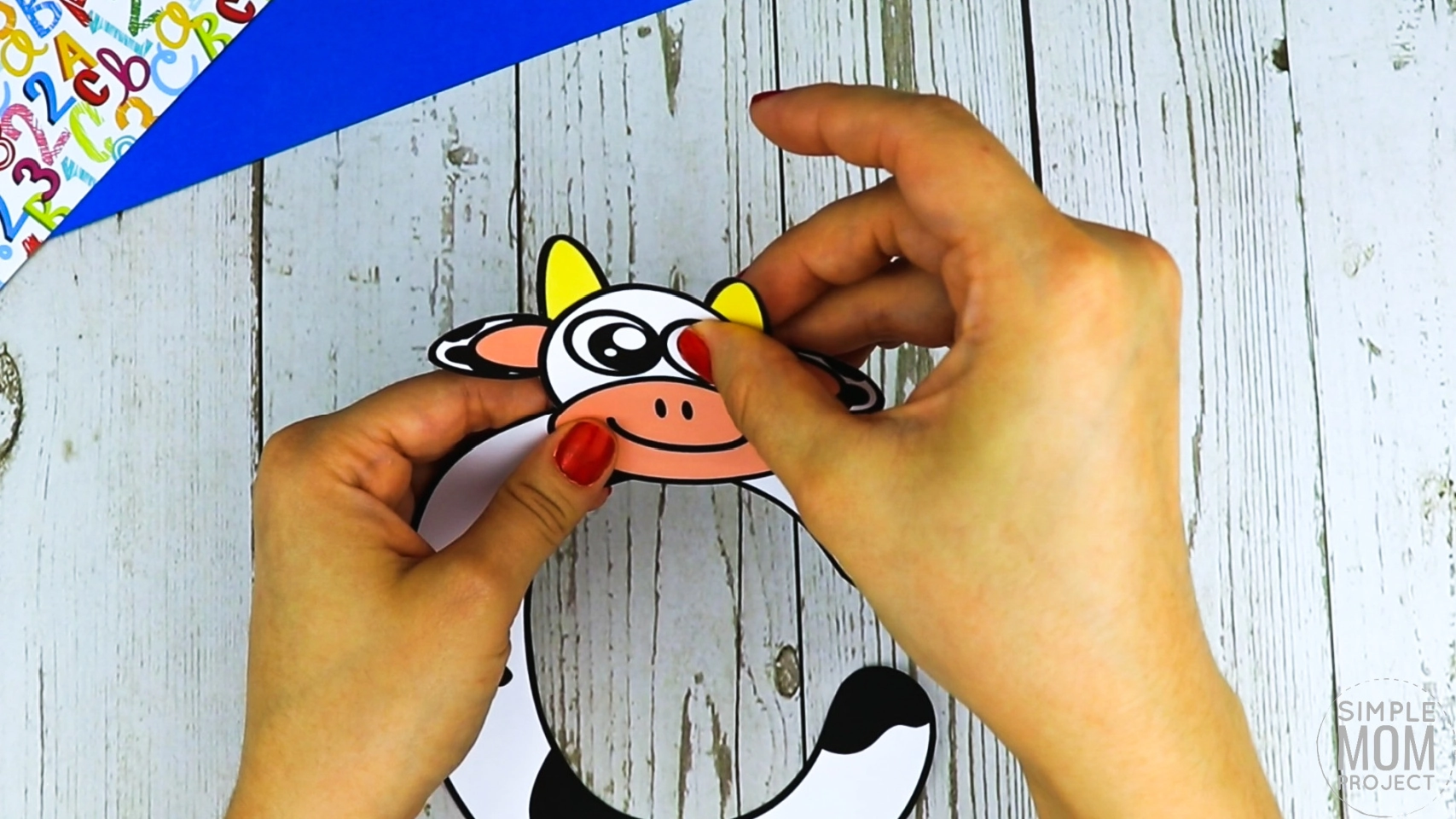 Next, glue on the mouth of the cow.
Lastly, glue on the cute horns and your adorable letter C for cow craft is complete!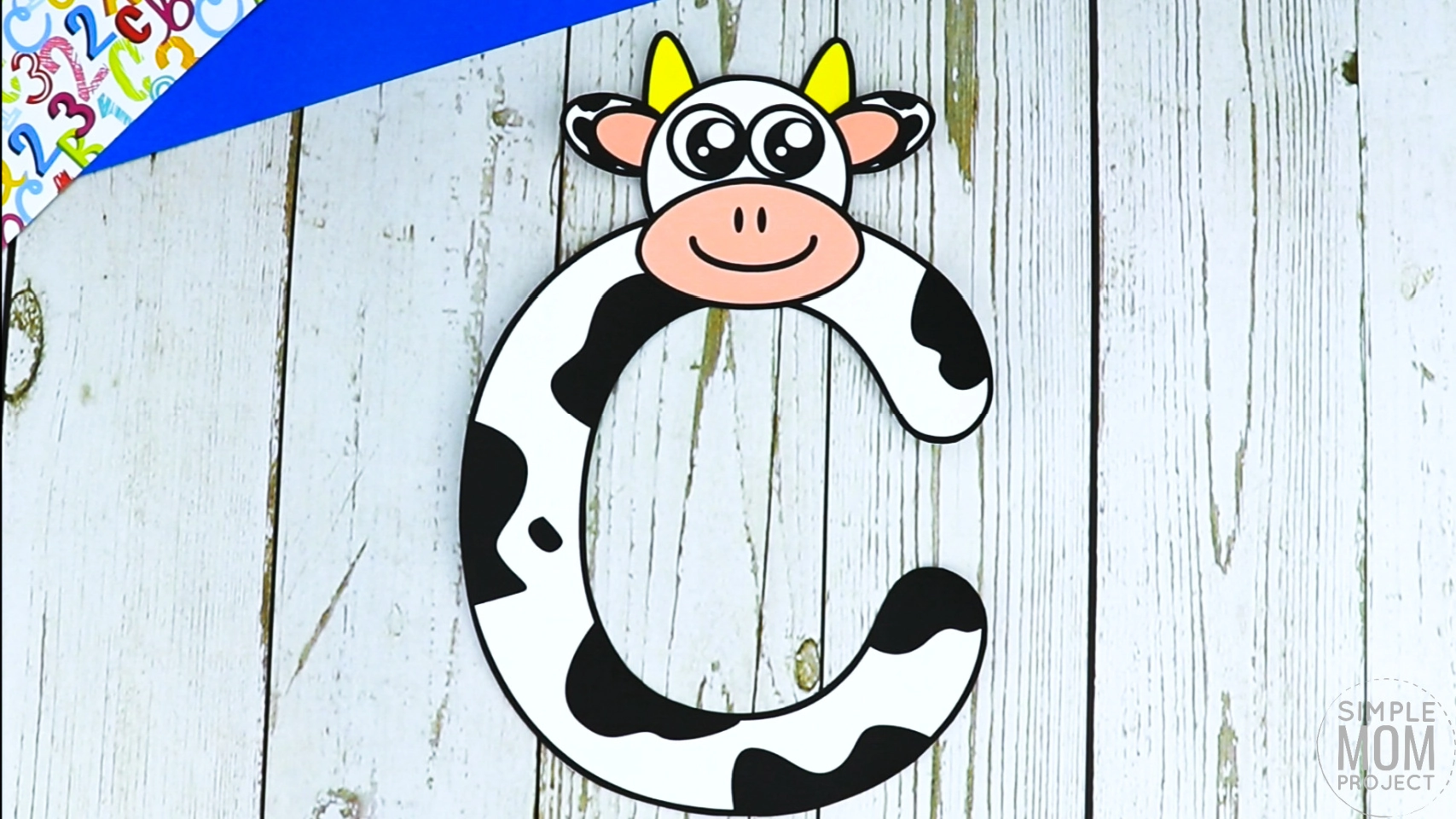 It's simple yet very useful for children who are learning the alphabet.
More Options to Choose:
You can print the blank version and trace the cut outs on card stock paper for a sturdier letter c craft,
Print the letter c template in color for a simple and easy rainy day craft or,
Print the blank letter c template and use it as a fun coloring sheet activity and then glue the pieces of the letter c craft together.
Free Printable Letter C Craft Template
Do you want to keep your children productive during the weekend or rainy days?
This fun free printable letter C craft activity comes with two cute versions!
Get the basic black and white free printable letter C is for cow craft template if your little one loves to color it first.
We also have the colored printable letter C craft template if they want to proceed directly to cut and paste together.
Don't forget to share your learning plans in the comments.
Need more alphabet letters fun? Check out our packed list of alphabet for simple craft fun with your little ones.  
When you have finished, be sure to share your creation on Simple Mom Project's Facebook Page and follow me on Pinterest!

Kaitlen D.
More Fun Alphabet Crafts