I'm really excited to share fun and jungle safari character themed friends just in time for summer. These characters are really great for any time of year, but especially when the weather is crummy outside.
These savannah character crafts are a great way to shorten screen time and build their fine motor skills by practicing with safety scissors. Kids of all ages love doing cut and paste craft and who doesn't love a classic safari animals characters?
Mom's love it too, especially since there's little prep time with these safari adventures.
This entire set is perfect for making wonderful memories together as they are or make them extra special with our fun craft list to really make these cute animals pop with lots of fun.
The best part is that they're easy enough for a kindergartners, toddlers and preschoolers, yet even older kids will have fun building safari and jungle animals together. These are especially fun alternative to preschool worksheets!
With that in mind, here's what I've included in this safari craft printables kit:
Crocodile Craft
Elephant Craft
Giraffe Craft
Hippo Craft
Leopard Craft
Lion Craft
Monkey Craft
Rhinoceros Craft
Tiger Craft
Zebra Craft
You can purchase all these fun storybook characters to color and build with your little loves for $5.00.
OR
If coloring isn't your thing, you can purchase a full color safari character set for the same price.
Need both?
Choose full color animal to color on your own combined together for just $8.00.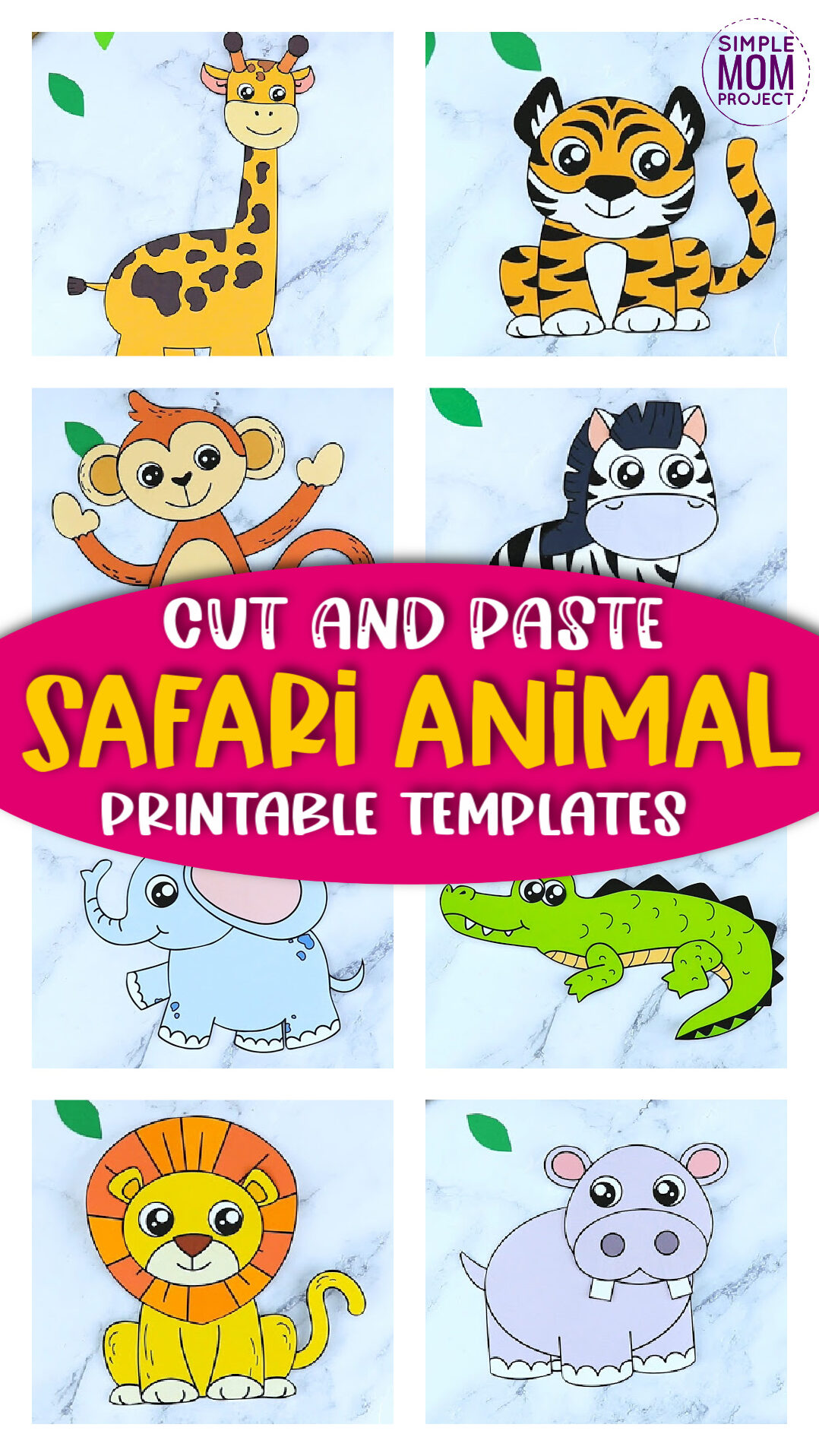 Great Ideas for Using Safari Character Printable Templates:
There are so many ways you can celebrate and spend quality time with your little ones while getting creative.
These printable jungle animal character crafts are a fun way to share the love with own children or in your classroom without much prep. Here are some fun ways to use these adorable animals:
Skip the mess and order full color characters for your classroom.

Set up a animal craft table with simple supplies like markers, crayons and colored pencils and enjoy making characters like crocodiles, lions, zebras and tigers, 

Spend quality time sharing the love with your little ones while making their favorite jungle characters.

Use the zoo animal characters as a decoration at your safari  party, in your classroom, or on a animal themed bulletin board.
Safari Adventure Time
Once you and your little ones are done putting together their safari animals, place each animal around the house or outside. Then, grab some old binoculars and go on a safari hunt looking for all the animals you all made. Is the giraffe head poking out of the grass or can your little ones spot the rhinos nostrils? They will have so much fun finding all of these wild animals in their own backyard!
Paper Plate Safari Animals
Are you working on the easy elephant craft or getting ready to cut out the lion's mane? Either way, before you glue the pieces together, glue them to paper plate instead. This is already a great craft, but you can make it even better by gluing a Popsicle stick to the back and turning the paper plate savannah animals into a fun puppet!
Paper Bag Safari Puppets
Are you all out of paper plates and Popsicle sticks? Use those left over lunch bags and glue the safari animals to the paper bag. These safari craft activities will make for one wild animal puppet show! Glue on some googly eyes to really bring these safari puppets come to life.
Check back soon for more simple printable craft projects for moms and children of all ages.
You May Also Like: