It's school time again!
One of our child's lesson plans is to learn how to tell time.
Learning to read analog clocks can be challenging for our children, that's why we came up with adding this free printable clock template to our lists of school supplies templates.
It's a blank clock worksheet with separate arrow hands so your child can move the hands and set the time whenever they want.
This fun activity will not only teach your kids how to read time, but it will also develop their math skills, focus and fine motor skills.
Have your little one decorate this cute printable clock template in colors that they love and put the finished clock drawing picture up on display in your child's room to have their own wall clock.

*By the way, this post may contain affiliate links which means I may receive a small commission at no additional cost to you if an item is purchase through that link. For more information, click here.*
Free Printable Clock Template
Clock Template Materials Needed:
Printable Clock Template (FOUND AT THE BOTTOM)
Make your child's finished clock template a forever memory by laminating it! We use this laminator and cannot express how much we love it! It is not only inexpensive, it is SO easy to use!
Your kids will love seeing how much you adore their art work when you laminate and display it for years to come!
Looking for more easy school supplies templates for your children? Make sure to check out our Scissor and Pencil template!
Ideas for Clock Template
We come up with the coolest ideas on how to include these free printable clock template in your everyday life with the kids
1. Splendid Books About Clocks
Spending time reading to your child shows that reading is important.
Reading stories to your little one as often as possible is a great opportunity to help them learn to read by themselves.
Are you trying to find fun and educational books for your kids to read?
Here are a few lists of my child's favorite books about clocks.
2. Easy Paper Plate Clock Craft
Ready to start crafting with your little one?
While we were having a great time coloring, cutting out and putting up for display this free printable clock template, me and my preschooler decided to make our own large clock out of paper plates.
Draw and cut out two arrows on colored paper.
One arrow should be long for the minute hand and the other should be shorter for the hour hand.
Poke a small hole in the center of the paper plate, then attach the arrows with a split pin paper fastener.
Using black marker, write the numbers one to twelve.
You can set the clock for the time you wish and ask your child "What time is it?"
This easy clock craft will help your kids to learn how to read time quickly.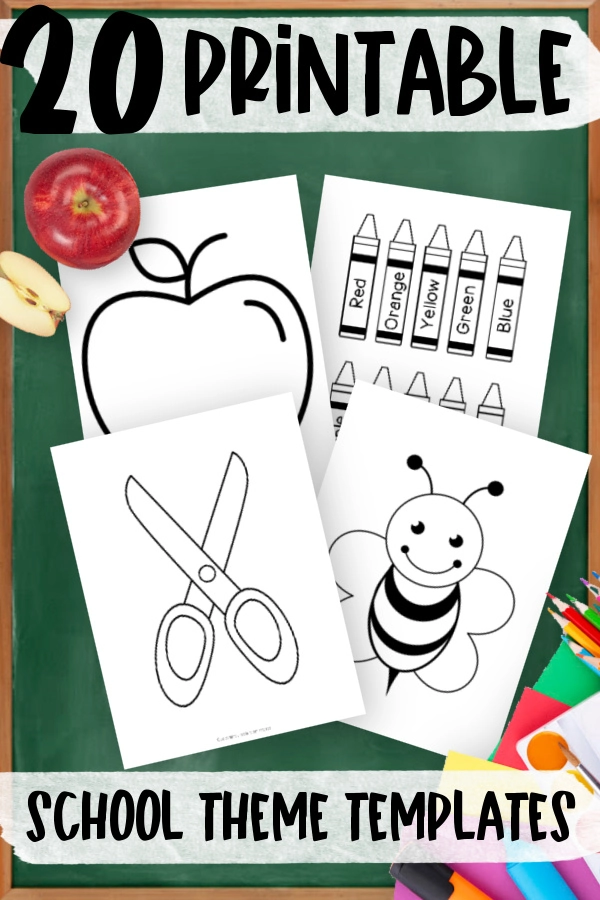 3. Learn to Tell Time
Digital clocks may be popular these days but learning how to tell time through an analogue clock is classic.
Making this cute printable clock template will help you introduce numbers on a clock to your kids.
In the process, this simple clock craft activity will motivate your child to be able to count from 1 to 60.
It will help them learn how to count by fives and will be able to distinguish the difference between morning, noon and night.
It's also one of the best ways to encourage your little learner to improve their number writing and increase creativity.
4. Time Management for Kids
The easy printable clock template has so many uses, from helping children how to tell time to teaching them the importance of time management while having fun all at once.
Using this free printable clock drawing template, you can pretend-play with your child by setting the arrows on the time you wish they will do and accomplish a particular task.
I always remind my children that time is valuable.
So, we decided to create a daily routine to manage our time like setting a consistent time for our napping and bedtime.
We also have a regular meal time for the entire family and a specific time hour for our study time.
We are confident that your little learner will surely love these incredible ideas on how to maximize the use of this free printable clock template.

Printable Clock Template:
Once you and your preschooler are done stuffing their backpack with new school supplies, give them this free printable clock template together with some crayons, colored pencils, craft supplies to create a sense of relaxation before the school starts this year.
Don't forget to share in the comment section all your brilliant ideas and experiences in making this simple free printable clock template with your little ones.
When you have finished, be sure to share your creation on Simple Mom Project's Facebook Page and follow me on Pinterest!

Kaitlen D.
More Back to School Supplies Templates