It's been so fun sharing different community helper crafts and learning new ideas with you!
Today, we are going to make this free printable doctor craft template that's suitable for kids of all ages.
Cut out the doctor shape and use it for coloring, stencils, crafts, bulletin board decorations and scrapbook projects.
Working on this simple printable doctor craft template enhances your child's fine motor skills, focus, hand-eye coordination and creativity.
Once your child is finished with this easy printable doctor craft template, let's hop over to more printable templates!
For more crafts starting with the letter D, try these:
We included a simple step-by-step directions and video tutorial as you make this doctor craft. 


Need more crafty fun? Check out our Nurse, Police Officer and Firefighter craft.
 T
hey are perfect for those days when staying indoors is the only thing your family can do!
*By the way, this post may contain affiliate links which means I may receive a small commission at no additional cost to you if an item is purchase through that link. For more information, click here.*
Free Printable Cut and Paste Doctor Craft
Ideas for Easy Preschool Paper Doctor Craft
Take a look at these great ideas on how to include this free printable doctor craft template in your kids' lesson plans, art and craft activities.
1. Doctor Books for Children
Make this easy cut-and-paste doctor craft educational by pairing it with one of these affiliated links of fun books about doctors.
Reading to our children as often as possible boosts their brain development, improves communication and literacy skills.
2. Community Helpers Dramatic Play
Pretend play lets children be doctors, nurses, police officers, firefighters, mail carriers or whatever they desire.
Let your kids enjoy the process of making this doctor preschool crafts and become part of your community helper's dramatic play!
Support your child in developing their imagination, creativity and thinking skills with the help of this free printable doctor craft template.
You'll see your little doctor pick up a costume, stethoscope toy, bandages, band aid, cotton ball and other aid kit.
Play together with your child and watch them give needles shots on your arm.
Don't let your kids have all the fun, invite your family members or friends to come over and play with your kids during the weekend.

3. Doctor Theme Party
This free printable doctor craft template is perfect to be part of your upcoming doctor theme party!
Once your child is finished working on this easy cut-and-paste doctor craft, encourage them to bake cookies inspired by doctor kits.
Use the finished doctor craft as party garland, cake toppers, invitation cards or simply display it on top of each guest's table.
Regardless of how you like to use these printables, we guarantee your kids will enjoy it.
4. Fun Learning Bonding Activities
Making this easy printable doctor craft template is a great way to strengthen your family relationship.
Use this free printable doctor craft if you are planning to teach your kids the alphabet, especially the letter D.
Pin a large printed letter D as part of the visual aid or show them the correct way to hold a pencil as they practice writing uppercase or lowercase letter D.
Check out this free printable letter D craft template to learn more about the /D/ sound.
Be sure your children are having fun while learning so they can easily remember the lessons.
We are confident that your little one will enhance their skills and gain medical knowledge in making this simple printable doctor craft template.


Doctor Craft Supplies Needed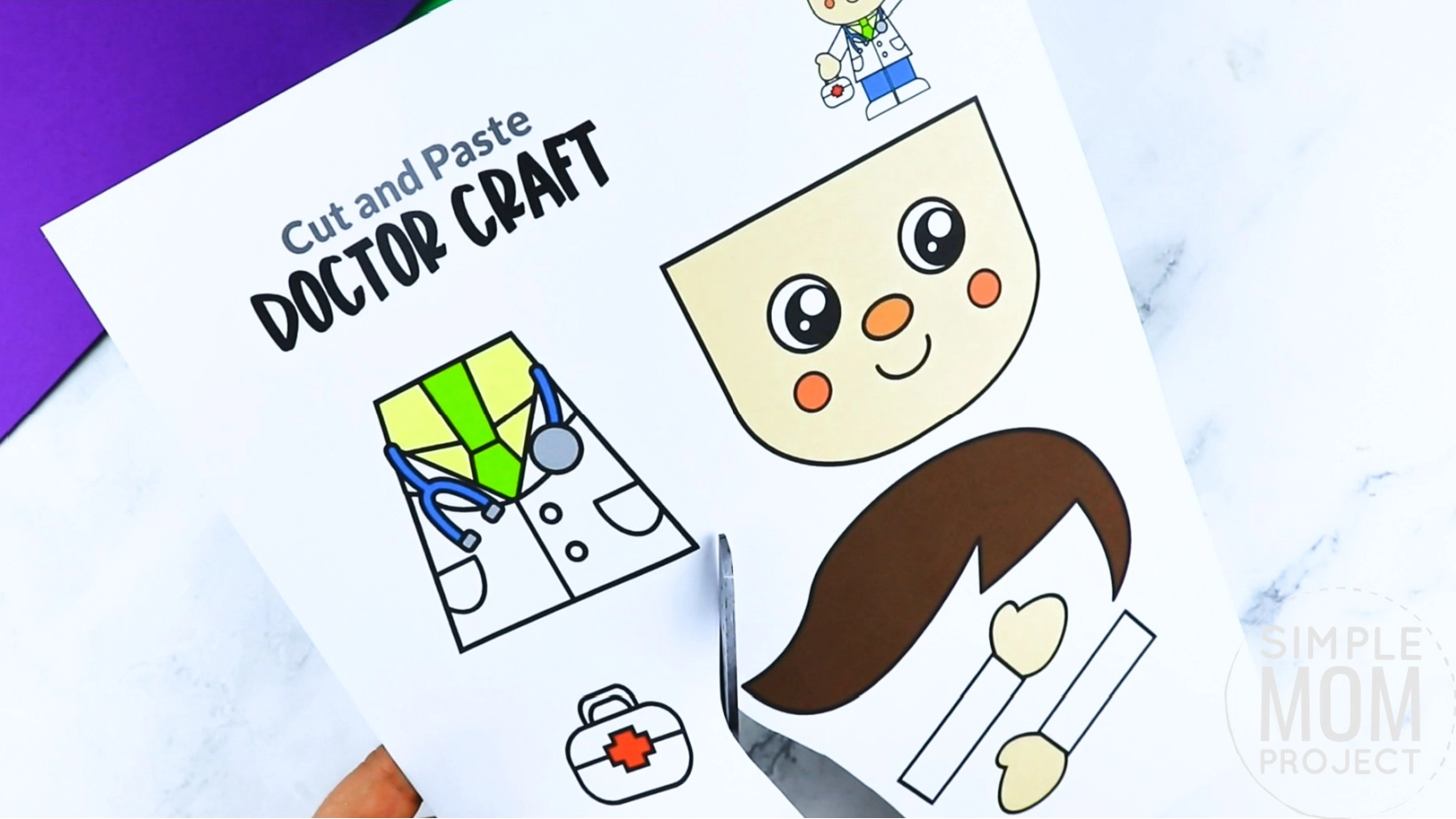 Printable Doctor Template (FOUND AT THE BOTTOM)
Keep scrolling to get your very own doctor craft today and start with your little ones and their community helper craft buddies today!
Doctor Craft Instructions
Take out all the common craft tools you will probably need for these community helpers preschool craft activities.
Download and print the free printable doctor craft template on a white construction paper.
Help your little one to cut out the simple printable doctor craft patterns into individual pieces.
Start gluing its hair onto the head then set it aside to dry.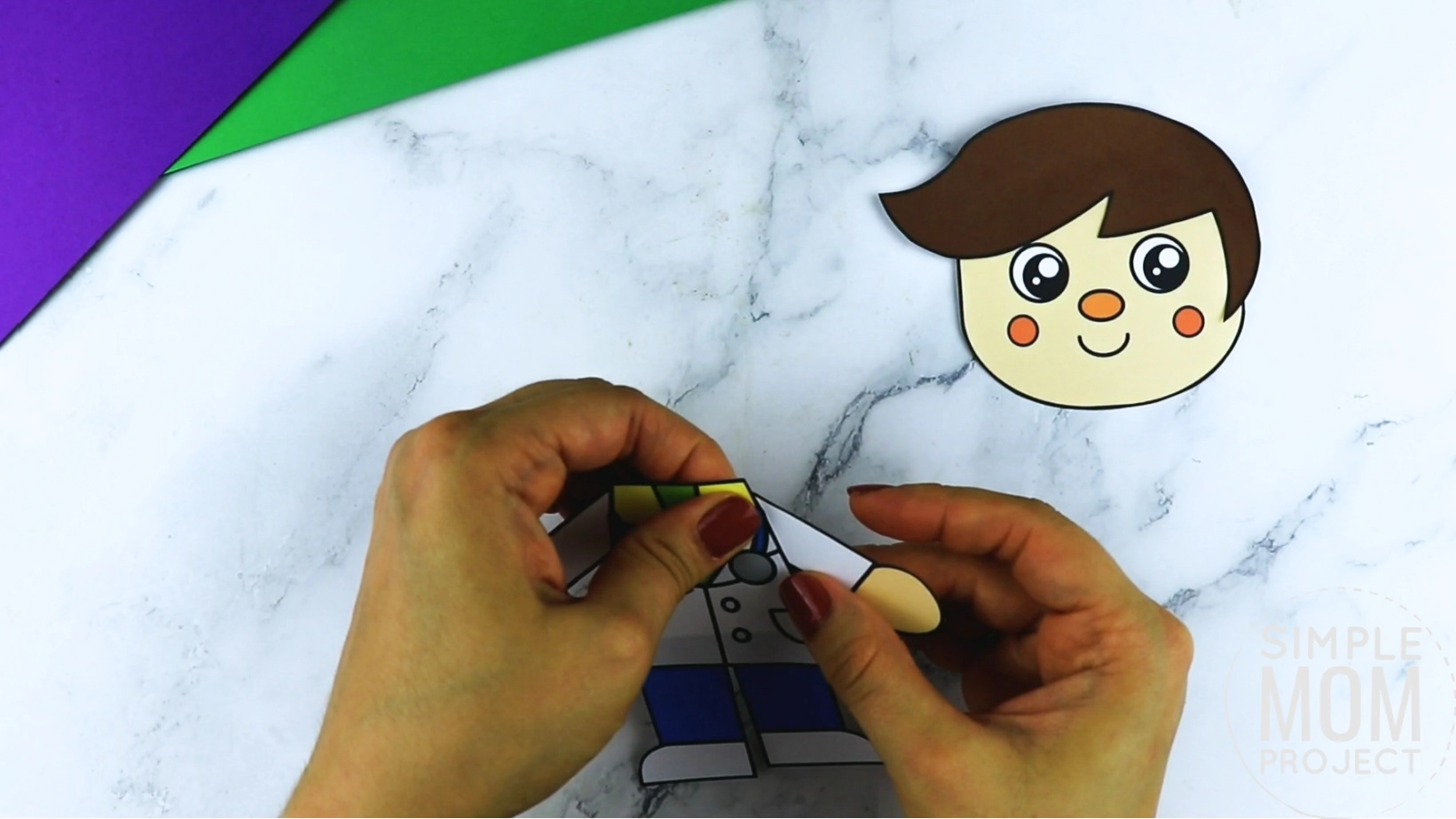 Next, glue the doctor's body and legs.
Glue the arms on each side of the body and attach the doctor's bag.
Guide your child to safe medicine use with the help of this DIY doctor set craft.
More Options to Choose:
You can print the blank version and trace the cut outs on card stock paper for a sturdier doctor craft,
Print the doctor template in color for a simple and easy rainy day craft or,
Print the blank doctor template and use it as a fun coloring sheet activity and then glue the pieces of the doctor craft together.
Free Printable Doctor Craft Template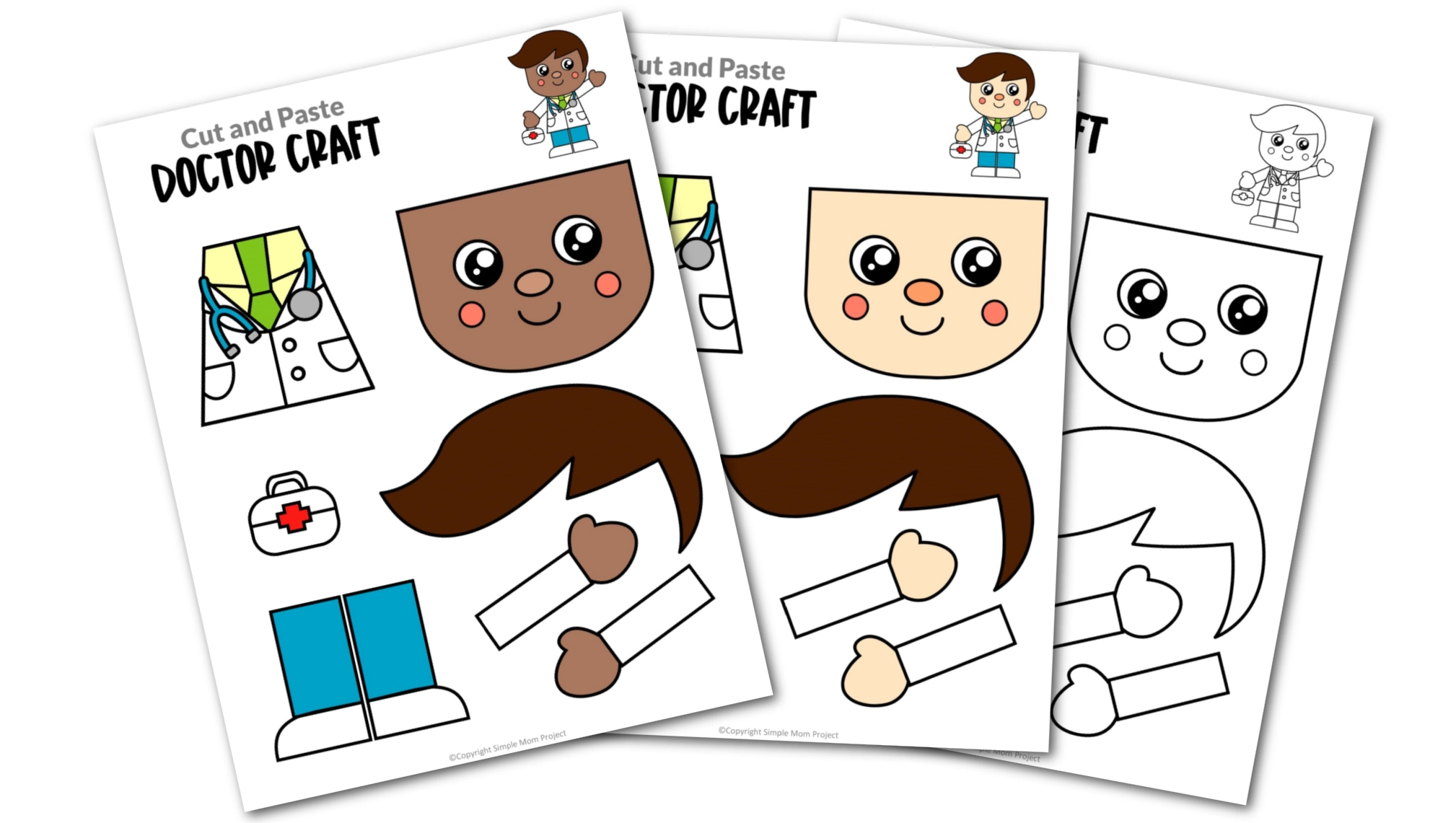 Here's three free printable template doctor worksheets for toddler, preschool and kindergarten kids to decide which one they like.
Get a pack of crayons for the white and black doctor drawing template.
If you would prefer your child not to color in, use the two full color versions of the doctor craft templates.
Don't forget to share your learning plans in the comments.
Need more community helper fun? Check out our packed list of community helpers for simple craft fun with your little ones.  
When you have finished, be sure to share your creation on Simple Mom Project's Facebook Page and follow me on Pinterest!

Kaitlen D.
More Fun Community Helper Crafts