Donuts are one of my family's favorite desserts!
Need a fun and easy craft for your children while they are eating their favorite donut flavor?
Here's the free printable letter D for donut craft template suitable for kids of all ages.
Use this simple printable letter D craft template if you're teaching your kids the alphabet, especially the letter D, both the capital and lowercase letter.
This fun activity is a great way for kids to work on their scissor skills, hand-eye coordination and creativity.
We know you and your little one are having a lot of fun making this easy cut and paste letter D craft template.
That's why we are sharing with you some of our printable templates that start with letter D!
Check out the step-by-step instruction and tutorial video we included below.


Need more crafty fun? Check out our Letter I, Letter V and Letter L craft.
 T
hey are perfect for those days when staying indoors is the only thing your family can do!
*By the way, this post may contain affiliate links which means I may receive a small commission at no additional cost to you if an item is purchase through that link. For more information, click here.*
Free Printable Cut and Paste Letter D Craft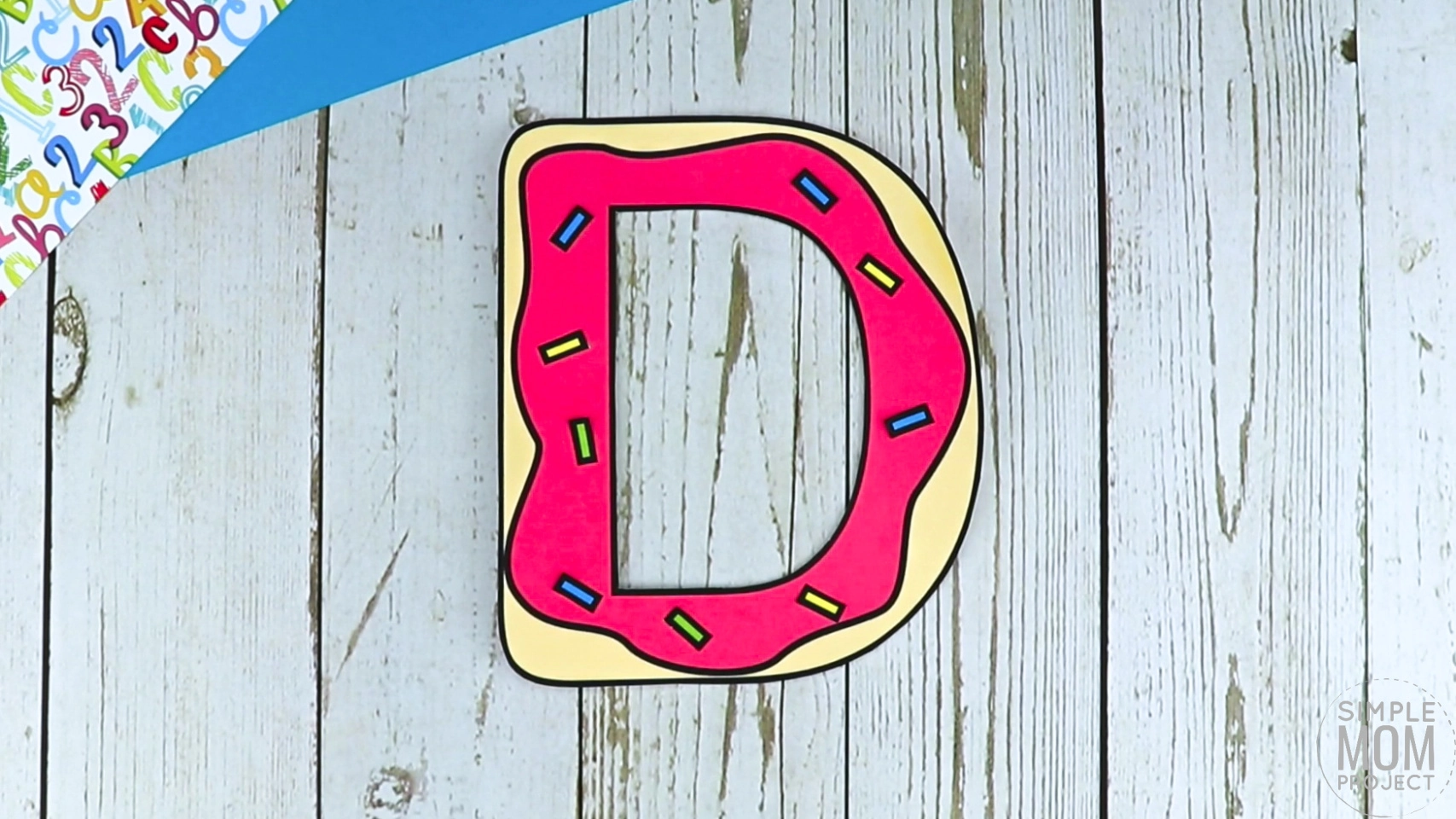 Ideas for Easy Preschool Paper Letter D Craft
We list down a few great ideas on how to maximize the use of this free printable letter D craft template in your daily life with the kids.
1. Storytime is Fun!
Reading to children as often as possible is the best way to motivate them to learn to read by themselves.
Sit down with your little one and let them pick their favorite book to keep their interest in reading.
If you are trying to find some good books to pair with this preschool printable letter D craft, we highly recommend the following:
2. Color Recognition Activity
Coloring in the sprinkles of the black and white letter D for donut craft template helps children to get familiar with the basic colors.
Making this easy printable cut and paste letter D encourages your child to focus on details while being relaxed.
Help your preschooler identify the basic colors by writing numbers on each sprinkle of the donut drawing.
Add legends on the side of the worksheet and let your little one explore their creativity by using crayons.
3. Dessert World Themed Party
The best part about this preschool printable letter D pattern template is, you can include it in your upcoming party!
You don't need a lot of supplies and most can be found in your home.
Print as many letter D craft templates as you need.
Let your child color, cut and paste the free printable letter D craft template however they desire.
Punch a small hole on the top corner of each letter D for donut craft and insert strings or yarn through it.
Your colorful doughnut garland craft is complete and perfect to hang on display anywhere in your party venue. 
4. Letter of the Week: Letter D
Let your children unleash their creativity and use recycled materials to make easy DIY crafts.
Since we are learning the letter D, let's make cute duck crafts using our free printable duck template.
Start coloring the simple printable duck template yellow or any color your little one likes.
Trace your child's hand onto the construction paper and cut it out.
Glue the cut-out handprint onto the duck's body which makes it look like it's feathers.
Get a paper plate and have your preschooler paint it blue.
Leave it for a few minutes until it's completely dry and place your adorable duck onto the blue paper plate.
Your kids will definitely have a great time playing with their little duck swimming in the pond.
There are a lot of impressive craft ideas with the help of our free printable letter D for donut pattern template.
We are happy to be part of your art and craft activities!


Letter D Craft Supplies Needed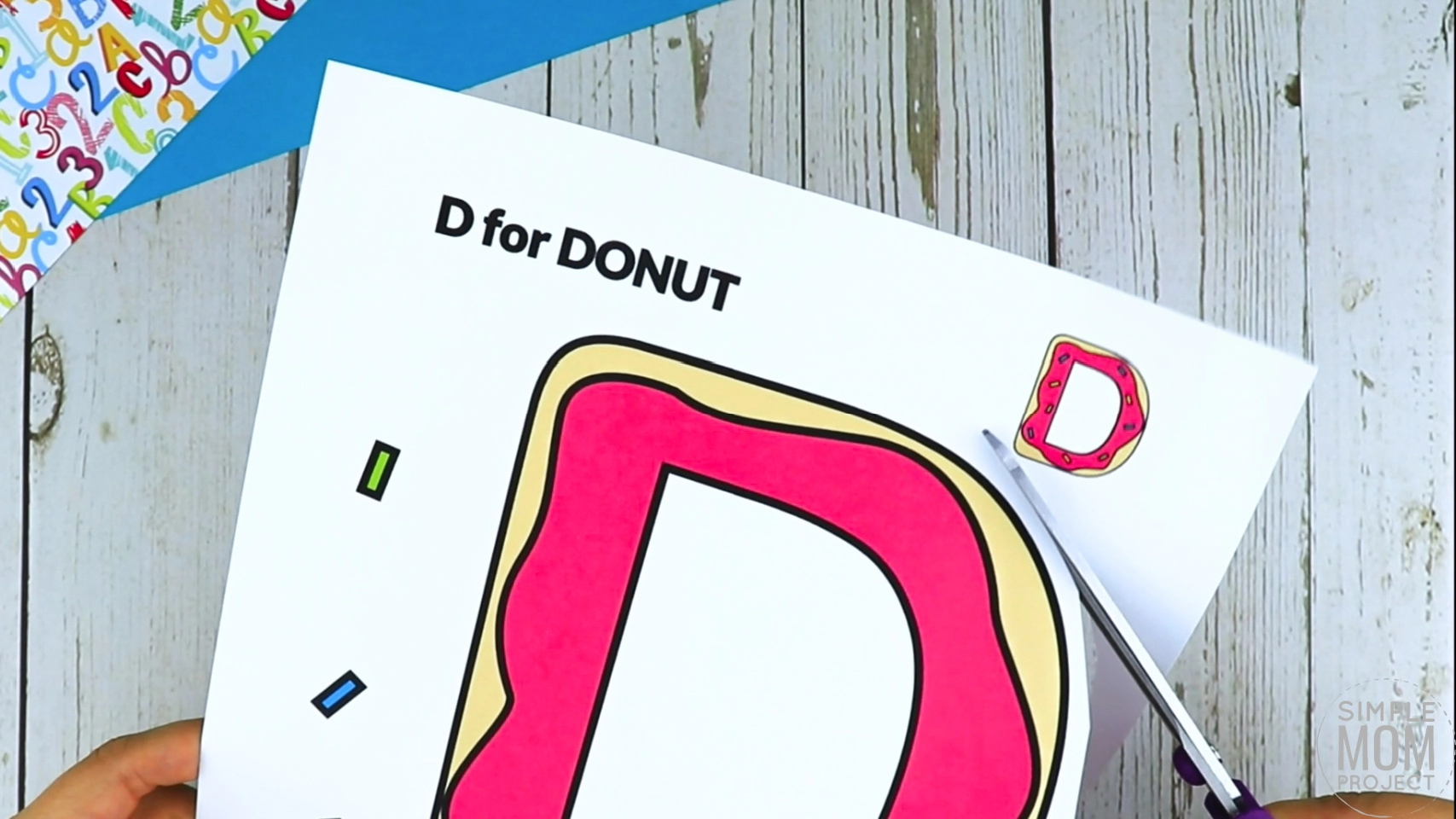 Printable Letter D Template (FOUND AT THE BOTTOM)
Keep scrolling to get your very own letter d craft today and start with your little ones and their alphabet craft buddies today!
Letter D Craft Instructions
Download and print the free printable letter D craft template on a white sheet of paper.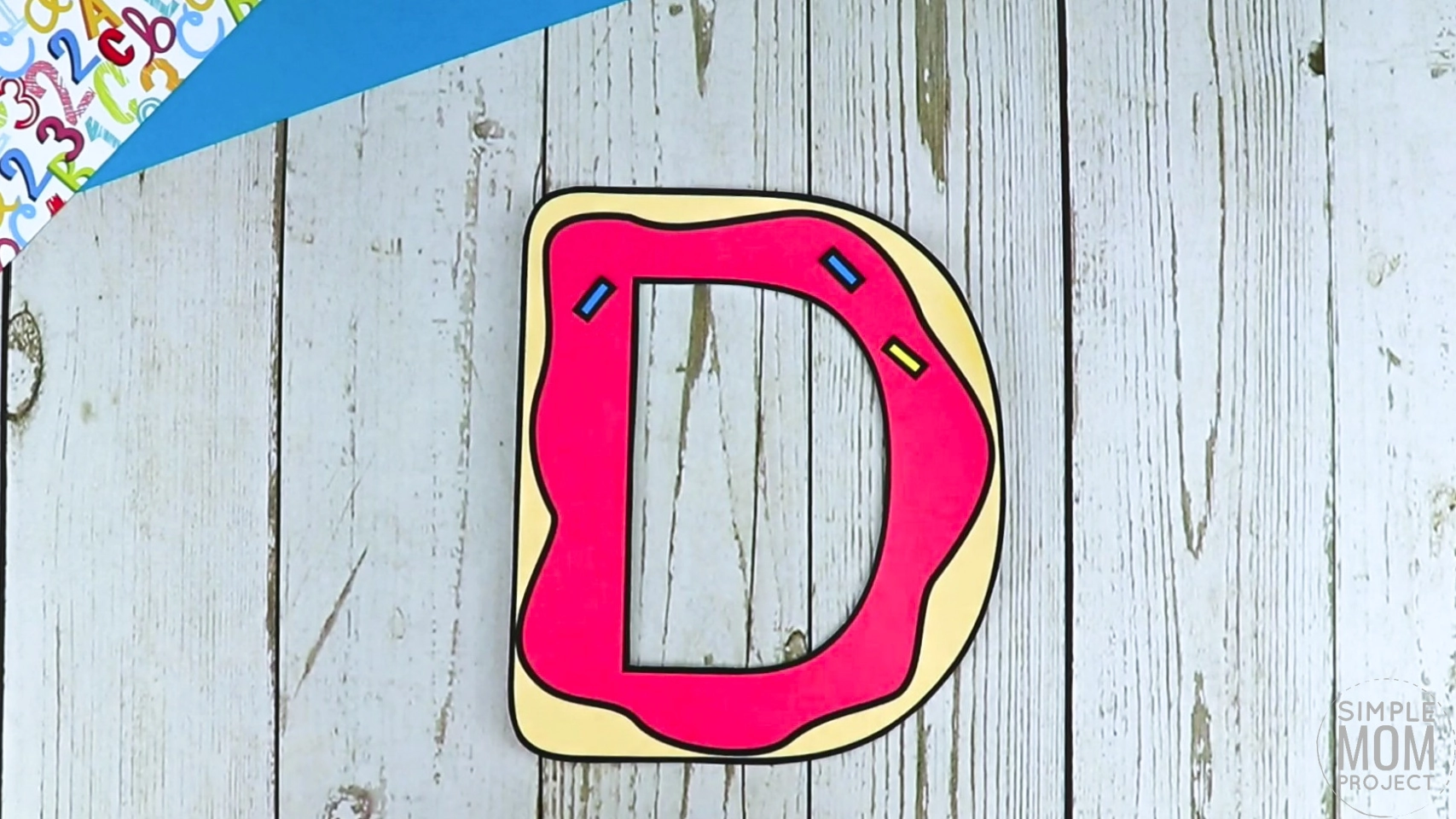 If your little one is familiar with using scissors, encourage them to try and cut along the lines.
Using a glue stick, attach the colorful sprinkles onto the letter D.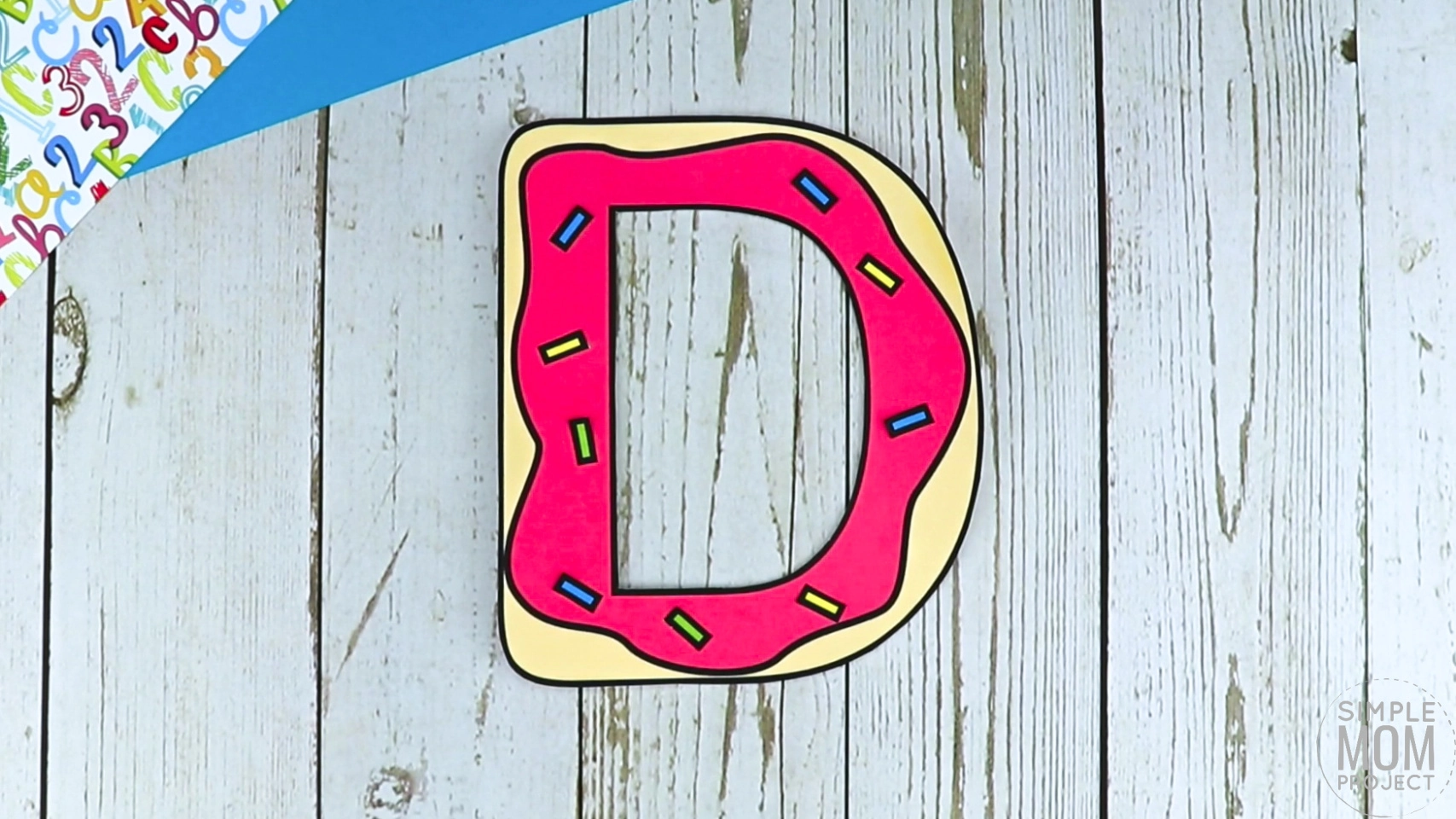 This adorable letter D craft is perfect to add in your alphabet activities.
More Options to Choose:
You can print the blank version and trace the cut outs on card stock paper for a sturdier letter d craft,
Print the letter d template in color for a simple and easy rainy day craft or,
Print the blank letter d template and use it as a fun coloring sheet activity and then glue the pieces of the letter d craft together.
Free Printable Letter D Craft Template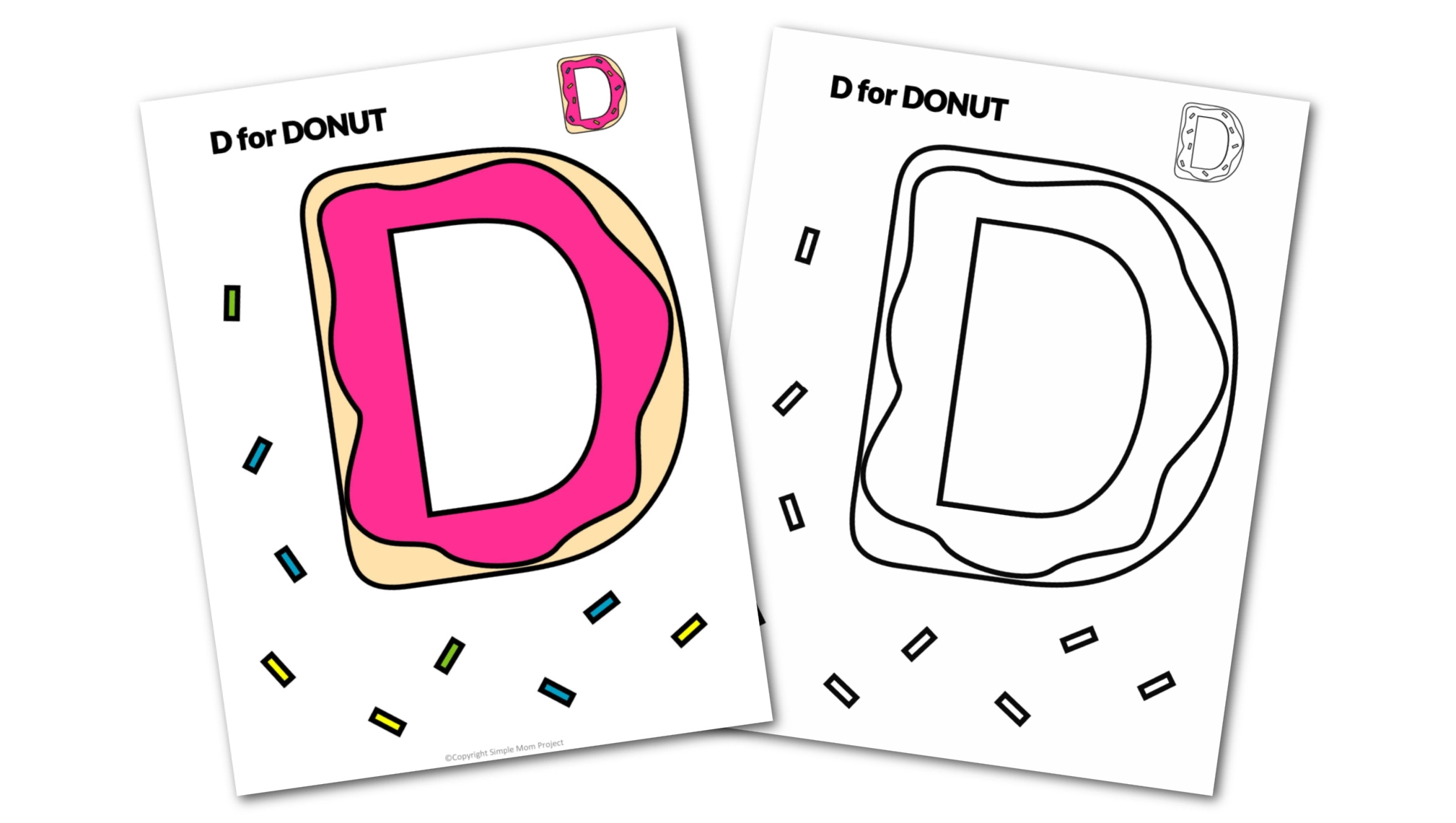 This sweet printable letter D for doughnut craft template will surely keep toddler, preschool and kindergarten occupied for hours!
There's the simple black and white letter D drawing to fill in with beautiful colors.
There's also the colored letter D for donut template where your child can directly cut it out.
Choose one or print the two amazing versions of this easy printable letter D craft template.
Don't forget to share your learning plans in the comments.
Need more alphabet letters fun? Check out our packed list of alphabet for simple craft fun with your little ones.  
When you have finished, be sure to share your creation on Simple Mom Project's Facebook Page and follow me on Pinterest!

Kaitlen D.
More Fun Alphabet Crafts