Spending time in nature is a fantastic way to get children interested in bugs, insects and other living things.
Children are fascinated with finding dragonflies in our backyard.
Today, we are going to share with you this friendly printable dragonfly craft template for your toddler, preschooler and kindergarten.
The most fun part about this simple activity is, your child has the chance to color it however they want.
Make memories and give your children the exercise they need with this easy cut and paste dragonfly craft template.
Don't forget to share it with your friends and family!


Need more crafty fun? Check out our Firefly and Butterfly craft.
 T
hey are perfect for those days when staying indoors is the only thing your family can do!
*By the way, this post may contain affiliate links which means I may receive a small commission at no additional cost to you if an item is purchase through that link. For more information, click here.*
Free Printable Cut and Paste Dragonfly Craft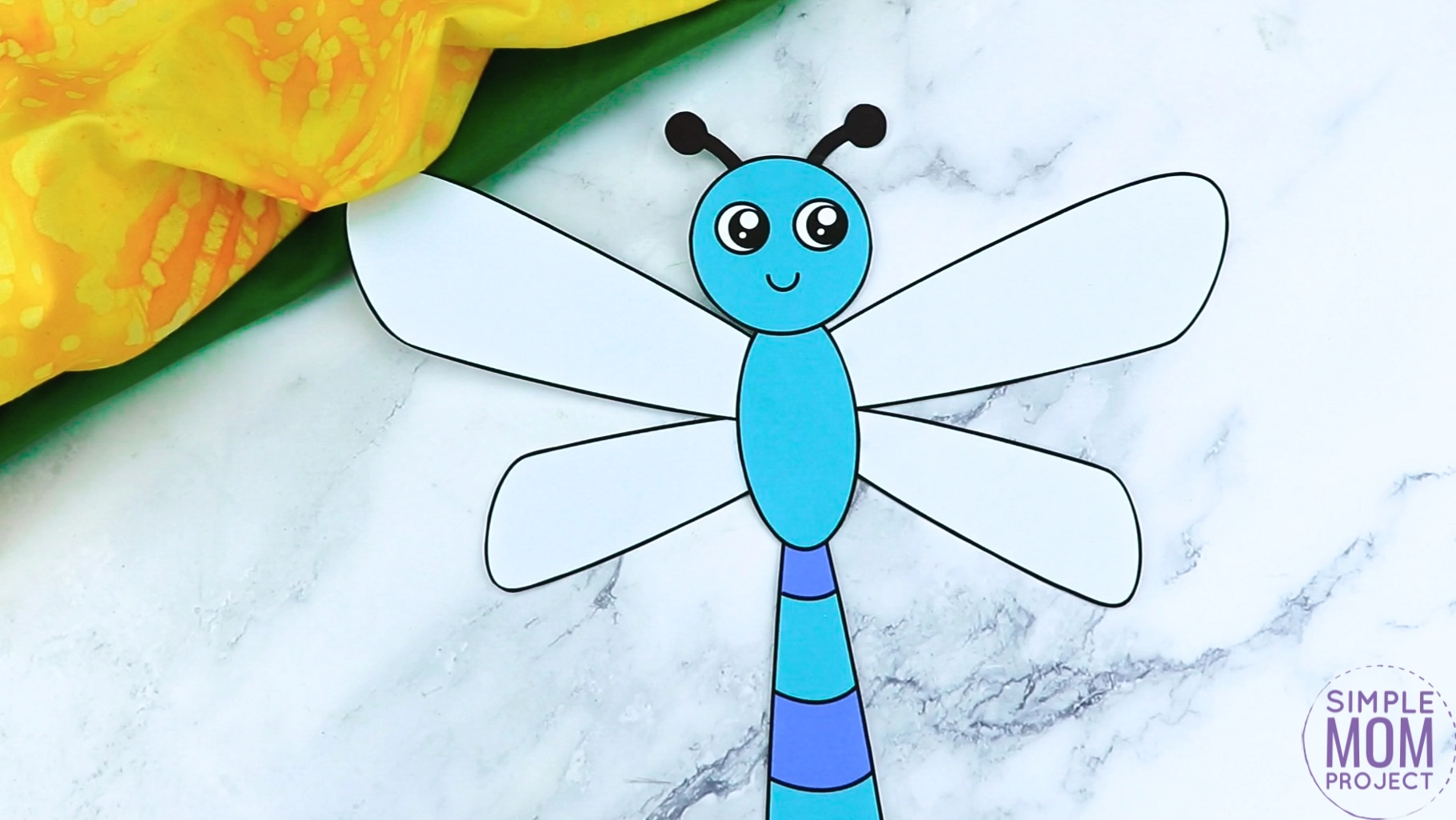 Ideas for Easy Preschool Paper Dragonfly Craft
Check out these incredible ideas on how to incorporate the free printable dragonfly craft template in your daily life with the kids.
1. Life Cycle of a Dragonfly
Dragonflies are colorful and fast-flying insects you can find everywhere.
Did you know that dragonflies have three stages to their life?
It's the egg, nymph and adult phase.
First stage is the eggs, which are usually laid into plant stems or leaves close to the surface of the water.
The eggs take 2 to 5 weeks to hatch.
Second stage is the larva or nymph – which is the longest life stage of the dragonfly.
Nymphs live in the water while they grow and develop into adult dragonflies.
This process can last anywhere from two months to a few years, depending on species and habitat.
Unlike butterflies, dragonflies do not have a cocoon stage, and therefore have incomplete metamorphosis.
They transition straight from being a larva to being an adult.
During this time, the dragonfly focuses on looking for a mate and reproducing.
2. Fabulous Books About Dragonflies
It's not that hard to help your kids keep their interest in reading and learning science during the weekend.
In fact, enjoying a book with your little one is a wonderful way to share experiences and discuss the topic together.
These awesome books are must-haves if your children are captivated by the beauty of a dragonfly.


3. Cute Clothespin Dragonfly Craft
We are turning children's fascination into an amazing clothespin dragonfly craft!
Grab your wooden clothespin and have your child paint it bright colors however they like.
Use a hot glue gun to adhere the googly eyes onto a small pom-pom ball.
For the wings, we use colorful pipe cleaners and twist it like a bow-shape.
Then place and glue it all together onto the clothespin.
You can also add decorative items such as glitters, beads and sequins.
This colorful clothespin dragonfly craft would be perfect to hang up on a bulletin board or classroom display.
4. DIY Plastic Spoon Dragonfly Craft
Let your little one have the imagination as high as possible in creating this DIY dragonfly craft out of recycled materials you probably have in hand.
Take out the plastic spoon and glue the googly eyes on it.
Use a sharpie in making a cute smiley on the spoon.
Now let's make the wings! You can either choose if you want to use popsicle sticks or handprints.
If you like to use popsicle sticks, have your little one paint it with bright colors and set it aside to dry.
Use a glue gun to attach it on the plastic spoon.
Make sure to place it on a crisscross pattern.
For the handprints, trace your child's hands on a colored paper and cut it out.
Attach it on the spoon. You can also use glitter glue to decorate the handprints.
These marvelous dragonfly craft ideas are perfect to spend some quality time with your kids.
We are confident they will ask for more fun bug and insect craft templates.


Dragonfly Craft Supplies Needed
Printable Dragonfly Template (FOUND AT THE BOTTOM)
Keep scrolling to get your very own dragonfly craft today and start with your little ones and their dragonfly craft buddies today!
Dragonfly Craft Instructions
Once your little one has chosen between the two dragonfly templates.
Click download and print it on white cardstock paper.
If your child is very young, help them to cut out.
But if they know how to hold a scissors properly, encourage them to try cutting along the printable dragonfly outlines.
Glue the dragonfly's wings onto the body.
Two wings per side and the larger wings should be on top.
Glue the antennas on top of its head.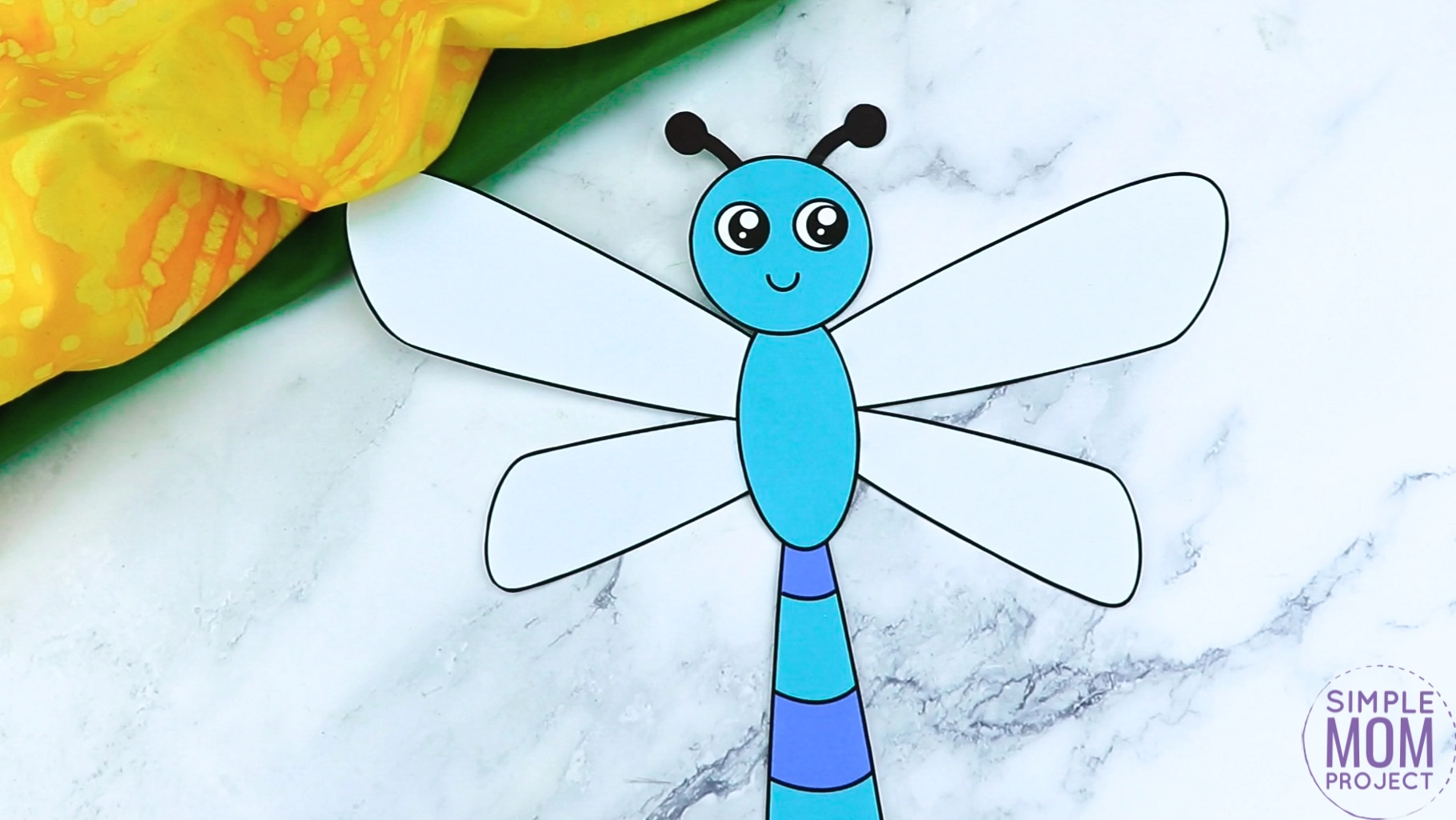 This simple dragonfly craft makes the perfect spring and summer activity.
More Options to Choose:
You can print the blank version and trace the cut outs on card stock paper for a sturdier dragonfly craft,
Print the dragonfly template in color for a simple and easy rainy day craft or,
Print the blank dragonfly template and use it as a fun coloring sheet activity and then glue the pieces of the dragonfly craft together.
Free Printable Dragonfly Craft Template
We offer you two different versions of free printable dragonfly craft templates so your children have choices.
We got the simple black and white dragonfly drawing and the easy cut-and-paste colored dragonfly template.
Don't forget to share your learning plans in the comments.
Need more insect and bug fun? Check out our packed list of insects and bugs for simple craft fun with your little ones. 
When you have finished, be sure to share your creation on Simple Mom Project's Facebook Page and follow me on Pinterest!

Kaitlen D.
More Exciting Bug Crafts