Another health worker to include in our community helper preschool activities is this free printable nurse craft template.
Cut out the nurse craft and use it for coloring sheet, stencils and DIY craft projects.
To show how much we appreciate the hard work and dedication of every nurse, use our printable nurse craft template to make an appreciation card.
Fill it with encouraging messages and give it to every nurse you know.
Coloring and cutting the free printable nurse craft template require great attention to details which gives children an opportunity to develop their hand-and-eye coordination.
When your child is done working with this easy cut-and-paste nurse craft template, offer them to do the free printable police officer craft and then maybe the firefighter craft.
Our step-by-step guide and tutorial video will show you how to make your own nurse craft in just a few minutes.


Need more crafty fun? Check out our Doctor, Teacher and Veterinarian craft.
 T
hey are perfect for those days when staying indoors is the only thing your family can do!
*By the way, this post may contain affiliate links which means I may receive a small commission at no additional cost to you if an item is purchase through that link. For more information, click here.*
Free Printable Cut and Paste Nurse Craft
Ideas for Easy Preschool Paper Nurse Craft
We've put together these great ideas on how to include this free printable nurse craft template in your children's life.
1. Best Children's Books About Nurses
Does your child want to be a nurse someday?
Support their ambition by reading good books about nurses and why they play an important role in the health industry.
Your children will be excited to listen and at the same time, it stimulates brain development.
Here are the lists of my little one's favorite nurse books that will surely be loved by your kids, too.
2. N is for Nurse
The most fun part about this free printable nurse craft template is, you can use it for teaching your preschooler the alphabet letters.
Pair the finished nurse craft with a free printable letter N craft to help kids to learn about beginning sounds, letter formation, lower and uppercase letters.
Print out tracing letter worksheets then show you little learner the correct way to hold a pencil as they practice writing the letter N.
Once your child is finished making the teacher craft and letter N craft, it's time to hop over to other letters using our free printable A-to-Z alphabet crafts.

3. Learn Basic First Aid for Kids
We've put together a lot of easy cut-and-paste community helper crafts, but this free printable nurse craft template is one of our favorites.
Keeping the kids safe is our top priority, but it's also important to teach them how to protect themselves in case of emergency.
Use our simple printable nurse craft template to teach kids first aid through scenarios and role play.
One of the basic ways is to teach your little one when to call for assistance and what numbers they need to dial.
4. DIY Nurse Cap Craft
The best way to entertain your children is to make amazing crafts together!
Bring out the inner little nurse in your child by offering this free printable nurse craft template and making their own nurse cap.
Take out all the craft materials and start tracing a nurse cap on a construction paper.
Have your child paint the cut-out nurse cap however they want.
Decorate the paper craft by adding glitters, sequins or beads.
Punch a small hole on each side of the cap and insert a long elastic rubber that will fit-in on your little one's head.
Encourage your child to do a dramatic play or use it for your next costume party.
Maximize the use of our cute printable nurse craft template to create a sweet family bonding time.


Nurse Craft Supplies Needed
Printable Nurse Template (FOUND AT THE BOTTOM)
Keep scrolling to get your very own nurse craft today and start with your little ones and their community helper craft buddies today!
Nurse Craft Instructions
Make sure to gather all the classic craft supplies we will use for this fun activity.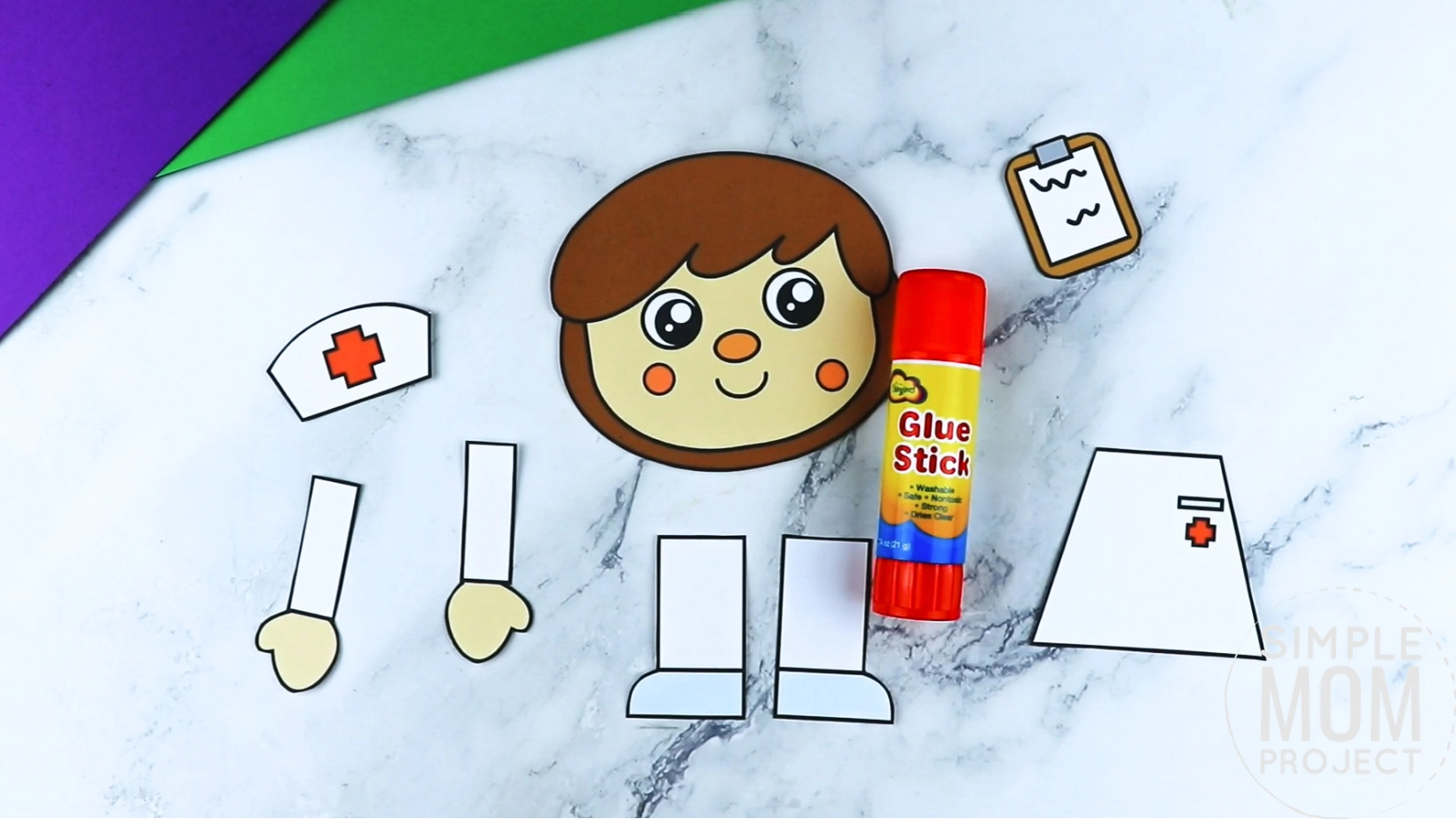 Print out which version of this preschool printable nurse craft template your child chose.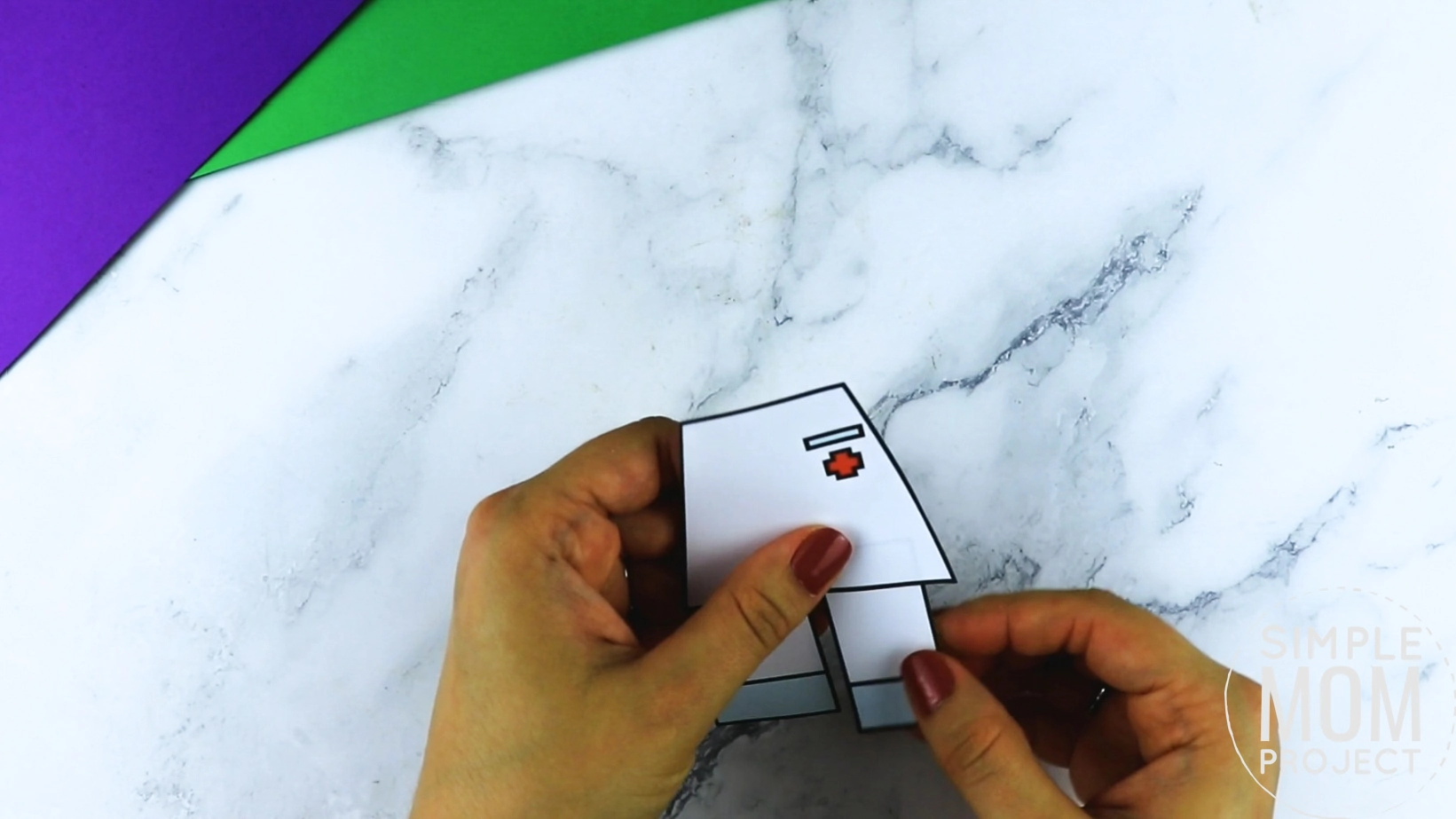 If your child is very young, cut the pattern pieces for them.
But, if your child is already familiar with scissors, encourage them to cut along the lines.
Using a glue stick, attach the upper and lower body together.
Glue the arms on each side of the body then attach the checklist clipart on her hand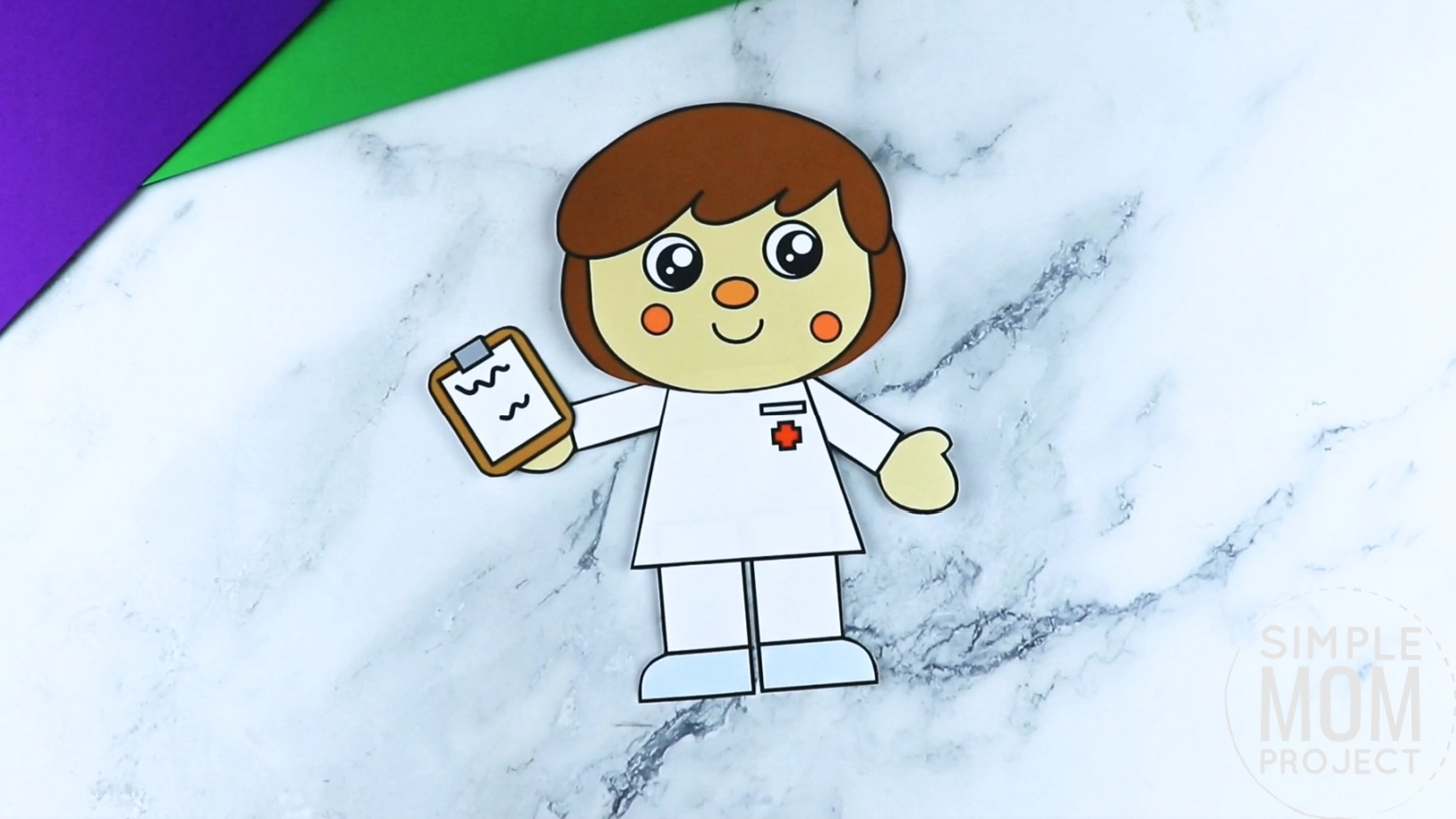 Finish it off by gluing the head and nurse's cap.
Now, your nurse craft is ready to join the doctors to take good care of the patients.
More Options to Choose:
You can print the blank version and trace the cut outs on card stock paper for a sturdier nurse craft,
Print the nurse template in color for a simple and easy rainy day craft or,
Print the blank nurse template and use it as a fun coloring sheet activity and then glue the pieces of the nurse craft together.
Free Printable Nurse Craft Template
This free printable nurse craft template is perfect for kids of all ages – toddler, preschooler, kindergarten and early elementary kids.
There are three sets of simple printable nurse craft templates.
First, the black and white nurse drawing template to fill in with amazing colors.
Then, we have two pages of colored nurse craft templates to practice those scissor skills.
Don't forget to share your learning plans in the comments.
Need more community helper fun? Check out our packed list of community helpers for simple craft fun with your little ones.  
When you have finished, be sure to share your creation on Simple Mom Project's Facebook Page and follow me on Pinterest!

Kaitlen D.
More Fun Community Helper Crafts