Looking for some fun activities for the kids that will help them get familiar with helpers in their community?
Look no further!
Here's our free printable police officer craft template that's perfect for beginner crafters and young children.
Making these simple printable police officer craft templates help children understand the roles and responsibilities of a police officer.
Your kids will also have a chance to work on their fine motor skills, coloring, focus and creativity as they make this policeman craft activity.
The finished police officer craft would be perfect to hang on your living room as a home décor for the guests and visitors to see.
Scroll down to download the template and see the easy step-by-step police officer craft instructions to guide your little one to make a perfect policeman craft.


Need more crafty fun? Check out our Teacher, Firefighter and Doctor craft.
 T
hey are perfect for those days when staying indoors is the only thing your family can do!
*By the way, this post may contain affiliate links which means I may receive a small commission at no additional cost to you if an item is purchase through that link. For more information, click here.*
Free Printable Cut and Paste Police Officer Craft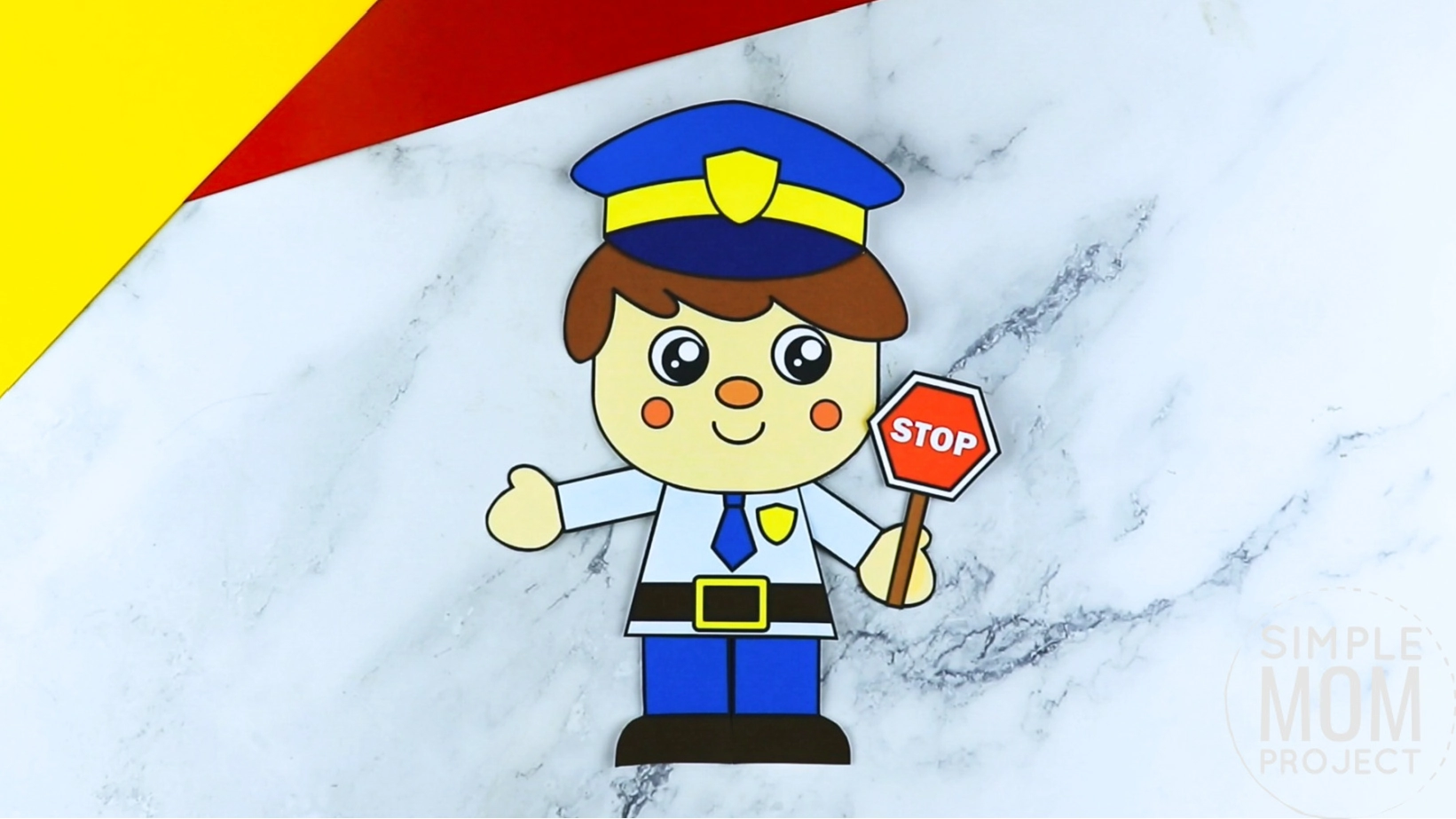 Ideas for Easy Preschool Paper Police Officer Craft
We came up with these amazing ideas on how to incorporate these free printable police officer craft templates in your kids' everyday life.
1. Best Books for Law Enforcement Children
I love teaching my kids how to read, it helps develop their listening and language skills.
Reading to our children daily encourages them to create a great conversation and share experiences.
Together with these free printable police officer craft templates, let's learn about the roles and responsibilities of a policeman with the help of these amazing children's books.
2. Police Party Decorations
Who loves throwing a party for the whole family, especially the kids?
I know, we do!
If you're planning to have a police themed party this weekend, be sure to include these simple printable police officer craft templates!
Let your children enjoy the process of making these free printable police officer craft template activities.
Use the finished policeman craft as party garland, cake toppers, food table displays, banner or party invitation cards.

3. Teaching Kids the Alphabet
Learning and reciting the letters of the alphabet helps children improve their basic speech and communication skills.
Help your preschooler master the /P/ sound, uppercase and lowercase letter P with these free printable police officer craft templates.
Print a large letter P as part of your visual aid and use our easy cut-and-paste policeman craft as an example when teaching words that start with the letter P.
If you're looking for more craft activities that begin with the letter P, try these:
4. Creative Family Fun
Playing is important for your kids' development, it will enhance their social skills and self-esteem.
Pretend play lets your little one be a teacher, police officer, nurse, fashion designer or whichever career they desire!
Be sure to include our free printable police officer craft template for your kids' imaginative play.
Simply glue the finished craft on a small paper lunch bag or glue a popsicle stick at the back of the craft.
Create other equipment or items for the play-set like the police car, police badge, handcuffs, flashlight, etc.
Encourage your children to use their imagination and create fun scenes that involve other community helpers.
This family time activity will have a positive impact on your child's behavior.
We hope you enjoyed these brilliant policeman craft ideas.
We are happy to be part of your lesson plans and craft activities!


Police Officer Craft Supplies Needed
Printable Police Officer Template (FOUND AT THE BOTTOM)
Keep scrolling to get your very own police officer craft today and start with your little ones and their community helper craft buddies today!
Police Officer Craft Instructions
Get ready to have a fantastic day making this easy cut-and-paste community helper craft!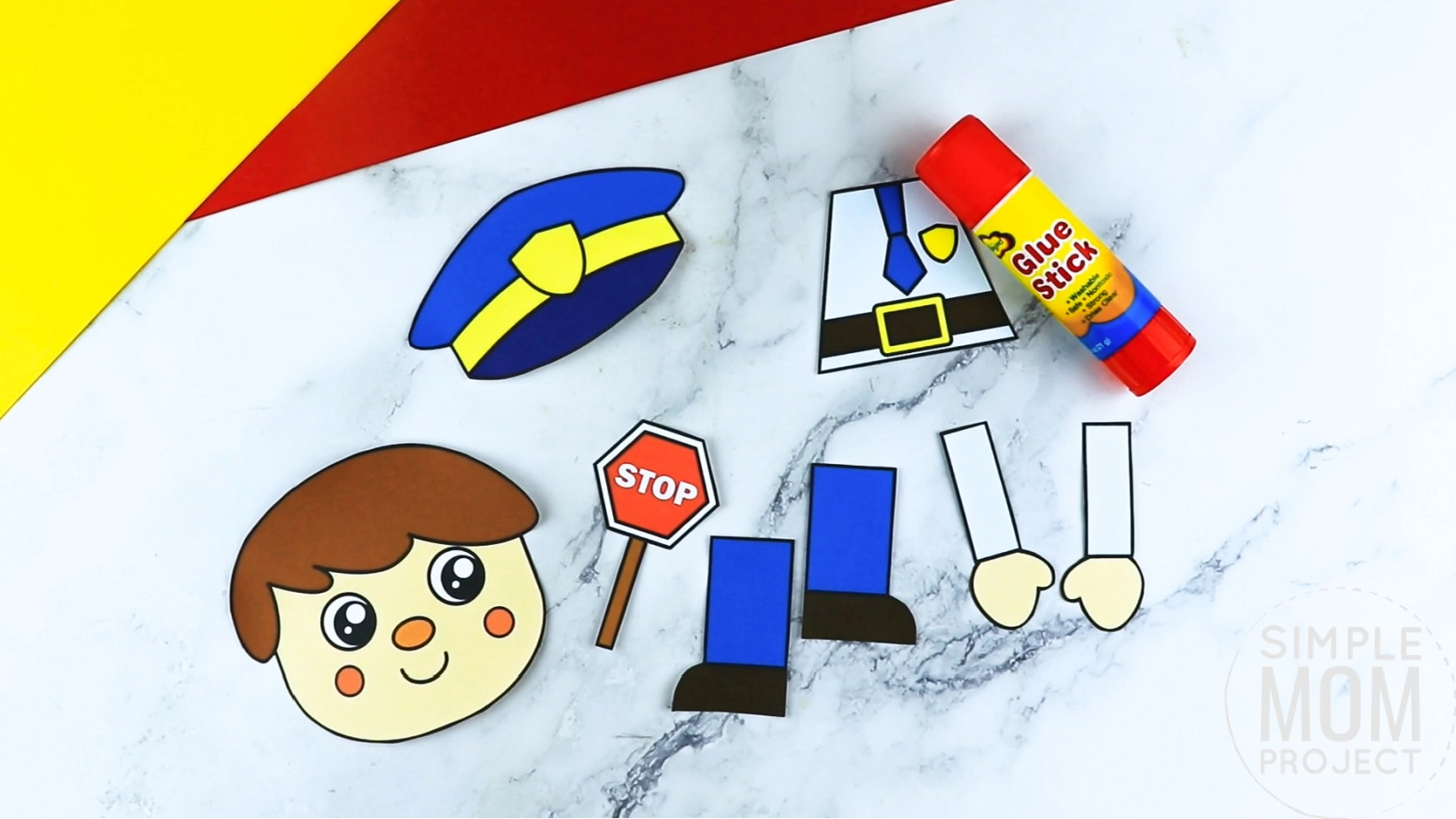 Download and print whichever version of this preschool printable police office craft template your child chose.
Start cutting out each piece of this cute printable police officer craft template.
Using a glue stick, attach the body, legs and arms together.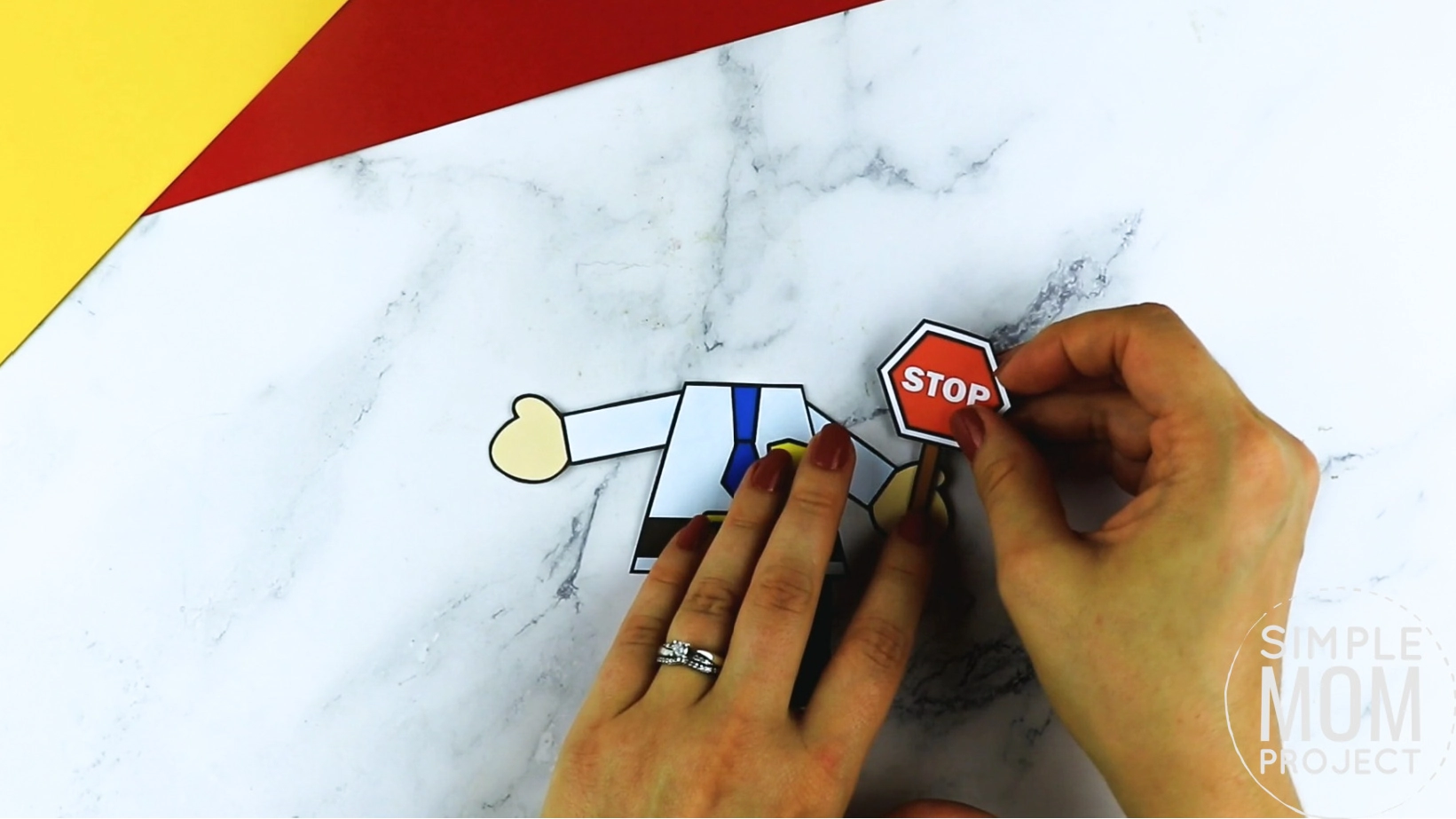 Glue the stop sign onto the policeman's hand.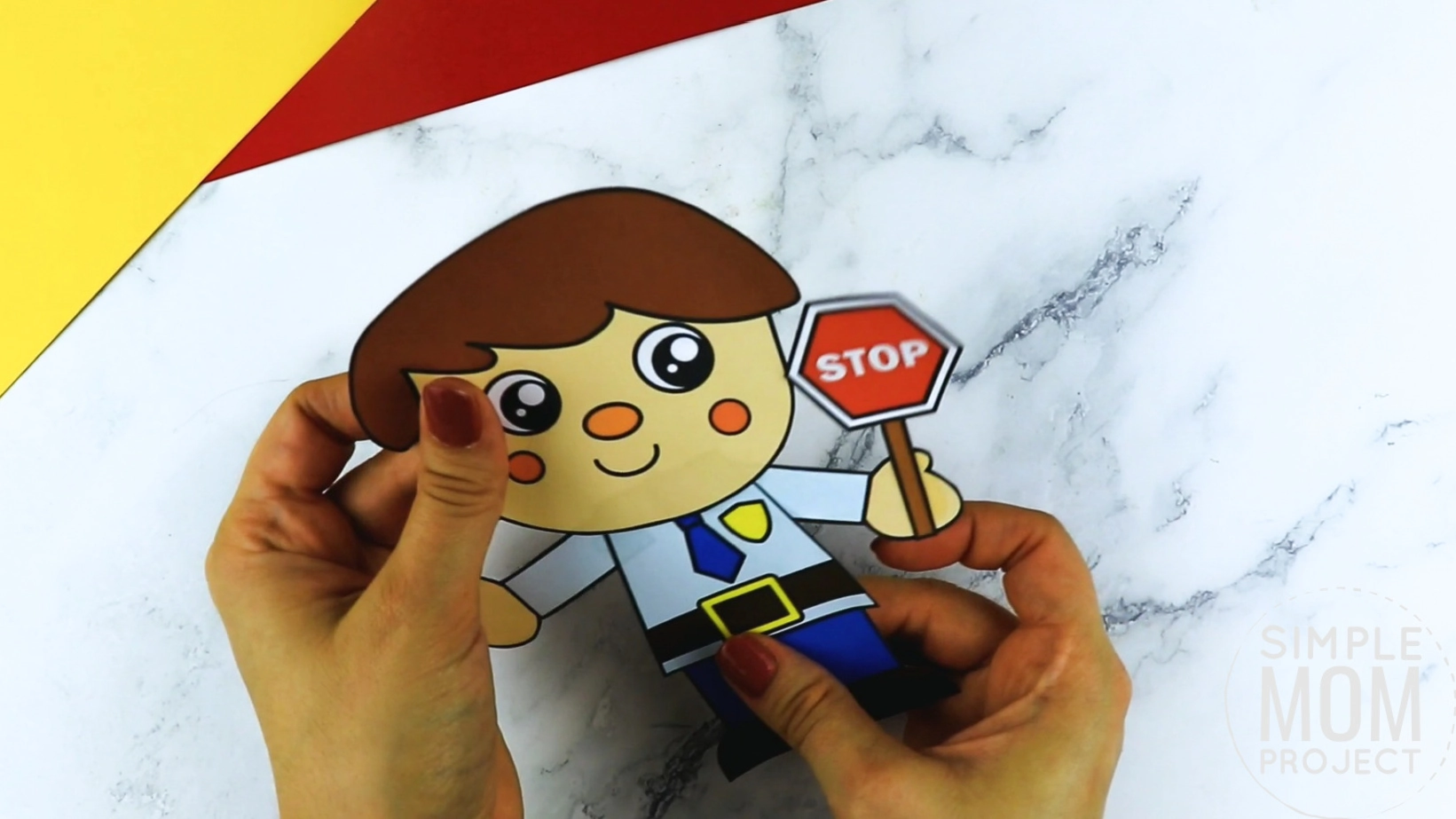 Then, glue the head and his police hat.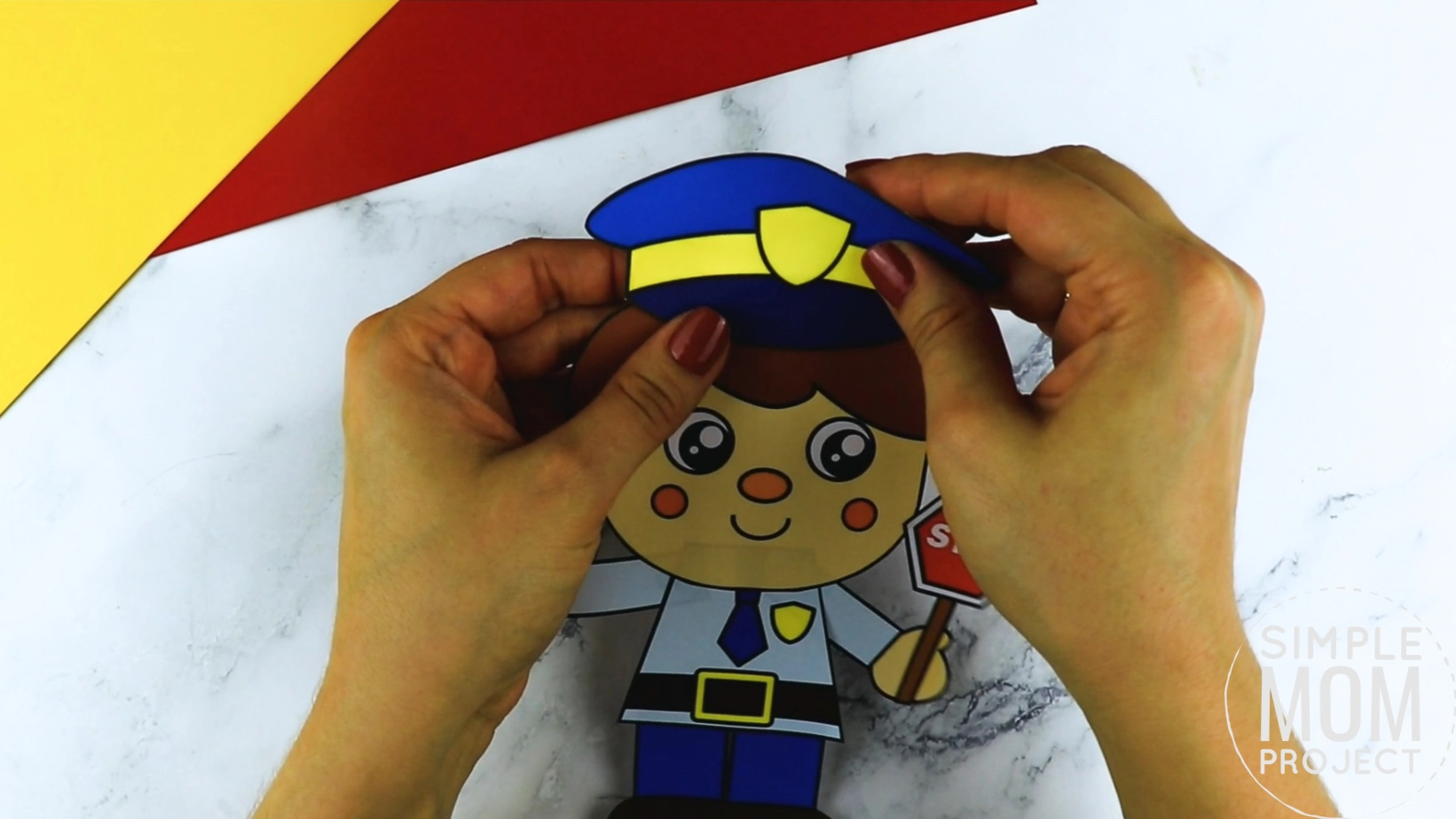 Now your kids have a good police officer craft they can play around with!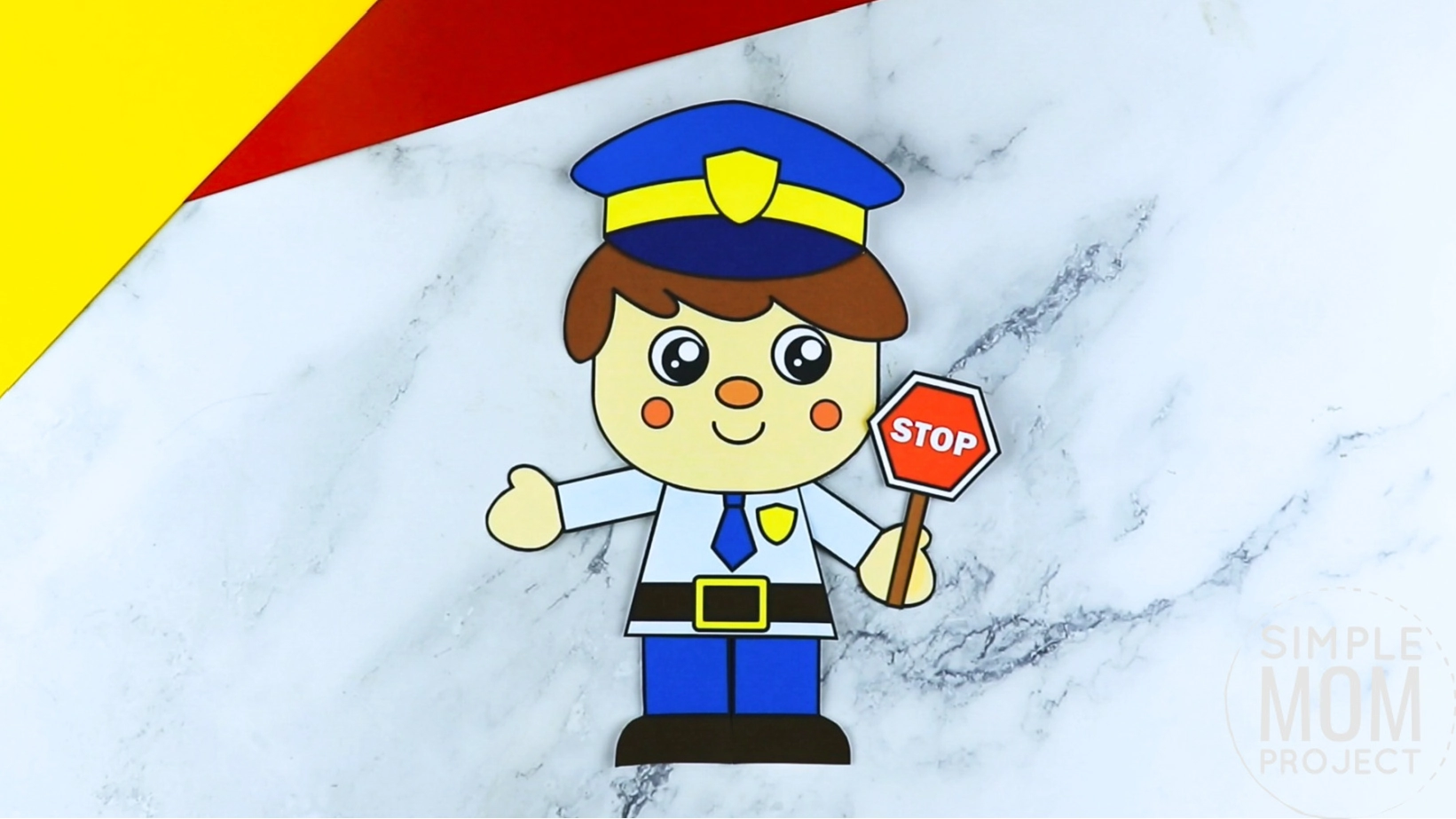 More Options to Choose:
You can print the blank version and trace the cut outs on card stock paper for a sturdier police officer craft,
Print the police officer template in color for a simple and easy rainy day craft or,
Print the blank police officer template and use it as a fun coloring sheet activity and then glue the pieces of the police officer craft together.
Free Printable Police Officer Craft Template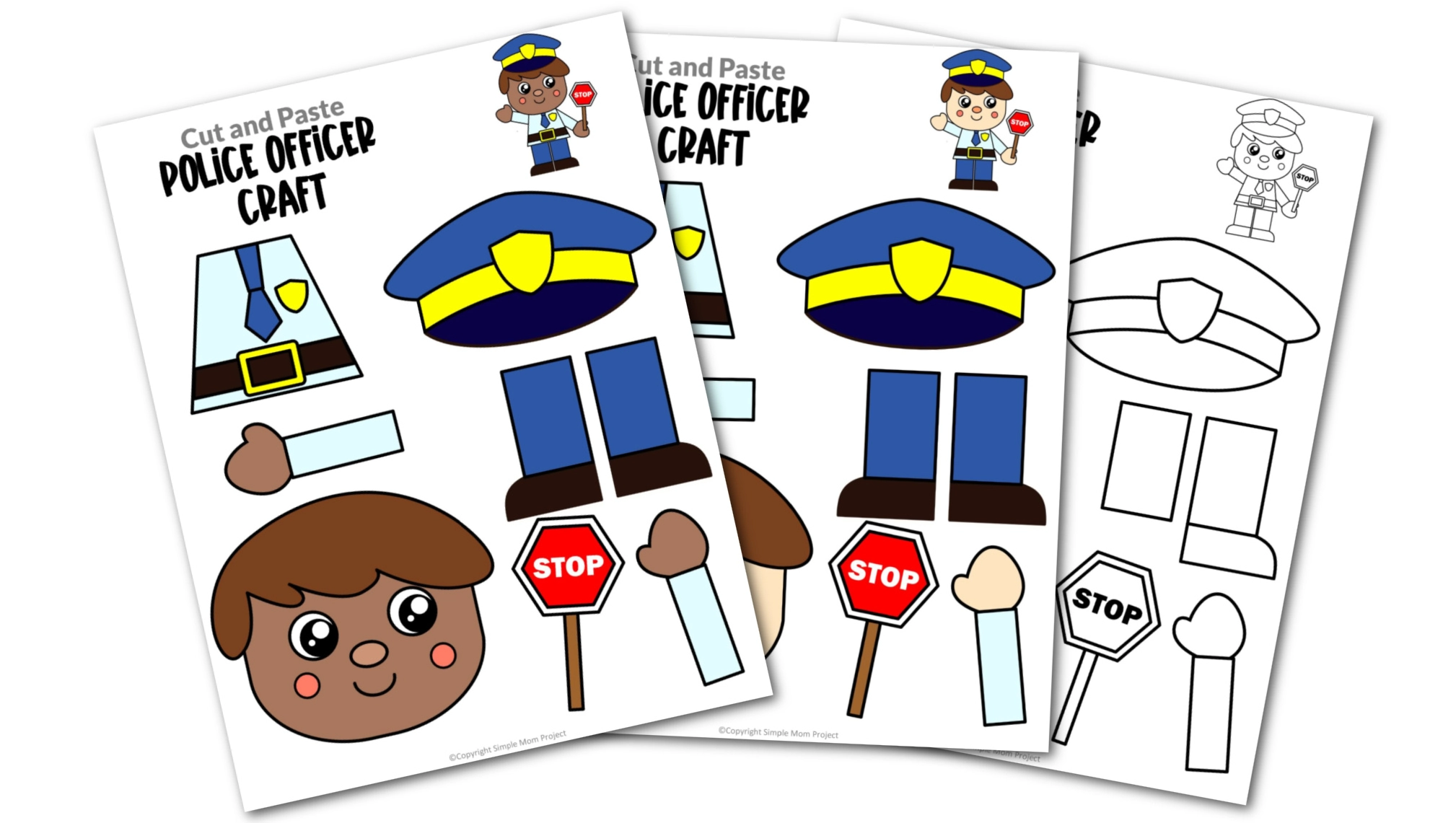 Why choose if you can print the three versions of this free printable police office craft template for your toddler, preschool and kindergarten kids.
We got the simple plain policeman drawing where your little one can fill it in with different colors.
We also have two sets of colored policeman craft templates where they can directly cut and paste the patterns.
Don't forget to share your learning plans in the comments.
Need more community helper fun? Check out our packed list of community helpers for simple craft fun with your little ones.  
When you have finished, be sure to share your creation on Simple Mom Project's Facebook Page and follow me on Pinterest!

Kaitlen D.
More Fun Community Helper Crafts