This free printable cute dolphin coloring page is the ideal activity for you and your toddlers or preschoolers if you're both captivated by this cute bottlenose dolphin.
This lovely dolphin drawing page is a great way to occupy your kids for a bit while you're doing chores.
Dolphins can be found all over the world and in different environments.
Did you know that just like our sweet kiddos, baby dolphins stick with their mothers for a long time?
Yes! It's true, some stay with their mothers for 3 or even 8 years!
Learning will never be boring if your children are having fun!
Keep scrolling to gather more information about this adorable animal and download your own dolphin drawing worksheet now.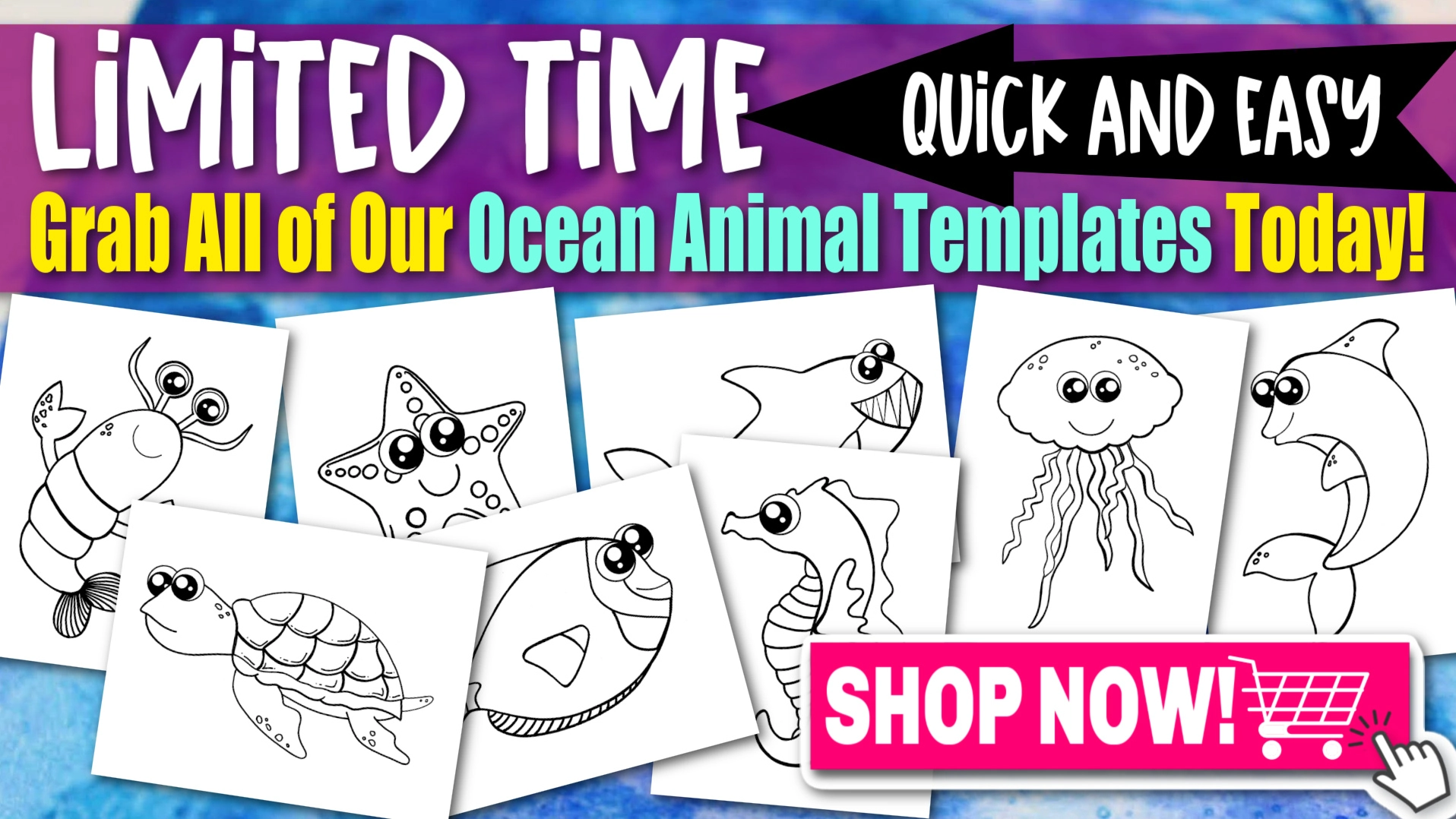 *By the way, this post may contain affiliate links which means I may receive a small commission at no additional cost to you if an item is purchase through that link. For more information, click here.*
Free Printable Dolphin Coloring Page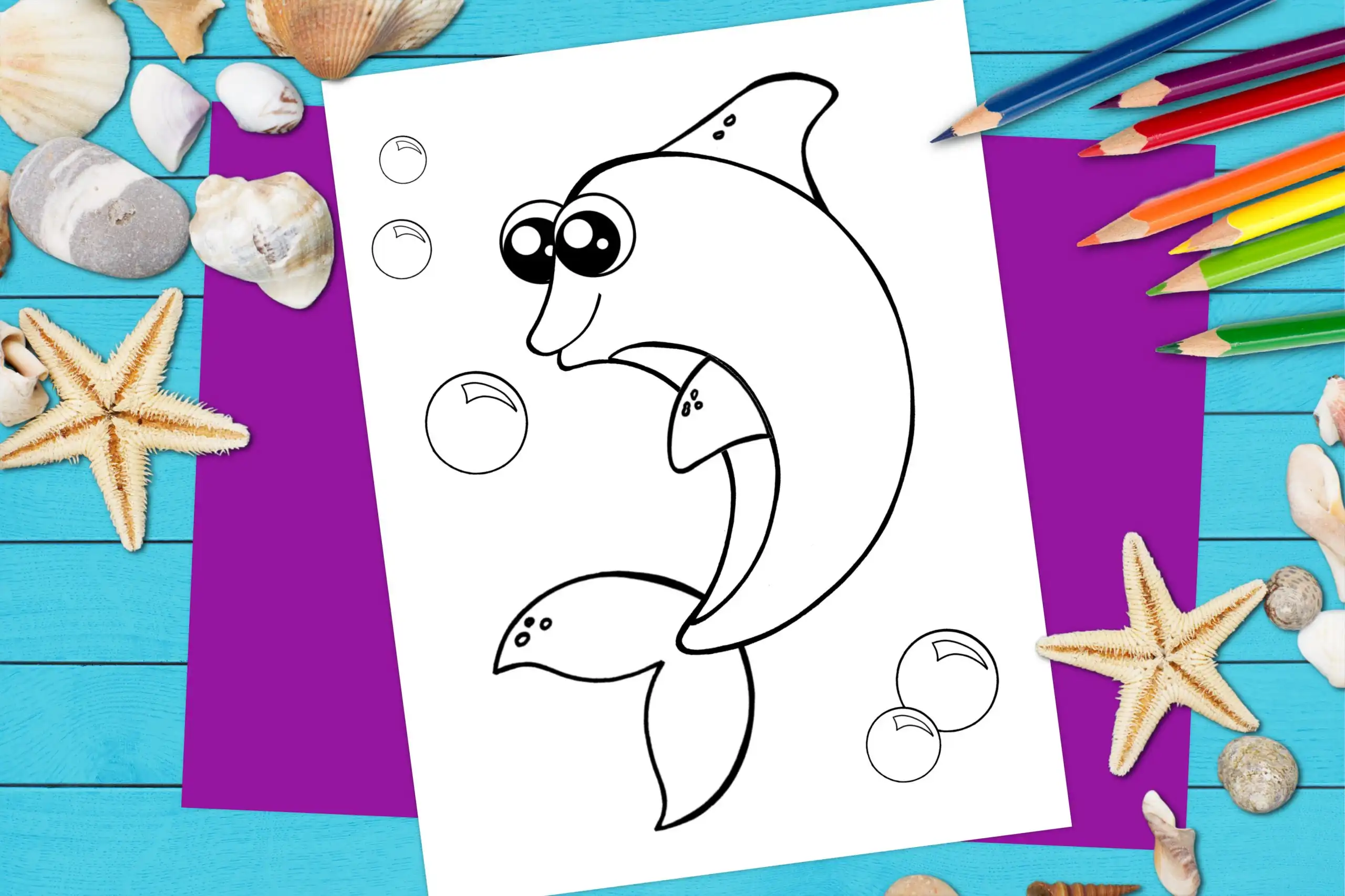 Dolphin Coloring Page Materials Needed:
Printable Dolphin Coloring Sheet (FOUND AT THE BOTTOM)
Make your child's finished dolphin coloring page a forever memory by laminating it! We use this laminator and cannot express how much we love it! It is not only inexpensive, it is SO easy to use!
Your kids will love seeing how much you adore their art work when you laminate and display it for years to come!
Need more ocean animal fun? Don't miss out on all our full ocean animal coloring book for more ocean themed coloring pages and crafting fun with your little ones.
Ideas for Dolphin Coloring Page Printable
Don't miss out the chance to include this easy printable dolphin drawing template in your everyday life with the kids.
1. Dolphin Facts for Kids
Dolphins are extremely intelligent, playful and very friendly to humans.
I bet you didn't know that dolphins have two stomachs!
One is used for storage of food and the other is for digestion.
There are also pink dolphins called Amazon pink river dolphins, these cute ocean animals are actually born gray and slowly turn pink as they age.
Amazing isn't it?
Once your preschoolers accomplish their simple baby dolphin coloring worksheet, ask them what they know about dolphins.
Share these awesome facts to your preschoolers and watch how this will draw their attention. 
We assure they will add this friendly dolphin to their new favorite ocean animals.
2. Diving Dolphin Craft
Children develop their creativity when they make art and crafts.
It allows them to express their feelings by coloring this lovely free printable baby dolphin drawing template. 
Once they are done with their masterpiece, you will notice your kids can't stop talking about their achievement.
This helps them improve their self-confidence.
Grab all the materials needed and print this free adorable dolphin coloring page.
Don't forget to add a paper plate because we are going to make a cute craft perfect for dolphin lovers! 
Paint the paper plate with sky blue and dark blue, create some waves and add clouds too.
This simple craft looks like the ocean meets the sky.
Cut-out and glue the lovely bottlenose dolphin coloring page of your preschooler. 
This will look like the dolphin is jumping out of the ocean, it is simple yet fascinating! 

3. The Art of Storytelling
Children love listening to stories especially before going to bed.
They want to know more about their favorite animals or cartoon characters.
Regular reading and listening can make your children improve their skills in creating a perfect conversation.
You can create a cute short story with the use of this free dolphin coloring page or you can look into some of our favorite bottlenose dolphin books.
4. Dance Like Dolphin
It's always amusing to learn new dance moves!
Try to do the movements of the dolphin by swimming almost straight upwards then jump, like a dolphin coming out of the water.
It's very entertaining and at the same time, it helps you and your children to do some exercise.
Use this free printable dolphin coloring page to demonstrate to your children how dolphins swim.
It's a fun way to motivate your children to participate in a healthy physical activity.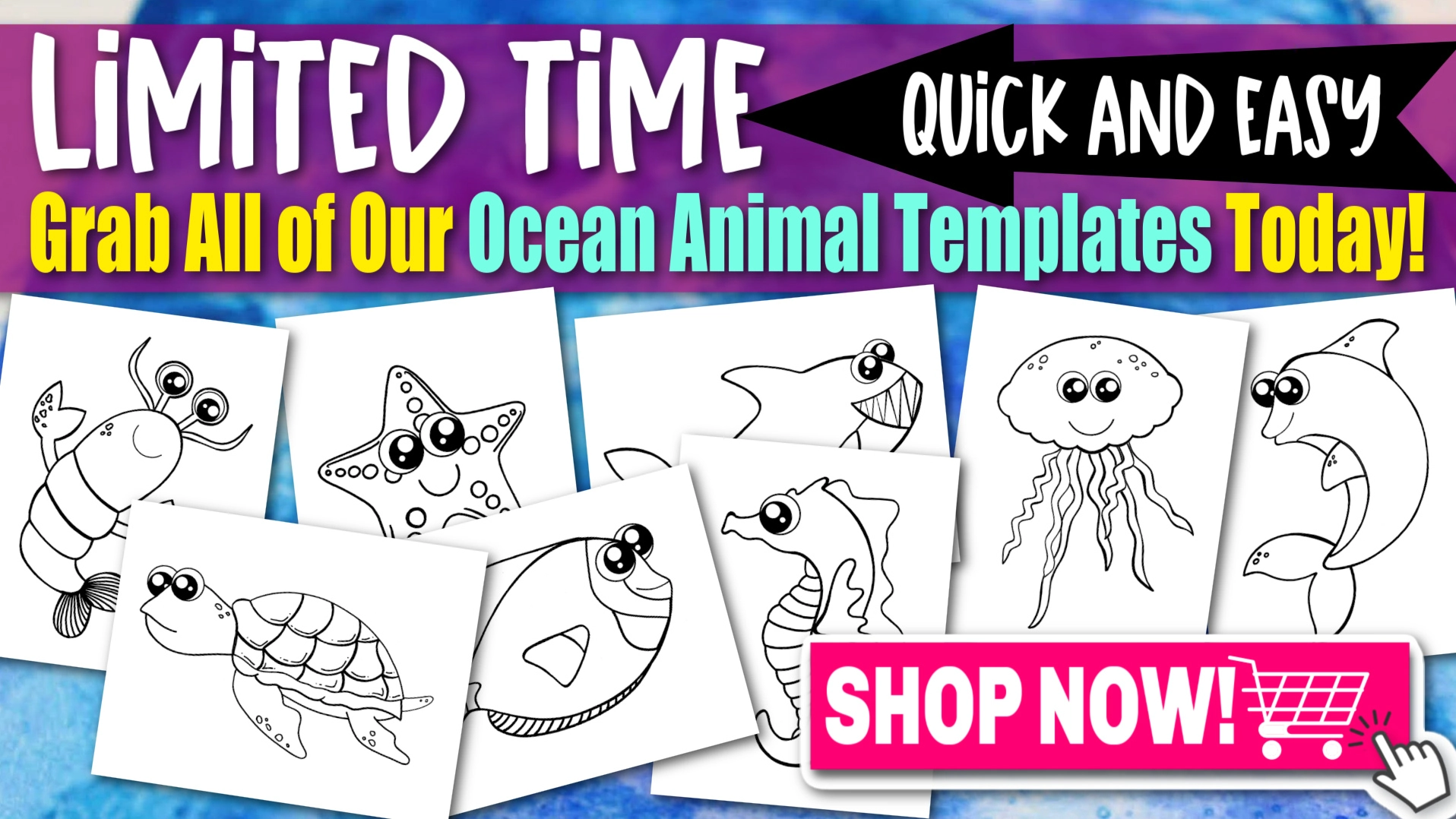 Dolphin Printable Coloring Page: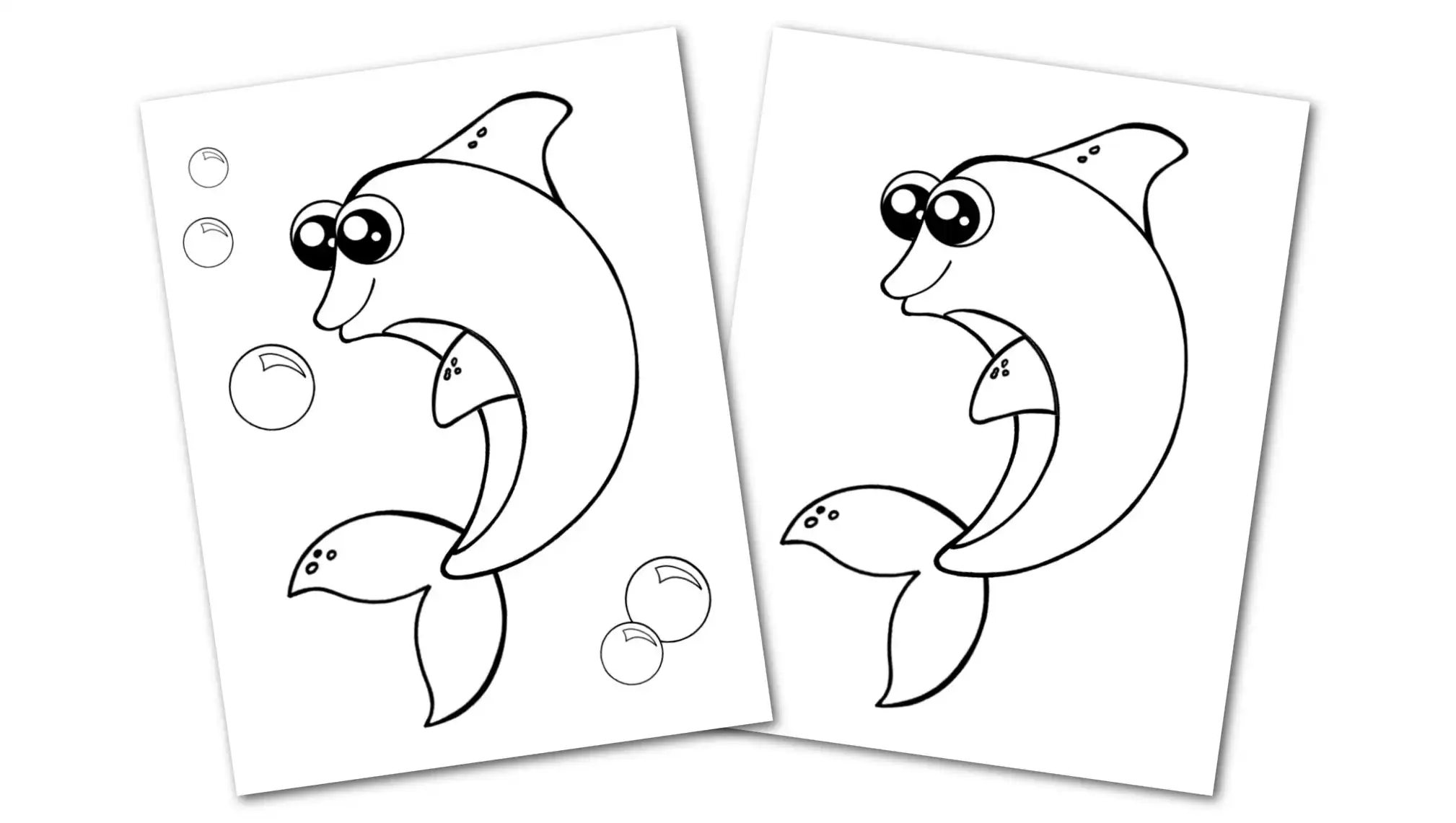 Download and get these two versions of the free printable cute dolphin coloring page.
Let your kids decide whether they like to color first the baby dolphin with bubbles or the one without bubbles.
Comment down below all the amazing experiences you had with your preschoolers in making this easy printable dolphin drawing worksheet. 
When you have finished, be sure to share your creation on Simple Mom Project's Facebook Page and follow me on Pinterest!

Kaitlen D.
More Fun Ocean Animal Coloring Pages