Spring is right around the corner and it is almost here! Every year, just before March, my children insist on making a trip to the local farm supply store to see the baby chicks. Let me say, it is SO hard to not bring one home!
The chicks are kept in a special corral and children crowd around to admire them. My oldest likes to name them! If your little ones are equally fascinated by baby chicks, you're going to love this new Spring themed farm chick craft!
This easy and free printable chick craft is for toddlers and preschoolers and can be printed and "built" simply to create an adorable baby chick for your children to enjoy year-round. It's the perfect way to end a trip to visit the baby chicks at our farm supply store or a fun craft to do during the warmer months!
Keep scrolling to get your own build a chick craft. After you're done building your own, be sure to check out the build a bunny craft. It's another fun way to help spring come alive for your little ones.
*By the way, this post may contain affiliate links which means I may receive a small commission at no additional cost to you if an item is purchase through that link. For more information, click here.*
Free Printable Build a Farm Chick Craft for Kids
After your littles put together their own chick, they can decorate him or her to look just like a real baby chick or something from their own fantastic imagination.
My kids like using neon markers, glitter glue tubes, and colored feathers from the craft store. You can even turn it into a hand print memory with washable finger paint!
Farm Chick Craft Fun Activities
To extend the fun, consider these adorable activities before or after you build a chick
1. Laugh it up with littles during story time.
Every season, my kids pull out one of their favorite  tales and we laugh together on the sofa as I read to them with all the voices.
Which favorite tale inspires so much fun? It's There Was An Old Lady Who Swallowed a Chick by Lucille Colandro. 
2. Teach them to sing!
Grandparents will love hearing young children sing while showing off their little chicks. I like Spring Chicken by Out of the Ark Music.
We video our kids singing cute songs and showing off their crafty creations and email the videos to grandparents who live far away.
It's a cute way to share your creations with distant relatives and bring a smile to Grandma's face.
3. Learn more about real baby chicks.
Teach your littles about the life cycle of a chicken. Learn how eggs hatch. You can even talk about all the other animals that lay eggs and hatch from eggs like other birds, alligators, and even a platypus!
Let's Hatch Chicks by Lisa Steele is a great nonfiction picture book for learning more about baby chicks too.
4. Visit real baby chicks! If you don't have a farm supply store nearby, you may be able to meet some adorable baby chicks at a local farm or petting zoo.

Build a Farm Chick Craft Tutorial
So without further ado, let's hop on in! Below you will find a short list of supplies to gather before you get started.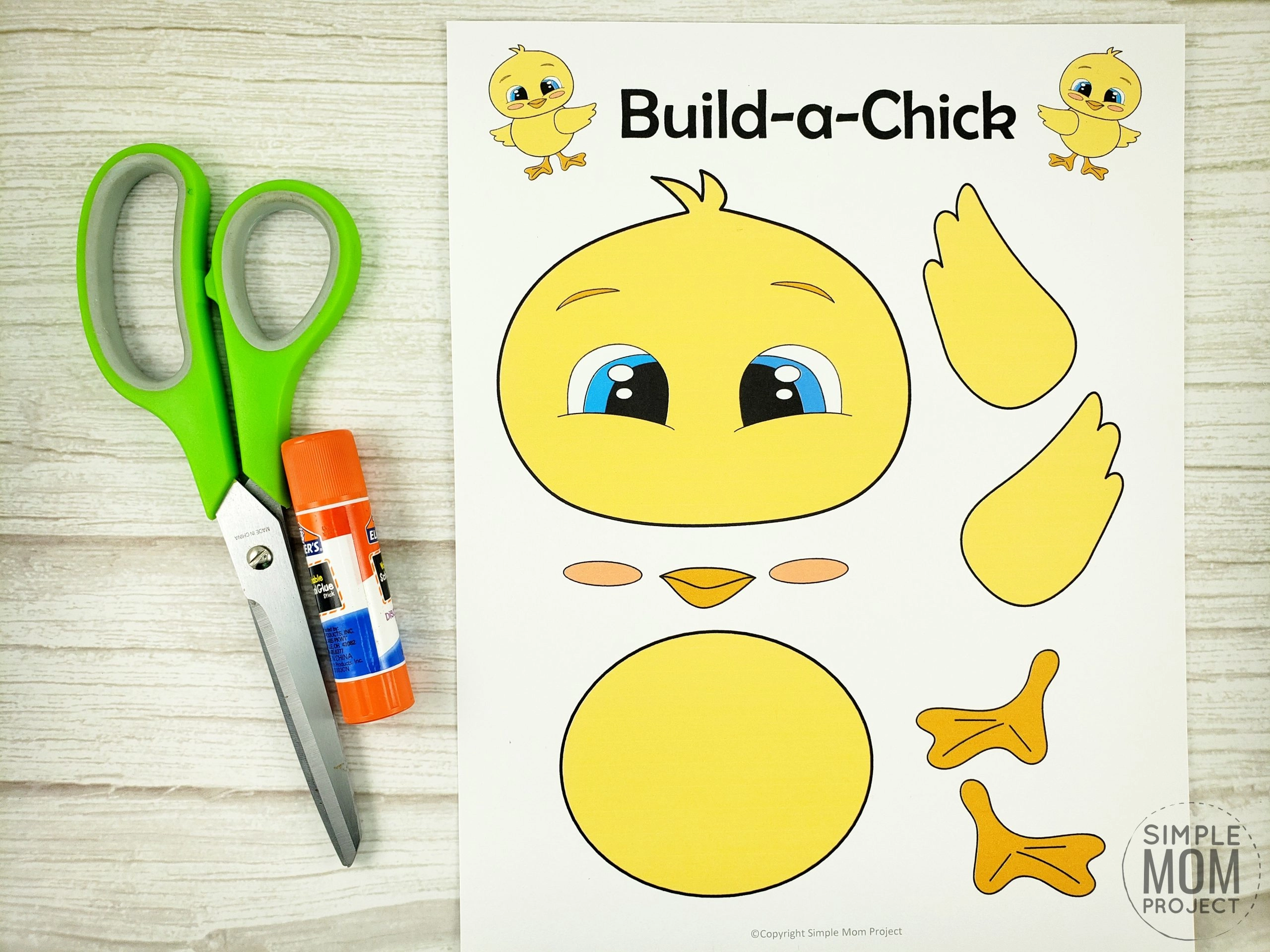 Materials Needed:
Printable Farm Chick Template (FOUND AT THE BOTTOM)
After you have gathered your supplies and printed off your favorite chick template, cut out all of the bunny template shapes.
If you chose the blank farm chick template, be sure to color him first and then cut out the body.
Start by putting your adorable farm chick's face together!
Then, glue his head to his body!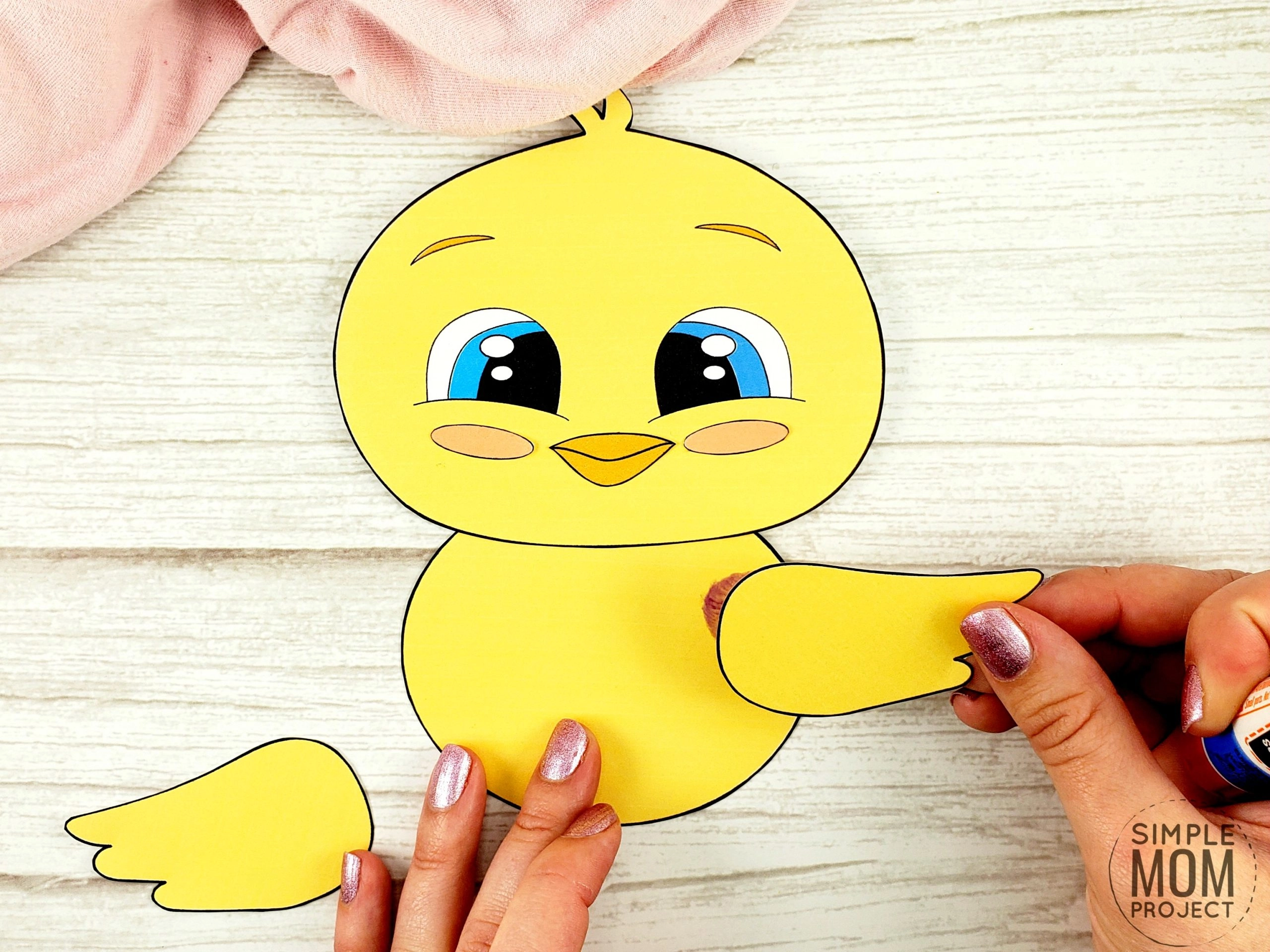 Then glue the wings on. One will be on the front of the body and the body will be on the back.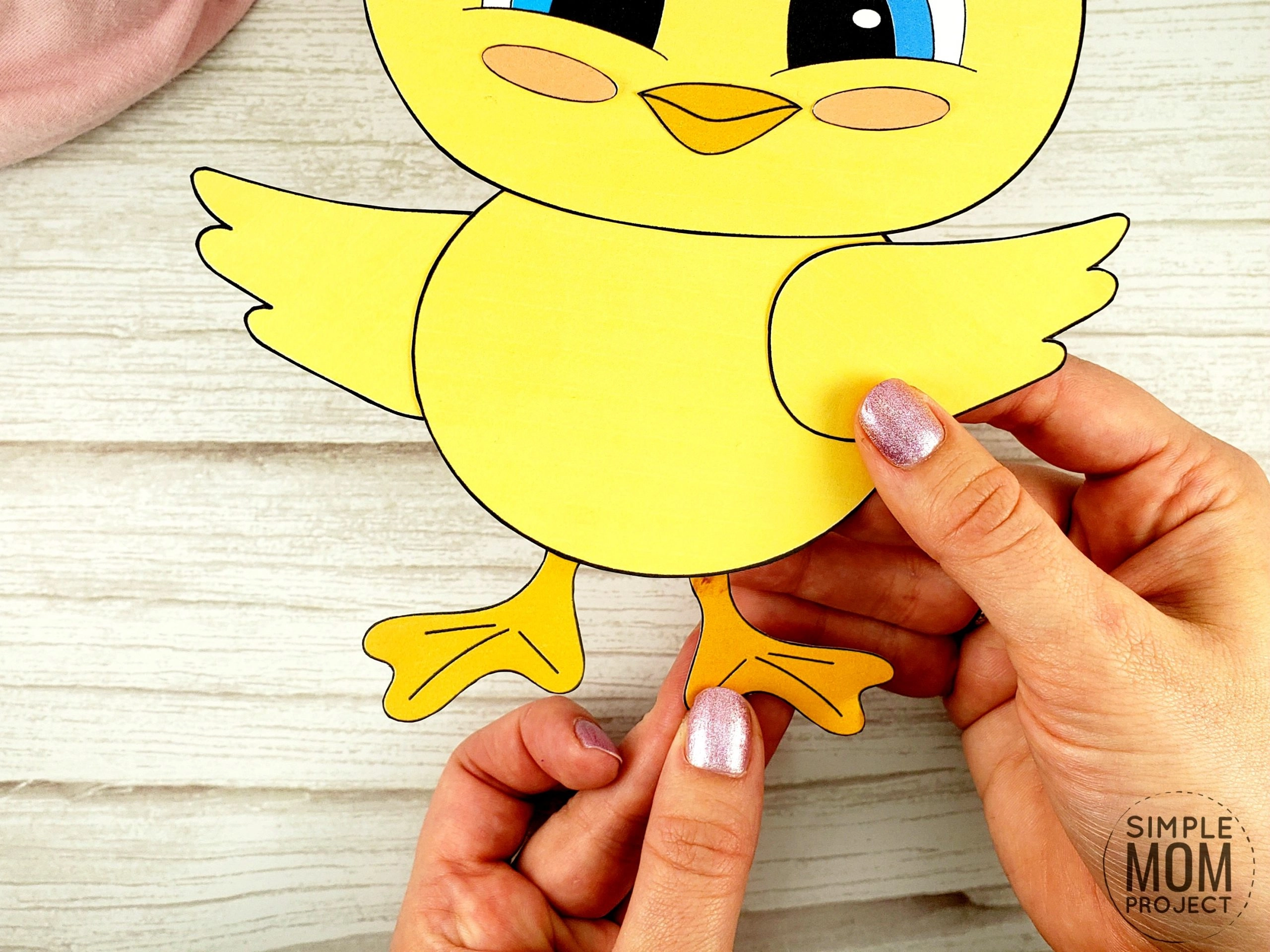 Finally, glue on the little feet and this baby chick craft is done!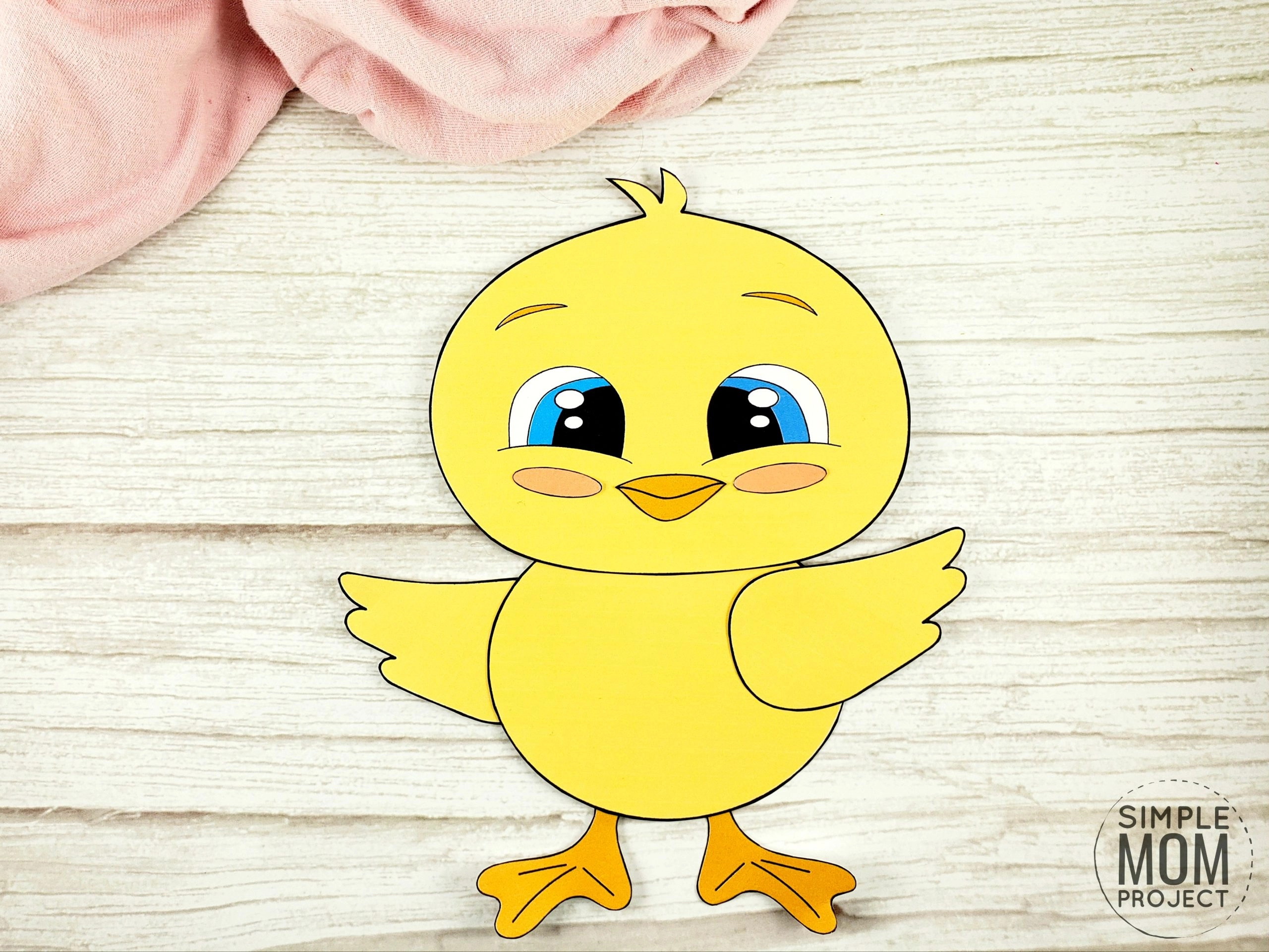 If you are looking for a way to make this farm craft reusable, time and time again, laminate him! We absolutely LOVE our laminating machine! Having never had one before, I was surprised at how easy this was to set up, laminate and put away!
Plus, we were even able to get our smallest involved in the craft too while she is learning body parts.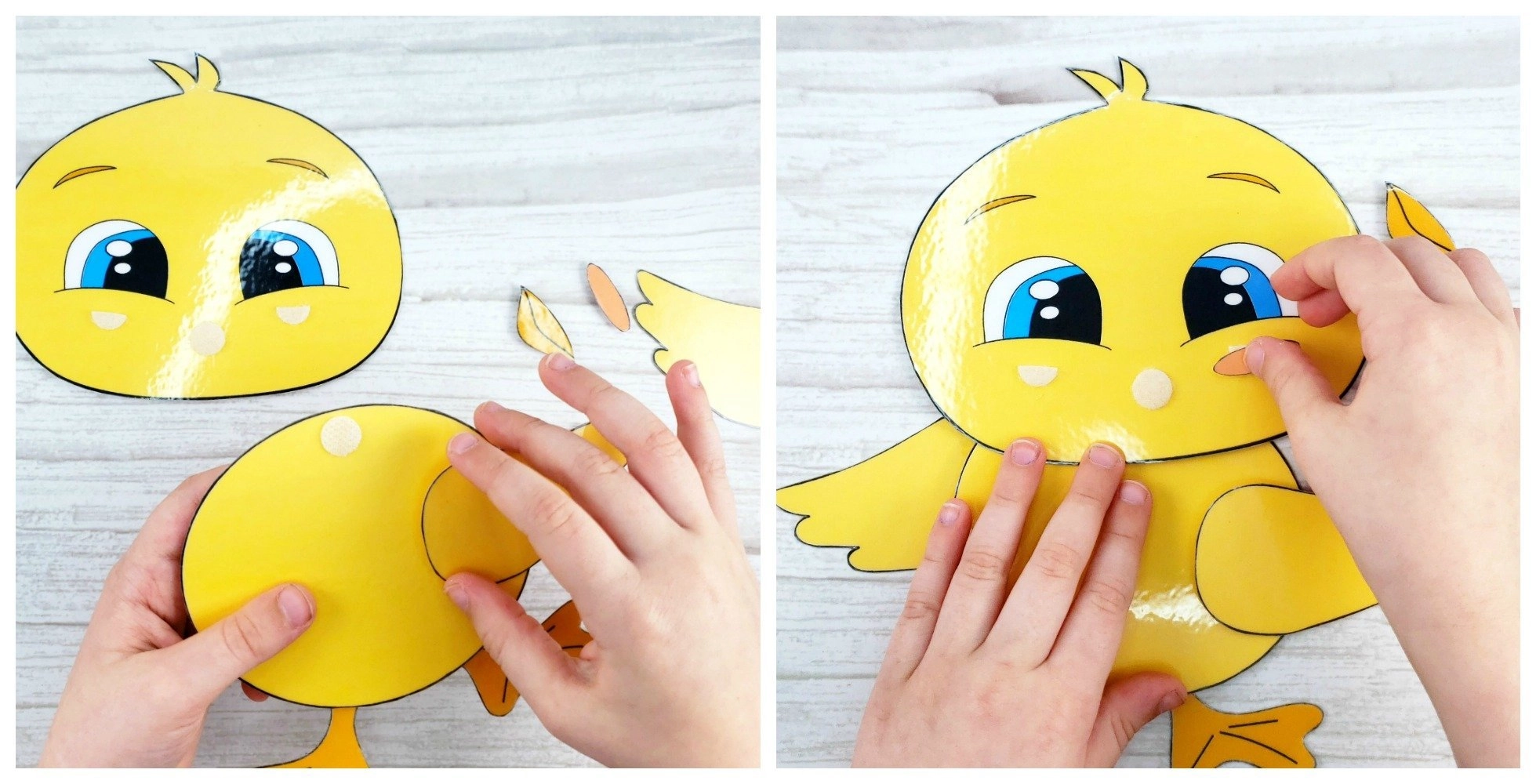 Simply laminate the farm chick template first, cut out the shapes and use these small Velcro dots to be able to interchange the pieces! It's super simple!
To prevent Copyright infringement, you will see our watermark inserted on all of our images. This will NOT be included in your download.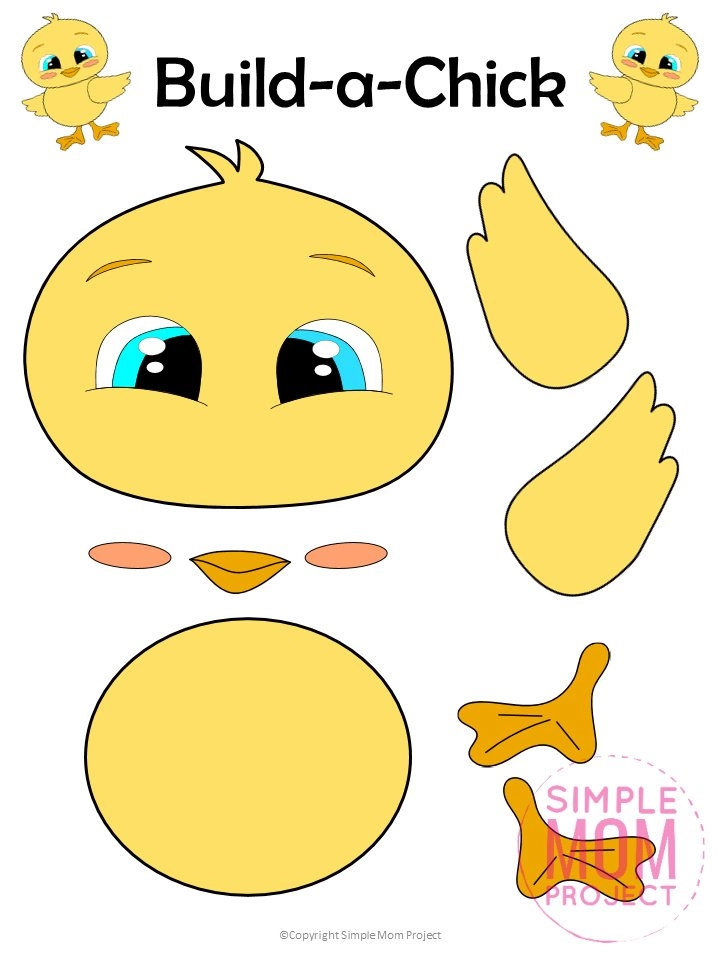 Whether you're planning to use these simple printable crafts as part of a lesson for a classroom or home school, or just looking for something fun to do with your children for quality time this season, I hope you have fun building and decorating your own baby chicks.
When you have finished, be sure to share your creation on Simple Mom Project's Facebook Page and follow me on Pinterest!

Kaitlen D.
More Fun Spring Crafts: