I'm excited to share this cow craft project with you. It's always fun to enjoy barnyard animal crafts with kids. This cow template for preschoolers will give your little ones something fun to do during a school break or a rainy day.
This easy preschool cow crafts for kids is a fun toddler DIY art project that encourages hours of imaginative play. You can use farm crafts as a way to create your own paper craft farm with kids to engage in a pretend barnyard animal show.
Use this free printable cow template to make this super cute and easy farm theme cow craft. It's a great project for preschooler toddlers and big kids.
While my daughter is learning about farm animals, I thought why not make our own farm theme art project and share it with you!
The FREE cow templates make this cute cow craft easy for any child from toddlers, preschoolers and kindergartners to older, big kids!
Print your cow template, follow along with the step-by-step instructions and have fun!
Let's get crafting!
*By the way, this post may contain affiliate links which means I may receive a small commission at no additional cost to you if an item is purchase through that link. For more information, click here.*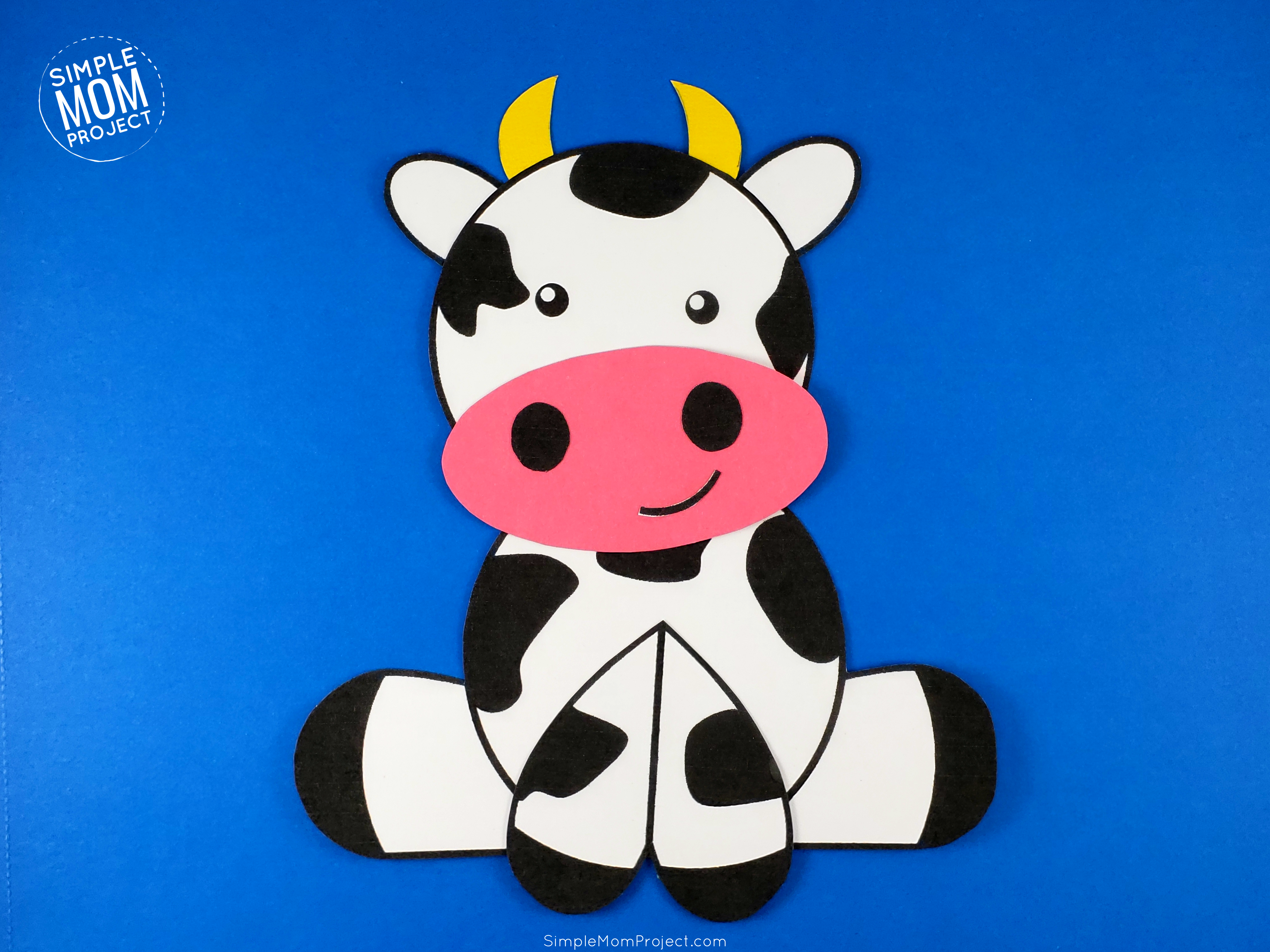 Cute and Fun Farm Craft Cow Art Project
Have Even More Fun with your Cow Craft with These:
1. Put on a Barnyard Show
If you have older kids, they can help pan out a barnyard animal crafts show with the build a pig template, and this build a cow template. Once your preschoolers have crated their barnyard animals they can name each barnyard animal, make a pretend barn out of cardboard and put on a show for the whole family to watch.
2. Read Barnyard Animal Books
Another fun way to incorporate barnyard animal crafts with preschoolers is to use cow paper crafts to keep your preschoolers busy while you read barnyard animal books.
A couple Little Golden Books that feature barnyard animals include The Jolly Barnyard and Old MacDonald Had a Farm. These two preschooler books can encourage your kids to have a love of all barnyard animals.
Using the free cow template allows you to boost your preschoolers' fine motor skills as they work to cut their cow template out with toddler-friendly scissors. As your toddlers work to complete this cow craft project they'll use problem-solving skills to glue the cow template pieces together.
I'm sure you'll have even more fun letting your toddlers figure out how to put their free cow template together properly. Perhaps you'll get a dose of laughter as you watch your preschoolers try to put the farm theme craft together in weird orders, such as a nose on the foot and so on.
Giving your preschoolers the free reign to build a cow with this barnyard animal craft project will ensure hours of fun, and laughter together.
How to Make Cow Paper Crafts
Gather the list of supplies below and follow my step by step instructions to enjoy hours of fun with this toddler farm theme art project.

Cow Craft Supplies Needed:
Printable Cow Template (FOUND AT THE BOTTOM)
First, gather up all of your supplies and print your desired cow template. Whichever you choose, I encourage to print on white card stock paper so the cow still gets her spots.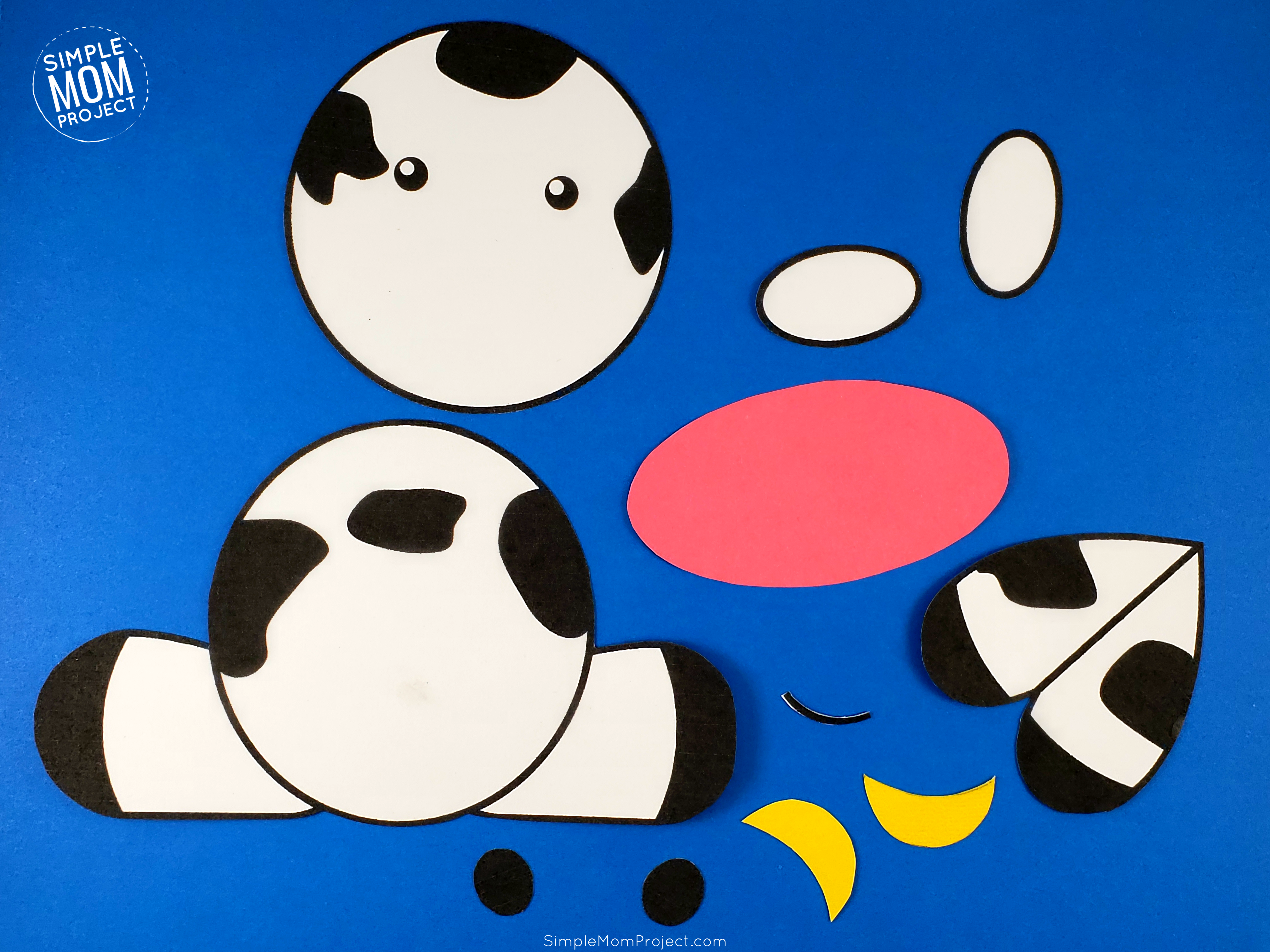 Next cut all of the shapes out and trace the ones you'd like to alter their color.
For the nose, I traced the outline of the mouth shape on to pink card stock and then cut out the circles from the stencil.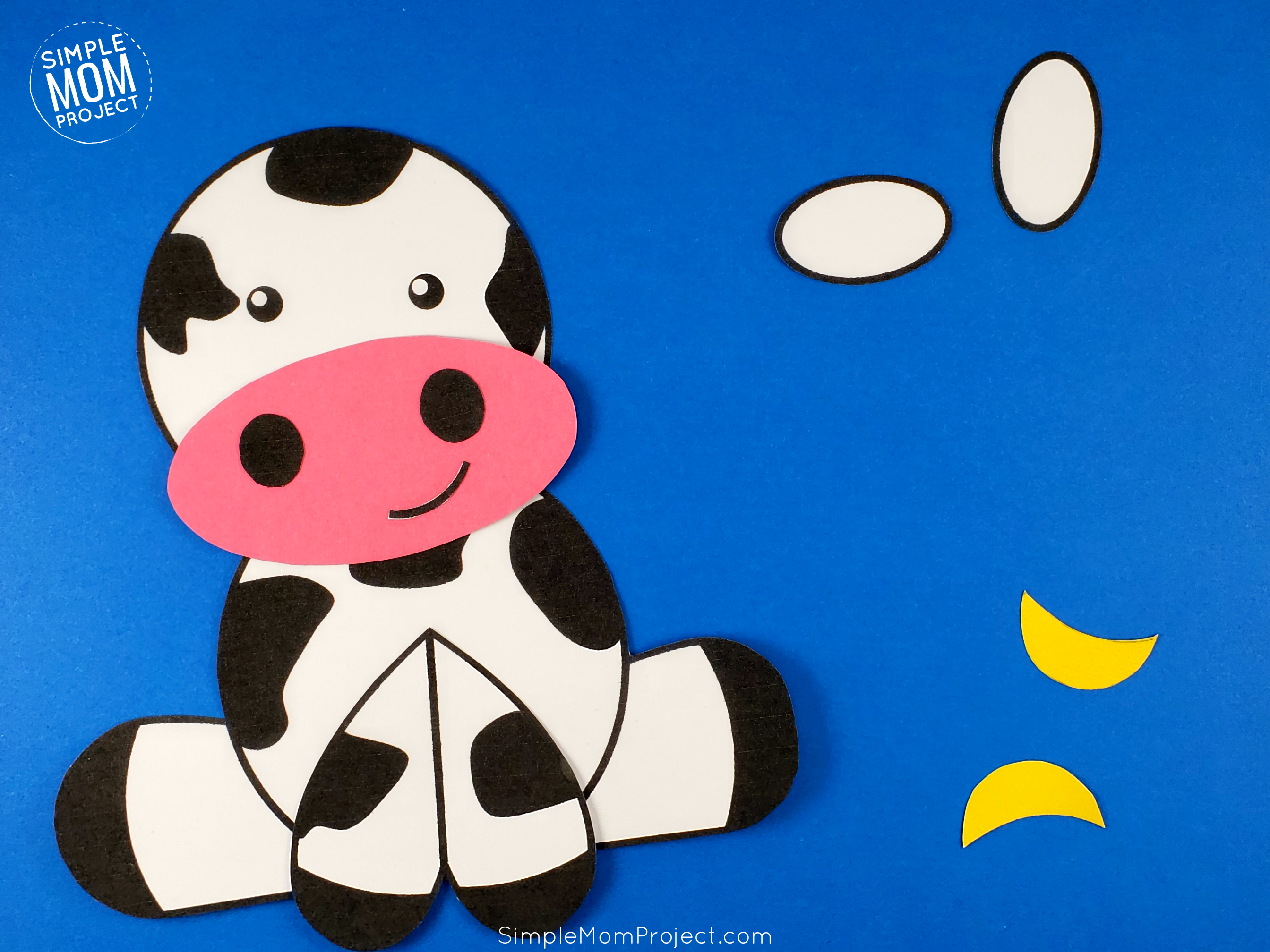 The fun starts now, start by gluing the cows front legs on to her body along with her mouth and nose.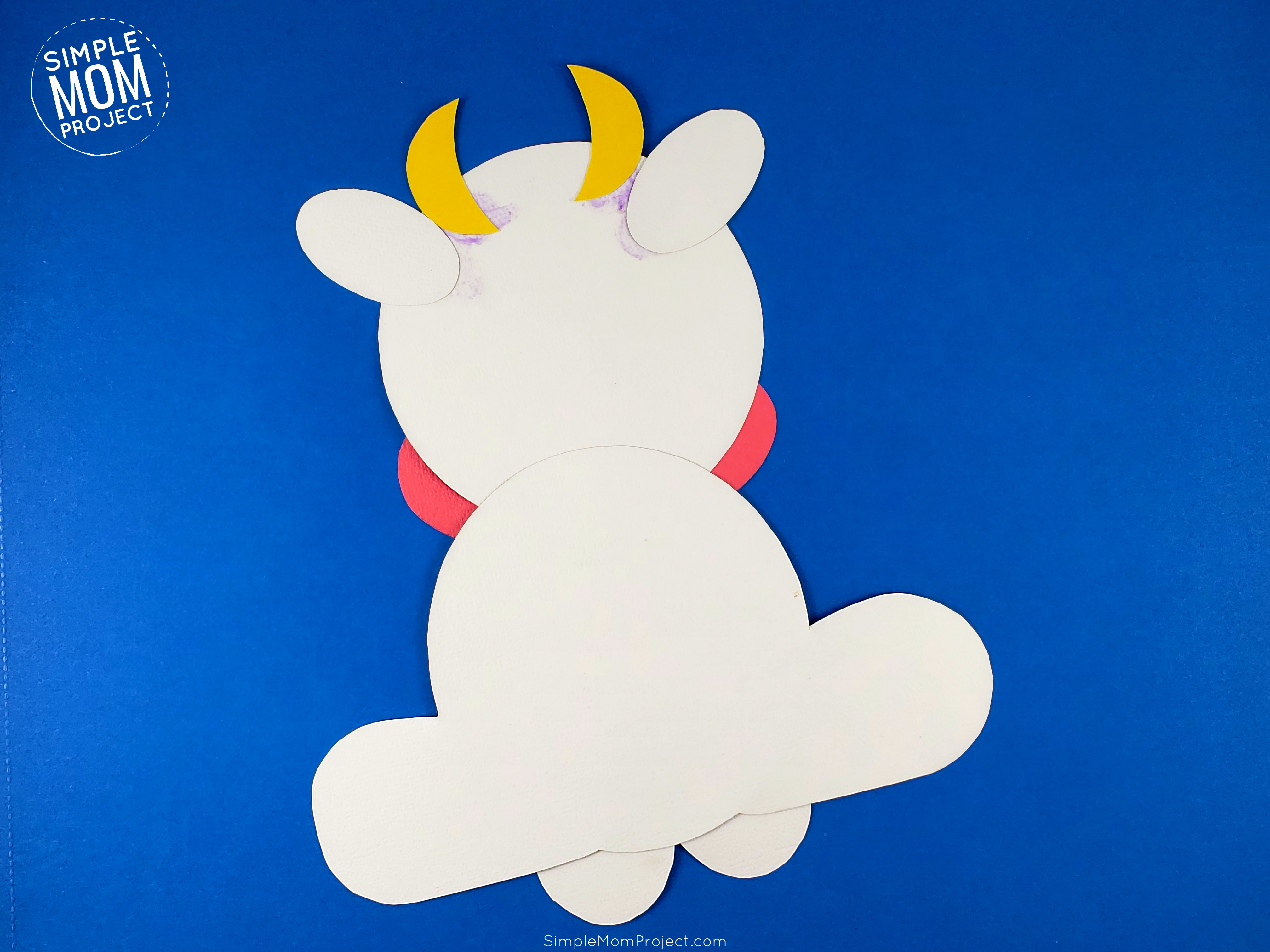 Then flip her over and glue on her ears and horns. I suppose if she has horns, she would technically be a bull? Hmm… oh well. Hehe. She is still cute.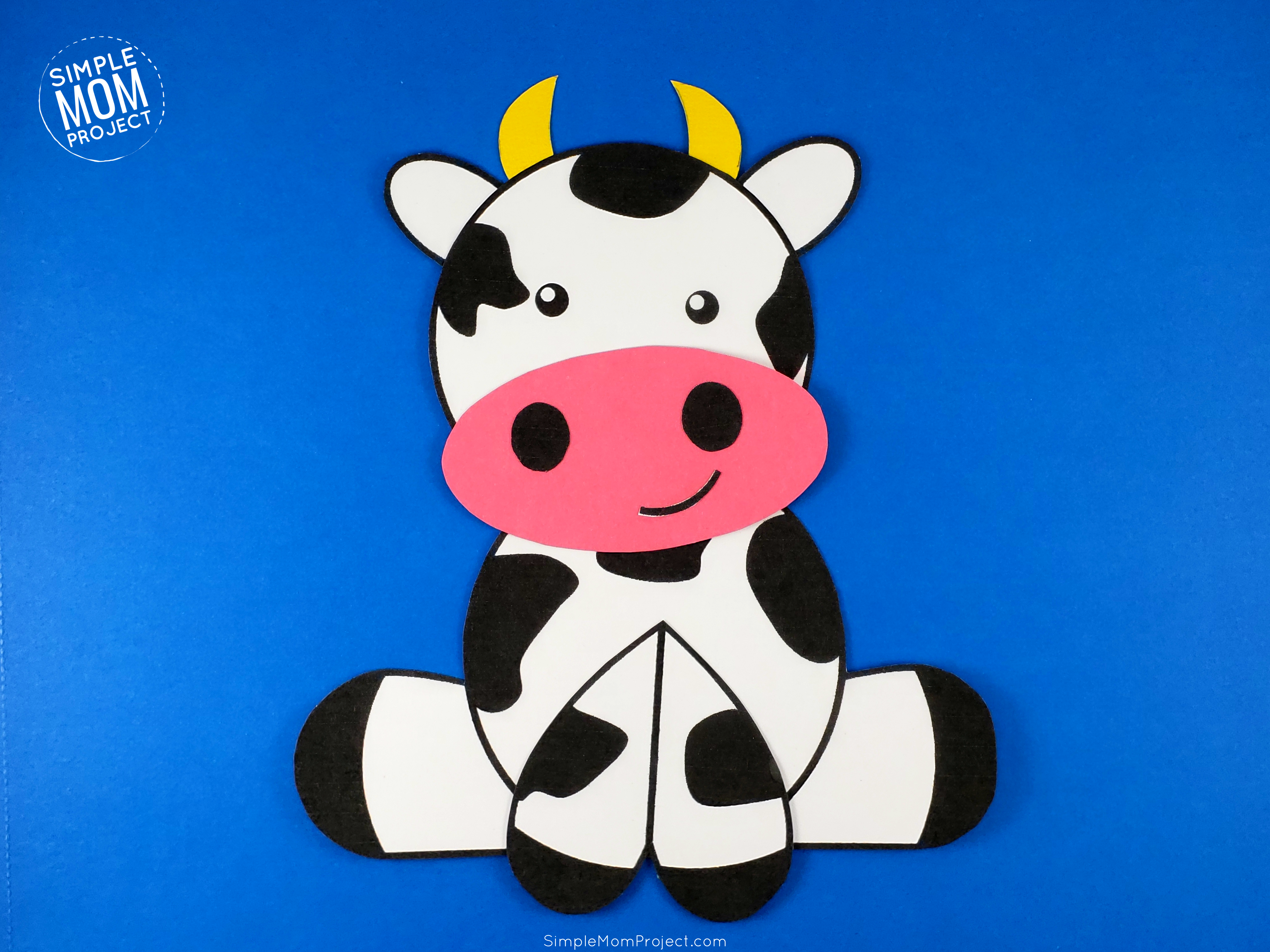 Now she is finished! Simple as that and such a fun farm craft for your kids!
More Options to Choose:
You can print the blank version and trace the cut outs on card stock paper for a sturdier Cow. This option is good for older kids as it is more in depth. Use the below options if you have smaller kids.
Print the color version for a simple and easy farm theme Cow craft or,
Print the blank version and use it as a cow coloring sheet activity and then glue the pieces together.
To print your Farm Animal Cow template, turn the printer on, click on either the color version or black and white then click print.

FREE PRINTABLE COW TEMPLATE (COLOR)
This is the easiest version of the Farm Cow Craft, print it off, cut along the black lines and glue the pieces together.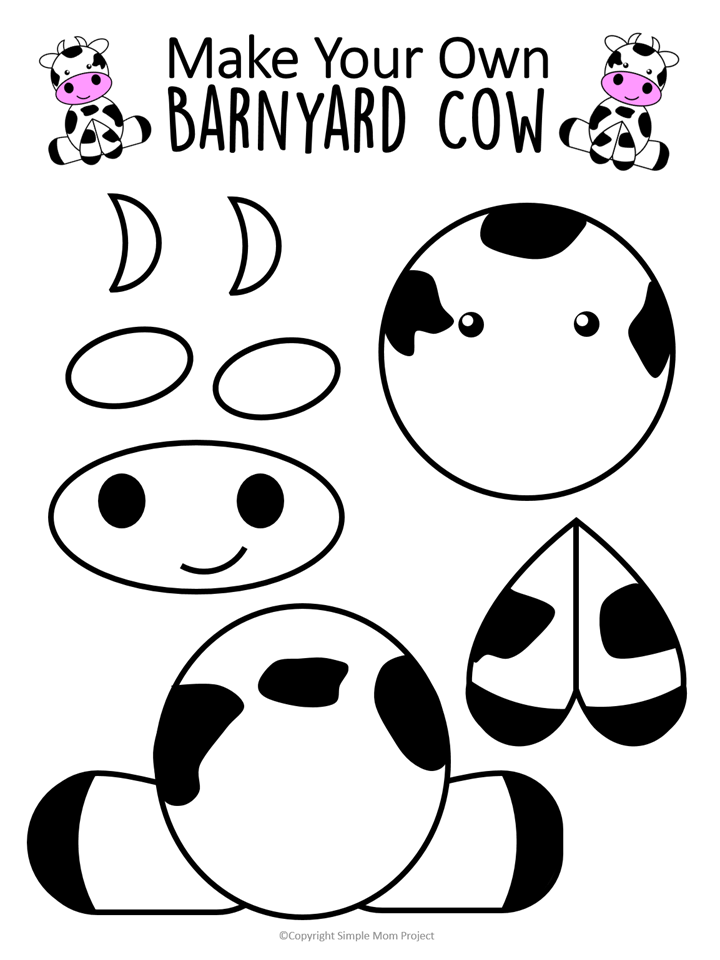 FREE PRINTABLE COW TEMPLATE (B&W)
This option is fantastic for the littles! Although they may need your assistance do to the cuts, you can be doing the dishes, folding laundry or doing other mom chores and your kiddo can color their cow to keep in their own farm animal collection.
When they have finished their cow activity, be sure to share their creation on Simple Mom Project's Facebook Page and follow me on Pinterest for more awesome and fun crafts!

Kaitlen D.