Looking for fun, low prep preschool theme craft activities for your kids? We've got you covered!
Today, we are sharing this free printable horse craft template that's a big hit for toddlers, preschoolers, kindergarten and even grown-up kids.
Whether you need arts and crafts for summer break or a rainy day, we are confident that this diy paper horse craft will be the answer.
Cut out the easy horse craft and use it for coloring, stencils, fun crafts, art projects, homeschool preschool activity and more.
This cute horse craft is an excellent way to get your kids excited about new livestock at your home or a trip to a local farm to see farm animals.
This easy summer horse craft will give you something to do when you've exhausted other options of outdoor play and visits to local places during summer break.
Making these cut-and-paste horse crafts inspire us to create a variety of fun craft projects like paper bag horse hat, handprint horse painting, footprint horse craft and paper plate horse craft.
We just got nine new chickens that my daughter is so excited about!
It is such a great teaching opportunity for one day when she finally gets the horse she SO desires – and asks me to get mayyyybee 200 times a day.
In the mean time, we will just have to craft horses instead.
The FREE horse templates make this cute horse craft easy for any toddler, preschooler and kid to make.
Choose to make it as a coloring craft or make it with cardstock paper – which by the way is a great way to teach kids fine motor functions, with safety scissors of course.
Print your horse template on a white paper, follow along with the step-by-step instructions and have fun!
Let's get crafting!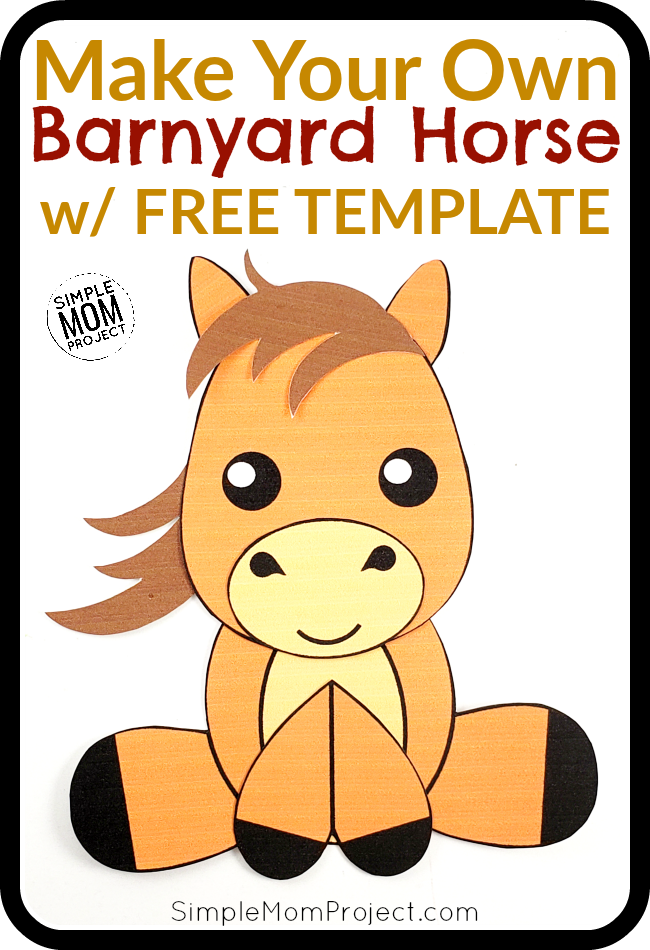 *By the way, this post may contain affiliate links which means I may receive a small commission at no additional cost to you if an item is purchase through that link. For more information, click here.*
Easy, Printable Cut Out Horse Craft For Kids
Ideas to use Easy Horse Craft For Kids
There are many ways you can incorporate this easy horse craft into your day. Below you'll see a few of my ideas for using this free horse craft for kids this year.
1. Farm Theme Classroom Learning
Whether you're looking for more farm themed crafts or want a horse craft as part of your farm themed learning, this easy horse craft for kids will be a fabulous option to include.
Students will enjoy making this DIY horse art project during their farm animals craft day.
This printable horse craft is also a fun way to decorate your classroom with farm animal themed.
Print many horse templates on white construction papers and follow the step-by-step directions in this post.
The finished cute horse crafts can be use as bulletin board accessories or wall decorations.
2. Learn About Horses
Perhaps you want your kids to learn more about horses, then this free horse craft for kids will work.
Make a fun presentation about horses and consider streaming some videos about horses so that your kids can complete this easy horse craft while they listen to the video or you talking about horses.
There's a higher possibility that your little ones will love to have collections of horses as they enjoyed making these free horse templates.
Get ready as you see a lists of farm books, cowboy costumes, pony plush toys or stick horses in their wish lists.
No need to worry, because we gathered these great gift products that you can purchase anytime you want.
3. Farm Craft Day
Gather up a list of free farm animals crafts, get the supplies, and set a little crafts area up to have your kids enjoy a farm craft day.
Your kids can have fun making their own farm animal crafts to enjoy playtime together later in the day by using these farm animal crafts to set up a finger puppet style play.
Using crafts to keep kids occupied on a rainy day or helping them learn more about the world around them will encourage your kids' creativity and interest in learning.
4. Letter Recognition
These horse free printable templates would make a perfect addition to your letter of the week activities.
When your kids completed the horse craft, use it to teach the letter H sound and writing the upper and lowercase letters.
You can also print out a large letter H for your visual aid and stick it next to the cute horse craft so your kids can easily recognize the individual letters of the alphabet.
To keep your kids interested in practicing their letter recognition, checkout our A-to-Z alphabet craft or letter h craft.
5. Farm Themed Pretend Play
When your preschooler completed this easy horse craft, turn it into a fun puppet using low-cost resources.
Glue the cute horse craft on a popsicle craft stick or brown paper bag.
You can also add decorative items such as googly eyes or glue on yarns at the horse's head for the manes.
No matter how you make your own horse craft, the result will always turn out amazing to use for a pretend play or puppet show.
Kids will be able to showcase their talent, enhance their creativity and fine motor skills development.
We hope that you'll use our tips we shared today to start using this free horse craft for kids to get your kids using their creativity all the while enjoying some quality family time together.
Horse Craft Tutorial

Horse Craft Supplies:
Printable Horse Template (FOUND AT THE BOTTOM)
First, gather up all of your supplies and print your desired horse template.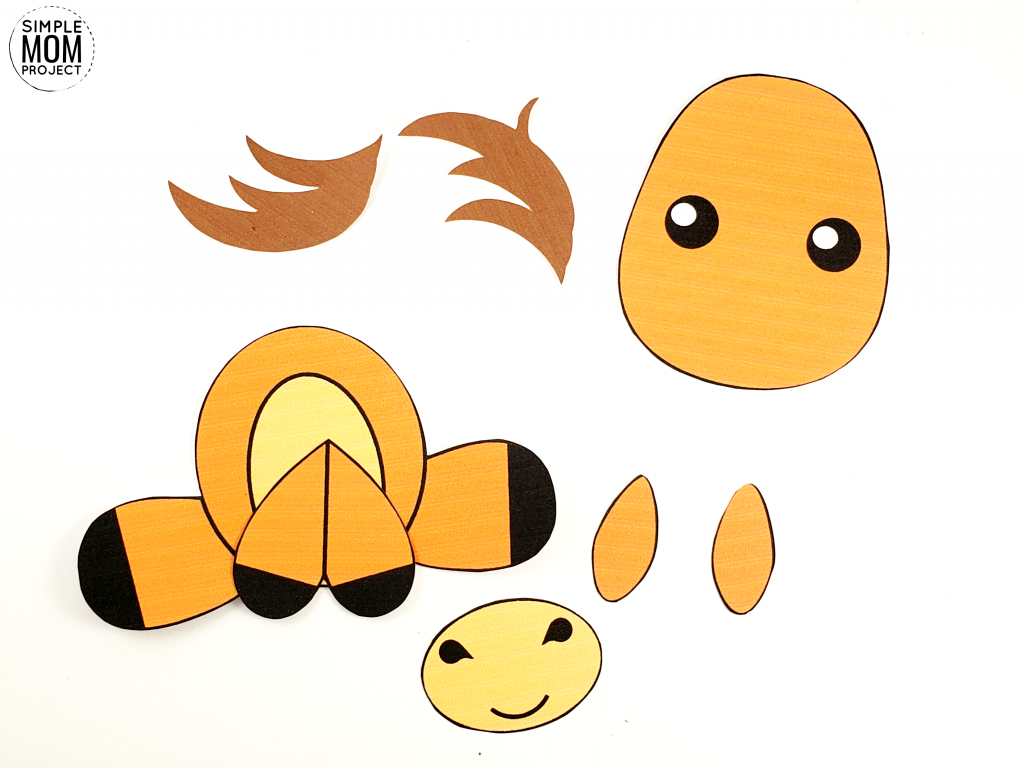 The first step is to print your horse template for this craft and cut out the horse. If you are choosing to color it. I would suggest to color first and then cut out your horse.

Next, glue on the horse's legs and head.

Then, glue on the mouth.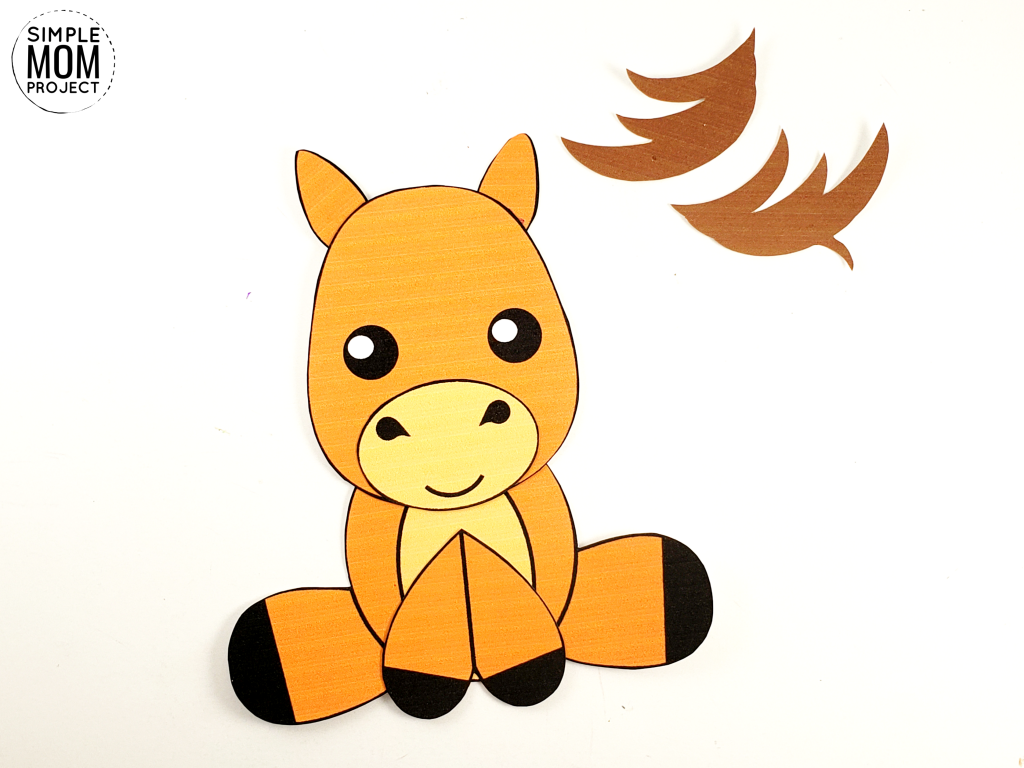 Next, flip it over and glue on the ears.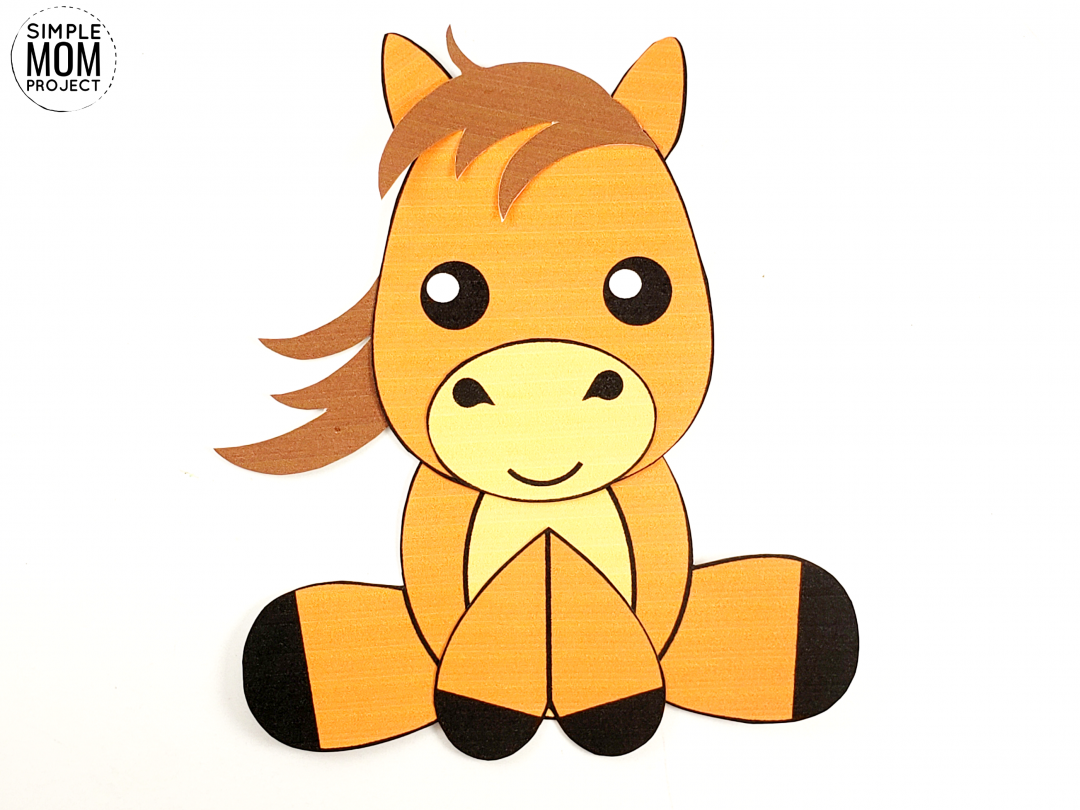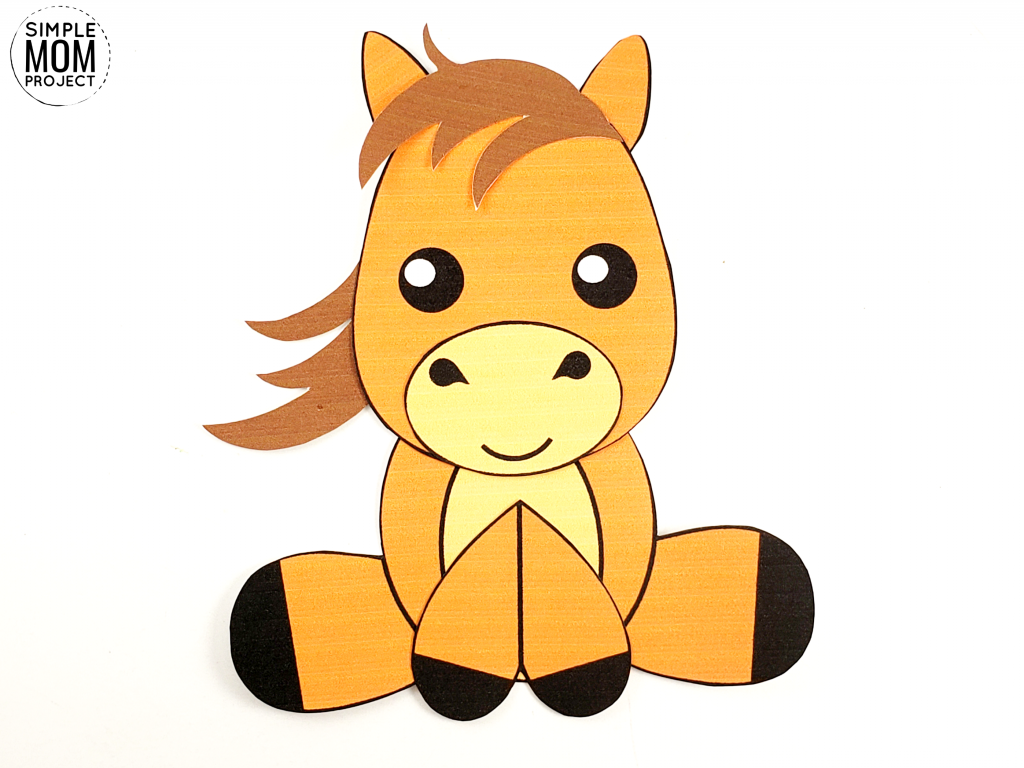 Finally, glue the hair on to your horse craft and your horse art project is done!
Here are More Options to Choose:
You can print the blank version and trace the cut outs on card stock paper for a sturdier horse. This option is good for older kids as it is more in depth. Use the below options if you have smaller kids.
Print the color version for a simple and easy farm theme horse craft or,
Print the blank version and use it as a horse coloring sheet activity and then glue the pieces together.
To print your Farm Animal Horse template, turn the printer on, click on either the color version or black and white then click print.

This is the easiest version of the Farm Horse Craft, print it off, cut along the black lines and glue the pieces together.

Free Printable Horse Template (black and white)
This option is fantastic for the littles! Although they may need your assistance do to the cuts, you can be doing the dishes, folding laundry or doing other mom chores and your kiddo can color their horse to keep in their own farm animal collection.
When they have finished their horse activity, be sure to share their creation on Simple Mom Project's Facebook Page and follow me on Pinterest for more awesome and fun crafts!

Kaitlen D.
More Fun Farm Crafts: