Whether you have a soft spot for big dogs, little dogs, calm dogs or playful pups, this easy to make dog craft is sure to put a smile on any dog lover's face. So if you have nothing to do this weekend, planning an animal or farm unit in your homeschooling or preschool unit or simply just love dogs, this craft is for you!
He is absolutely perfect for kids of all ages; especially preschool and kindergarten age.
In this simple tutorial, you will see that we have used our colored puppy dog template, but you'll see there's also a black and white version should you wish to turn this puppy craft into a coloring page first.
You will follow the steps just the same after he is colored.
Scroll down to the bottom, print your free puppy dog template and let's get crafting!
If you are using this build-a-dog craft in your farm theme unit, be sure to check out our fun horse craft, build-a-cow tutorial and pig activity.
*By the way, this post may contain affiliate links which means I may receive a small commission at no additional cost to you if an item is purchase through that link. For more information, click here.*
Easy, Printable Cut Out Puppy Dog Craft For Kids

Materials Needed:
Printable Template (FOUND AT THE BOTTOM)
After you've cut out all of the shapes from your desired puppy dog template, use your glue and attach your puppy's head to his body.
Then, glue on his snout.
Next, glue on his eyes. I found it was handy to keep the top portion of your printable template available so you know where to place them to maximize your dog craft cuteness.
After that, glue on his front little paws.
Finally, glue on his adorable little ears and your puppy craft is finished!
Here are More Options to Choose:
You can print the blank version and trace the cut outs on card stock paper for a sturdier puppy dog. This option is good for older kids as it is more in depth. Use the below options if you have smaller kids.
Print the color version for a simple and easy farm theme dog craft or,
Print the blank version and use it as a puppy coloring sheet activity and then glue the pieces together.
To print your Puppy Dog template, turn the printer on, click on either the color version or black and white then click print.
Please note to protect ourselves from Copyright infringement, we have included our watermark on the images below. You will not see this in your downloadable dog template.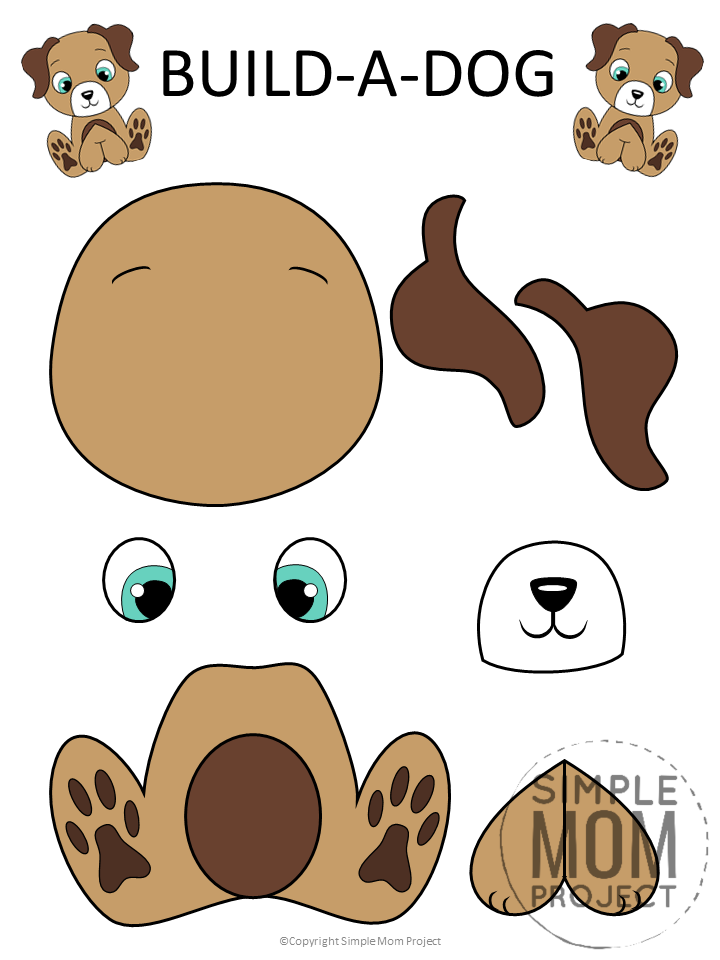 Free Printable Colored Dog Template
This is the easiest version of this dog craft. Simply follow the tutorial above to make this puppy.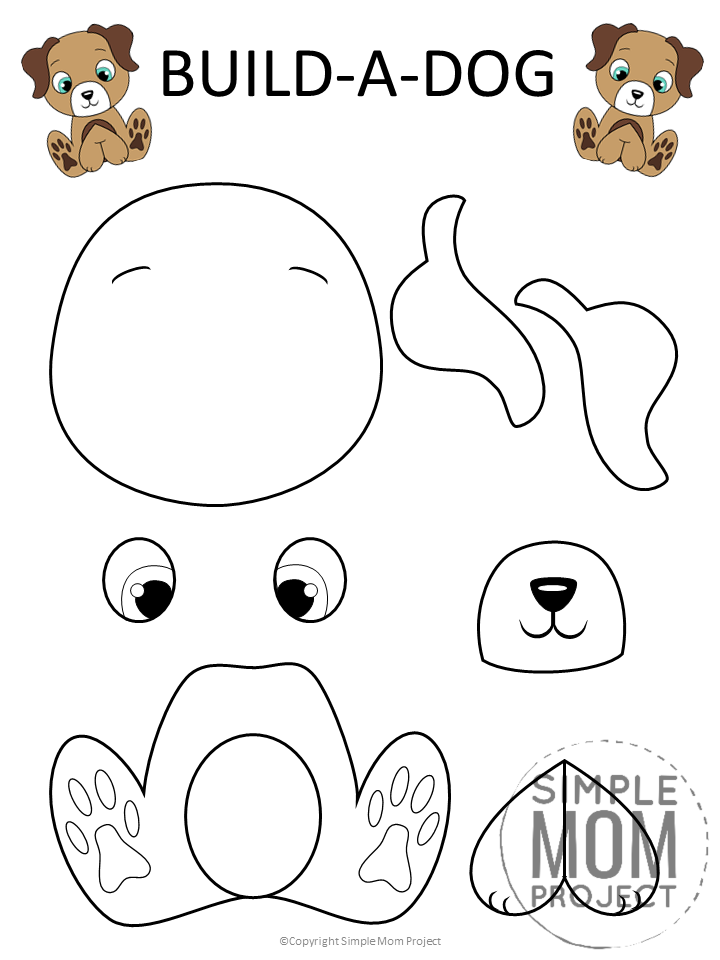 Free Printable Black and White Dog
This option is fantastic for the littles! Although they may need your assistance do to the cuts, let them color their puppy however they wish and glue all the pieces together when they are done.
When they have finished their dog activity, be sure to share their creation on Simple Mom Project's Facebook Page and follow me on Pinterest for more awesome and fun crafts!

Kaitlen D.
More Fun Animal Crafts for Kids: