We released a community helpers theme crafts for toddler, preschool and kindergarten kids this week.
It's time to continue the fun with this free printable mail carrier craft template!
Teach your children the role of a postman and appreciate their hard work with these 3-sets of simple printable mail carrier craft templates.
Making this easy cut-and-paste activity will encourage every child to enhance their fine motor skills, coloring, focus and creativity.
The most fun part is, you can combine this free printable mail carrier craft template with common items to form a variety of craft projects that kids can enjoy.
Follow the step-by-step directions or watch the tutorial video as you make this mail carrier craft.

Need more crafty fun? Check out our Teacher, Chef and Farmer craft.
 T
hey are perfect for those days when staying indoors is the only thing your family can do!
*By the way, this post may contain affiliate links which means I may receive a small commission at no additional cost to you if an item is purchase through that link. For more information, click here.*
Free Printable Cut and Paste Mail Carrier Craft
Ideas for Easy Preschool Paper Mail Carrier Craft
Below are a few lists of amazing ideas on how to incorporate this free printable mail carrier craft template in your kids' daily life.
1. Mail Carrier Children's Book Collection
The best way to teach a child to read is by making it entertaining.
Enjoying a book with your little one is a great opportunity to share experiences together.
It will also help them learn to speak, start a good conversation and read early by themselves.
We listed down some of the great books to pair with your mail carrier craft.
2. Improve your Child's Creative Writing Skills
Help your child improve their writing skills by giving them everyday activities like drawing, coloring worksheets and this free printable mail carrier craft template.
Tell your little one the things a mail carrier does, it will motivate them to write a letter to a family member, friend or classmate.
If your child just started to learn how to properly hold a pencil, give them tracing alphabet letters worksheets.
To keep their interest in enhancing their writing skills, enjoy any printable template from our A-to-Z Alphabet Crafts.
3. Letters for your Loved Ones
Kids have naturally sweet personalities! You can see a child sharing their toys and candies with their friends.
If your little one is done working on this easy cut-and-paste mail carrier craft, help them to make handmade letters for their loved ones.
Instruct your kids to write down all the things they want to say to the receiver.
My little one usually goes with a "Hello my dearest friend, I hope you are having a wonderful day! I can't wait to play with you soon"
It may sound simple but it's the sincerest letter because it came from the heart.
When your child is done with the letter, put it in an envelope and seal it with a sticker.
We decided to make the finished mail carrier craft as the seal sticker.
Simply put a double-sided tape at the back of the craft and place it over the envelope flap to secure the letter.
Lastly, drop the letter to a post box or take it to the nearest post office branch.
If you're looking for more designs to use as envelope seal stickers, try these:
4. Mail Carrier Puppet Craft
If your children are into imaginative play, this free printable mail carrier craft template would be perfect to create a puppet craft.
Have your child enjoy the process of coloring, cutting and gluing together the pattern pieces.
Glue the finished mail carrier craft on a small paper lunch bag or glue a large popsicle stick at the back of the craft.
Create a simple puppet theatre using recycled or common materials for a fun pretend play.
Encourage your child to use their imaginations and come up with short dialogue as they play along.
For more puppet craft characters, check out the lists below:
We hope you loved these great community helper craft ideas with your toddler, preschool or kindergarten kids.
It's always fun to be part of your easy craft activities.
Mail Carrier Craft Supplies Needed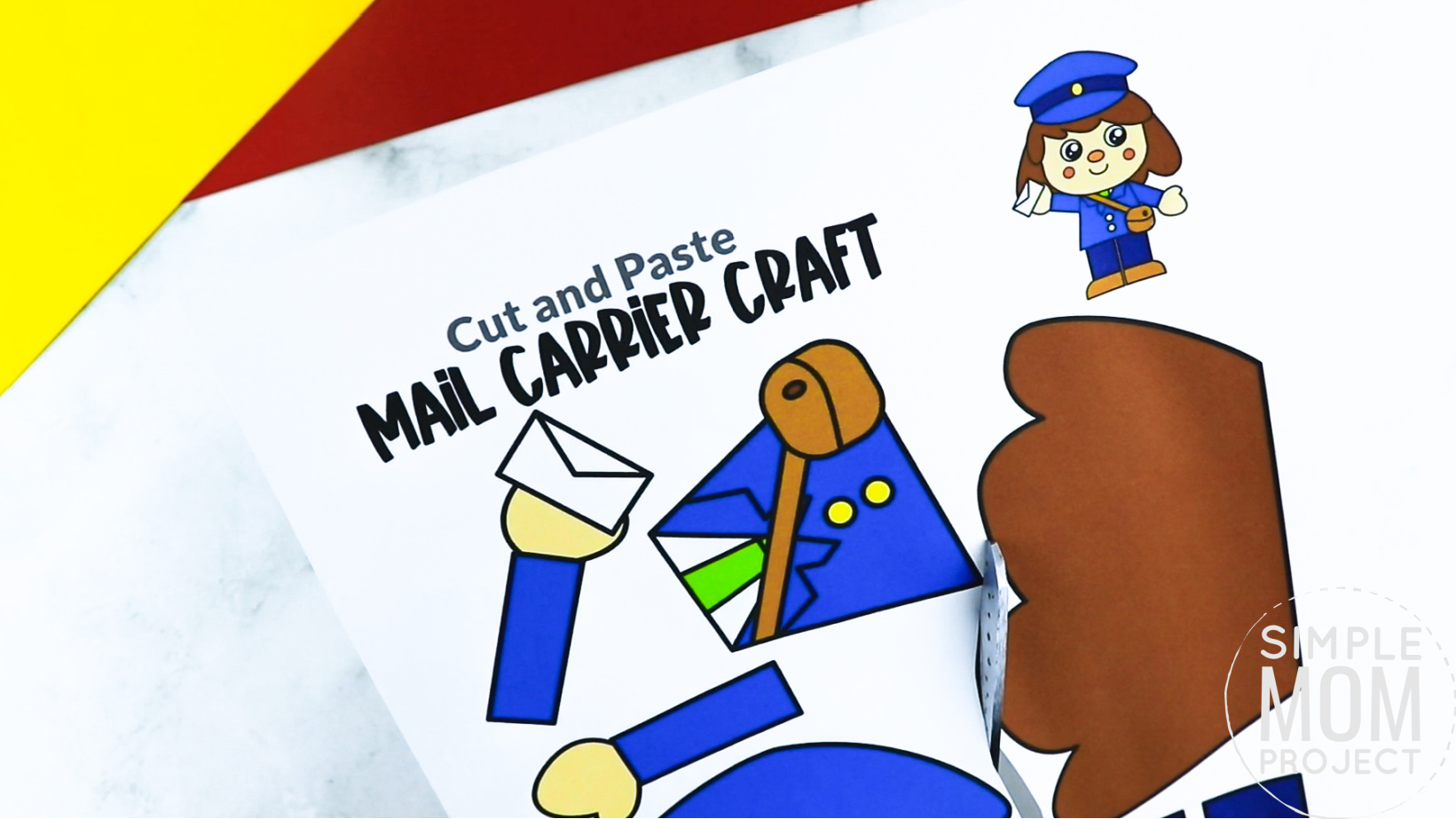 Keep scrolling to get your very own mail carrier craft today and start with your little ones and their community helper craft buddies today!
Mail Carrier Craft Instructions
Download and print the preschool printable mail carrier craft template your little one would like to make first.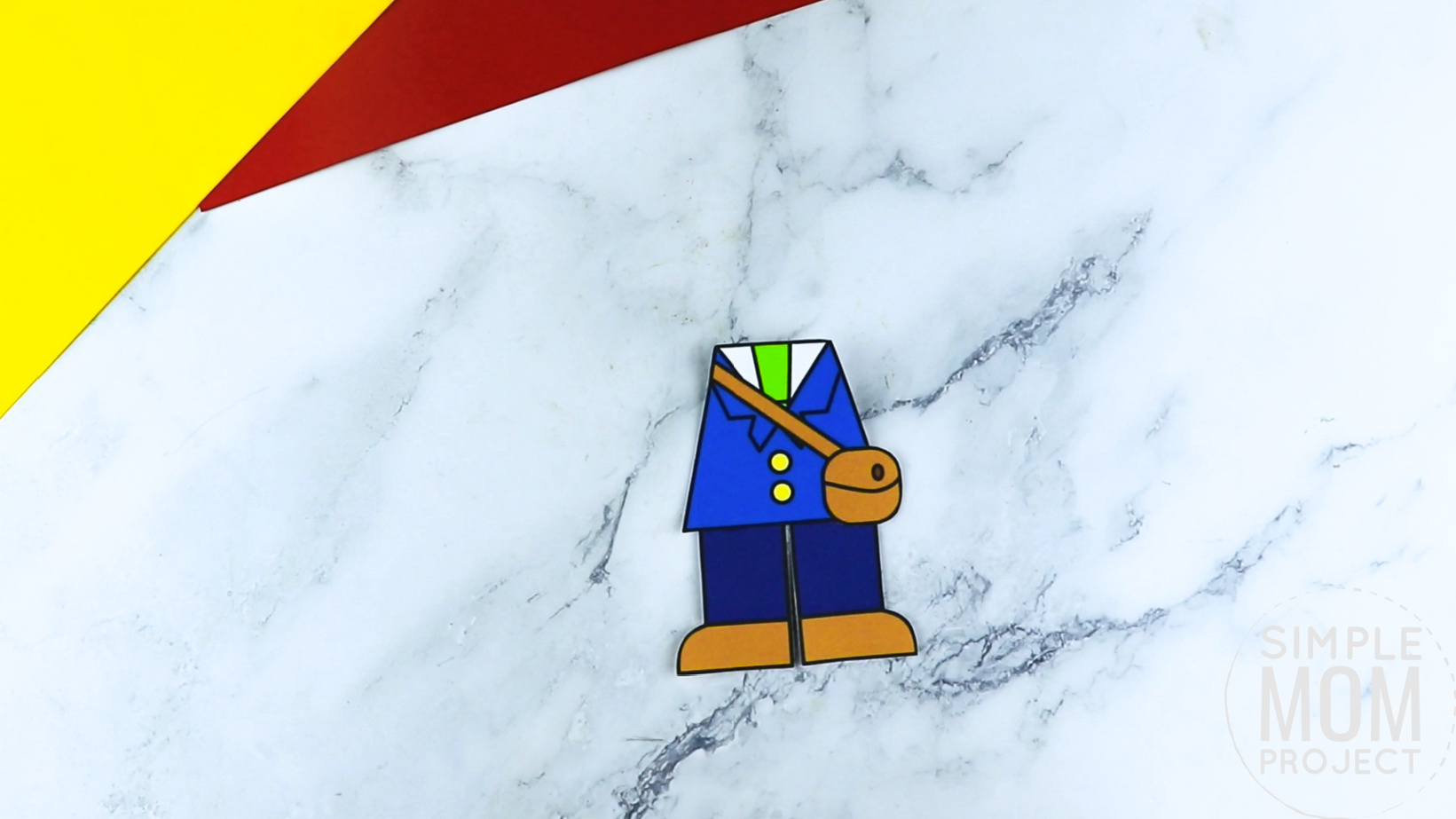 Cut the postman or postwoman pattern pieces out from the printable template.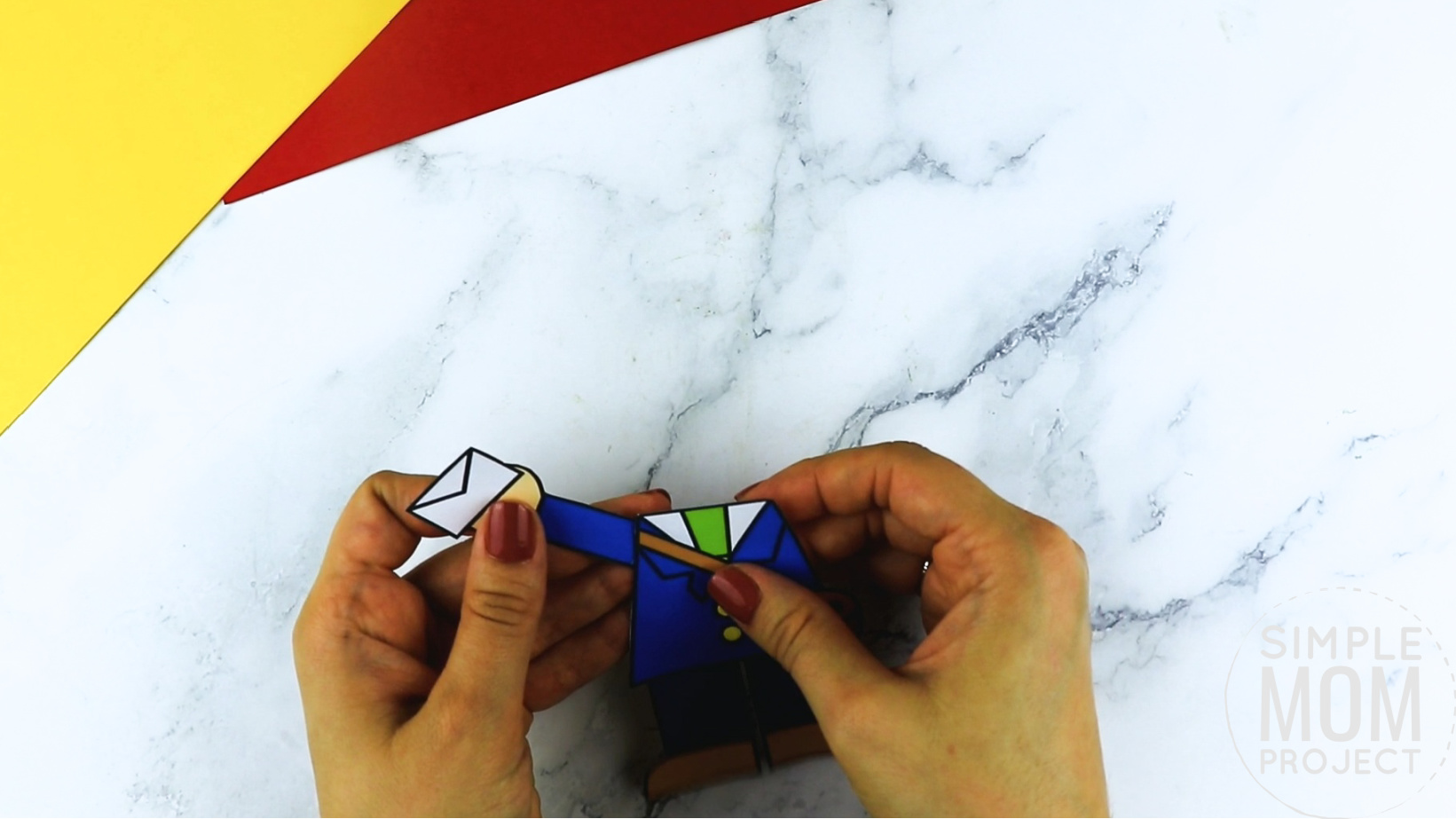 Start gluing the body with a mail bag and legs together.
Next, glue the arms and hand holding a letter.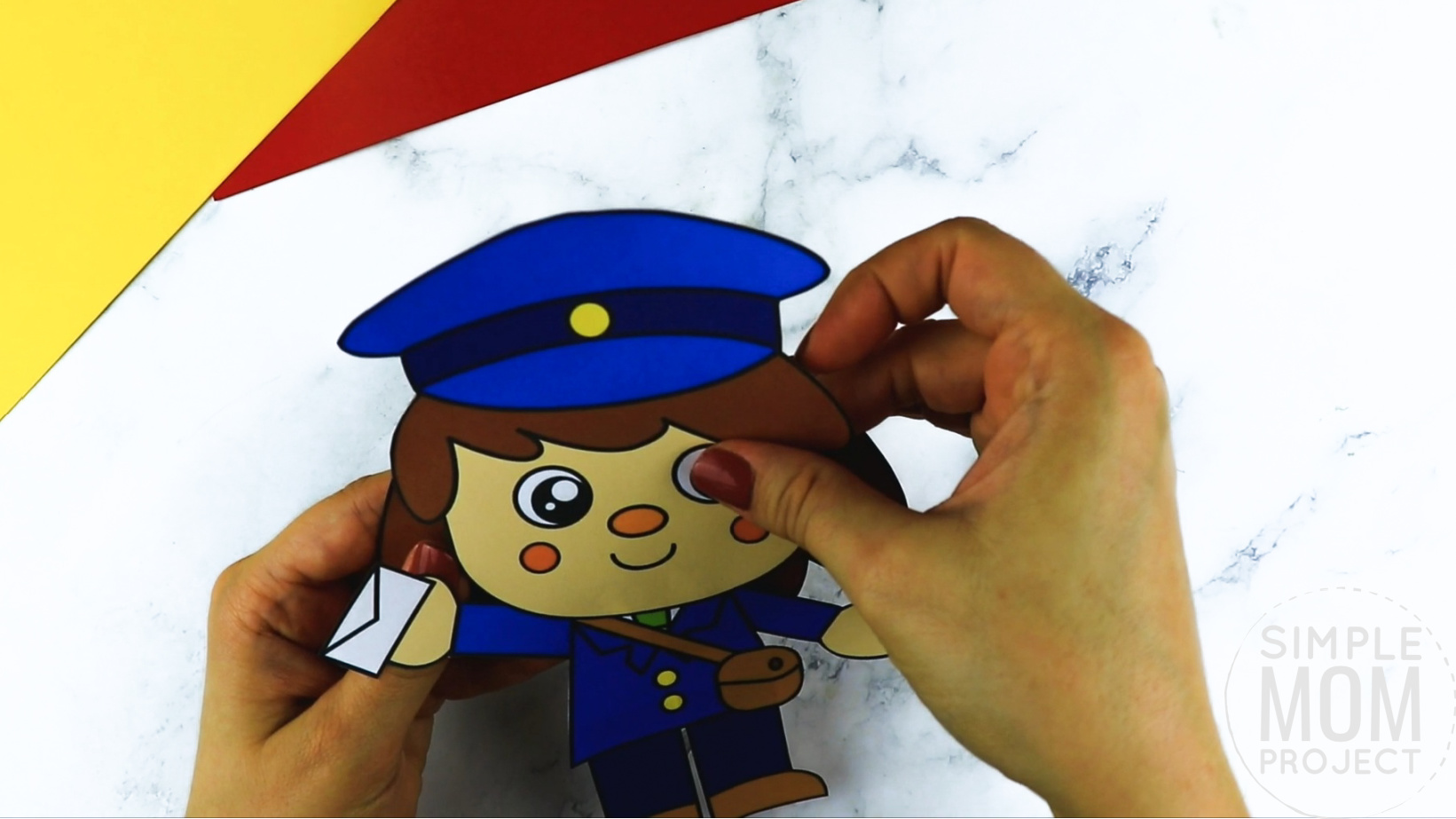 Attach the head with a hat – there's an option if you want short or long hair.
Your friendly mail carrier craft is finished and ready to deliver the letters.

More Options to Choose:
You can print the blank version and trace the cut outs on card stock paper for a sturdier mail carrier craft,
Print the mail carrier template in color for a simple and easy rainy day craft or,
Print the blank mail carrier template and use it as a fun coloring sheet activity and then glue the pieces of the mail carrier craft together.
Free Printable Mail Carrier Craft Template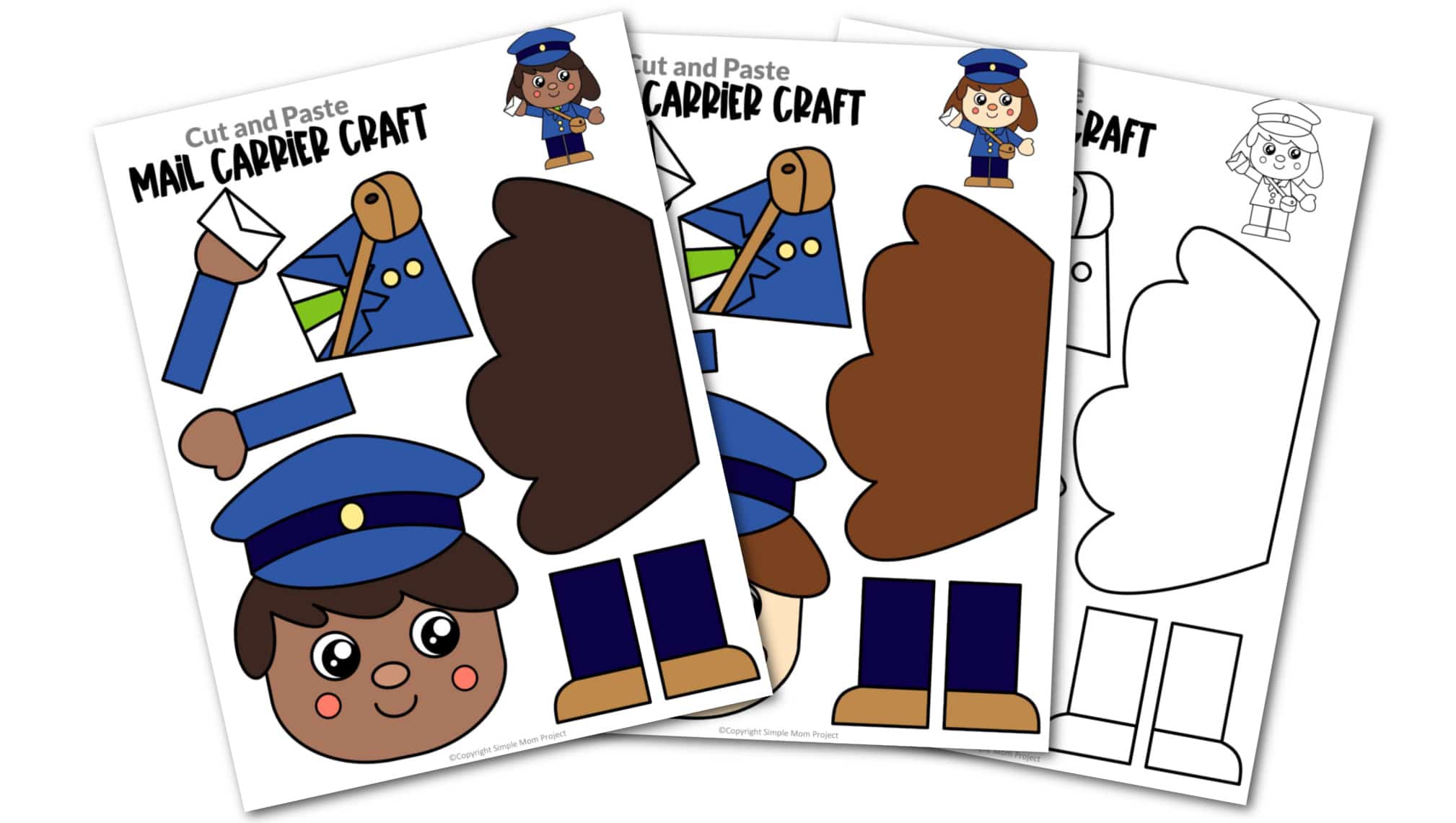 Here are three free printables of mail carrier crafts, your kids can decide which one they want.
There's the basic black and white mail carrier drawing for your child who loves coloring.
There are two sets of colored mail carrier craft templates if they like to directly cut and paste.
Don't forget to share your learning plans in the comments.
Need more community helper fun? Check out our packed list of community helpers for simple craft fun with your little ones.  
When you have finished, be sure to share your creation on Simple Mom Project's Facebook Page and follow me on Pinterest!

Kaitlen D.
More Fun Community Helper Crafts