Have fun with this free printable teacher craft template as part of your community helper art and craft activities.
This easy cut-and-paste teacher craft is perfect for young children and students that love to dress up for a pretend-play.
Encourage children to color by providing the black and white teacher template page and crayons.
Work on practicing those scissor skills with the two sets of colored teacher craft templates.
Having a great time making this free printable teacher craft template?
Continue the fun with more printable templates we listed below which are perfect to put together with your teacher craft.
Keep scrolling down to see the step-by-step simple instructions and tutorial video as you make this easy cut-and-paste teacher craft template.


Need more crafty fun? Check out our Apple, Pencil and Crayons craft.
 T
hey are perfect for those days when staying indoors is the only thing your family can do!
*By the way, this post may contain affiliate links which means I may receive a small commission at no additional cost to you if an item is purchase through that link. For more information, click here.*
Free Printable Cut and Paste Teacher Craft
Ideas for Easy Preschool Paper Teacher Craft
We came up with these marvelous ideas on how to incorporate this free printable teacher craft template in your kids' daily activity.
1. Favorite Books for Kids
Reading a book together is a great way for kids to relax while learning.
If teachers and parents surround children with good and fun books, there's a higher chance they will be motivated to read by themselves.
Once your child is finished with this free printable teacher craft template, pick one or more of these favorite books.
2. Fun ABC Learning
Teachers play a very important role in a student's life.
Let your children unleash their creativity by making this simple printable teacher craft template.
A for Apple, B for Butterfly, C for Caterpillar and so on.
Once they are finished, teach them the alphabet letters using the teacher craft and this free printable A to Z alphabet craft.
At the end of the lessons, children should know more about the letter T; including how to pronounce words and write it.
Traceable letter worksheets help your little one with fine motor skills, writing skills and letter recognition.

3. Cute Appreciation Cards
We appreciate the hard work and passion of every teacher in the world.
To express gratitude, we came up with these cute appreciation cards for them.
Gather all the common craft items you will need for this activity.
Cut the finished teacher craft out from the printable template, use a glue stick to attach it in front of a folded construction paper.
Use a black or glitter pen and write down all the adorable messages for your teacher.
Add some decorative items on your handmade card such as stickers, sequins and ribbons.
If you want to make different designs for your appreciation cards, check out these fun printable crafts for kids.
4. Classroom Decoration
Changing classroom decors or bulletin boards every month helps students freshen up their mind.
This free printable teacher craft template will look lovely on classroom walls.
Let the students enjoy coloring, cutting and gluing together all the teacher craft pieces.
Next, encourage the kids to make DIY craft projects such as teacher craft garland or alternate the designs using our printable community helper theme crafts.
You can also cut the teacher craft out from the template and use it as a bulletin board background.
This fun idea will enhance every student's creativity, imagination and decision-making skills.
All of these classic teacher craft ideas are super easy and would work well for a toddler, preschool or kindergarten.


Teacher Craft Supplies Needed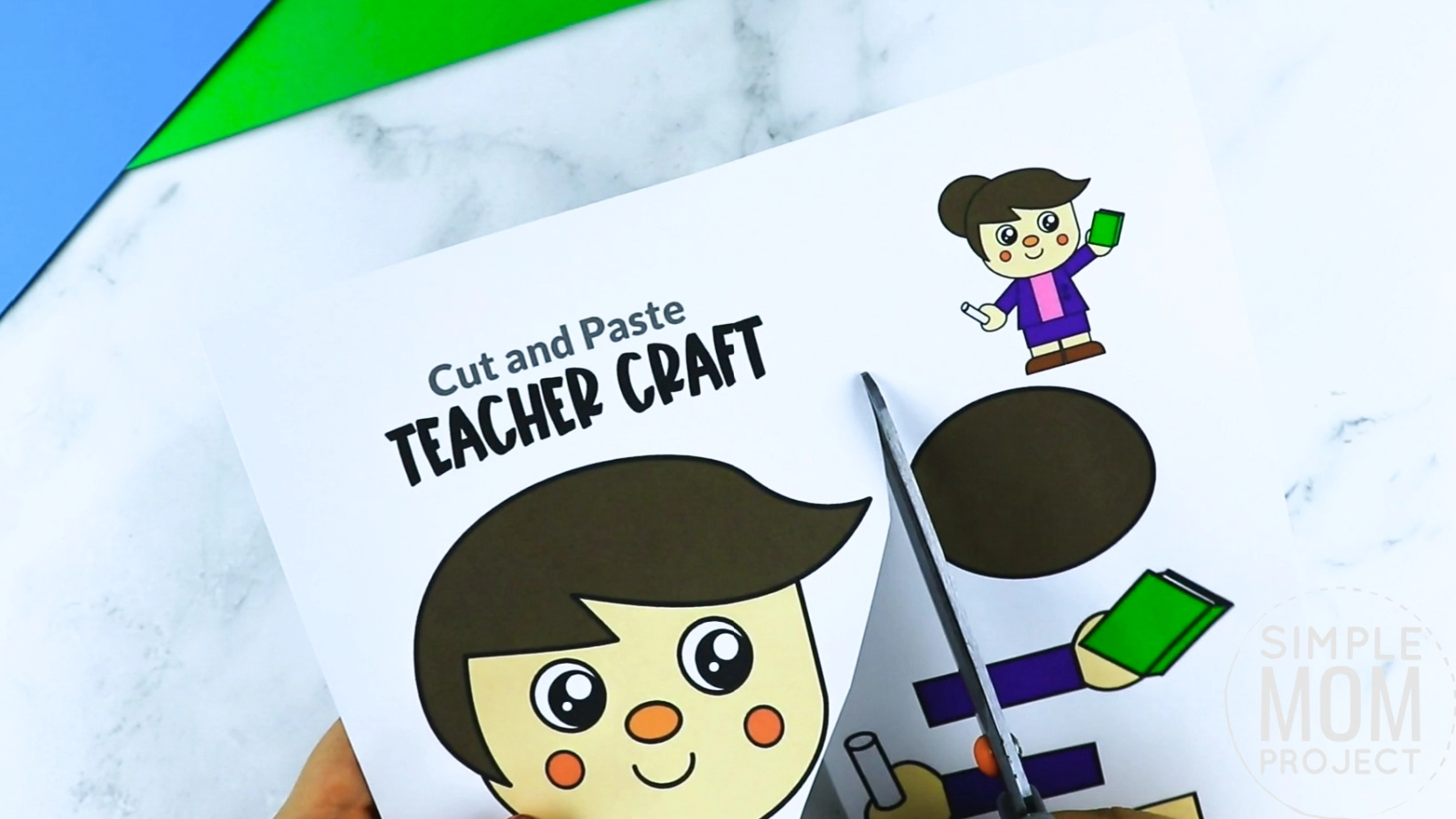 Keep scrolling to get your very own teacher craft today and start with your little ones and their community helper craft buddies today!
Teacher Craft Instructions
This DIY teacher craft is easy, even preschool and kindergarten kids can do it with minimal supervision.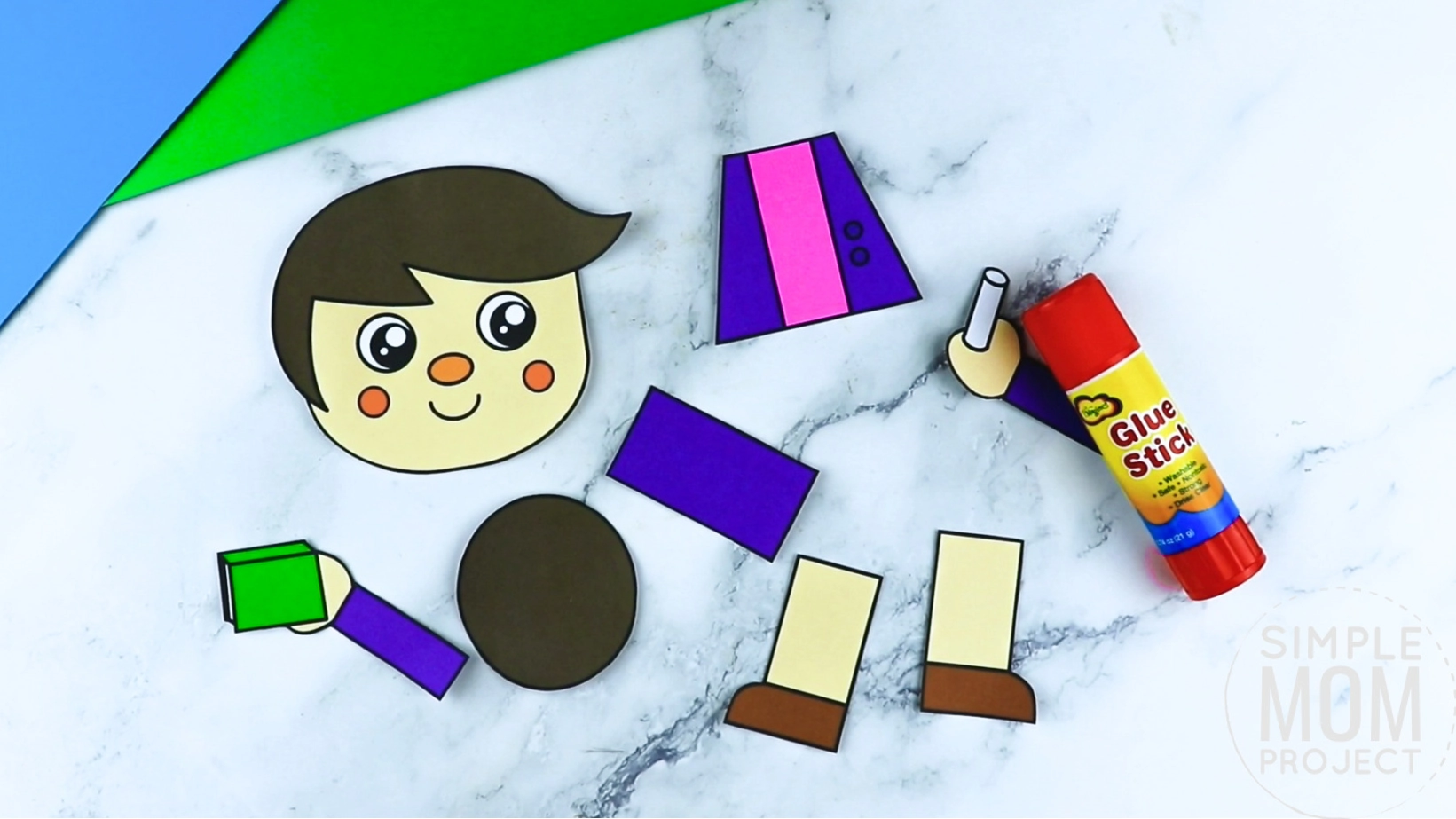 Grab all the simple materials you already have at home and let's start crafting!
Let your child pick which version of this free printable teacher craft they want to create first.
Cut the teacher drawing patterns out from the printable template.
Start gluing the uniforms together, then the legs.
Glue the hands holding a book and a chalk.
Lastly, glue the teacher's head and her hair.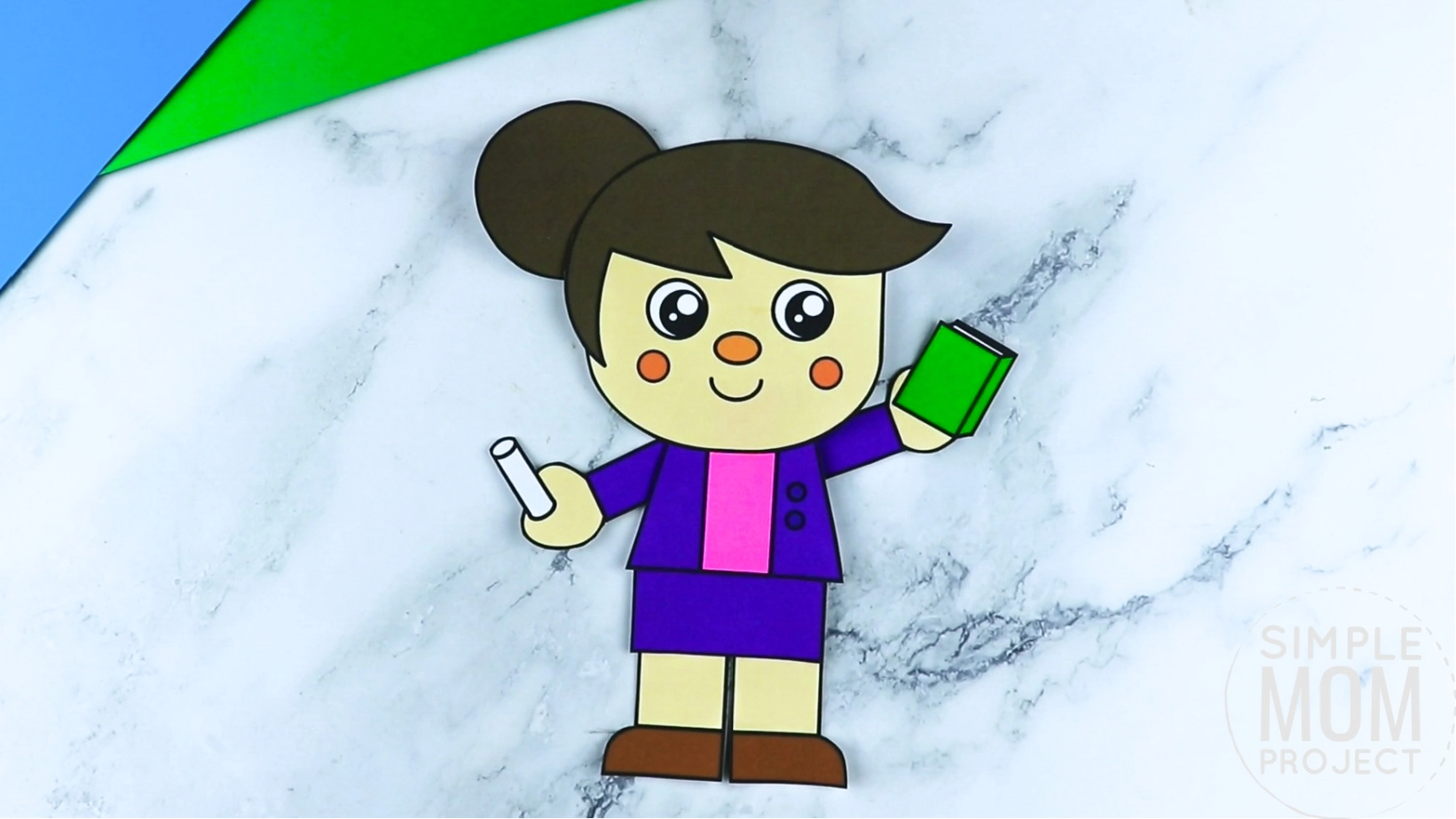 Your teacher craft is complete and ready to join the good community helper team.
More Options to Choose:
You can print the blank version and trace the cut outs on card stock paper for a sturdier teacher craft,
Print the teacher template in color for a simple and easy rainy day craft or,
Print the blank teacher template and use it as a fun coloring sheet activity and then glue the pieces of the teacher craft together.
Free Printable Teacher Craft Template
Can't decide which of these three easy printable teacher craft templates suits best for your kids or students?
No need to worry because you can print them all!
There's a teacher template in a basic black and white line drawing with no color for children who love exploring colors.
There are two sets of colored teacher craft templates to work on those scissor skills.
Don't forget to share your learning plans in the comments.
Need more community helper fun? Check out our packed list of community helpers for simple craft fun with your little ones.  
When you have finished, be sure to share your creation on Simple Mom Project's Facebook Page and follow me on Pinterest!

Kaitlen D.
More Fun Community Helper Crafts