Summer break is almost over and our children are preparing for school. If you're looking for a few ways to get your preschooler excited about going to school, this free printable scissor template came to the rescue!
This simple printable scissor template is a free transparent background clipart image so your little one can fill up the scissor drawing with the most amazing colors. Working on this free printable scissor template requires attention to detail and accuracy to keep within the lines which gives children a great opportunity to develop their hand-and-eye coordination.
Get creative with this easy printable scissor template. Click and download the cute scissor template and share it with your family.

*By the way, this post may contain affiliate links which means I may receive a small commission at no additional cost to you if an item is purchase through that link. For more information, click here.*
Free Printable Scissor Template
Scissor Template Materials Needed:
Printable Scissor Template (FOUND AT THE BOTTOM)
Make your child's finished scissor template a forever memory by laminating it! We use this laminator and cannot express how much we love it! It is not only inexpensive, it is SO easy to use!
Your kids will love seeing how much you adore their art work when you laminate and display it for years to come!
Looking for more amazing school supplies template ideas? Check out our Glue Bottle and Backpack template
Ideas for Scissor Template
Let's take a look at these fun ideas on how to include this free printable scissor template in your child's everyday life.
1. Back-To-School Storytime
Books are important when a child is learning how to read. Reading aloud is one of the most valued things parents can do with their kids. Once your child begins to learn how to read, have them read out loud to build their self-confidence.
My children love reading these amazing books over and over again before going back to school.
2. Improve Child's Scissor Cutting Skills
Work on practicing those scissor cutting skills with this fun printable scissor template. Be patient and encourage your little one to learn how to use scissors.
Observe your children if they need some extra support with holding scissors and assist them with the open and close movement until they can hold the scissors correctly.
Draw dotted lines near the actual scissor template to strengthen their finger muscles with the continuous open and close of the hand This cool activity also helps to develop your child's focus and attention to details.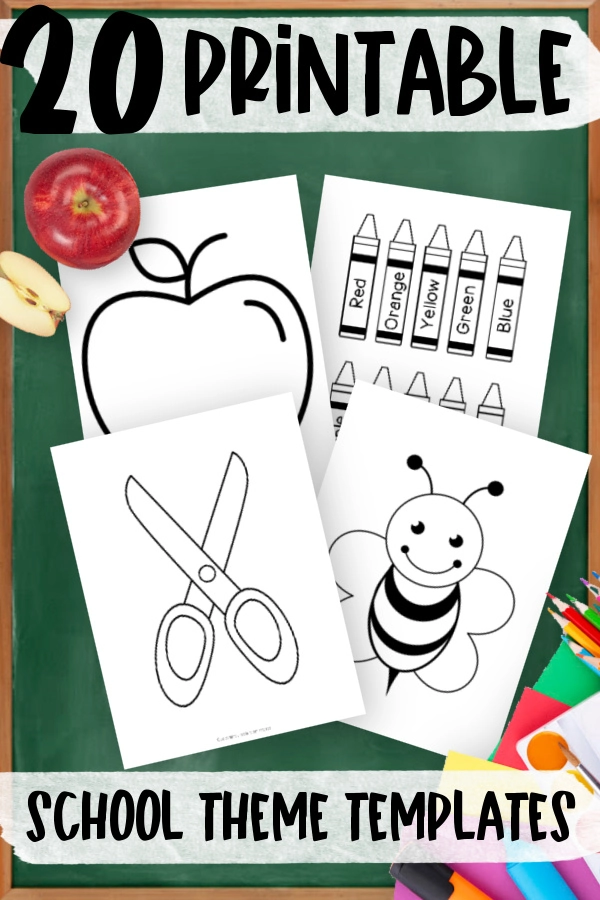 3. Shapes Learning for Kids
We think it would be fun to incorporate this easy printable scissor template in learning shapes. It is important for kids to learn the basic shapes at such a young age to identify and organize visual information, alphabets, numbers, mathematical concepts, problem-solving and many more!
As a parent, we should take tiny steps on teaching our kids so they can understand the information easily. Play a shape matching game together with your kids or cut out some printable shape templates then display it on their lesson board until they become familiar with the shapes.
4. Back to School Classroom Decoration
This free printable scissor template can be part of your little one's back-to-school classroom décor! Simply, print out as many scissor templates as needed, have your children and their classmates color and design it the way they like.
On the top corner of each finished scissor template, punch holes then insert string to make it look like a scissor banner craft. Put the finished craft up on display.
You can also pin up some finished scissor craft templates on a bulletin board.
We hope you like some of our fun printable scissor craft ideas, use it to spend quality time with your toddler, preschooler or kindergartener.

Printable Scissor Template:
Prepare your child for back-to-school this year by giving them this free printable scissor template. Cut out the simple scissor drawing template and use it for coloring, stencils, crafts and more.
Having the best time designing this free printable scissor template before this school year begins? Be sure to comment down all your awesome scissor craft template experiences with your little one.
When you have finished, be sure to share your creation on Simple Mom Project's Facebook Page and follow me on Pinterest!

Kaitlen D.
More Back to School Supplies Templates