Are you looking for a fun preschool letter of the alphabet craft simply for your kinder or toddler class? These kindergarten alphabet crafts are a great way to teach your little ones their abcs.
These a to z craft letter animals can be an uppercase coloring activity or print and go. You can even glue any of these fun alphabet crafts to a paper plate and your kids will have a blast!
With a short list of supplies like markers, crayons, scissors and glue, parents can help their children learn the alphabet through fun and exciting activities at home.
If you're looking for a letter of the week craft idea, use these alphabet craft templates. They are perfect for kids of all ages! Grab the whole book and print and download all the alphabet crafts now!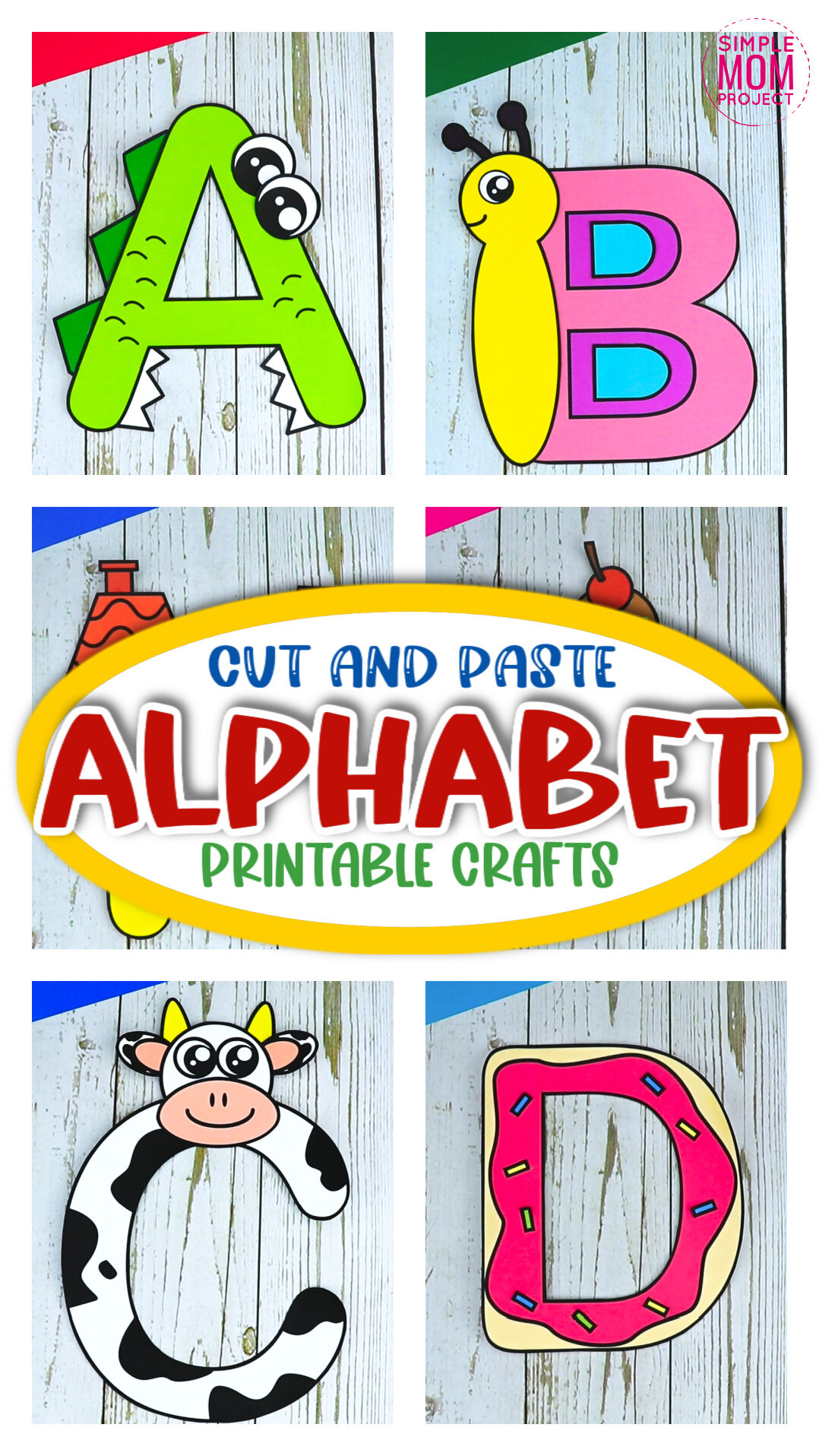 Encourage your child to practice those scissor skills and letter recognition by working on these easy printable letter craft templates.
These fun alphabet activity will boost your little one's creativity or get some inspiration, like making handprint and more DIY crafts that starting with the letter you are working on this week.
With that in mind, here's the full list of character that are featured in these printable alphabet crafts: 
A is for Alligator
B is for Butterfly
C is for Cow
D is for Donut
E is for Elephant
F is for Flower
G is for Goat
H is for House
I is for Ice Cream
J is for Jellyfish
K is for Kangaroo
L is for Leaf
M is for Moon
N is for Narwhal
O is for Octopus
P is for Pencil
Q is for Quail
R is for Robot
S is for Snake
T is for Tree
U is for Umbrella
V is for Vegetables
W is for Worm
X is for X-ray
Y is for YoYo
Z is for Zebra

You can purchase all these fun alphabet characters to color and build with your little loves for $12.95.
OR
If coloring isn't your thing, you can purchase a full color alphabet character set for the same price.
Need both?
Choose full color and alphabet to color on your own combined together for just $19.95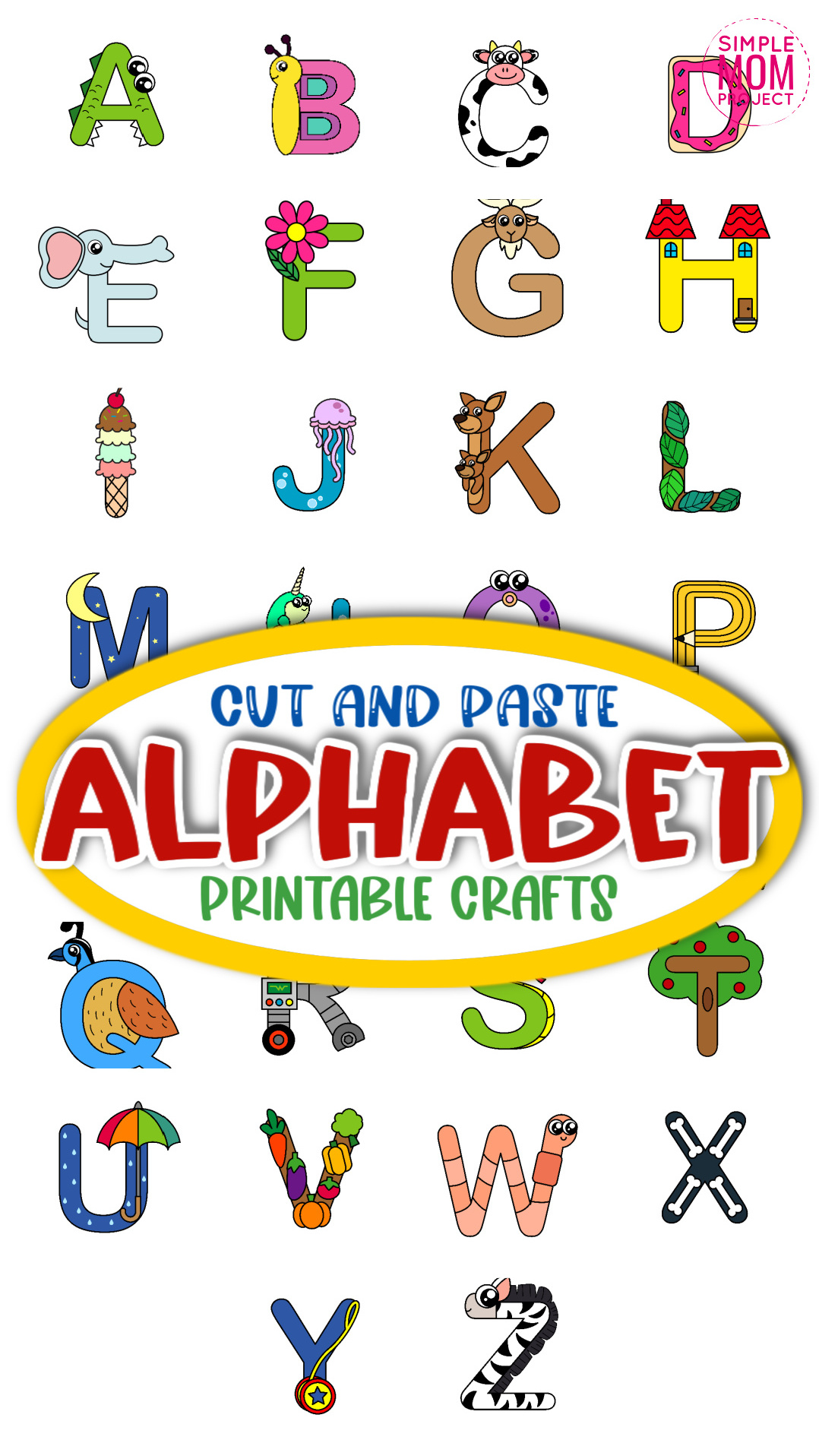 Great Ideas for Using Alphabet Craft Printable Templates:
There are so many ways you can celebrate and spend quality time with your little ones while getting creative.
These printable alphabet letter crafts are a fun way to share the love with own children or in your classroom without much prep. Here are some fun ways to use these adorable cut out alphabet letters. Children learn best when they are having fun!
Once your child is done working on these printable letter craft templates, pin it up on their lesson board for a great visual aid.
Learn new vocabulary and teach your child the sound with these simple printable letter craft templates.
Lists down all the basic words that start with the letter you are working with. An example for letter C can be as so, C like cat, car, cow, carrot, cupcake, etc and help them to correctly pronounce it.
Letter of the Week Crafts:
These are a great way to start your letter of the week craft! The internet is not short of educational activities to do with your little one, but finding an affordable one stop shop can be difficult. These printable letter crafts are a nice rainbow in a thunderstorm of printable crafts! Your kids will absolutely love these for some fantastic fun.
More Options to Choose:
You can print the blank version and trace the cut outs on card stock paper for a sturdier letter craft,
Print the letter template in color for a simple and easy rainy day craft or,
Print the blank letter template and use it as a fun coloring sheet activity and then glue the pieces of the letter craft together.