Are your children fans of the Peppa Pig or The Three Little Pigs?
If yes, then this free printable pig craft template is the ideal activity for them!
Working on this easy cut-and-paste pig craft template helps children improve their scissor skills, hand-eye coordination, coloring and creativity.
This simple printable pig template is perfect to use for coloring worksheets, kids craft room decoration, paper bag puppets, scrapbook projects and more.
You can also use the finished pig craft to teach your kids the letter P sound, and how to write it.
Print many free pig craft templates to offer it to your family and friends for a fun weekend activity.
We included step-by-step instruction and tutorial video to guide your little crafters in making their own pig craft.


Need more crafty fun? Check out our Cow, Letter P and Piggy craft.
 T
hey are perfect for those days when staying indoors is the only thing your family can do!
*By the way, this post may contain affiliate links which means I may receive a small commission at no additional cost to you if an item is purchase through that link. For more information, click here.*
Free Printable Cut and Paste Pig Craft
Ideas for Easy Preschool Paper Pig Craft
We've put together these brilliant ideas on how to include this free printable baby piggy craft template in your kids' life.
1. Precious Children's Books About Pigs
"I am a Pig, what do I say? Oink-oink!"
The best way to teach a child to read is by making it enjoyable.
When you are done reading, discuss the book and share experiences together to strengthen the bond.
Use our free printable pig craft template as you choose one or more of these amazing children's books about pigs.
2. Cute Pig Bookmark Craft
One of our quality times together at the end of the day is reading books.
My children love listening to the three little pigs' stories over and over again.
That's why we came up with making cute bookmarks using this easy cut-and-paste pig craft and other common items.
Cut the pig shape out from the printable template and punch a small hold on the top corner.
Insert a ribbon through it and add other decorative items like glitters or sequins before laminating it.
If you're looking for more printable paper crafts to turn into lovely bookmarks, try these: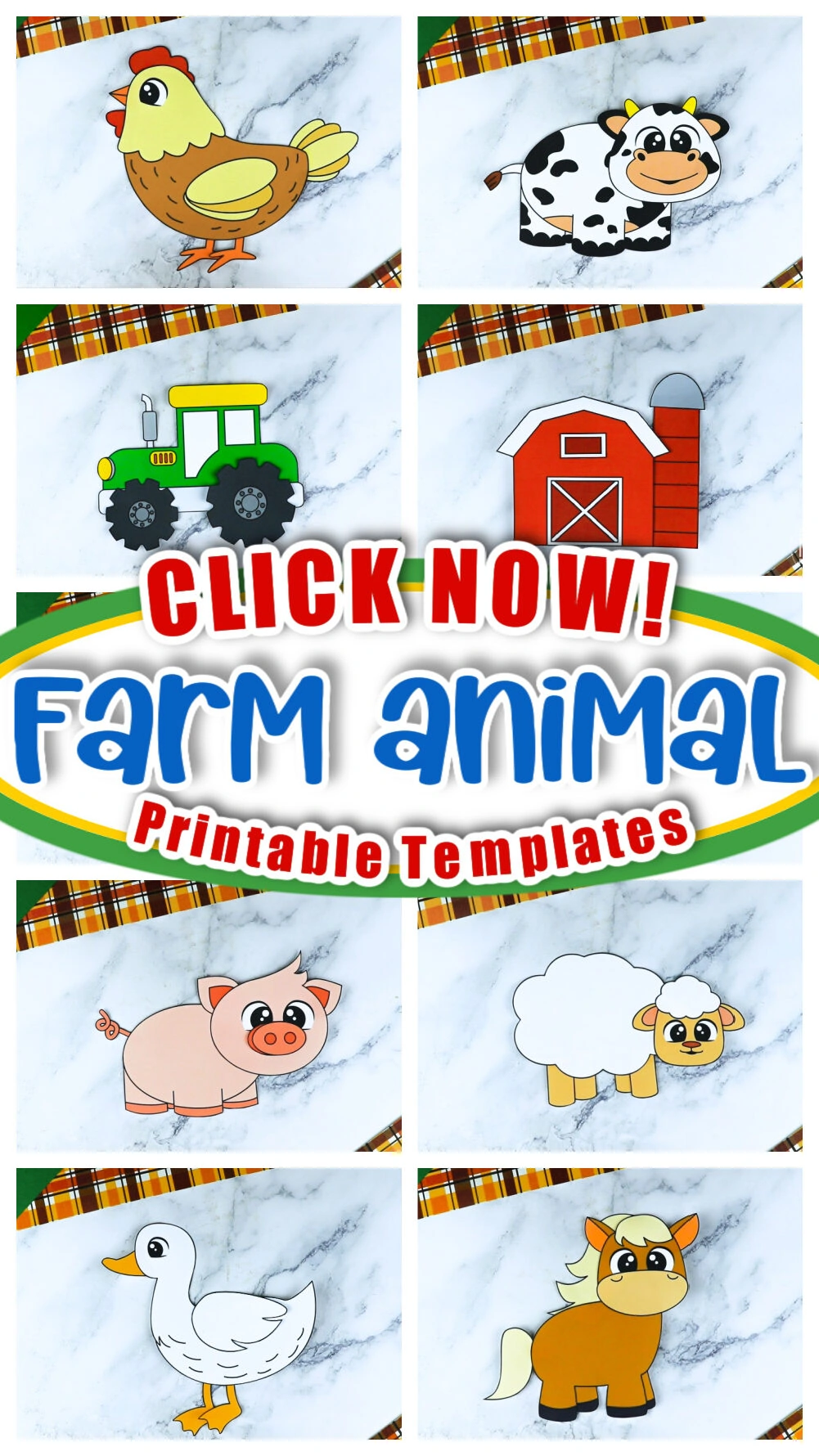 3. Paper Plate Pig Craft
Make great use of the paper plates by turning it into a face of the pig for the kids to play with.
Start tracing our simple printable pig template onto felt paper or cardboard.
Then, let your preschoolers work on their scissors skills by cutting out the pieces.
Have your child paint the paper plate pink.
Once the paper plate is dry, glue the pattern pieces onto place.
Draw two round eyes and carefully cut them out.
Punch a small hole on each side of the paper plate and insert an elastic rubber for the kids to wear it as a mask.
You can also glue a paper straw or large popsicle stick to the back of the paper plate to form a handle.
Use these cute piggy paper plate crafts when your kids are having a pretend-play farm theme in the classroom or at your home.
For more printable mask templates, check out the following:
4. DIY Piggy Bank
Help your children learn the importance of saving from a young age by making this DIY plastic bottle piggy bank.
Get a pink construction paper and cut the length that fits around the water bottle then secure it using a hot glue.
Cut a coin shaped rectangle out in the middle of the bottle.
Glue four pink pom poms at the bottom of the plastic bottle for the pig's feet.
Trace the pig's ears onto a pink paper then have your child paint the bottle lid pink.
Twirl a pink pipe cleaner for the tail, and finish it off by gluing some googly eyes.
Enjoy all these creative piggy paper craft ideas with your little crafters.
We are always happy to be part of your fun art and craft activities!


Pig Craft Supplies Needed
Keep scrolling to get your very own pig craft today and start with your little ones and their farm animal craft buddies today!
Pig Craft Instructions
It's craft time and we're going to have lots of fun with this cute pig activity!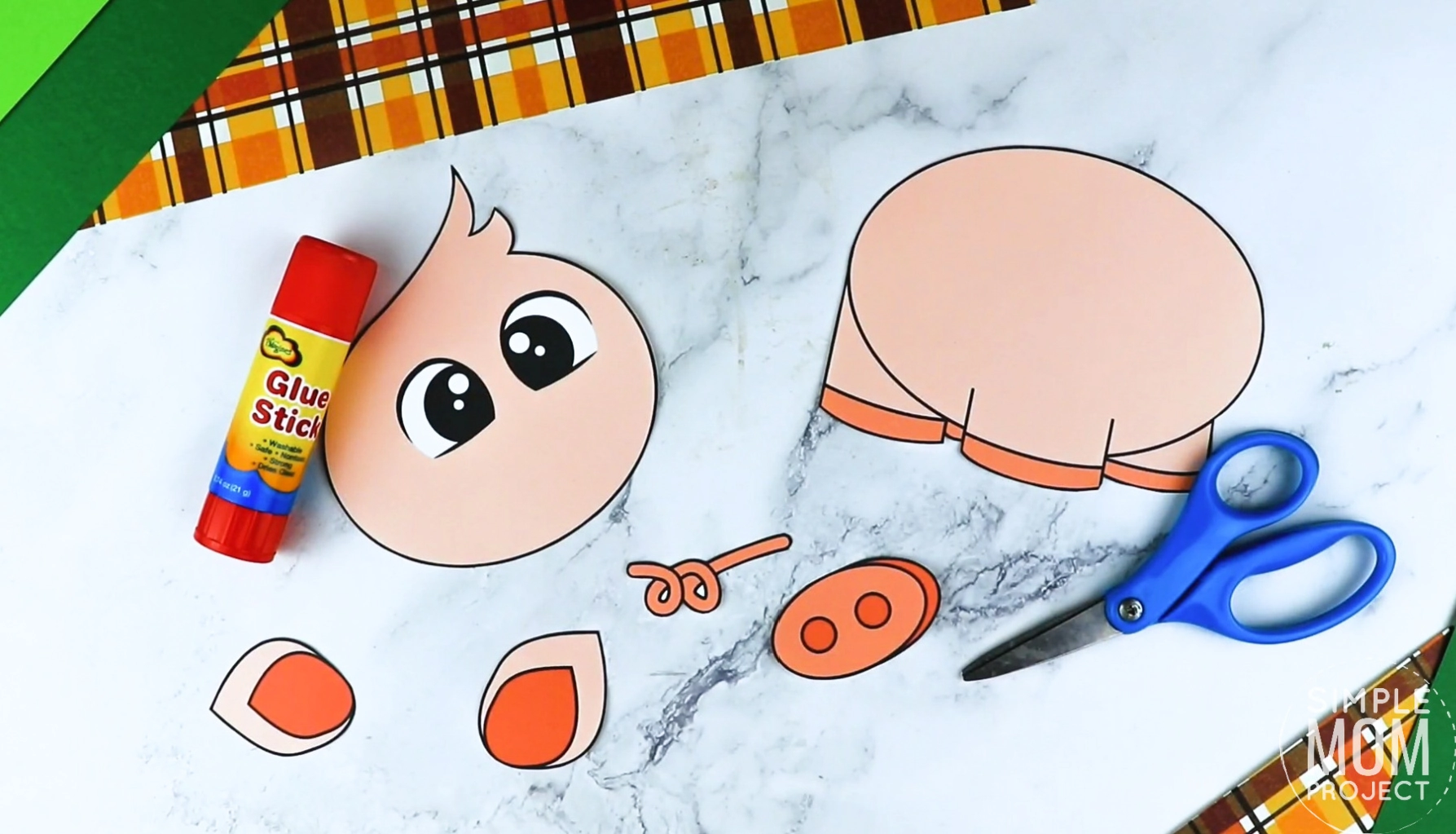 Make sure to gather all the simple craft supplies we will be needing.
Print out the free printable pig craft template and cut it out into individual sections.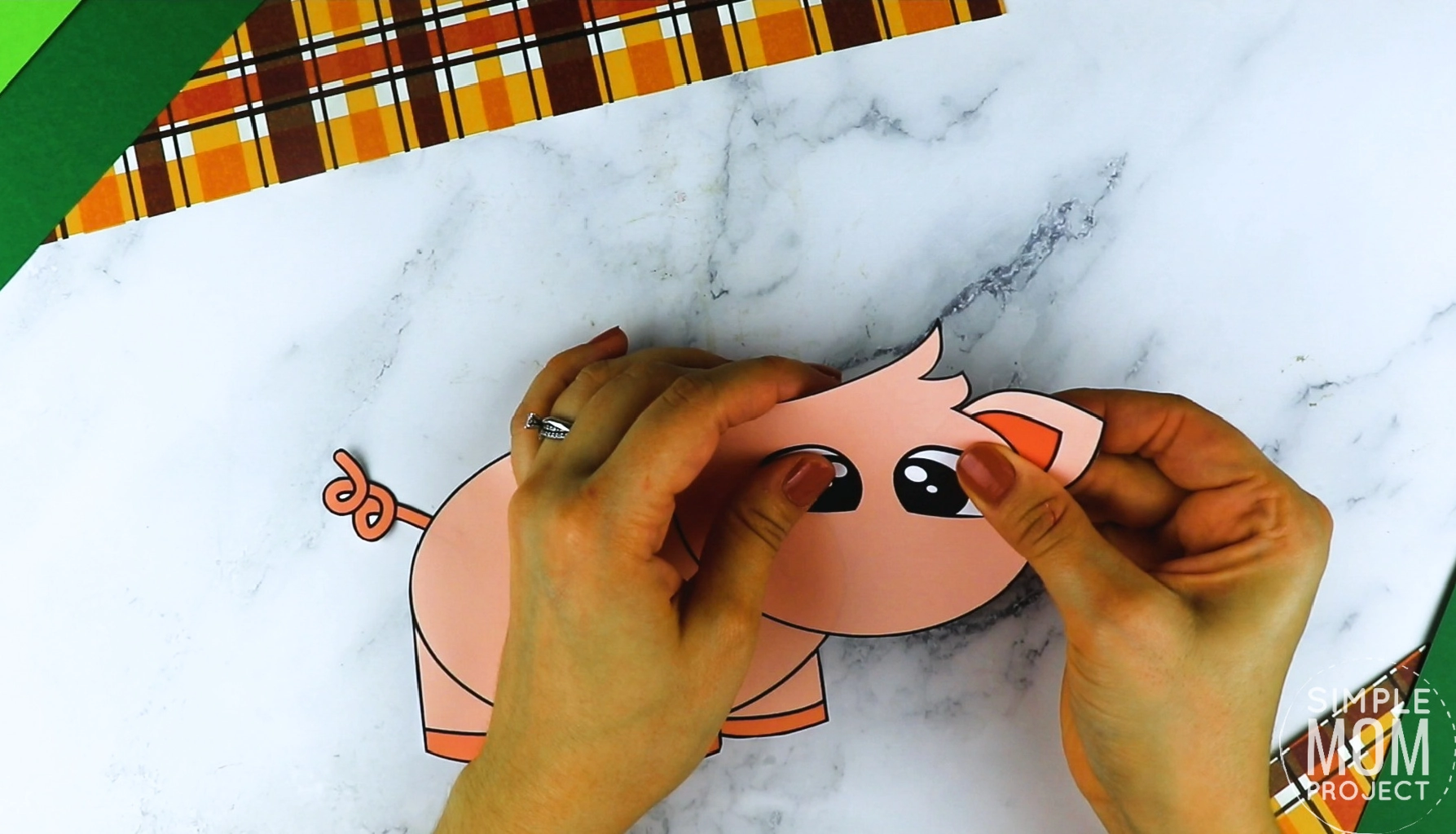 Start gluing the head, body and curly tail together.
Next, glue the ears on each side of the head.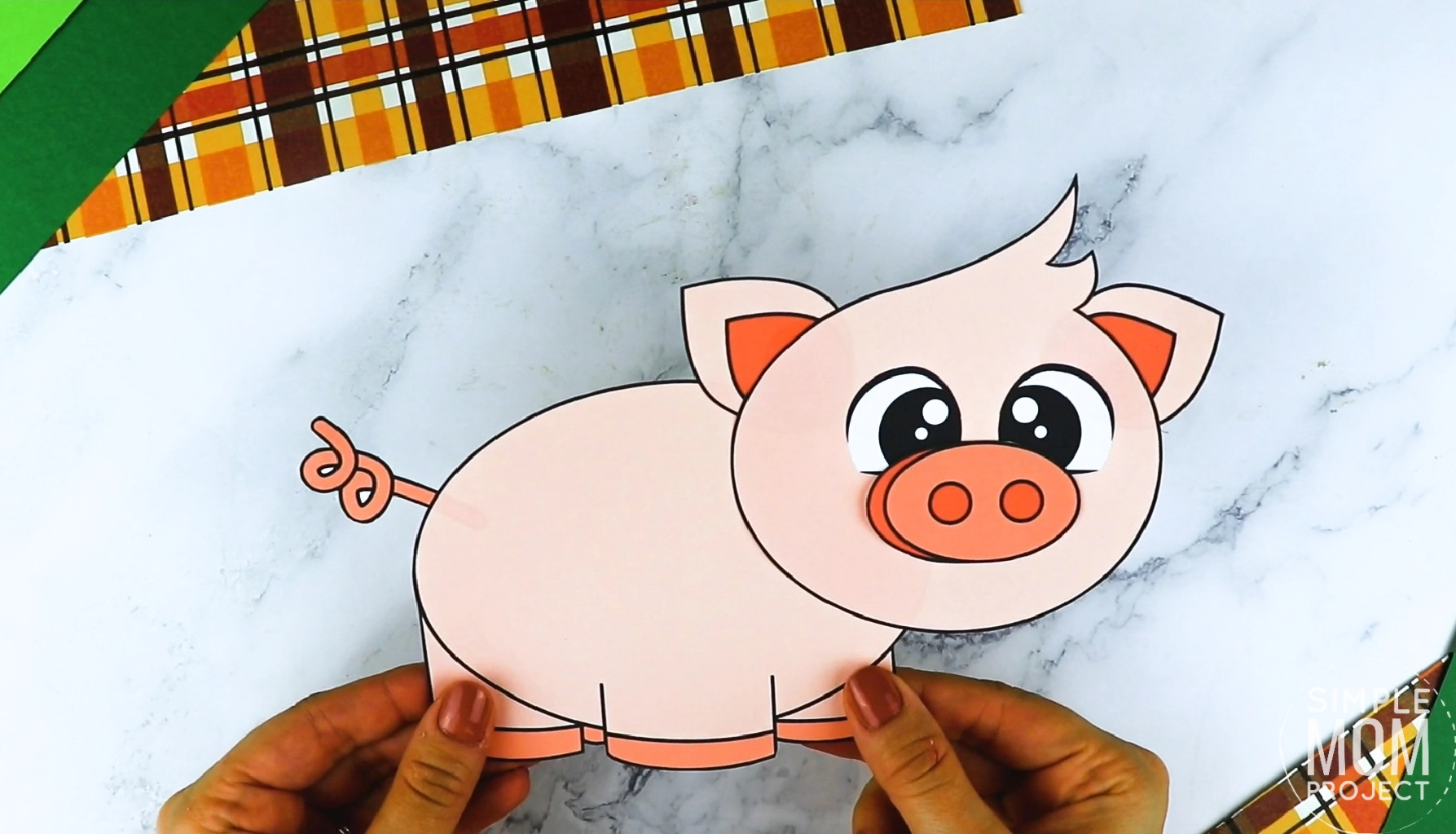 Lastly, glue the adorable nose.
Children will surely enjoy making these fun crafts!
More Options to Choose:
You can print the blank version and trace the cut outs on card stock paper for a sturdier pig craft,
Print the pig template in color for a simple and easy rainy day craft or,
Print the blank pig template and use it as a fun coloring sheet activity and then glue the pieces of the pig craft together.
Free Printable Pig Craft Template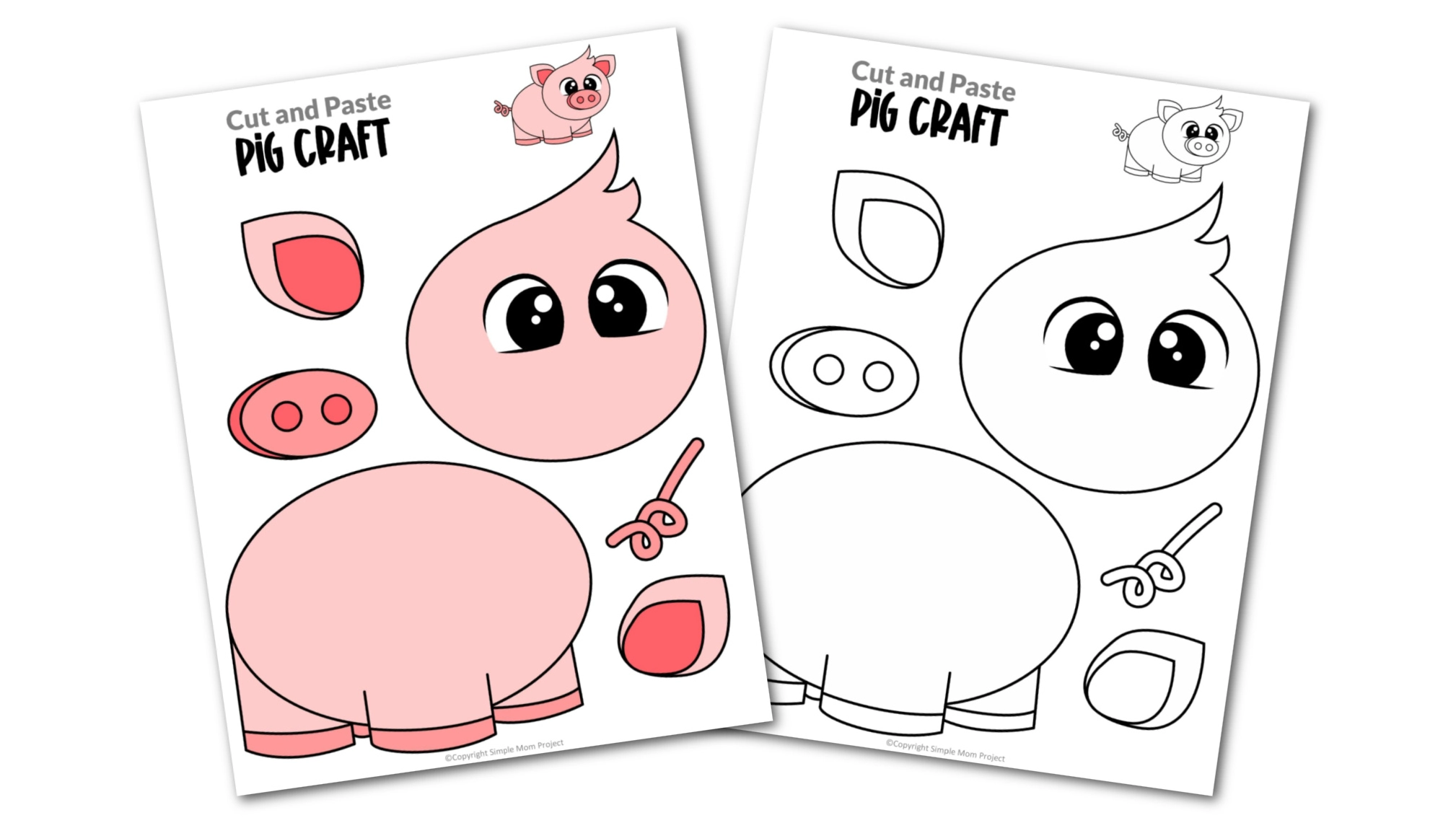 These free printable cute pig crafts are perfect for kids of all ages – toddler, preschool, kindergarten and grade school kids.
There's the simple black and white pig drawing template to fill in with amazing colors.
There's also the colored pig craft template for kids who like to directly cut out.
Don't forget to share your learning plans in the comments.
Need more farm animal fun? Check out our packed list of farm animals for simple craft fun with your little ones.  
When you have finished, be sure to share your creation on Simple Mom Project's Facebook Page and follow me on Pinterest!

Kaitlen D.
More Fantastic Farm Animal Crafts