If you're looking for a fun alphabet activity for the kids to do during the weekend, try this free printable letter P for pencil craft template.
Think of an animal that starts with the letter P like pig, penguin, peacock, parrot and panda as you make this easy printable letter P craft template.
Enjoy a pizza or popcorn while getting creative with our free printable letter P craft template.
If you are done coloring, cutting and gluing all the letter P pieces together, check out more of our printable templates that start with letter P!
We have the free printable pig craft, penguin craft, peacock craft, pigeon craft, pumpkin craft and pineapple template.
What are you waiting for?
Invite your friends and family for a fun weekend art and craft activities!


Need more crafty fun? Check out our Letter S, Letter W and Letter H craft.
 T
hey are perfect for those days when staying indoors is the only thing your family can do!
*By the way, this post may contain affiliate links which means I may receive a small commission at no additional cost to you if an item is purchase through that link. For more information, click here.*
Free Printable Cut and Paste Letter P Craft
Ideas for Easy Preschool Paper Letter P Craft
Let's take a look at these great craft ideas on how to include this free printable letter P template in your children's everyday life.
1. Best ABC Books for Kids
Help your child to know the sounds, words and language by reading them educational or story books regularly.
Reading together is a great way to strengthen the relationship you have with your little one.
We highly recommend these wonderful books that are perfect to pair with our free printable letter P for pencil craft template.
2. Learn How to Write
Don't put away your pencil yet, you will need it with this fun printable letter P craft template.
After making this cut-and-paste letter P activity, kids will be curious and start improving their pencil grip.
Print out tracing uppercase and lowercase letter P or letter dot-to-dot worksheets for kids to develop their letter recognition.
Help your little one practice writing by holding their hand as they follow the dots or pattern.
It only takes two strokes to write a capital P while one stroke to make a lowercase p.
Which makes it one of the easiest letters in the alphabet!
3. Fun Letter P Crafts
Once you and your children are done with our simple printable letter P for Pencil craft template, let's hop on to a new letter P printable template.
Children, especially young girls, love having a pretend-play that involves royal characters.
We have the free printable princess craft, prince craft, princess carriage craft and princess castle craft where you can print out.
Have your lovely kids enjoy the process of coloring, decorating, cutting and gluing the pieces together.
Let your children use their imagination and thinking skills while playing with these fun letter P crafts.
They can add different roles, dialogues and short stories to express themselves.
4. Letter of the Week: Letter P
We love it when we come up with beautiful DIY crafts after making this cut-and-paste letter P for pencil craft template!
Every season, my family loves to decorate our humble home so we thought it would be fun to share our craft ideas with you!
Gather all the craft materials and print out this free printable pumpkin craft template now.
Guide your preschooler and let them unleash their creativity in making this cute pumpkin craft.
Once your kids are satisfied with their adorable pumpkin craft, attach a string onto each pumpkin to hang them up.
No matter what season it is, you can display these beautiful pumpkin garlands in your house.
We are confident that your toddler, preschool and kindergarten will gain a lot of knowledge and skills in making this simple cut-and-paste printable letter P craft template.


Letter P Craft Supplies Needed
Printable Letter P Template (FOUND AT THE BOTTOM)
Keep scrolling to get your very own letter p craft today and start with your little ones and their alphabet craft buddies today!
Letter P Craft Instructions
Excited to start crafting with the kids? Gather all the classic craft supplies now!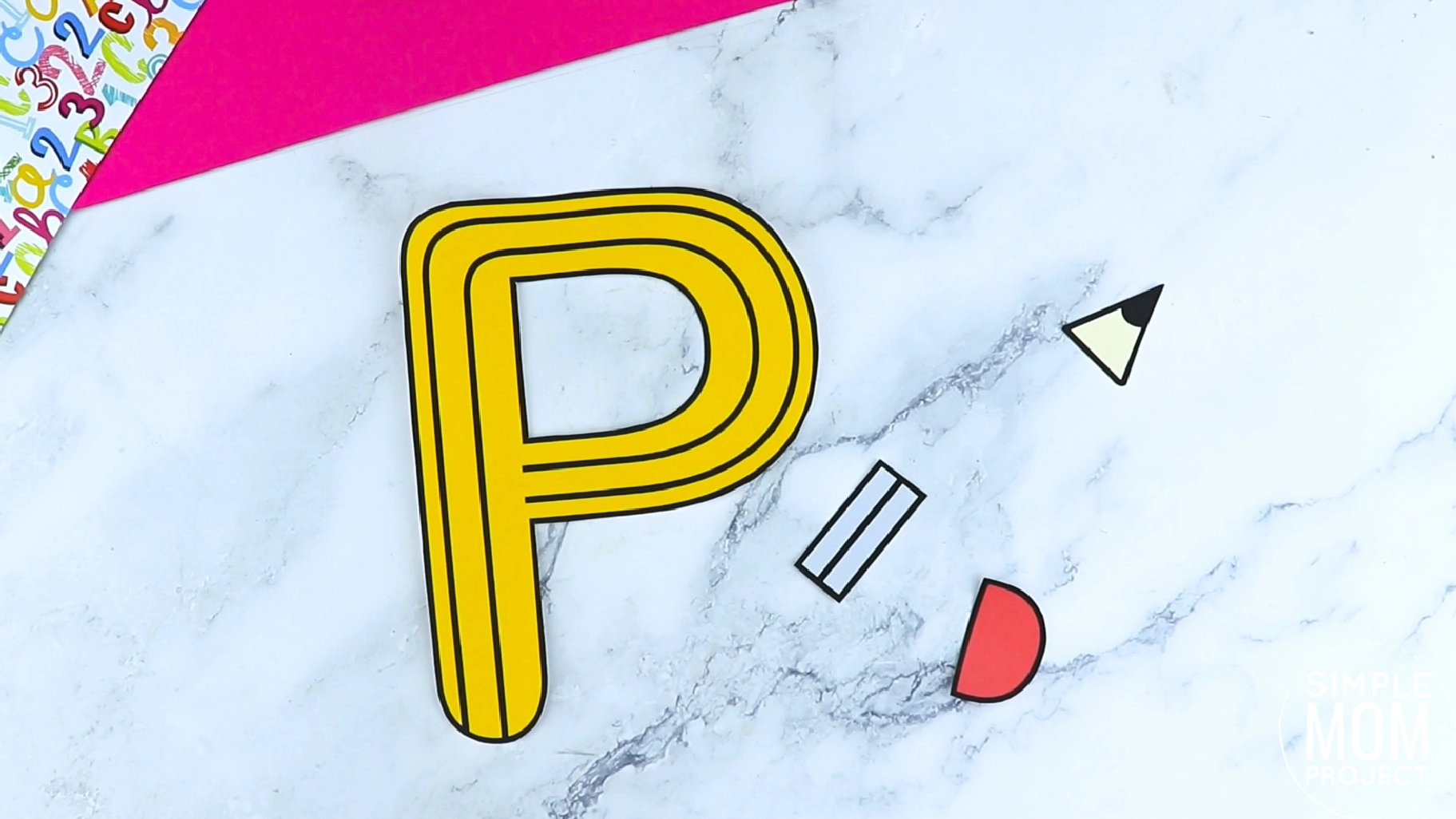 Let your little one choose which free printable letter P craft template they want to do first.
If you think your child is familiar with using scissors, let them cut the letter P for pencil outline into individual pieces.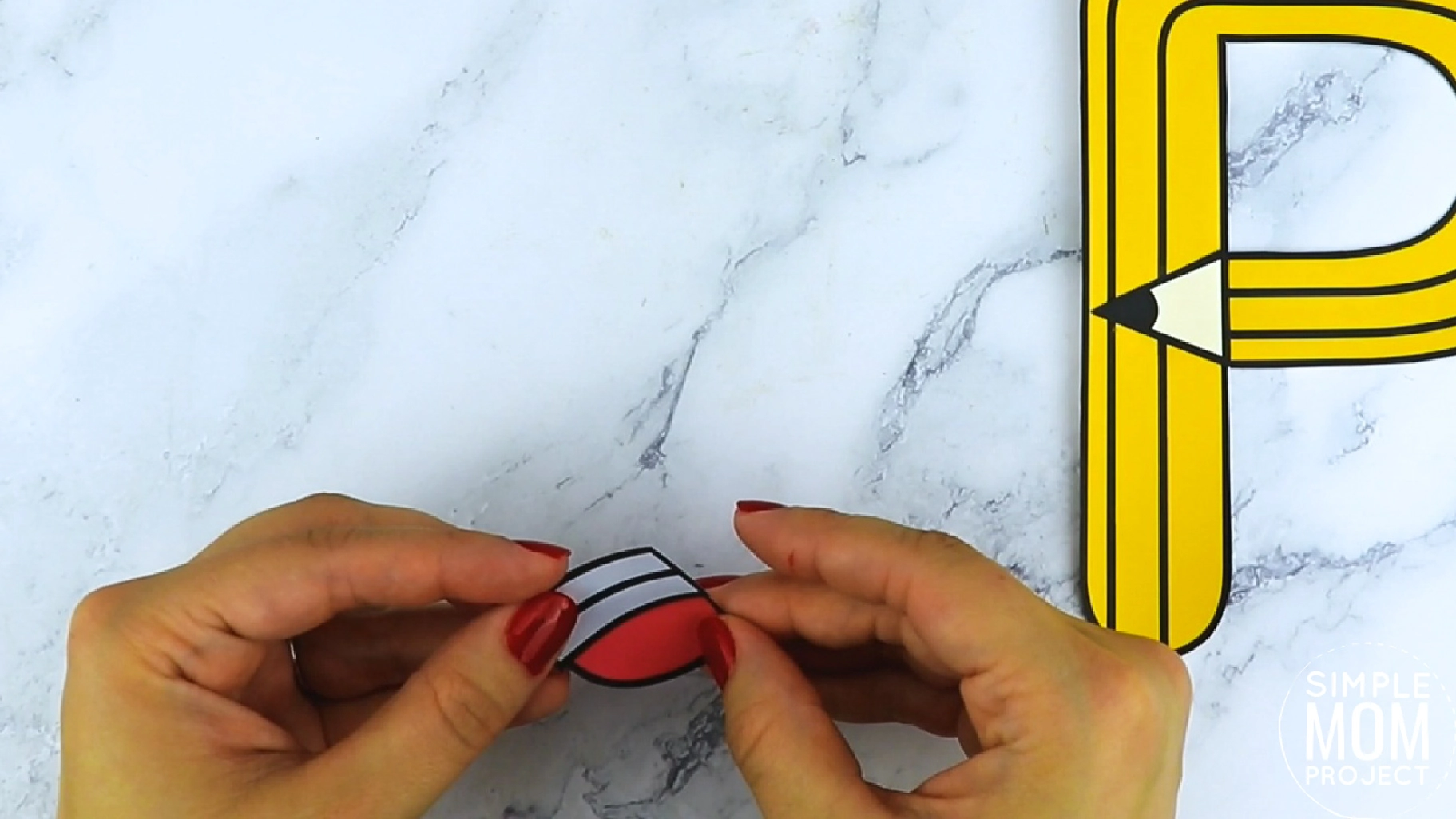 Place the lead, ferrule and eraser onto the letter P and secure it using a glue stick.
This letter P craft activity is so easy to make, your kids can put the pieces together by themselves.
More Options to Choose:
You can print the blank version and trace the cut outs on card stock paper for a sturdier letter p craft,
Print the letter p template in color for a simple and easy rainy day craft or,
Print the blank letter p template and use it as a fun coloring sheet activity and then glue the pieces of the letter p craft together.
Free Printable Letter P Template
Wanna know what makes this easy printable letter P for pencil craft template extraordinary?
It has two different versions for your toddler, preschool and kindergarten to choose.
We have the simple black and white letter P for pencil drawing template where your child can fill in with colors.
We also have the easy cut-and-paste colored letter P for pencil pattern template.
Don't forget to share your learning plans in the comments.
Need more storybook character fun? Check out our packed list of alphabet for simple craft fun with your little ones.  
When you have finished, be sure to share your creation on Simple Mom Project's Facebook Page and follow me on Pinterest!

Kaitlen D.
More Fun Alphabet Crafts