Butterflies are fascinating creatures! Their beauty and mystery makes them perfect for crafts. That's why I've decided to add these easy butterfly mask template printables.
There are so many ways you can use these masks to get creative with your kids!
They're perfect for costume play.
Dressing up and role play gives children a unique chance to practice communication skills and use their imaginations. Keep reading for some great ideas.
*By the way, this post may contain affiliate links which means I may receive a small commission at no additional cost to you if an item is purchase through that link. For more information, click here.*
Free Printable Butterfly Mask Template
Butterfly Mask Supplies:
With minimal supplies, this simple butterfly coloring party can get started.
Printable Butterfly Mask Template (found below)
Creative Ways to Use this Butterfly Mask Template:
1. Make Process Art Masks
Print the masks and set them out with lots of art supplies.
Markers, colored pencils, paint, bingo markers, crayons, sequins, glitter, stickers, feathers, and tissue paper are all great choices!
Let your children have the freedom to create their own masks with little direction.
See what they come up with! Decorating their own butterfly masks is a great way for children to practice thinking creatively.
2. Butterfly masks are perfect for masquerade parties!
Why not have a fun themed party or play date with your kids?
Make a cake together, colorful icing for everyone, and print these fun butterfly mask templates for your kids to decorate and enjoy wearing at the party.
3. These fun masks are perfect for a unit study!
Teach your little learners all about metamorphosis with the butterfly life cycle. Preschoolers will love reading Eric Carle's The Very Hungry Caterpillar.
At the end of the lesson, have children cut out and decorate butterfly coloring masks using their imagination to add lots of color just like Eric Carle does in his book.
4.Add themed masks to a fun nature study
Find a great field guide style book for kids to learn about many different types of butterflies.
My kids like the book Explore My World Butterflies from National Geographic Kids.
Let your children color their butterfly masks to look like the very real butterflies we find in nature.
They can make Monarch butterflies, Swallowtails, or even a beautiful Blue Morpho.
4. Use them as a field trip activity
Print and decorate your butterfly coloring mask pages, then take a trip to a local butterfly garden!
Often children can feed the butterflies using tiny droppers.
It's a fascinating experience! Kids can wear their masks and pretend to be butterflies.
5. Be a butterfly for a day!
If you can't find a garden near you, try reading a book like How To Be A Butterfly by Laura Knowles.
Then, let your little learners pretend to be butterflies in the backyard or even the living room.
Encourage butterfly wing flapping, "fluttering" around, and even "landing" on imaginary flower petals and leaves.
It's a great way to exercise and add movement to your day. For an added bonus, play Chopin's Butterfly Etude while you flutter around the room.
With all these fun interactive ways to put my printable butterfly mask to good use, your kids are sure to have a great time and learn a lot about butterflies!
These cut-out butterfly coloring mask templates will help you add movement, creativity, imagination, and music appreciation to your little one's repertoire.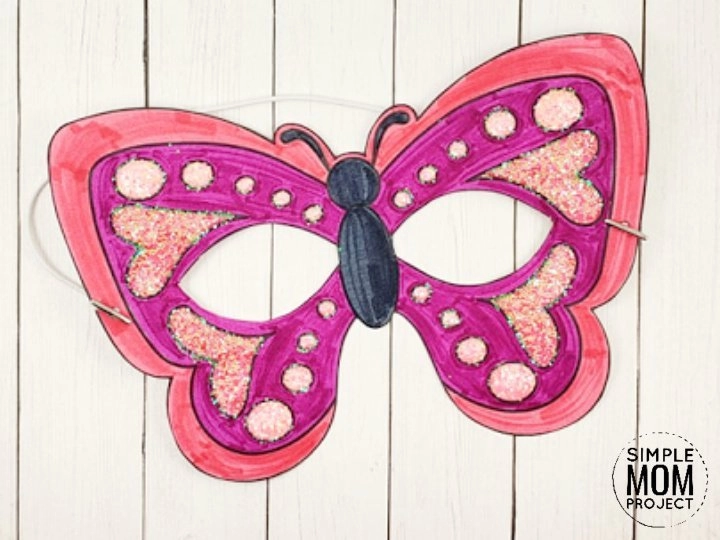 To print your free butterfly mask coloring template, turn the printer on, click on the link below your favorite mask then click print.
While you can absolutely print on whatever paper you wish, we recommend a sturdy cardstock paper. It lasts a whole lot longer through the fun.
Not wanting to wait on the elastic bands to come? Try gluing your butterfly coloring mask to a Popsicle stick. If you are like us, there's tons lying around the house. In very strange places, I might add.
To prevent Copyright infringement, you will see our watermark inserted on all of our images. This will NOT be included in your download.
Butterfly Mask Template Printable
Do you have an idea for using these fun masks that I didn't mention? Tell me all about it in the comment section. I love hearing about how your children are having fun with these easy printables.

Kaitlen D.
More Fun Masks for Girls: