Have fun with this basic printable Pluto craft template as part of your outer space crafts for toddlers up to 6th grade kids.
Use this simple printable Pluto craft template when studying the solar system and planets.
Making this cut-and-paste dwarf planet Pluto craft improves children's fine motor skills, concentration, imagination and creativity.
Combine the Pluto craft with recycled materials to form a delightful variety of craft projects that kids can enjoy.
Download and print the cute Pluto craft templates to keep those little hands occupied at home.
*By the way, this post may contain affiliate links which means I may receive a small commission at no additional cost to you if an item is purchase through that link. For more information, click here.*
Printable Cut and Paste Pluto Craft
Pluto Craft Supplies Needed
Need more crafty fun? Check out our Mars Craft, Moon Craft and Earth Craft.
 T
hey are perfect for those days when staying indoors is the only thing your family can do!
Ideas for Easy Preschool Paper Pluto Craft
There are lots of ideas on how to include this simple printable Pluto craft template in your everyday life with the kids.
1. Interesting Facts About Pluto
If you plan to study the different planets with your grade school kids, you will want to be sure to include this fun printable Pluto pattern template.
Did you know that Pluto is categorized as a dwarf planet?
In fact, it's the largest dwarf planet to be discovered so far.
Can you guess how many moons Pluto has? You're right!
Pluto has five known moons, namely Charon, Styx, Nix, Kerberos and Hydra.
The closest and largest moon of Pluto is Charon while Hydra is the farthest.
Did you know that Pluto is named after the Roman god of the underworld?
In Greek Mythology, it is also known as Hades.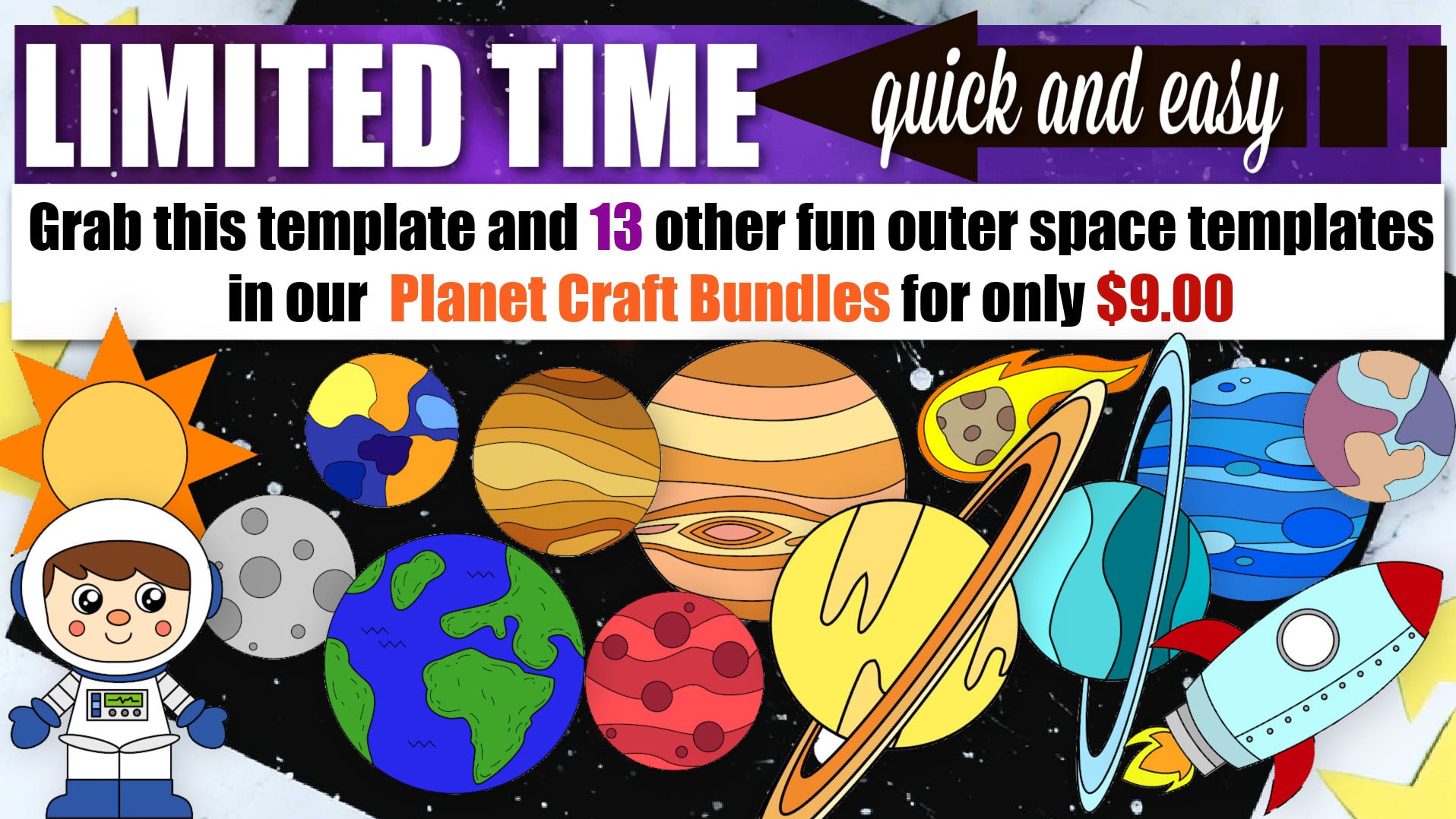 2. The Best Pluto Books for Kids
Do your kids dream of working in NASA someday?
Making this dwarf planet Pluto craft template will make them feel like they are on a real space mission.
Next, encourage them to read interesting facts about the specific planet.
Reading as often as possible sparks your child's imagination and stimulates curiosity.
Here's a few lists of my little one's favorite books that's perfect to pair with this simple printable Pluto craft template.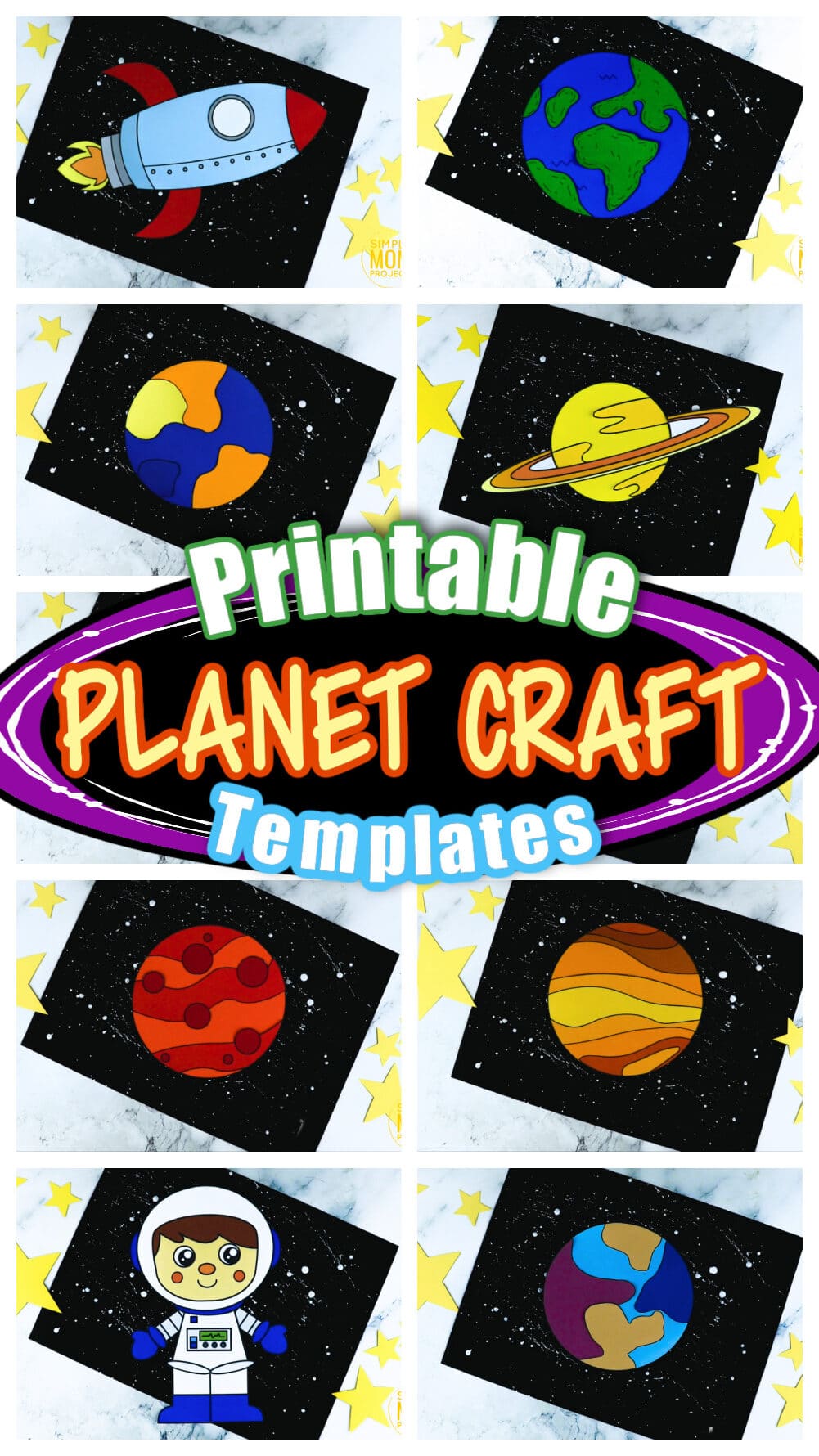 3. Outer Space Activities
Arts and crafts are always the best ideas to keep the kids busy while they are at home.
We usually choose low prep projects that won't require you to buy to the store to complete all the materials.
Use a paper plate, coffee filter or Styrofoam ball as the base for your Pluto craft.
Using a pencil, trace the parts of Pluto onto your base.
Let the kids unleash their creativity by allowing them to paint Pluto with different colors.
Set it aside until it completely dries.
Attach a yarn string at the top of your finished dwarf planet Pluto craft and hang it in your kids' bedroom for a beautiful outer space themed décor.
4. Solar System Themed Party
Let's create memories by throwing a solar system theme party for all the aspiring little astronauts!
Little kids will surely have a blast coloring, cutting and gluing together the Pluto pattern pieces.
Turn the finished dwarf planet Pluto craft into party banners, wall decors, table displays, invitation cards or cupcake toppers.
If you're looking for more printable templates that can turn into party theme ideas for the kids, check these out:
All these wonderful Pluto craft ideas are very easy and would work well for toddlers, preschool, kindergarten and elementary kids.
Keep scrolling to get your very own Pluto craft today and start with your little ones and their planet craft buddies today!
Pluto Craft Instructions
Let's continue the fun with this easy printable Pluto craft template!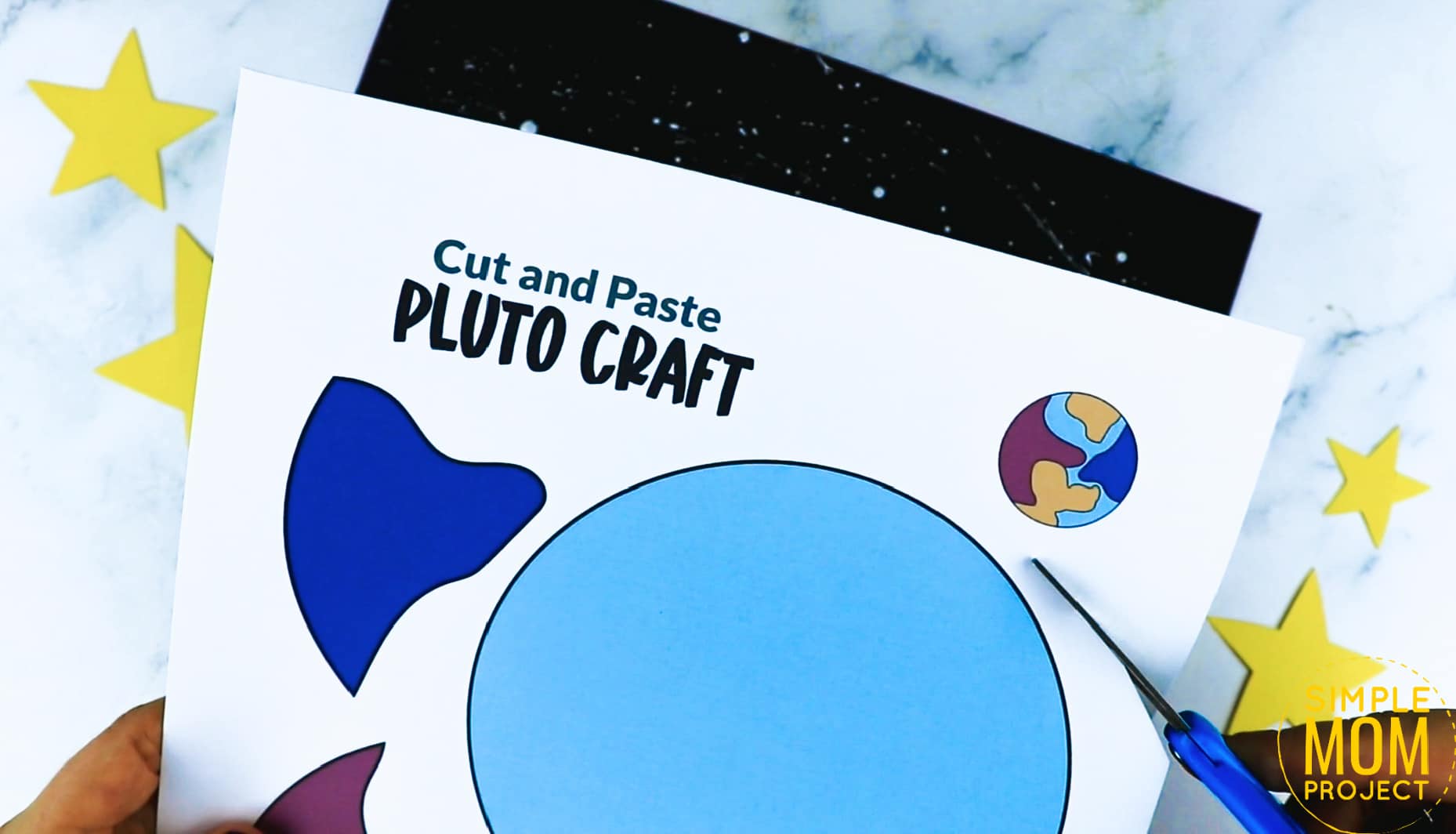 Make sure to gather all the basic crafting materials before we start.
Have your little ones choose which version of this dwarf planet Pluto printable template they want to create first.
Click download and print the Pluto outline on a white sheet of paper.
If your child knows how to properly use scissors, encourage them to cut out the Pluto pattern pieces.
If they are too young, do it for them and let them handle the gluing part.
Use a glue stick to attach the Pluto pieces onto its surface.
Remember, there's no right or wrong in assembling the pieces.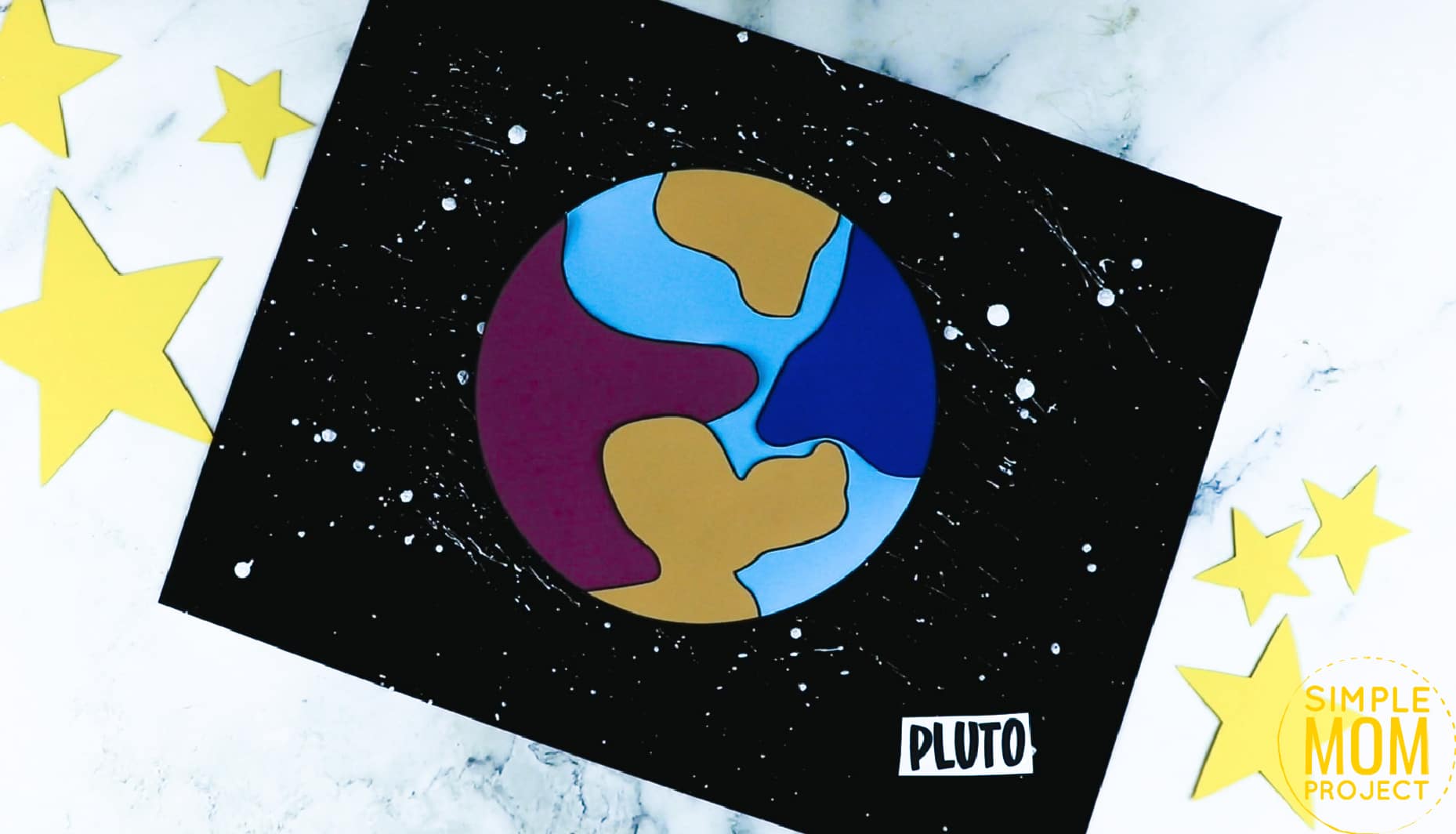 Now your dwarf planet Pluto is ready to be part of the outer space activities!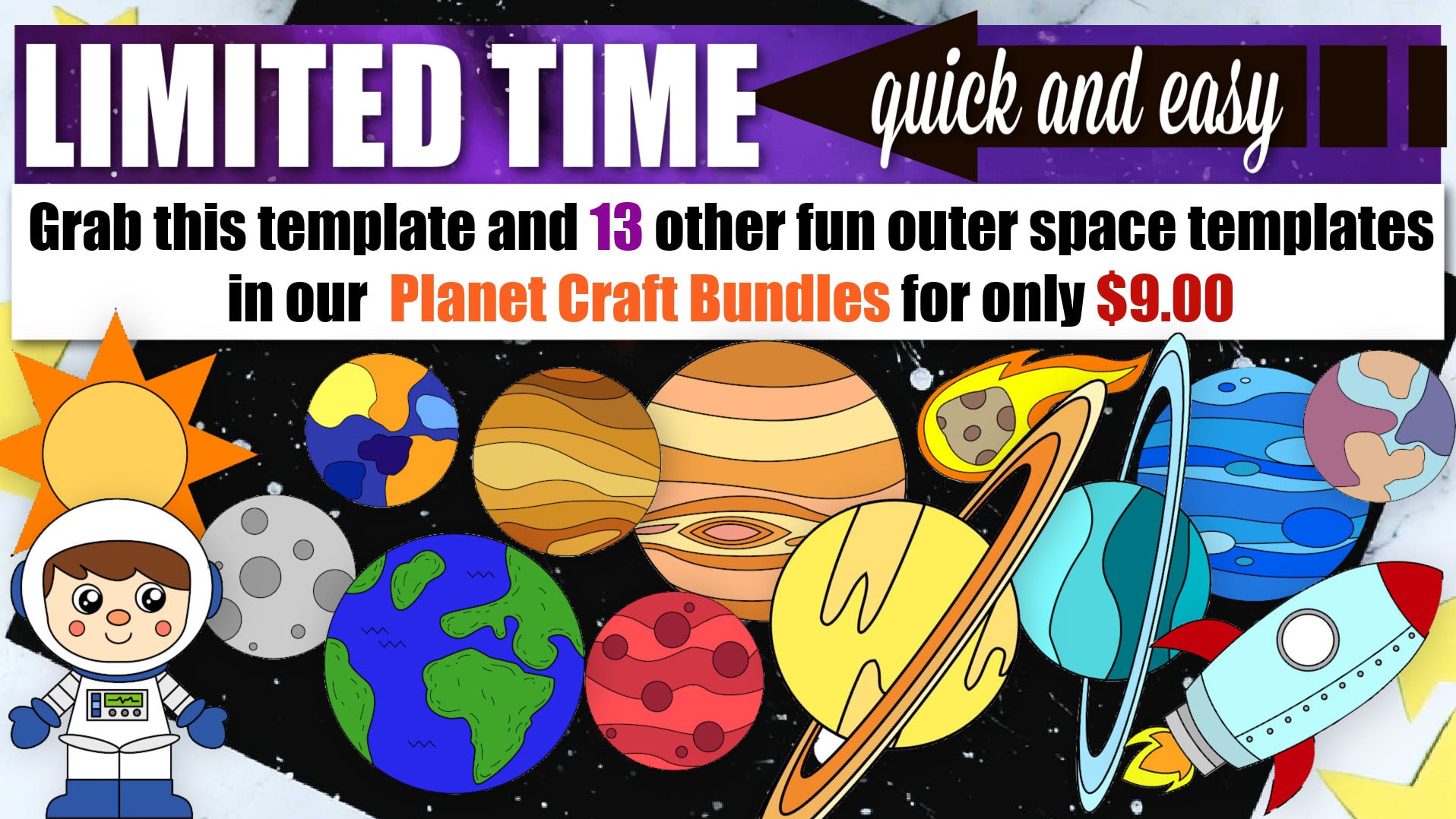 More Options to Choose:
You can print the blank version and trace the cut outs on card stock paper for a sturdier Pluto craft,
Print the Pluto template in color for a simple and easy rainy day craft or,
Print the blank Pluto template and use it as a fun coloring sheet activity and then glue the pieces of the Pluto craft together.
Printable Pluto Craft Template
Our simple printable dwarf planet Pluto craft template comes with two different versions for your little astronauts!
Your child can pick whether they like the black and white Pluto drawing template or the cut-and-paste colored Pluto craft template.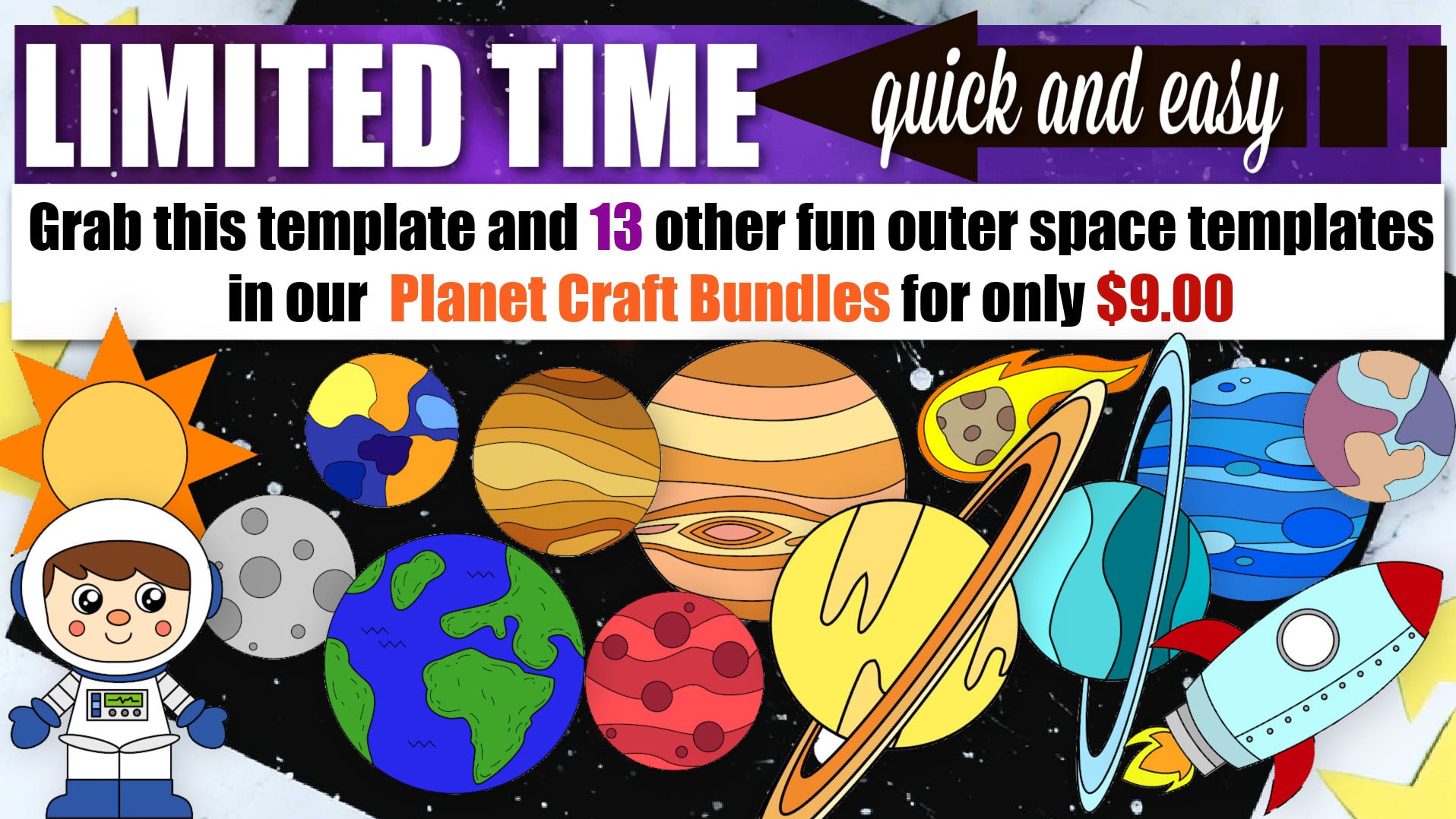 Don't forget to share your learning plans in the comments.
Need more planet fun? Check out our packed list of planets for simple craft fun with your little ones.  
When you have finished, be sure to share your creation on Simple Mom Project's Facebook Page and follow me on Pinterest!

Kaitlen D.
More Fun Planet Crafts