Looking for a free printable uppercase letter H craft for your kids?
This "H is for House" craft template is perfect for learning the /H/ sound, practicing uppercase and lowercase letters.
If you're doing a letter of the week craft in the classroom, these printable letter H craft templates are fun things to practice the letter recognition.
The finished letter H craft can be used as visual aid or flashcards for your ABC lesson plan.
Kids will be able to recite other letter h words like hen, hedgehog, hippopotamus, handprint or sing the humpty dumpty song!
Making this preschool printable letter H for house craft template gives your children the opportunity to practice their coloring, fine motor skills, focus and creativity.
Explore other letter H crafts and activities for your kids like the free printable heart hippo craft, hippo craft, horse craft, hot chocolate mug craft, hat template, heart shape templates and letter h coloring page.
You can print several letter H worksheets and share it to each family member while sipping a hot cocoa on a rainy day or eating a hamburger or hotdog sandwich.
We included simple instructions and tutorial video to make this puzzle-like house craft.


Need more crafty fun? Check out our Letter B, Letter U and Letter N craft.
 T
hey are perfect for those days when staying indoors is the only thing your family can do!
*By the way, this post may contain affiliate links which means I may receive a small commission at no additional cost to you if an item is purchase through that link. For more information, click here.*
Free Printable Cut and Paste Letter H Craft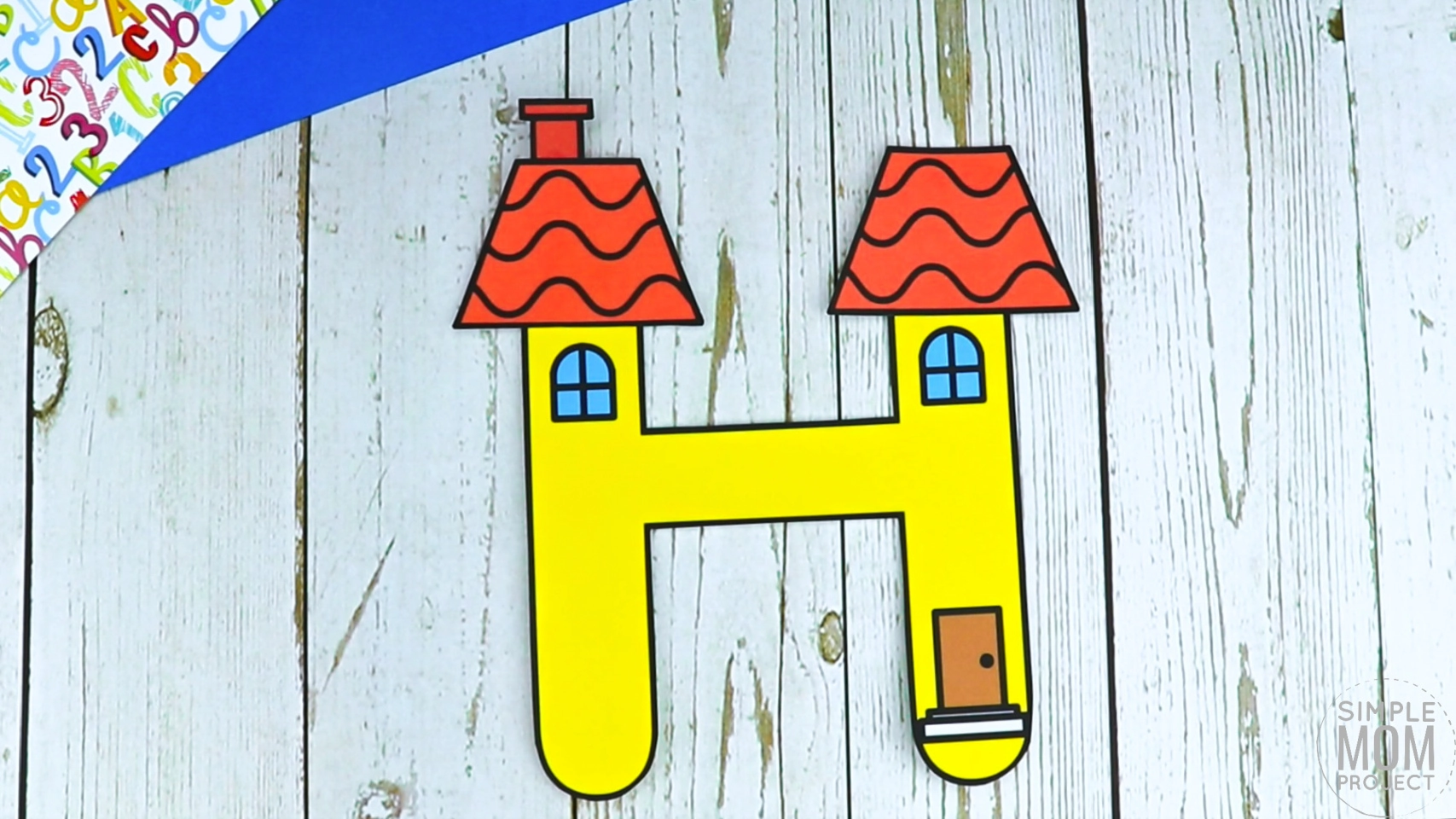 Ideas for Easy Preschool Paper Letter H Craft
We've put together a list of fun ways on how to include this free printable letter H craft template in your kids' life.
1. All-Time Favorite Children's Books
Does your child have a favorite book they want to read over and over again?
Pick it up and encourage your little one to read it for you to boost their self-confidence.
Discuss what the book is all about to enhance their thinking skills and nourish their mind.
Since our letter of the week is "H", we highly recommend these must-read books:
2. Easy Letter H for House Craft
Have you seen Disney's animated movie Up? If not, go grab a popcorn and call each family member for a weekend movie night!
This movie inspires us to create our very own floating house using this free printable letter H craft template.
Have your child work on the cut-and-paste printable letter H for house craft template.
Glue the finished letter H for a house craft template on cardboard.
Dip a small portion of pom-pom balls or cotton balls onto colorful paints and press it all around to make balloons on top of the house.
Draw a few black lines for the strings of the balloons connected to the house.
Hang and display your child's work of art in their room to boost their confidence.
3. Shapes Recognition Practice
Shape activities for preschoolers don't have to be boring, make them fun by tracing different shapes on colorful construction papers and glue it on the letter H to create a house craft.
Mention the name of the shape your child is working on so they will have an idea.
If they are gluing the roof, say "triangle" while pointing on it and so on.
You can also label each traced-out shape for your kids to memorize it.
4. Letter H of the Week: Letter H
There are a lot of easy art and crafts that you can create within 5 minutes!
But, one of our favorite letter H printable worksheets is this free printable heart shape template.
It consists of different heart designs where we can combine with classic materials to make a variety of craft projects.
Make a garland out of these beautiful heart shaped templates!
Let your child show their coloring skills and punch a small hole on the top corner of each cut-out heart shape.
Insert a string through the heart templates and display it anywhere in your living area for the visitors to see.
Make a greeting card for your loved ones!
Once your little one is done coloring the simple printable heart shape template, help them to cut it out.
Write down all the sweet messages you would like to say to the receiver.
You can add decorative items such as glitters, sequins, ribbons and more!
It's a simple yet very thoughtful gesture.
All these wonderful letter H craft ideas are very easy and would work well for toddlers, preschool, kindergarten and early elementary kids.


Letter H Craft Supplies Needed
Printable Letter H Template (FOUND AT THE BOTTOM)
Keep scrolling to get your very own letter h craft today and start with your little ones and their alphabet craft buddies today!
Letter H Craft Instructions
Click download and print this easy printable letter H for house craft template on a white construction paper.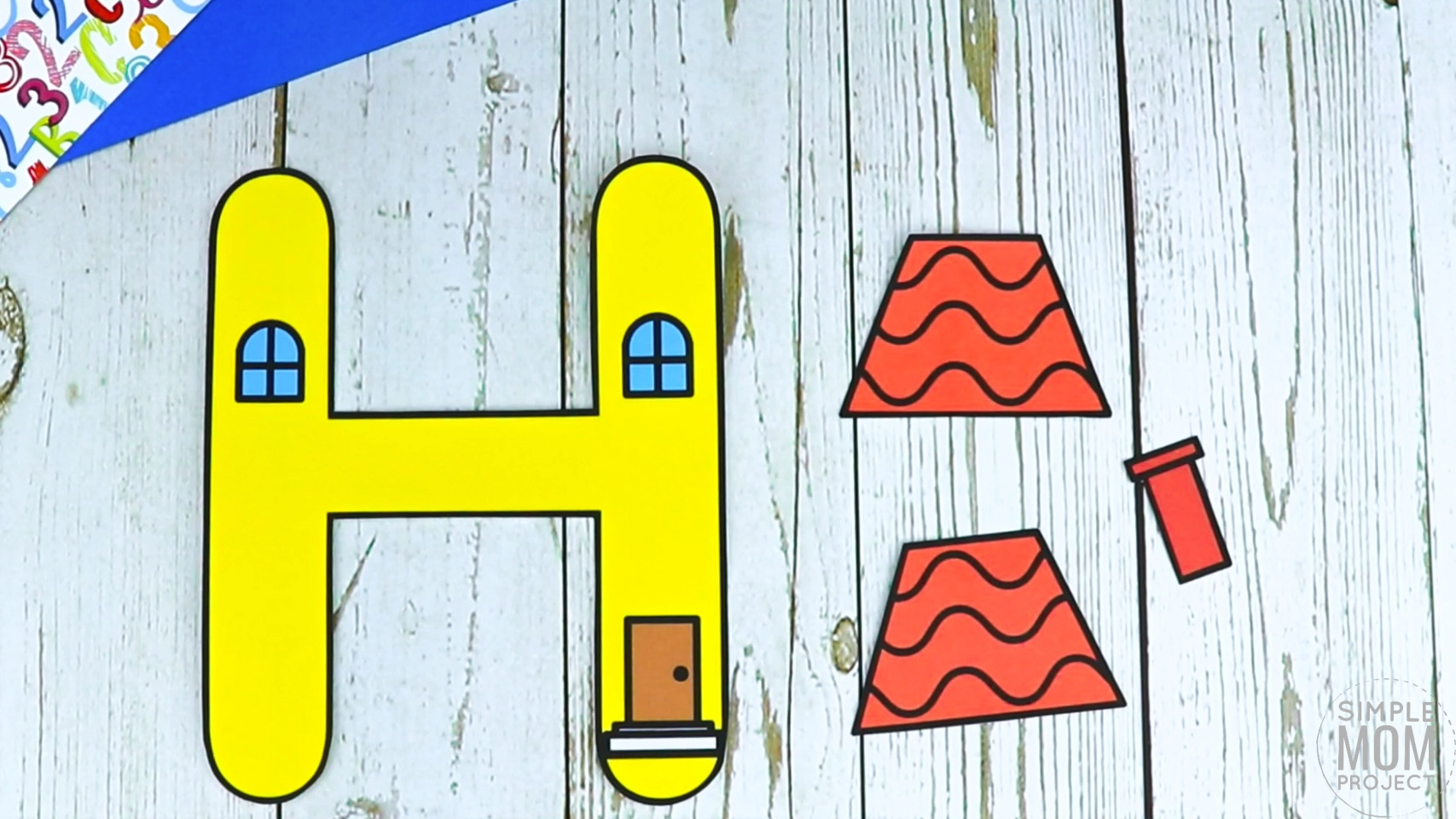 Using a pair of scissors, cut each part of the letter H for house craft out from the printable template.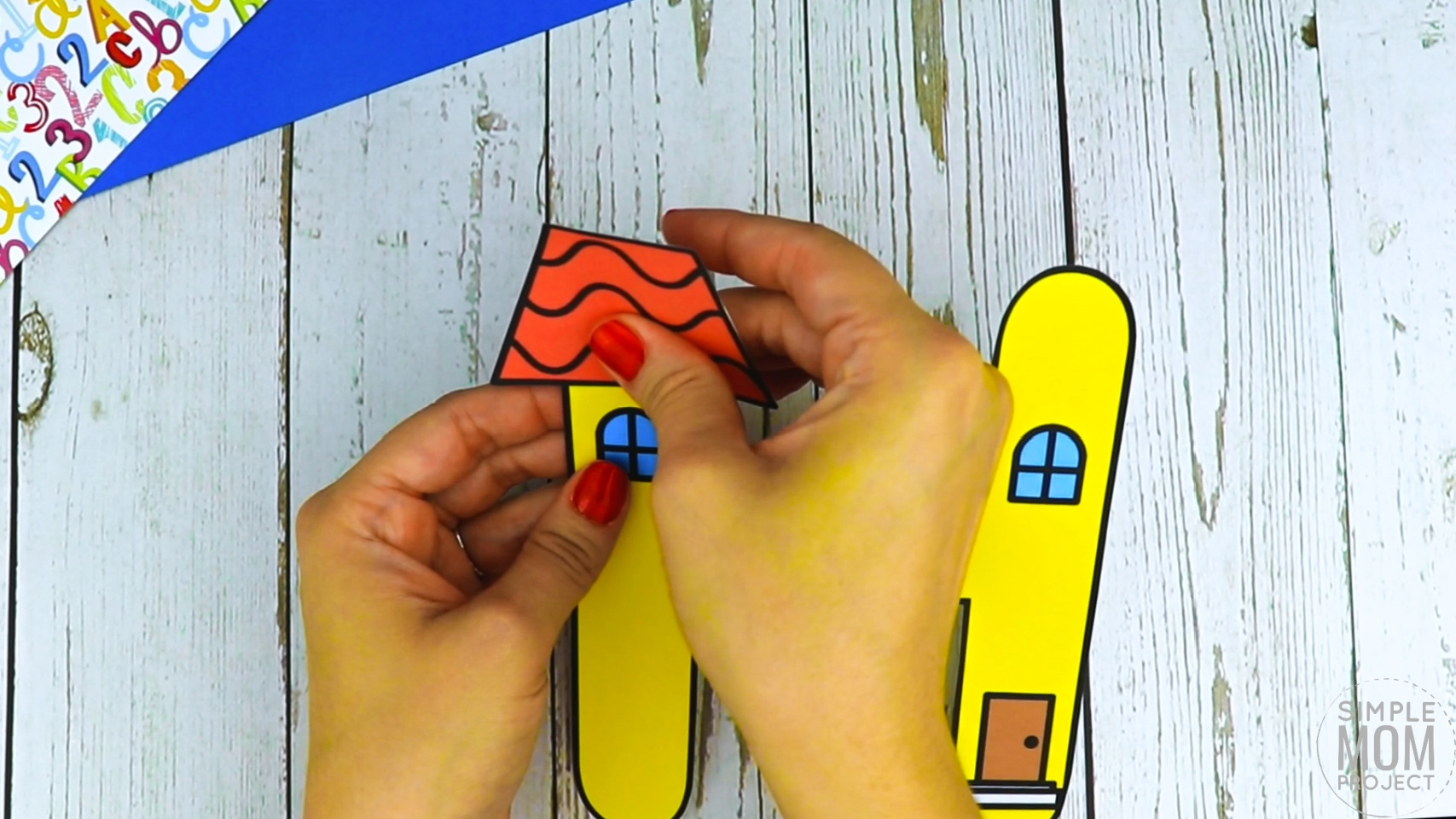 Glue the two roofs on top of the letter H.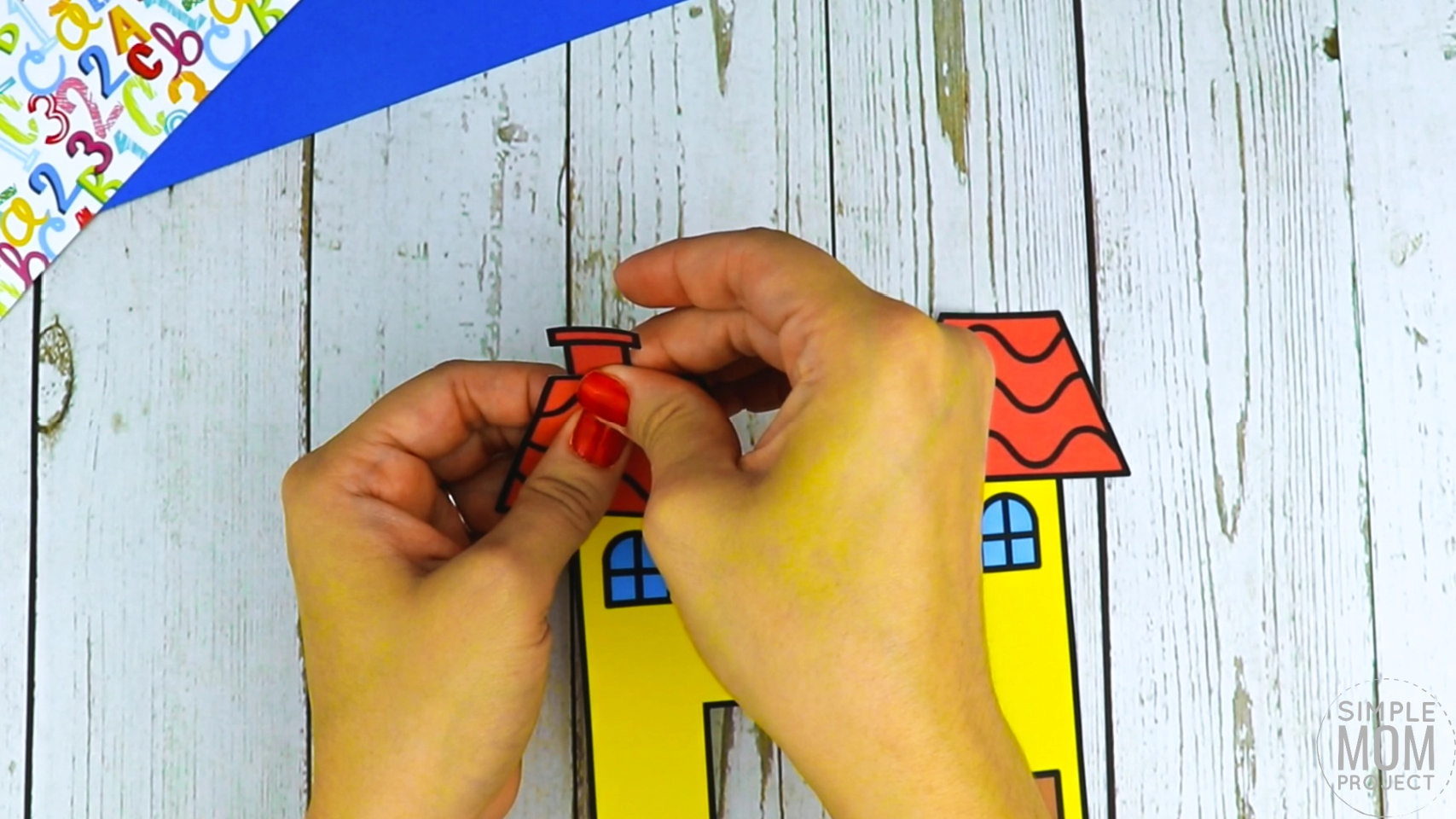 Glue the chimney on top of the left roof.
Leave it for a few minutes until your letter craft shape houses are completely dry.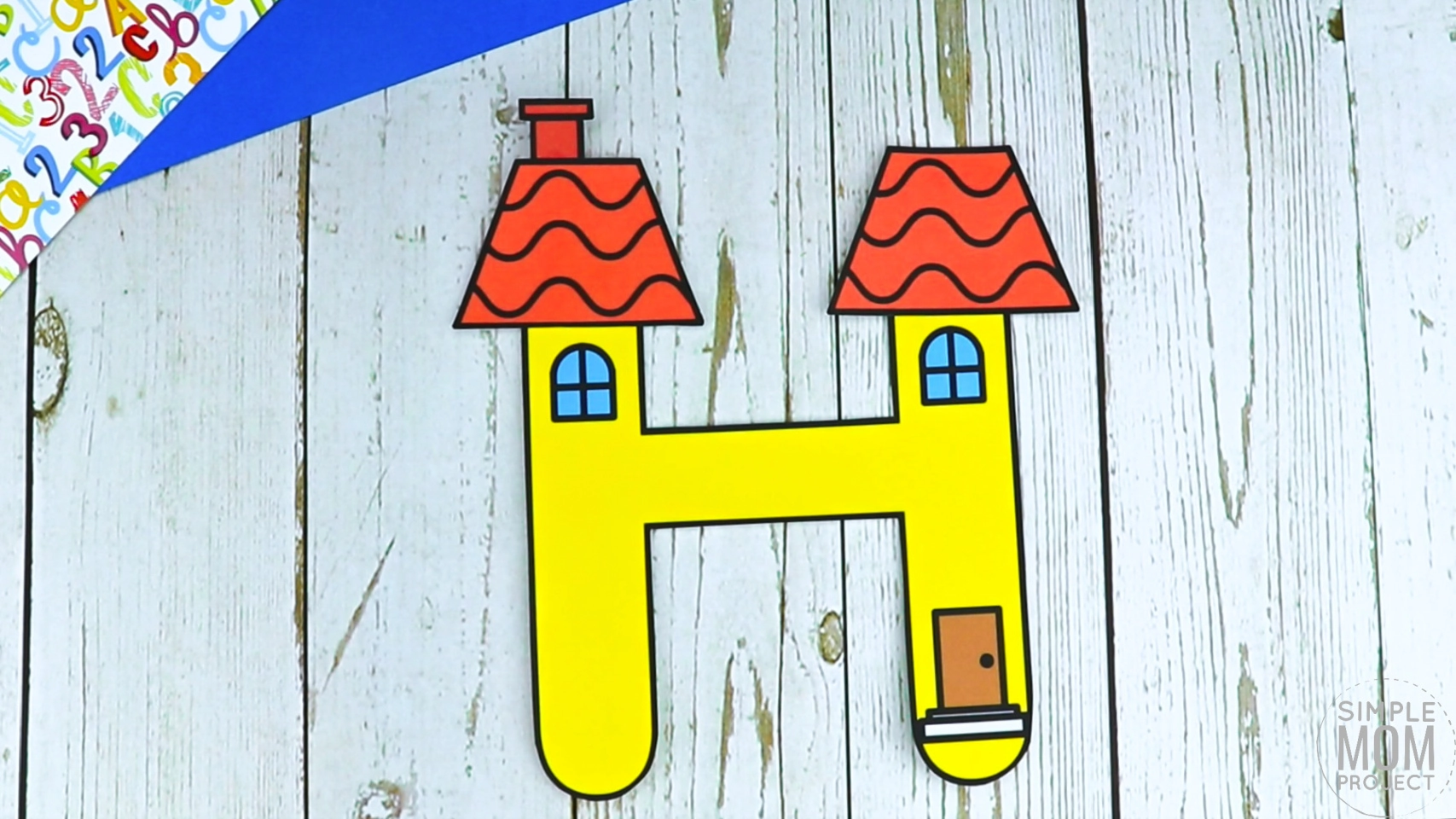 Your lovely house craft is perfect for learning the alphabet and preschool crafts.
More Options to Choose:
You can print the blank version and trace the cut outs on card stock paper for a sturdier letter h craft,
Print the letter h template in color for a simple and easy rainy day craft or,
Print the blank letter h template and use it as a fun coloring sheet activity and then glue the pieces of the letter h craft together.
Free Printable Letter H Craft Template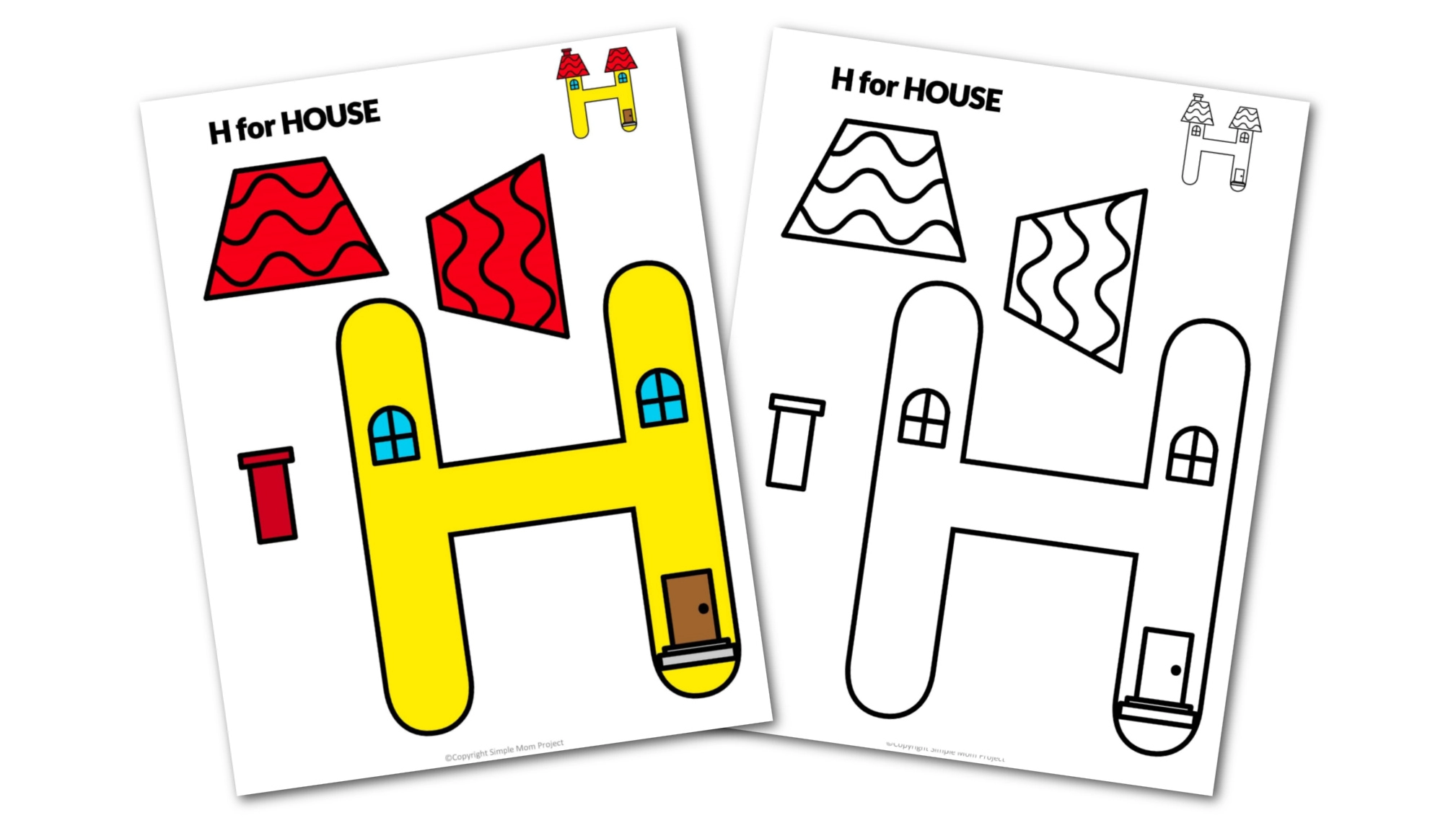 Want to know what makes this free printable letter H for House craft template extraordinary?
There are two choices of this letter H pattern craft for your toddler, preschool and kindergarten.
There's this simple black and white letter H for house drawing template for your little one to color it using different crayons.
There's the colored cut-and-paste letter H for house craft if they love the process of cutting and gluing the pattern together.
Don't forget to share your learning plans in the comments.
Need more alphabet letters fun? Check out our packed list of alphabet for simple craft fun with your little ones.  
When you have finished, be sure to share your creation on Simple Mom Project's Facebook Page and follow me on Pinterest!

Kaitlen D.
More Fun Alphabet Crafts