Children love penguins, especially my little one who loves watching Happy Feet over and over again.
If penguins are one of your child's favorite animals too, they will definitely enjoy this simple penguin outline template.
These free printable penguin crafts for toddlers, preschools and kindergartens are perfect for entertaining on a cold winter afternoon.
Making this easy penguin craft preschool template will give your child the chance to work on fine motor skills.
While my daughter would love to have penguin pets, we live in Texas and snowflakes rarely fall here, so for now we just visit the zoos and make some extra fun winter crafts like this one!
What's amazing about this free printable penguin cut out template is, you can combine them together with classic materials like paper plate, toilet paper roll, cotton balls or paper lunch bag to form a variety of craft penguin projects.
To help you along the way, scroll down to see the easy peasy instructions with images and the step-by-step tutorial video to guide your little one while making these cute penguin crafts.
You will also find the best ideas to really have a crafty morning with your own penguin! I really do heart crafty things. Don't you?
*By the way, this post may contain affiliate links which means I may receive a small commission at no additional cost to you if an item is purchase through that link. For more information, click here.*
Easy and Printable Cut Out Penguin Craft For Kids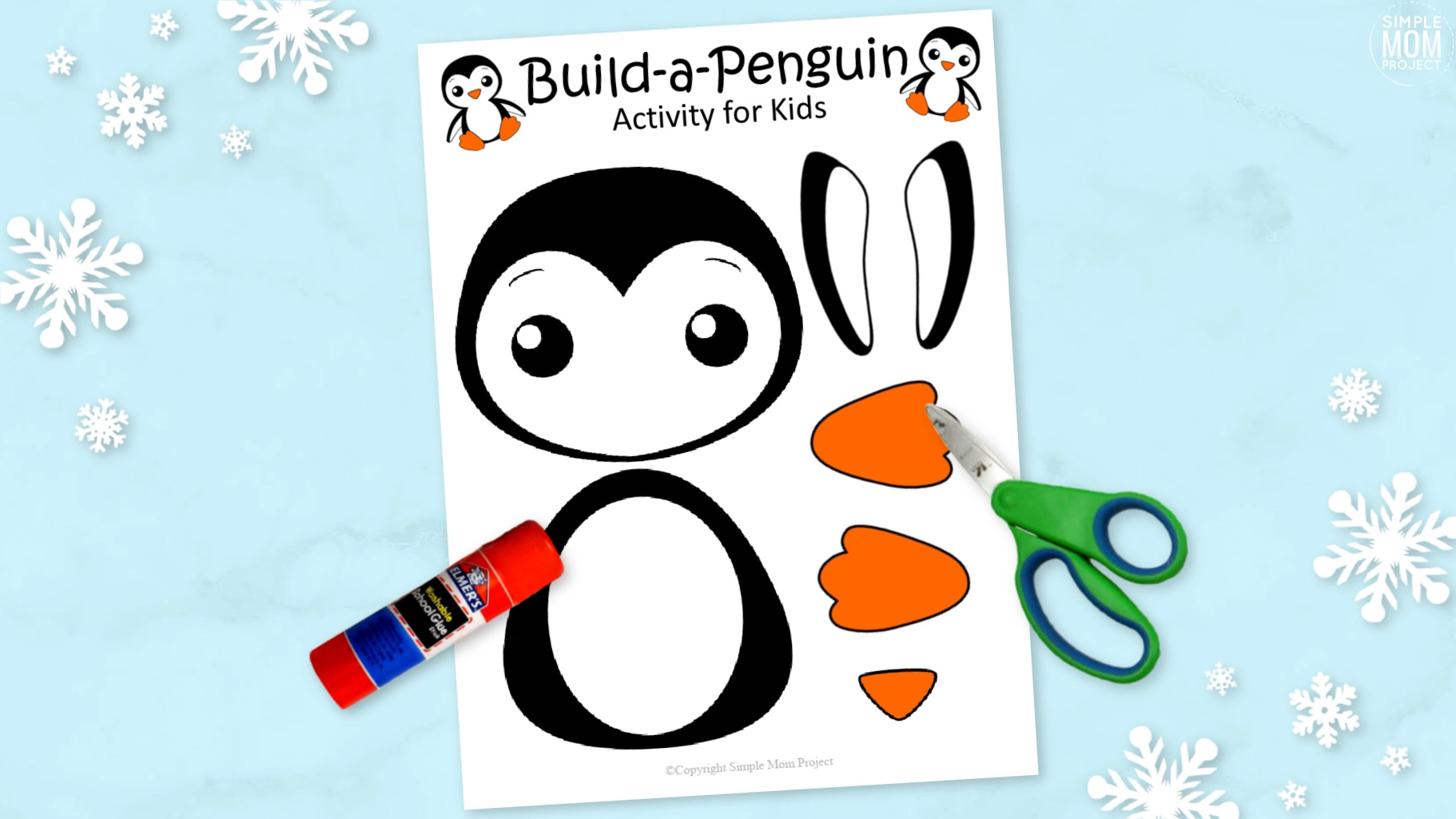 Ideas for Easy Preschool Paper Penguin Craft
Below are the few lists of great ideas on how to incorporate this free printable cut out penguin template in your daily life with your children. Who needs a penguin toy when you can make on yourself?! This is a perfect craft for any artsy craftsy mom and her artsy craftsy kids.
I am an artsy momma, but I have a messy little monster in my house so I have to think of simple ways to keep things fun, engaging, but as little of mess as possible.
I hope this list helps you too!
1. Let's Learn About Penguins
If you need a simple craft project to add to your polar animals' lesson plan, this adorable penguin arts for kids will help you out! Most penguins live in the Southern Hemisphere, which is the bottom half of the Earth.
Did you know that the Emperor Penguins is the tallest of all penguin species? Then, the second largest penguin are the king penguins.
Did you know penguins eat seafood? Their diet includes krill, squids and fishes. Penguins are birds that can't fly, but they are definitely skilled swimmers!
2. Must Have Penguin Books for Kids
Help your child develop early literacy and language skills by reading books to them as often as possible. The more your preschooler is interested in a topic, the more they will be excited to read.
Once your little is done working on this easy penguin template, make sure to give them one of these awesome penguin books.
 3. P is for Penguin
We already made a few cuts and paste winter themed crafts such as the cut out build a snowman printable and free printable yeti craft, but this simple penguin craft template can be part of your preschool lesson plans.
Make sure to include this cute penguin template if you're teaching your kids to learn the ABC's, especially the letter P.
Print out a traceable upper and lowercase letter P worksheet to encourage your child to work on their writing skills.
Next is to recognize the P sound. Teach them the correct pronunciation of the word Penguin and so on.
Make sure to do it in a fun way so they can easily remember it! We also have a peacock, polar bear and puffin craft too to really make this week of letter P a blast!
4. DIY Paper Plate Penguin Crafts
Making easy penguin art and craft will keep our kids productive even during the winter break.
Gather all the inexpensive supplies and let's start crafting!
Have your little one colored this penguin template printable, cut it out and instead of gluing them together, first glue them to a paper plate. 
After that, attach a large popsicle stick at the back of the penguin craft. You have not turned a simple paper plate into a paper plate penguin!
Another option is, you can glue the printable penguin craft onto a small paper lunch bag and now you have a fun paper bag penguin puppet too!
See how simple that was?
Now, you can hold a mini puppet show in your home and motivate your preschooler to use their imagination to come up with a short story while playing with it.
Use this cute free printable penguin cut out template to spend quality time with your kids. We are confident they will ask for more fun cut-and-paste crafts.
Penguin Craft Materials Needed:
Printable Penguin Template (FOUND AT THE BOTTOM)
Penguin Craft Instructions
Let your children choose which version of a simple penguin outline they want to make first.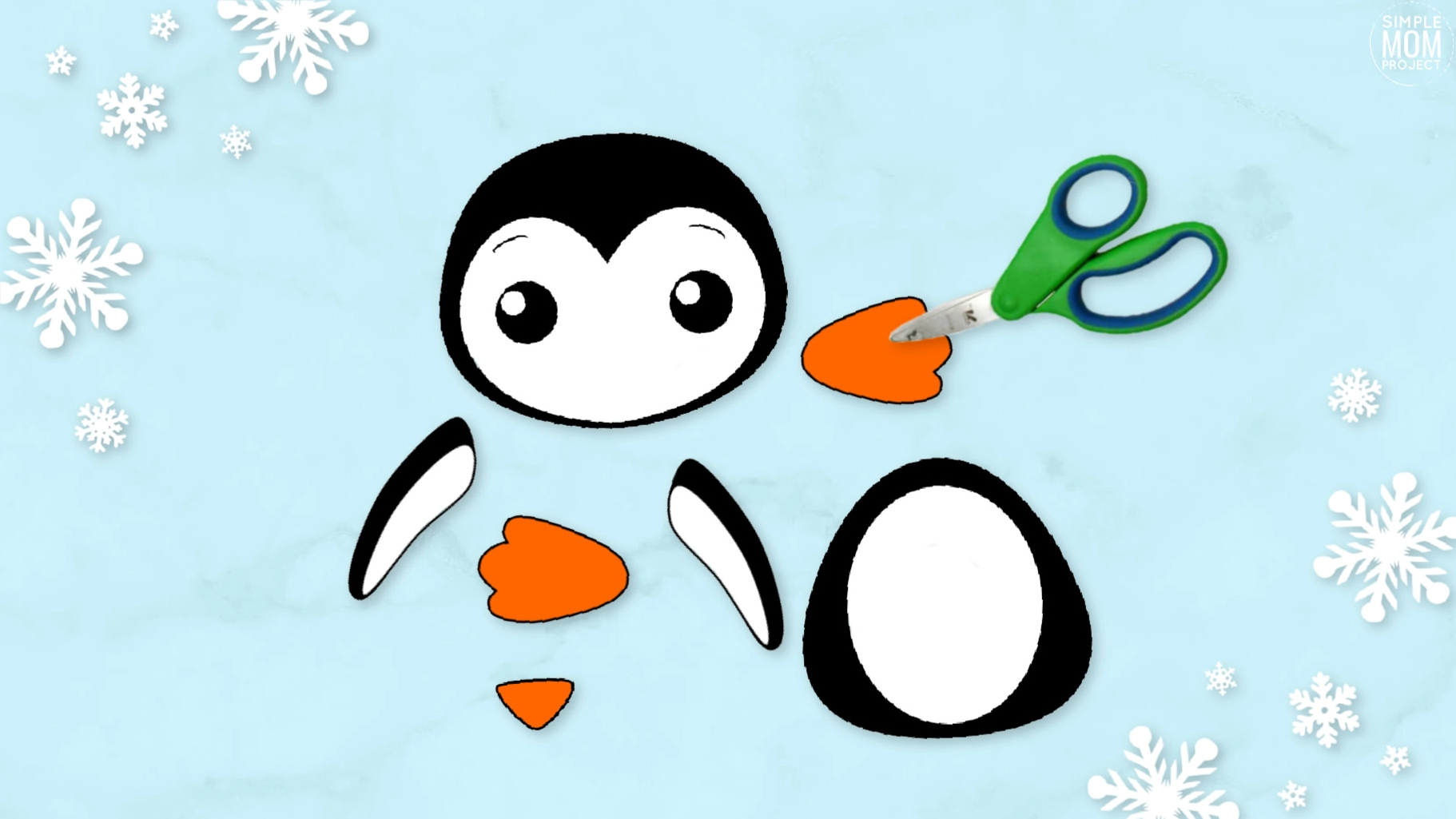 Once you have printed out your child's favorite penguin printable template, cut out all the penguin template pieces.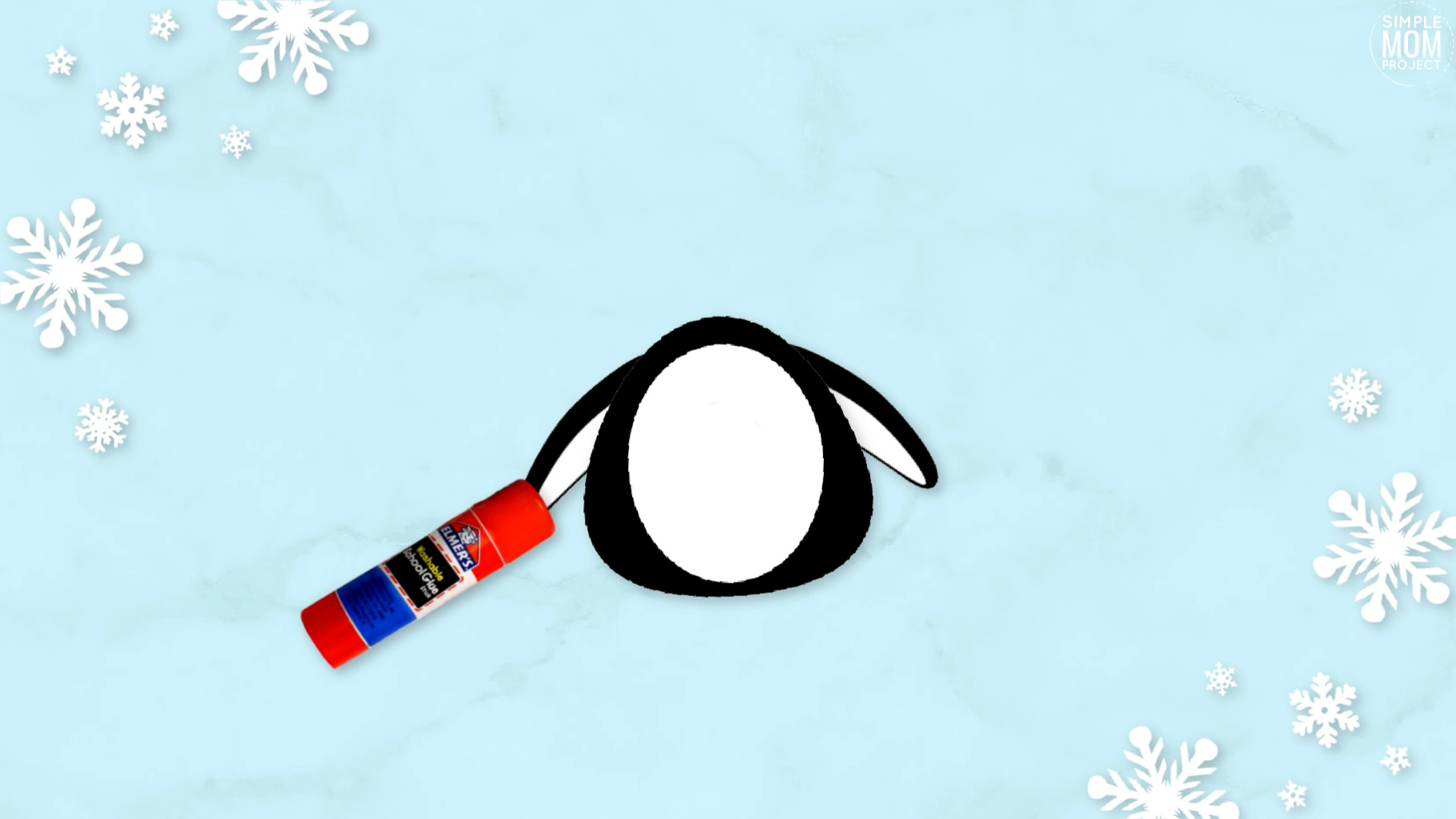 First, with glue sticks glue the arms onto the penguin's belly. Remember to let your little penguins know that there's no right or wrong way with how you start gluing everything together.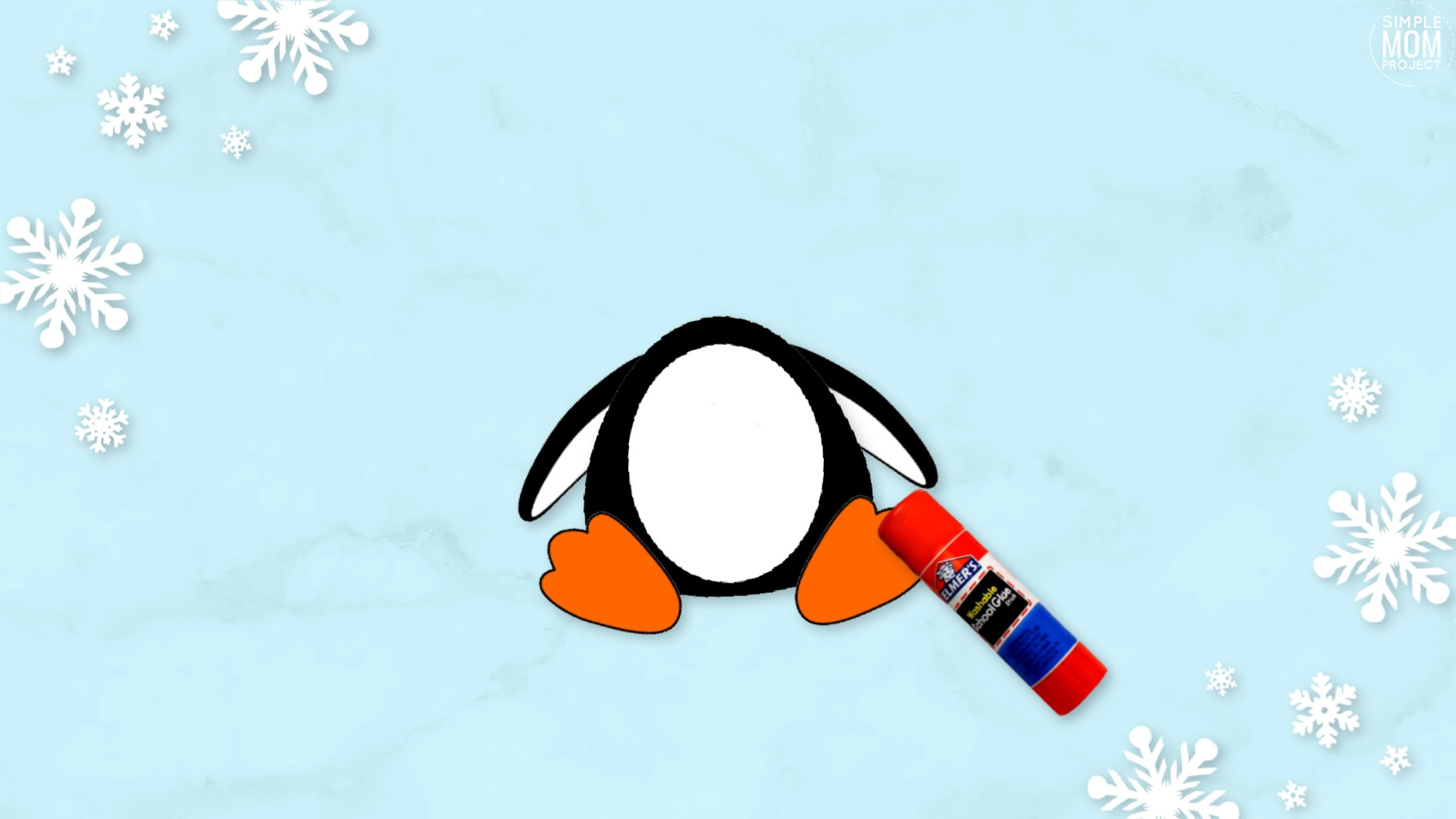 Next, glue on your winter penguin's orange flippers and set it aside to dry.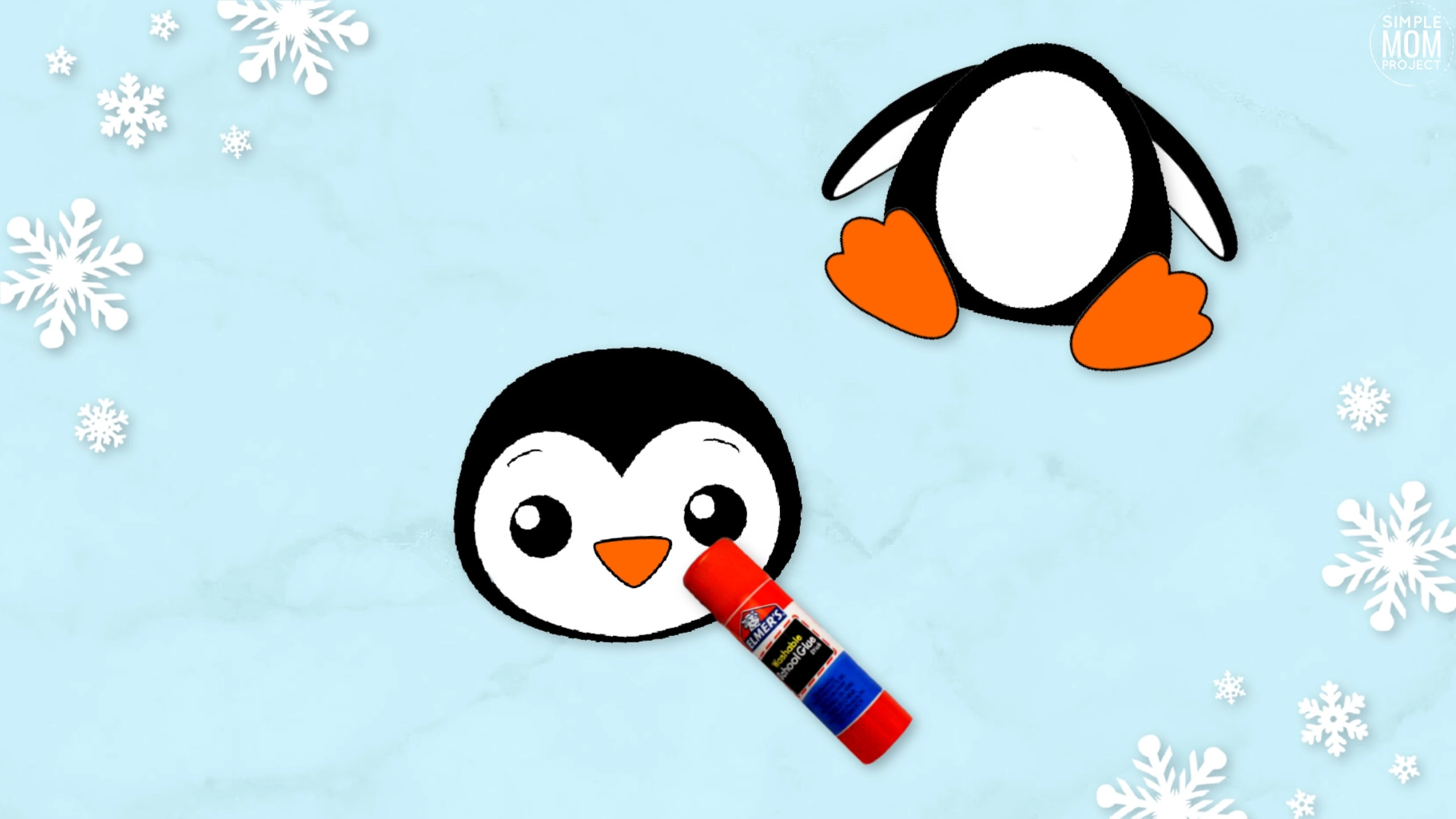 Then, glue the orange beak onto the penguin's head. If you really want to add character to this great craft, glue some googly eyes to the penguin. He makes for a great keepsakes.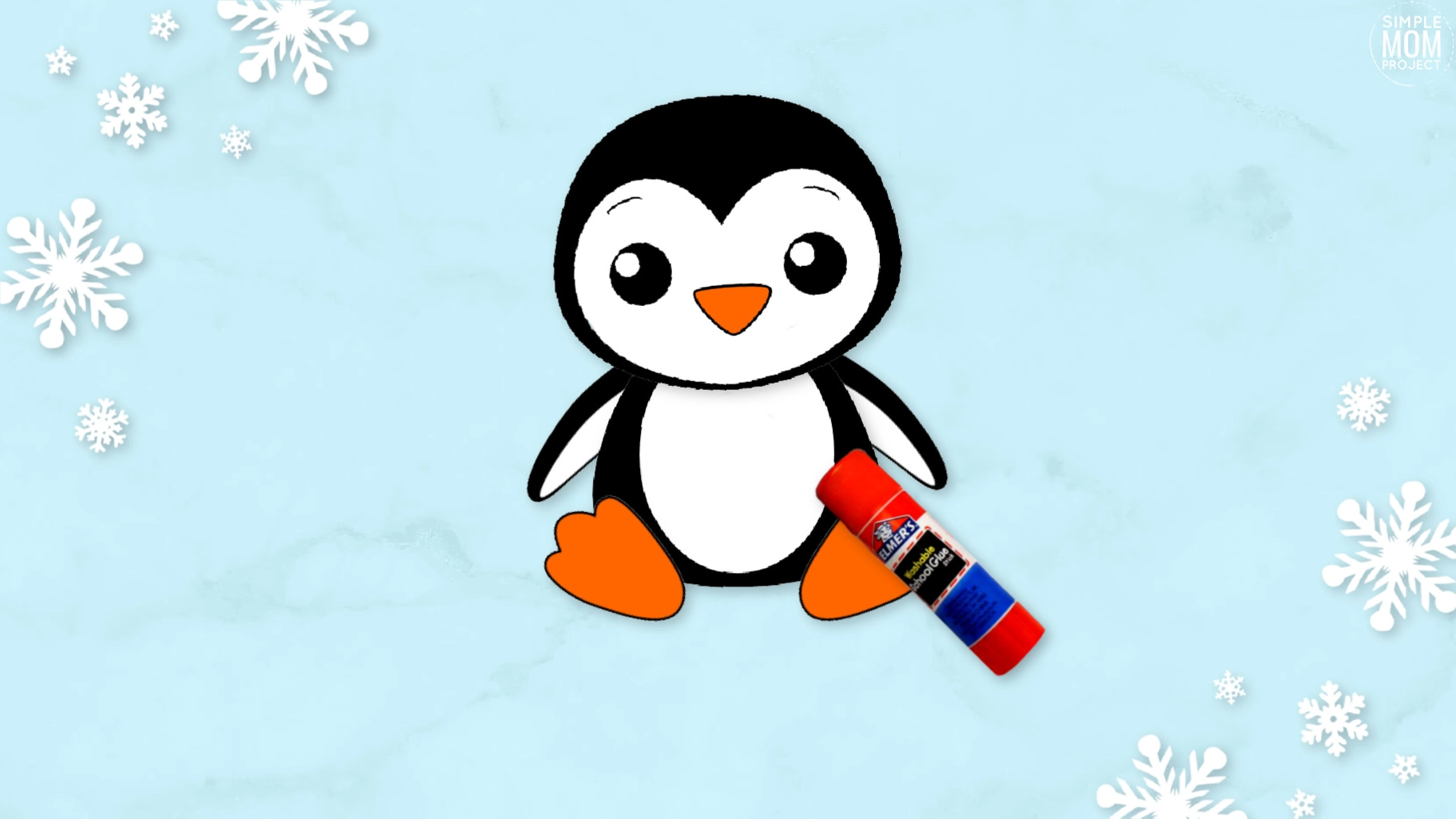 Finally, glue on the adorable penguin's head to the rest of his body. Now your kids have a cute penguin craft they can play around with! With a pencil, you can also add a smile on to your penguin. 
The whole family can have fun drawing funny faces on their adorable penguin crafts! Once you are finished, you can also grab some black construction paper and glue on some of our small snowflake templates and turn this penguin into a fun greeting card!
Here are More Options to Choose:
You can print the blank version of the penguin template and trace the cut outs on card stock paper for a sturdier penguin. This option is good for older kids as it is more in depth. Use the below options if you have smaller kids.
Print the color penguin template version for a simple and easy arctic theme penguin art project or,
Print the blank version and use it as a penguin coloring sheet activity and then glue the pieces together.
Free Printable Penguin Craft Template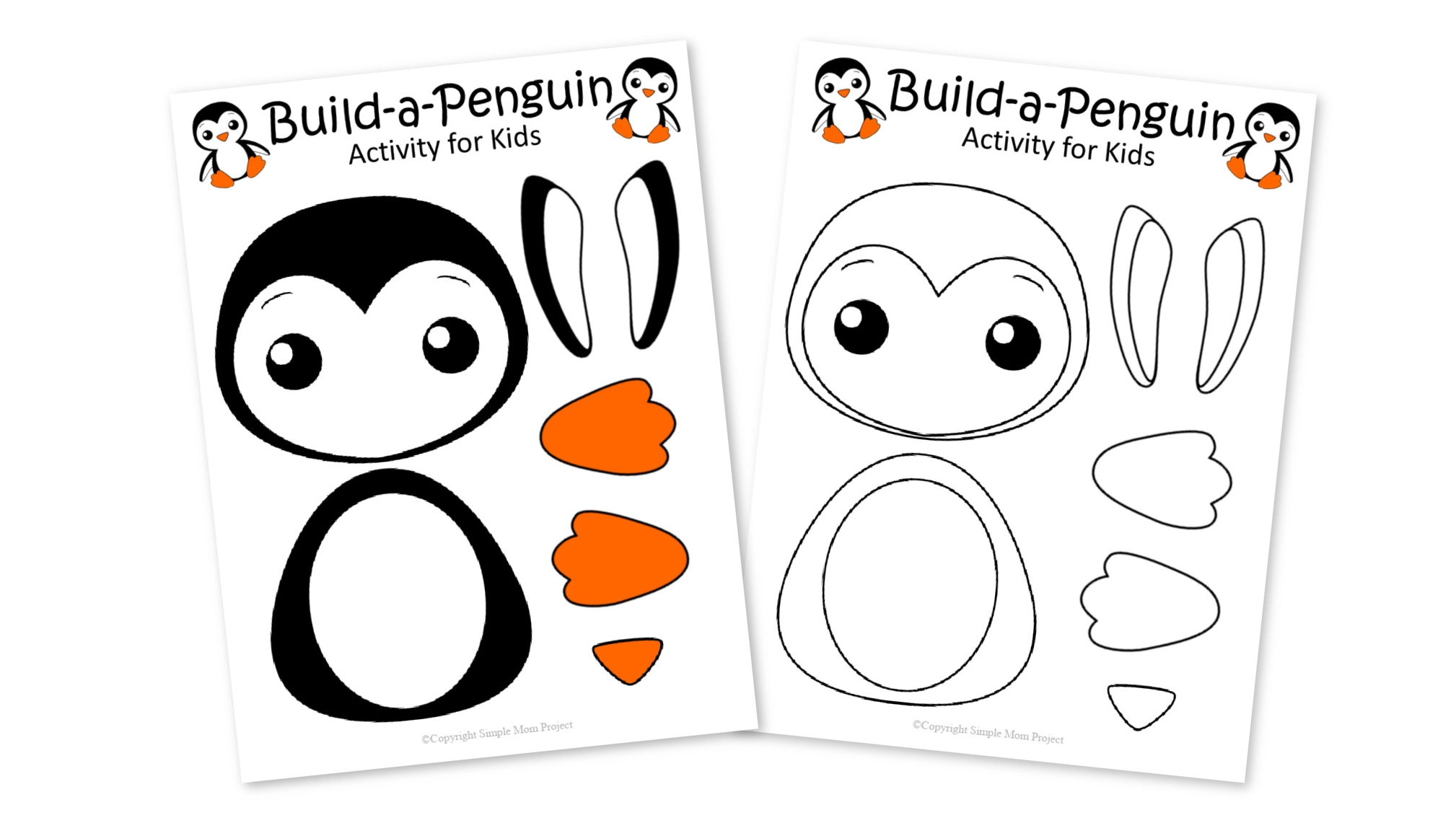 This free printable penguin craft template for kids is far from boring and so simple to do! In fact, this cute penguin template has two different versions to keep your little one busy during the weekend or rainy day.
We got the basic black and white penguin printable so your child can fill it with the most amazing colors. However, if they want to directly cut and paste the penguin body parts, we have the colored penguin template printable.
When they have finished their penguin activity, be sure to share their creation on Simple Mom Project's Facebook Page and follow me on Pinterest for more awesome and fun crafts!

Kaitlen D.
More Fun Penguin Crafts for Kids: