We are mesmerized by the beauty of butterflies roaming around flowers in our garden.
My toddler is fascinated with the bright colors of a butterfly's wings.
Hence, we decided to include this free printable butterfly template in our bug and insect template bundles.
Cut out the butterfly clipart and use it as butterfly coloring pages, mosaic patterns, easy crafts, scrapbooks and more.
Kids working on this butterfly stencil get the chance to enhance their fine motor skills, focus, imagination and creativity.
Use this monarch butterfly template when teaching the letter B sound and life cycle of a butterfly.
Click download and get the pdf files of these cute butterfly templates to share with your friends and family.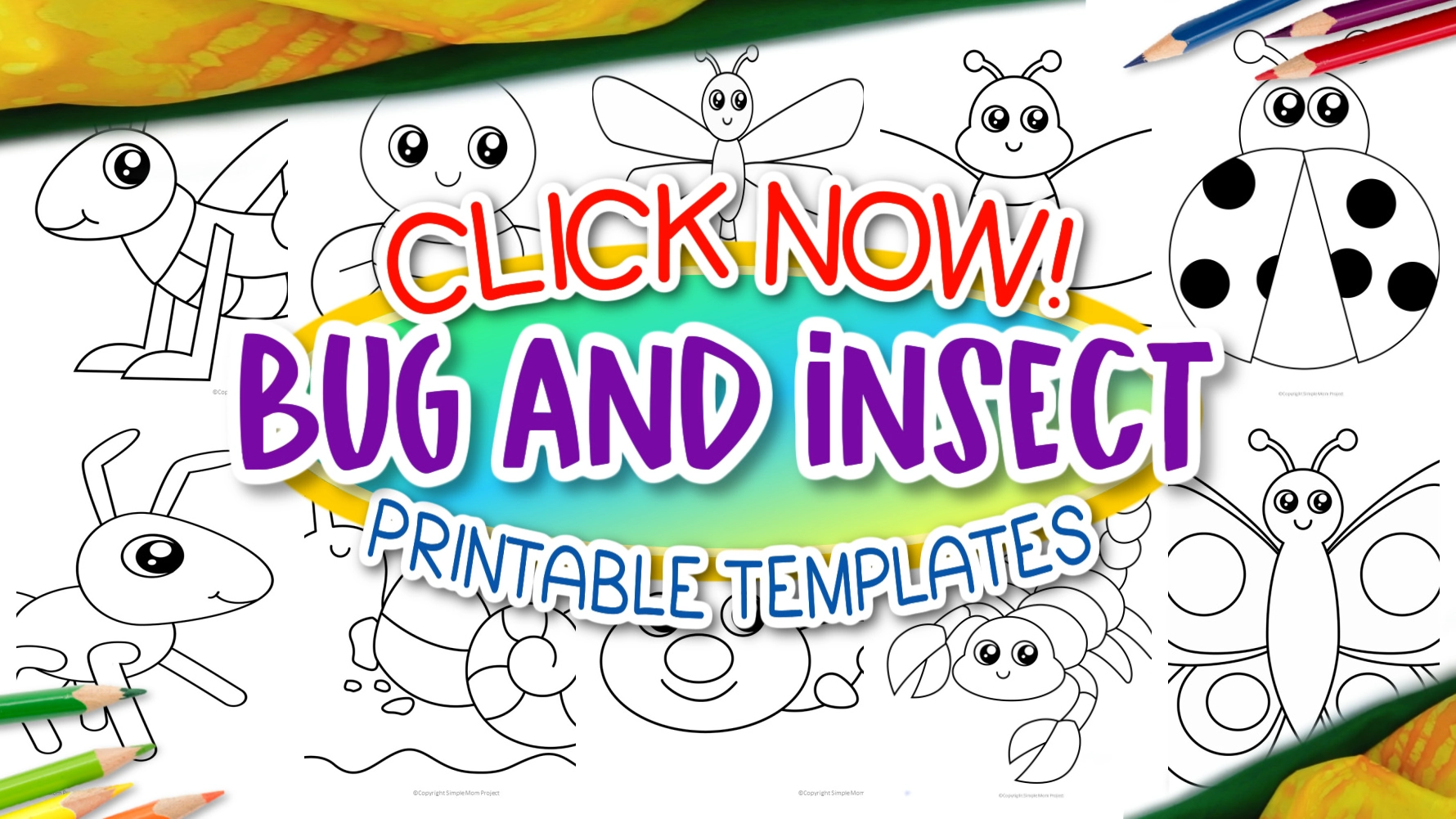 *By the way, this post may contain affiliate links which means I may receive a small commission at no additional cost to you if an item is purchase through that link. For more information, click here.*
Free Printable Butterfly Template
Butterfly Template Materials Needed:
Printable Butterfly Template (FOUND AT THE BOTTOM)
Make your child's finished butterfly template a forever memory by laminating it! We use this laminator and cannot express how much we love it! It is not only inexpensive, it is SO easy to use!
Your kids will love seeing how much you adore their art work when you laminate and display it for years to come!
Ideas for Butterfly Template
Don't miss out on these fun ideas on how to include this realistic butterfly printable template in your daily life with kids.
1. Children's Butterfly Books
This free printable butterfly template is a fun way to discuss the life cycle of butterflies to your children.
When you're done stating fun facts, look for a follow-up activity that will keep the little learners interested.
Reading children's books is one of the most important ways to support your child's learning and brain development.
If you're trying to find great books about butterflies, here are the lists of my child's favorite books:
2. Let's Learn Colors!
If your child is already showing interest in exploring colors, this cute butterfly craft template is the ideal coloring activity for kids of all ages.
Grab a pack of crayons and print out these printables on a white sheet of paper.
While your kids are filling in the butterfly's body and wings with different colors, take note of the colors they decided to use.
Once they are finished, ask them the names of the colors they chose.
Make sure to do it gradually to prevent any confusion.
For more printable templates to help the kids practice color recognition, try these:


3. Fun Butterfly Crafts
It's always exciting to come up with DIY crafts out of recycled items that you probably already have at your home.
First, trace the printable template butterfly wings onto the construction paper and cut it out.
Next, glue the cut-out butterfly wings on a popsicle stick.
Glue short two pipe cleaners for the antennas and two small googly eyes.
Decorate the beautiful butterfly craft by adding glitters, sequins or paint it with bright colors.
This cute butterfly craft can be used as part of imaginative play, wall home décor or bulletin board decoration.
4. Lovely Butterfly Cake Design
These lovely butterfly printable files inspire us to make large and small chocolate cakes with butterfly designs.
Take out all the baking supplies, recipes and encourage your little kids to join you in the kitchen.
We searched on the internet the easy steps on how to make royal icing pink butterflies to decorate the cakes.
While some of the finished glitter butterfly templates were turned into cake toppers.
This fun activity would be perfect to include in your next themed party.
There are a lot of ways to maximize the use of this simple printable butterfly template.
We are confident your little ones will love making fun butterfly crafts.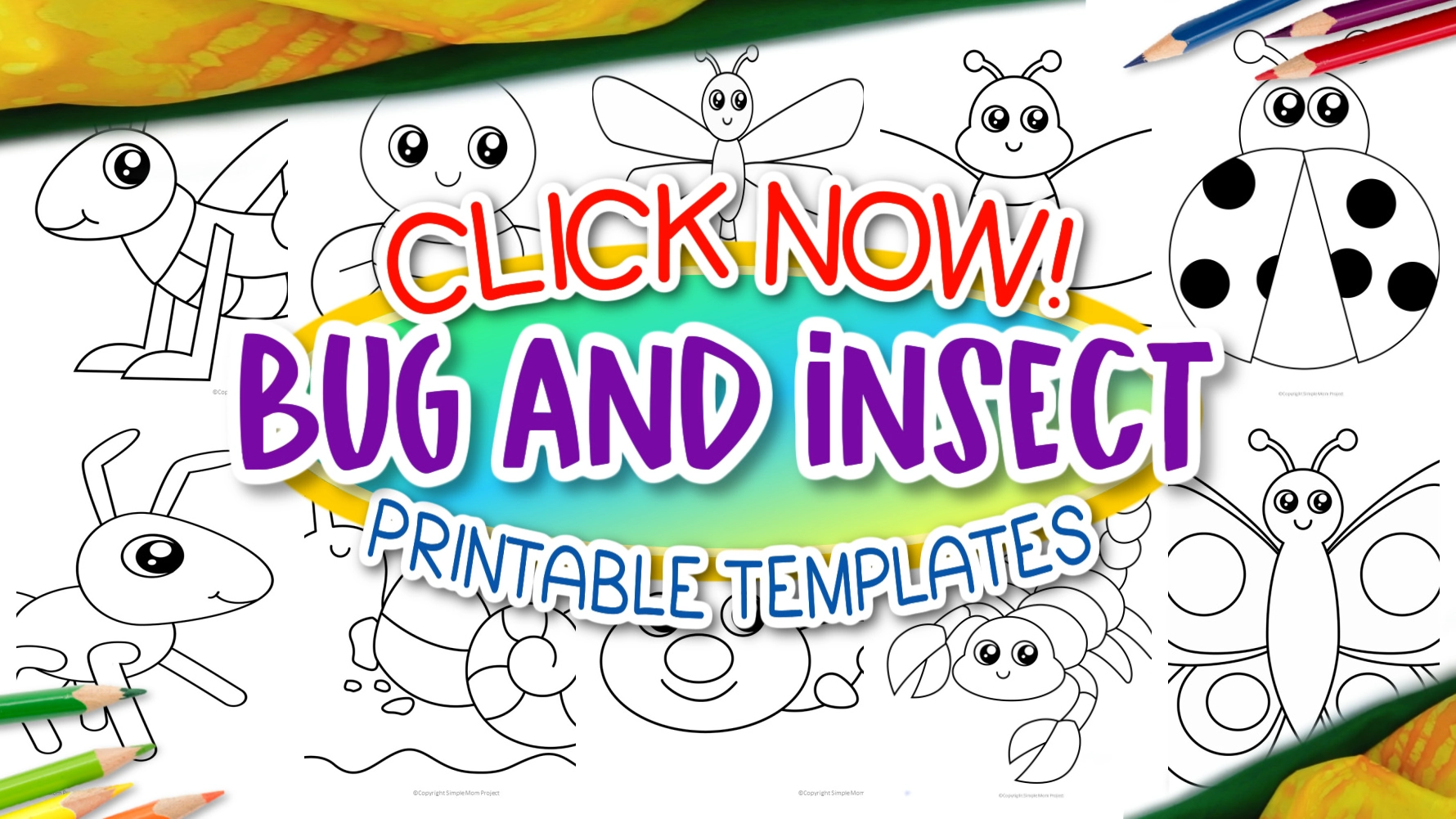 Printable Butterfly Template: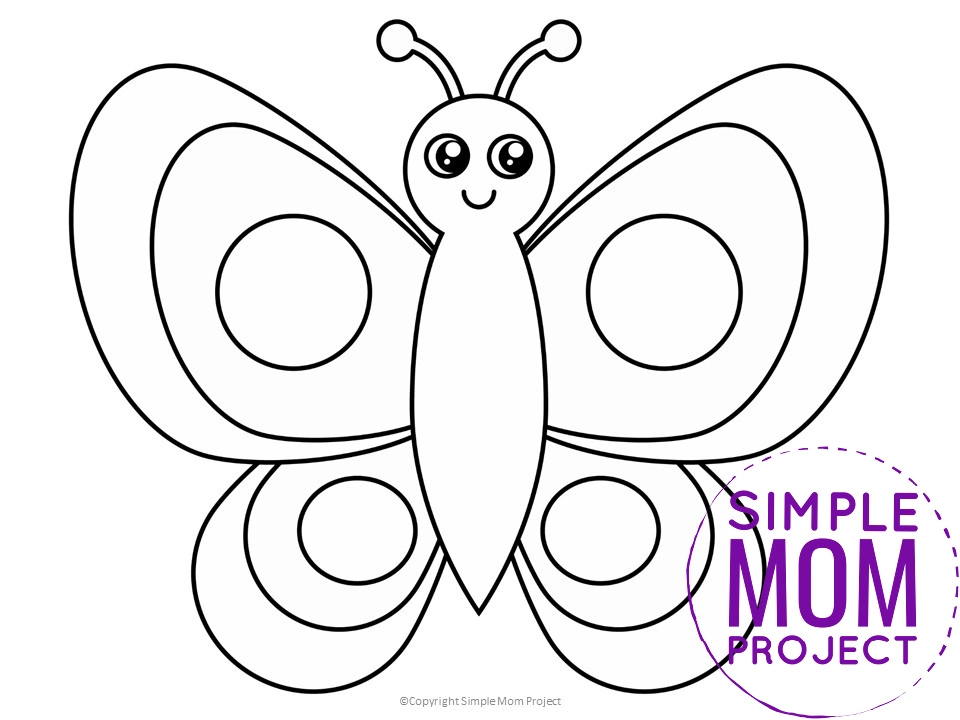 This simple butterfly template is a basic black and white line drawing with a transparent background.
Let the little kids take out all their coloring and craft supplies.
Allow them to decide how they like to design these full-page butterfly outlines.
Be sure to comment down all the wonderful experiences you had with your kids in using this simple butterfly outline template.
We are glad to be part of your coloring activity, preschool lesson plans and craft projects.
When you have finished, be sure to share your creation on Simple Mom Project's Facebook Page and follow me on Pinterest!

Kaitlen D.
More Fun Bug and Insect Templates