I adore creating new printable options to help keep kids busy while making parents' lives easier. This cute and simple storybook character coloring book will give your kids something to do whenever they come running around the corner saying "I'm bored".
We live in a wonderful world that you can download and print coloring pages right from the comfort of your own home. No more sifting through 16 different books just to find the one that you like. I've featured a variety of storybook character coloring pages in the past and now have them compiled into one easy to download printable.
This full page storybook character pattern coloring page will quickly become your new favorite way to entertain the kids on a rainy day.
What's Included in The Storybook Character Coloring Book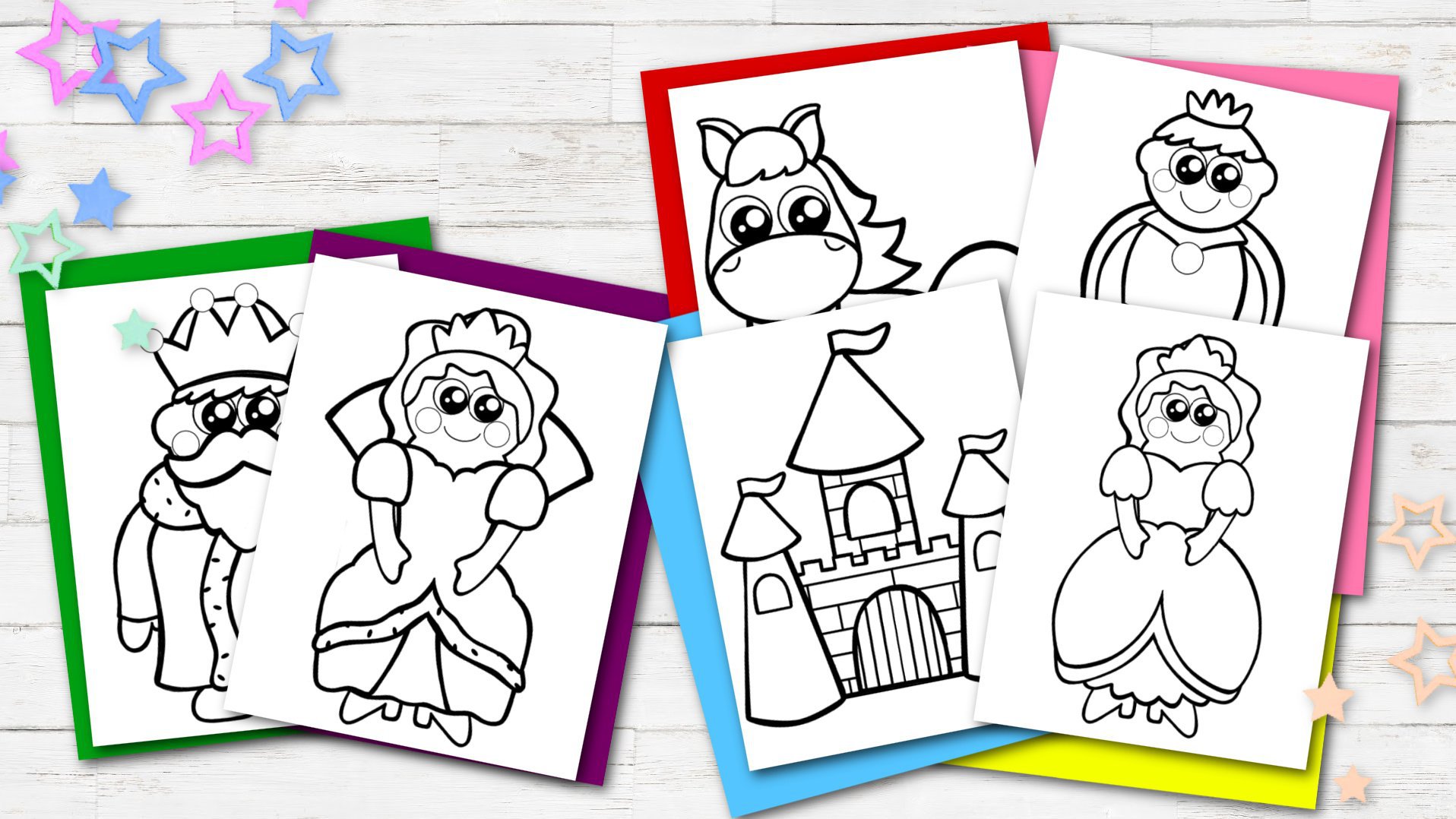 Here's a Full List of The Storybook Characters in this Book
Carriage
Castle
Dragon
Frog
Horse
King
Knight
Queen
Prince
Princess
Mushroom
Ideas for Storybook Coloring Page Coloring Book
This easy Kawaii baby animal coloring book can be used for many different purposes, but below are some creative ideas to get you started.
Homeschool Activities
If you're homeschooling your kids this year, then use my storybook family coloring page coloring book as part of your homeschool activities. This coloring book printable can help your kids learn more about letter recognition and enhance their fine motor skills.
Letter Recognition
Consider using the princess or prince coloring page to help your kids learn to draw the letter P, or the queen coloring page to learn the letter Q, and don't forget about the horse coloring page to learn the letter H. Within this royal coloring book you'll be able to help your preschoolers learn the letters C, D, F, H, K, Q, and M simply by drawing an uppercase and lowercase letter on each pattern printable.
Storybook Storytime
Lastly, another fun way to use this coloring book printable is to have your preschoolers tell a fantasy story of their own. Each child will color their coloring book and then tell their own make-believe story. 
They'll flip each page of their new coloring book and share a detailed story about each of the cute baby animals featured on the coloring page.
 Within the coloring book, you'll find page upon page of easy storybook character pattern templates that can be used for a variety of reasons with elementary students or toddlers.
With just a few clicks you'll have your complete storybook character coloring book purchased, printed and ready to put together for your next coloring activity with preschoolers. 
You May Also Like: