These printable farm animal craft templates are a fun way to share the love with own children or in your classroom without much prep. These are lessons you and your kids will never forget while you work together on the farm unit. Kids of all ages will love coloring and creating fun farm animal crafts with these simple farm animal templates! 
With that in mind, here's the barnyard animals that are featured in these farm animal template bundle: 
Barn Template




Cat Template




Chicken Template




Cow Template




Dog Template




Donkey Template




Duck Template




Goat Template




Horse Template




Pig Template




Rabbit Template




Rooster Template




Sheep Template




Tractor Template




Farmer Template
Printable Farm Animal Printable Templates
Great Ideas for Using Farm Animal Printable Templates:
There are so many ways you can celebrate and spend quality time with your little ones while getting creative. 
Here are some fun ways to use these adorable barnyard animals.
Farm Animal Template Puppet Show

These fun farm animal stencils are so great for putting together a simple and quick puppet show. Simply color, then grab some scissors and cut out each farm animal template. After that, glue each barnyard friend to either a Popsicle stick or paper bag. These are such easy instructions you can teach your kids at any time!
Then, the farm animal printables quickly turn into a fun puppet! Teach your kids how to make farm animal sounds and act out each animal you see.
Farm Animal Story Telling
Use the fun pig pattern or donkey downloads or any other of your favorite Old Macdonald farm crafts with your nursery rhymes. Using simple resources from your home like crayons or markers, these barnyard graphics can really help you bring the stories you are reading to life!
After you are finished, with a black marker, remember to write the date and their name so you can keep these as forever memories.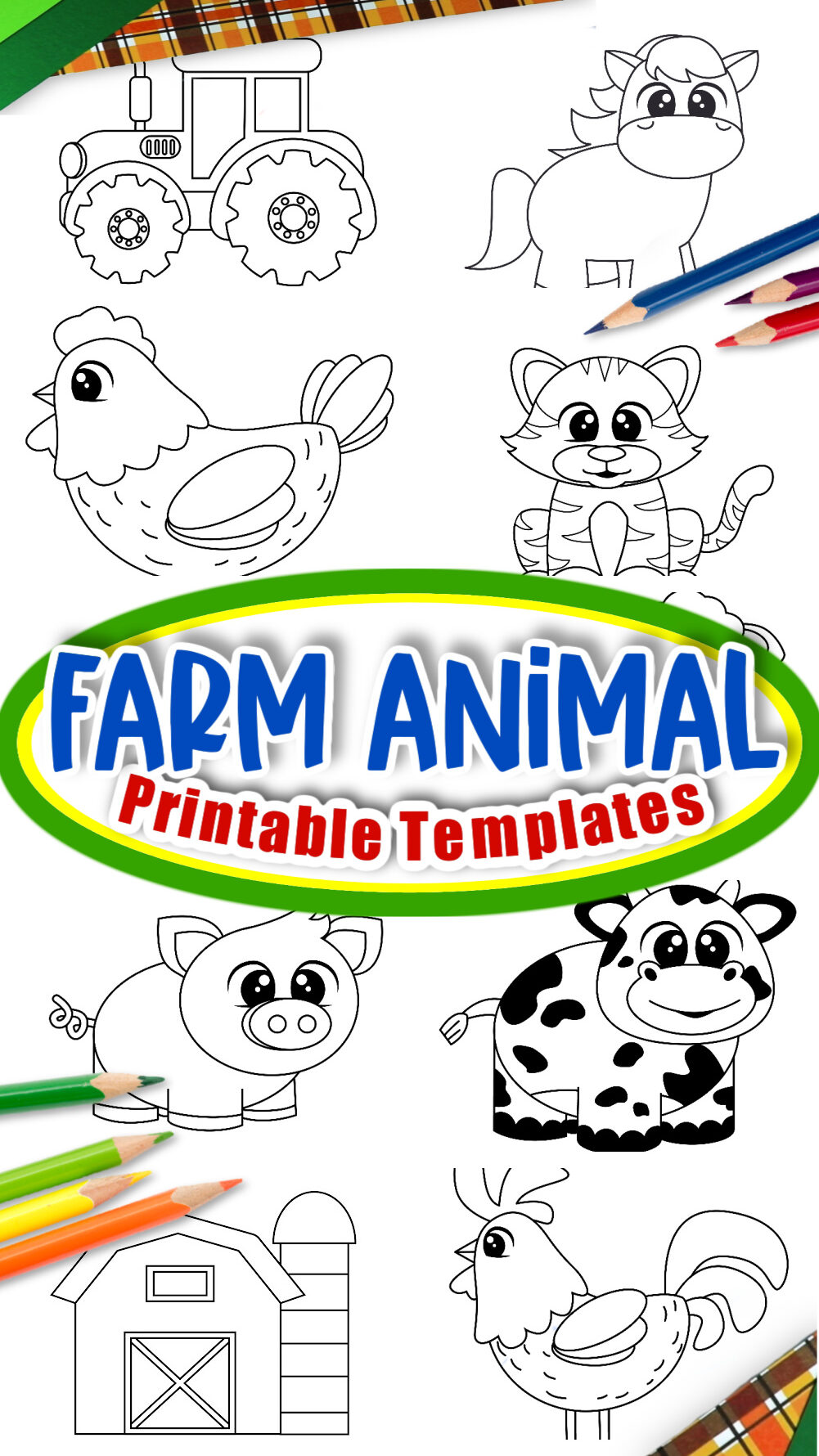 Farm Animal Baking Party
Grab some fun cookie cutters and after you are finished coloring the farm animals with your kids, tape them to the fridge and then make some fun farm animal cookies! Your kindergarten, toddler and preschoolers will absolutely love this fun activity!
Farm Animal Coloring Page
Do you have a group of children who are looking for a fun farm animal craft but you are short on time? Simply print out these farm animal templates, tell your kids to coloring them whatever different color comes to mind and just let build their creativity! Coloring pages are a great way to get young kids involved too.
Are you looking for a cute farm animal craft for your young children? 
Check back soon for more simple printable craft projects for moms and children of all ages.
More Fun Crafts for Kids