You might wonder if there are other ways to occupy your kids during the weekend.
That's where this free printable goat craft template comes to the rescue!
Making this simple printable goat craft template improves children's fine motor skills, focus, imagination and creativity.
Cut out the mountain goat shape and use it for coloring, creating stencils, DIY crafts and scrapbook projects.
Print as many goat templates as you want to share with your family members and friends.
Follow the step-by-step instructions and watch the short tutorial video as you make your own goat craft.


Need more crafty fun? Check out our Letter G, Sheep and Pig craft.
 T
hey are perfect for those days when staying indoors is the only thing your family can do!
*By the way, this post may contain affiliate links which means I may receive a small commission at no additional cost to you if an item is purchase through that link. For more information, click here.*
Free Printable Cut and Paste Goat Craft
Ideas for Easy Preschool Paper Goat Craft
We came up with a few brilliant ideas that will help you incorporate this free printable goat craft template with your toddler, preschool and kindergarten kids.
1. Best Books About Goats
Enjoying a good book together is a great way to connect with your children.
Reading a story helps your child to relax, enhance their understanding and language skills.
When you are done with this easy cut-and-paste goat craft, try these wonderful books we listed.
2. Learn ABC Alphabet for Kids
This free printable goat craft template is perfect for kids that farm animals and learn the alphabet.
When your little one is finished with this printable template, teach them the letter G sound.
Provide your kids with tracing letters both the capital G and lowercase letter g to enhance their writing skills.
Show your child the correct way to hold a pencil as they practice tracing the letters.
For more homemade craft activities that begin with the letter G, try these: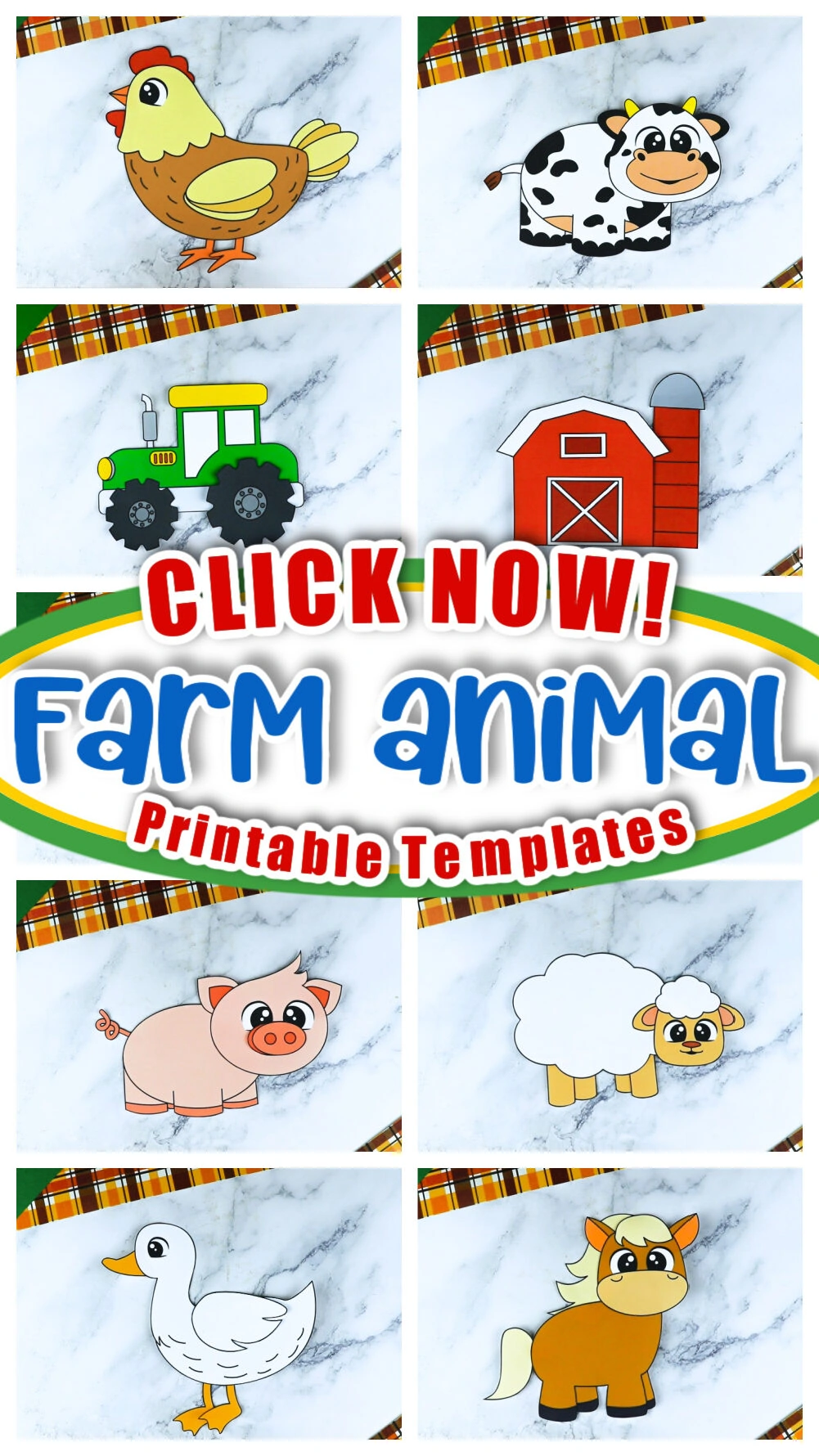 3. DIY Farm Animal Crafts
DIY craft is always a great idea if you want to keep the kids busy while they are at home.
Let your little crafters enjoy the process of making this free printable goat craft template.
Once they are finished, combine it with recycled materials you probably already have on hand.
Turn the finished goat craft into cute puppets by gluing it onto a brown paper bag or toilet paper roll.
You can also create a paper plate goat mask by tracing the pieces of our free printable goat craft onto a construction paper and cutting it out.
Then, have your child paint the paper plate with brown paint.
Once the paper plate is dry, cut out the two holes for the eyes.
Glue the cut-out pieces onto the paper plate such as the horns, ears, beards and nose.
Put an elastic string on each side of the paper plate so your child can wear it.
4. Three Billy Goats Themed Classroom Décor
Do your students love the story of the Three Billy Goats?
If so, it's time to re-decorate the classroom with these adorable animals.
When the kids are done with this paper craft fun activity, cut the goat shape out and use it as a bulletin board design.
You can attach the finished goat craft on the classroom walls along with the other farm animal unit.
This friendly goat craft can also be used as the perfect example for students who are learning the letter G sound.
There are a lot of educational and art ideas in making this free printable goat craft template.
We hope you enjoyed every single one of it!


Goat Craft Supplies Needed
Printable Goat Template (FOUND AT THE BOTTOM)
Keep scrolling to get your very own goat craft today and start with your little ones and their farm animal craft buddies today!
Goat Craft Instructions
Take out all the simple craft supplies to create your own goat craft with the kids.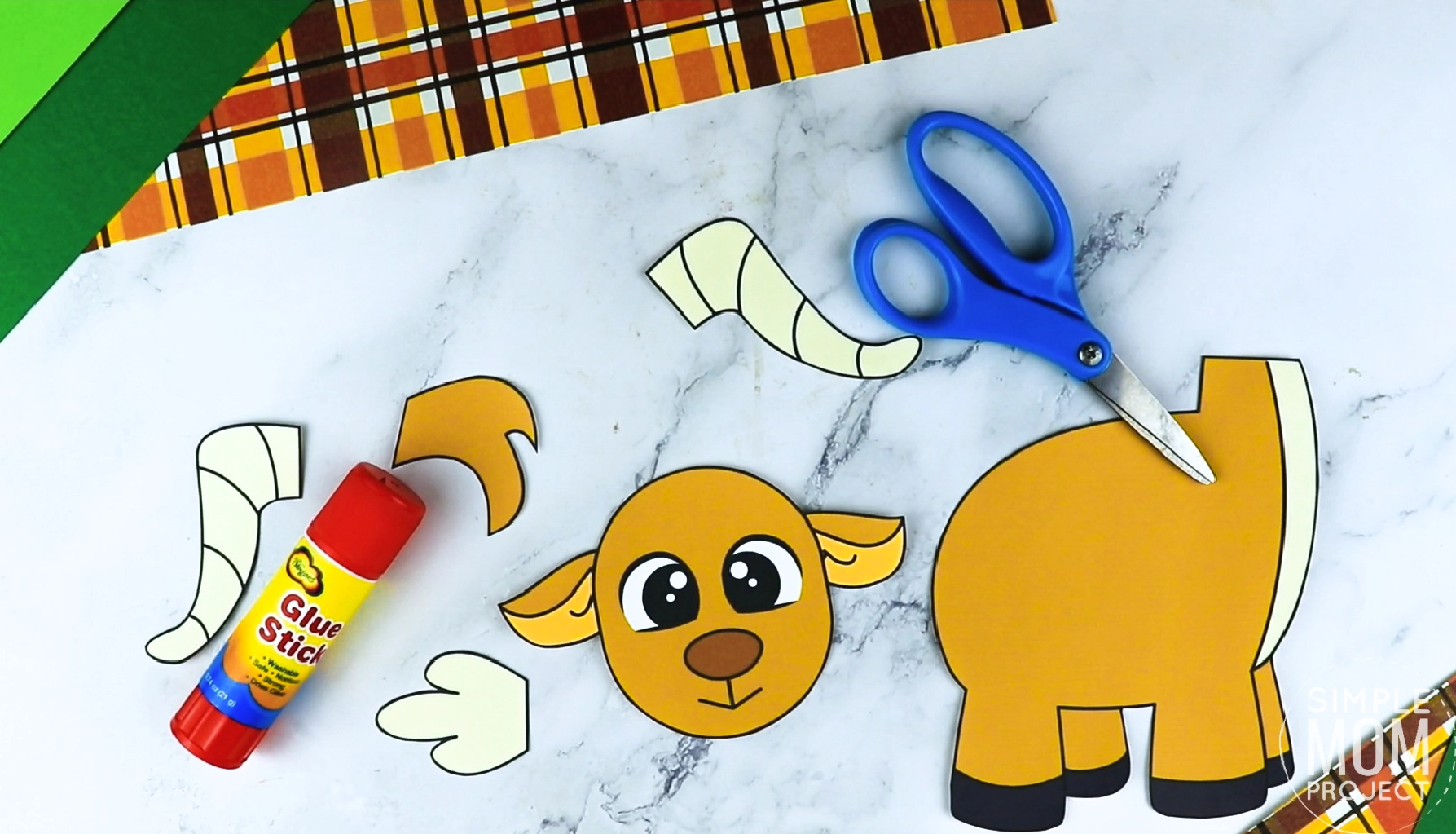 Download and print these printable template goat crafts on a white sheet of paper.
Cut out the free printable goat pattern template into individual pieces.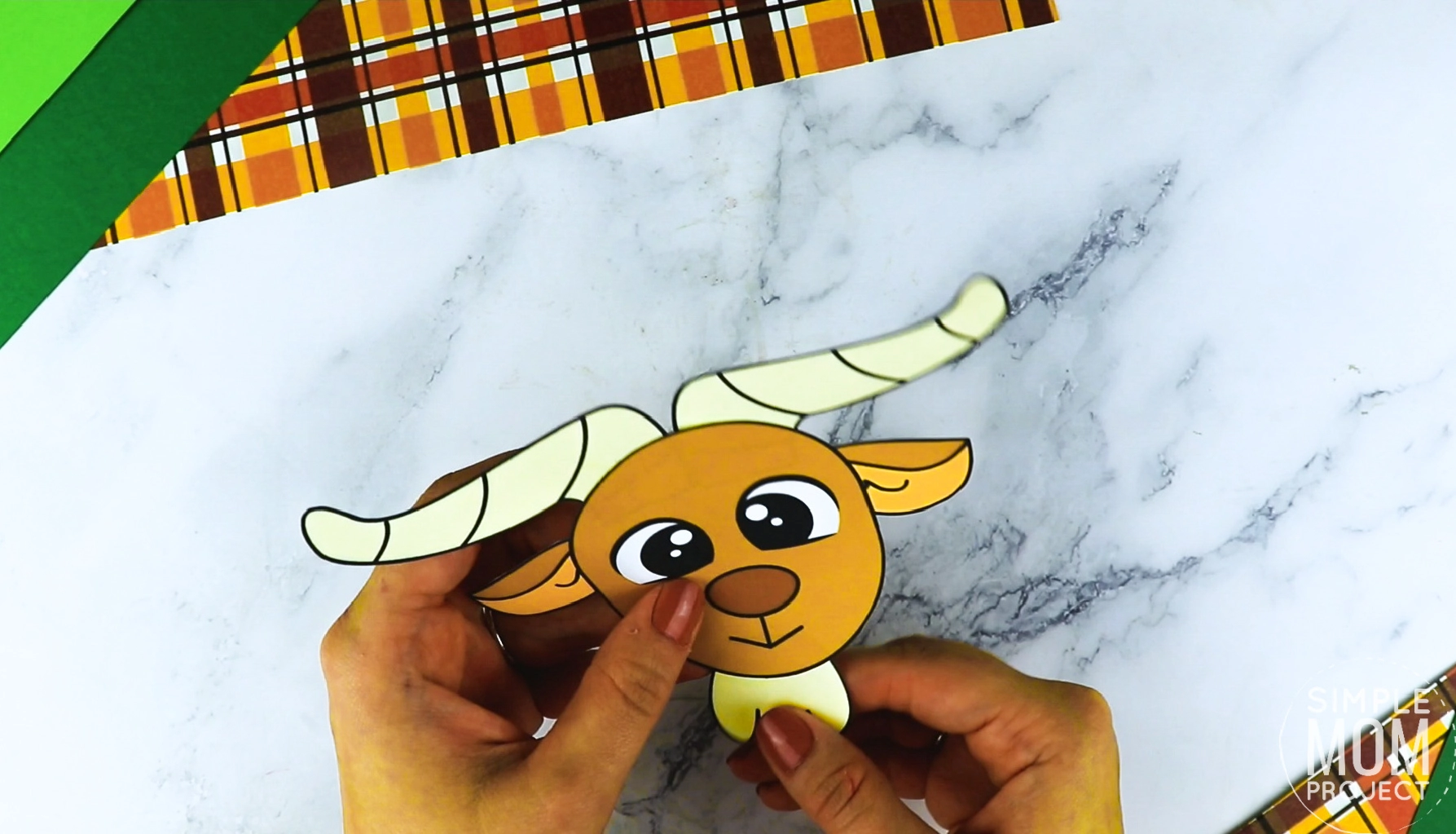 Start gluing the horns next to the goat's ears.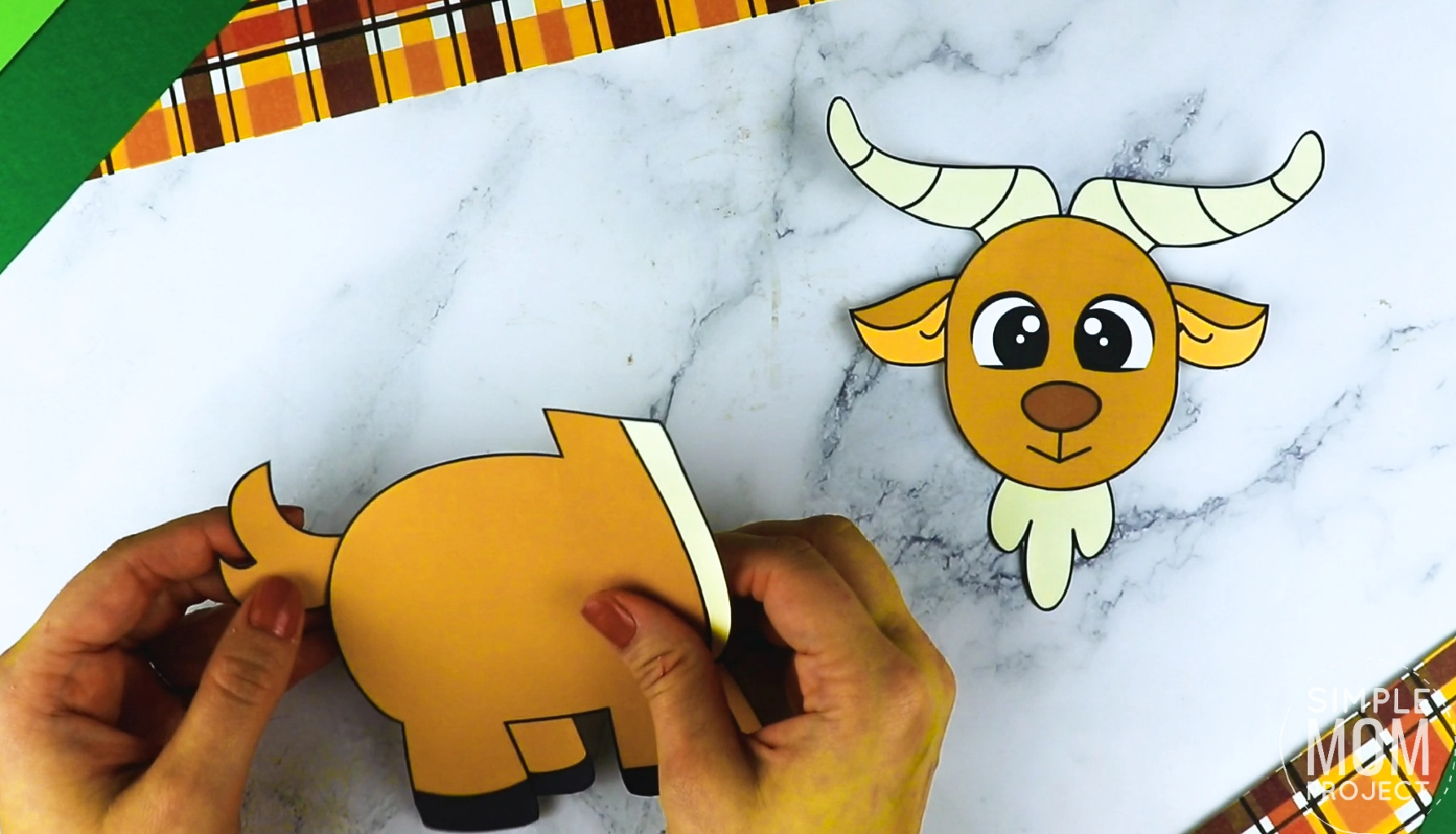 Next, glue the beards onto the chin.
Glue the tail at the back of the body.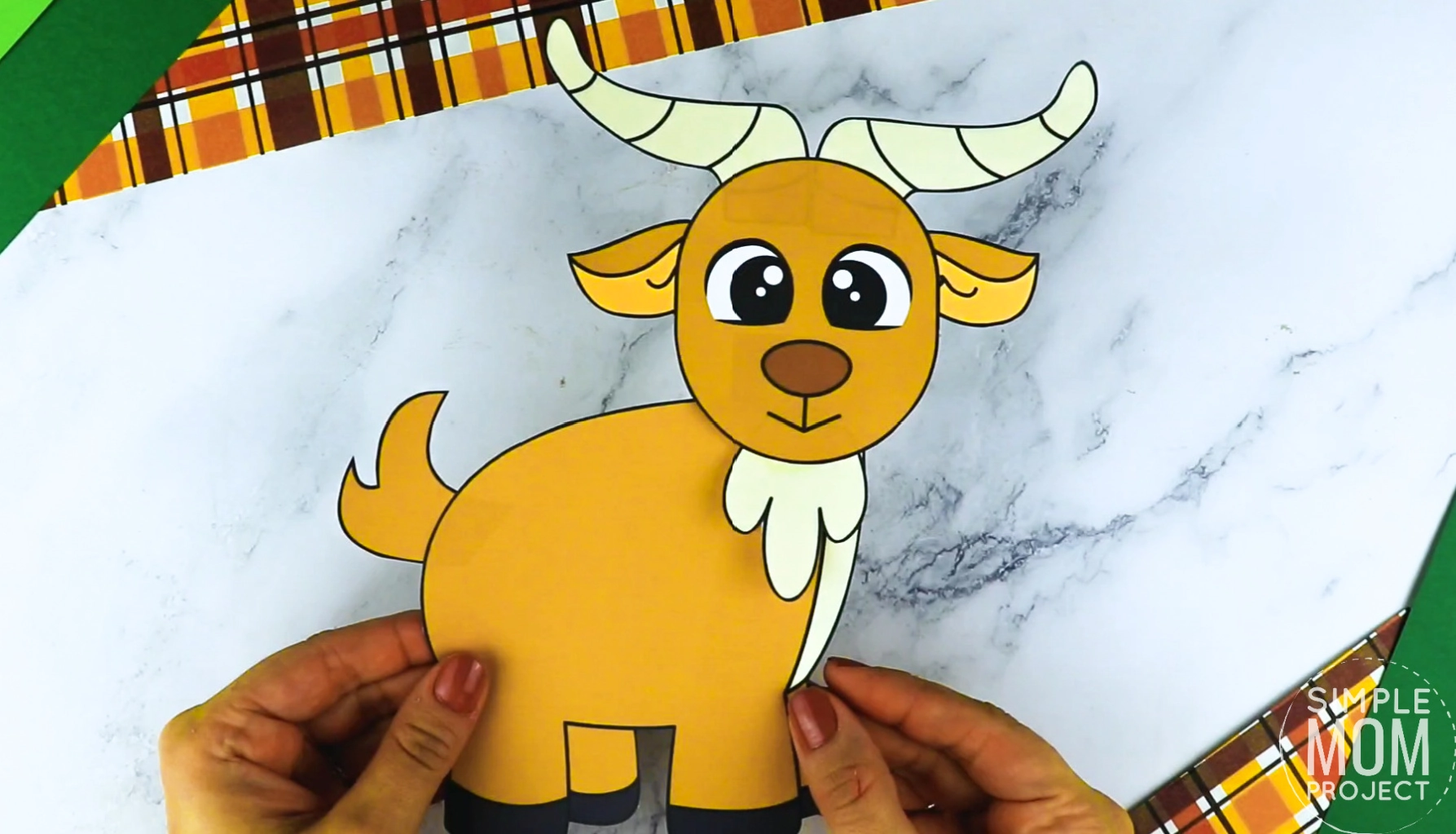 Lastly, attach the goat's head and body together.
This paper craft goat activity is suitable for kids of all ages.
More Options to Choose:
You can print the blank version and trace the cut outs on card stock paper for a sturdier goat craft,
Print the goat template in color for a simple and easy rainy day craft or,
Print the blank goat template and use it as a fun coloring sheet activity and then glue the pieces of the goat craft together.
Free Printable Goat Craft Template
Keep your children productive even on rainy days with these two different versions of simple printable goat craft templates.
There's the goat template in basic black and white line drawing with no color to practice your child's coloring.
There's also the colored goat craft template for preschoolers to practice their scissor skills.
Don't forget to share your learning plans in the comments.
Need more farm animal fun? Check out our packed list of farm animals for simple craft fun with your little ones.  
When you have finished, be sure to share your creation on Simple Mom Project's Facebook Page and follow me on Pinterest!

Kaitlen D.
More Fantastic Farm Animal Crafts