Looking for a fun, simple and easy cut and paste craft for your toddler or preschooler?
This free printable leopard craft template gives your children the opportunity to practice their fine motor skills, hand-eye coordination and color recognition.
Making this easy cut and paste printable leopard craft template is an easy and great way to brighten any day with a little creativity!
This safari animal craft activity would be fun if your little one is learning about animals in zoos or Africa.
Ready to start crafting with your kids?
Scroll down to see the simple instructions and watch the step-by-step tutorial video.


Need more crafty fun? Check out our Tiger Craft, Lion Craft and Rhino Craft.
 T
hey are perfect for those days when staying indoors is the only thing your family can do!
*By the way, this post may contain affiliate links which means I may receive a small commission at no additional cost to you if an item is purchase through that link. For more information, click here.*
Free Printable Cut and Paste Leopard Craft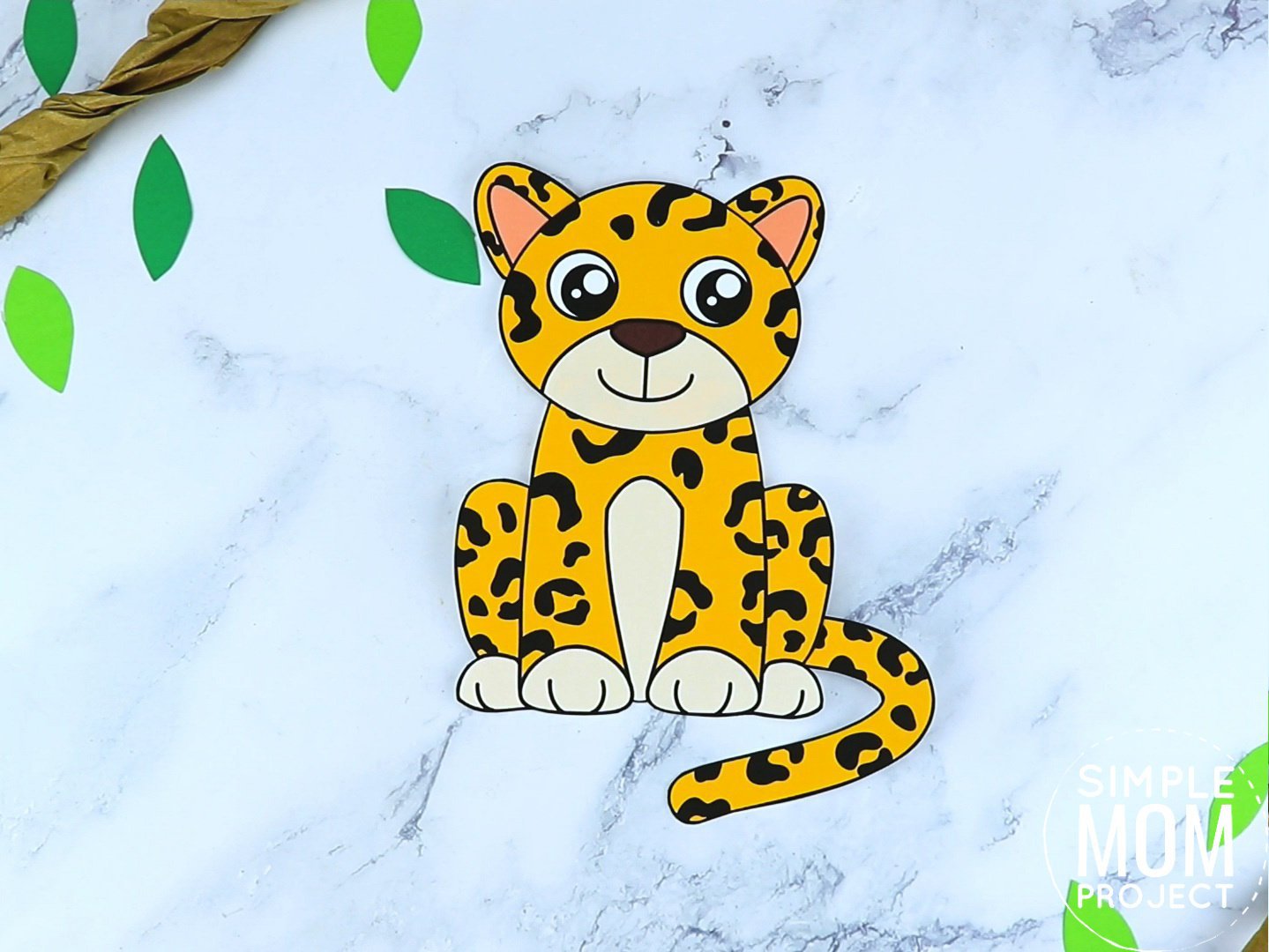 Ideas for Easy Preschool Paper Leopard Craft
We came up with these cool ideas on how to include this free printable leopard craft template in your daily life with kids.
1. Fun Facts About Leopards
Leopards are part of the cat family, Felidae, and their scientific name is Panthera pardus.
Do you know any difference between leopards, cheetahs and jaguars?
Leopards look similar to jaguars and cheetahs but are smaller in size to them.
Leopards are skilled climbers and like to rest in the branches of trees.
Jaguars can climb trees but they do not prefer doing so as they are not as agile as leopards.
While the cheetahs can't climb trees.
Snow leopards are one of the most beautiful and mystical wild cats.
Did you know that snow leopards are often called the "Ghost of the mountains?"
Because these endangered species are rarely seen and spend most of their lives in solitude.
2. Stories About Leopards
It's not hard to encourage your children to keep their interest in reading and learning during summer break or weekend.
Make this easy cut and paste printable leopard craft template educational by pairing it with one of these wonderful children's books about leopards.


3. Leopard Paper Plate Craft
Get creative by making a simple preschool leopard paper plate craft where your child can play with it afterwards.
Gather all the craft supplies that you probably have inside your home.
First, paint the entire paper plate yellow.
Draw the leopard's ears on cardboard, paint it and cut it out.
We used black paint and a regular paint brush in creating the leopard's spots.
Draw the eyes, nose and mouth directly on the paper plate using a black marker pen.
If you want it to look amusing, use googly eyes instead.
4. DIY Paper Bag Leopard Puppet
No doubt that Dr Seuss' beginner book "Put Me in the Zoo" is one of my child's favorite books to read before going to bed.
Hence, we came up with a DIY paper bag leopard puppet with lots of colorful spots!
First, let your child paint the paper bag yellow.
Just like in the book, put some red, orange, blue and green polka dots all over the paper bag.
Draw the leopard's eyes, nose and ears on a cardstock paper, cut out and glue each piece on the paper bag.
Your little one will surely love playing with their own leopard puppet!
We hope you enjoyed these marvelous ideas we listed in making this simple cut and paste leopard craft template.


Leopard Craft Supplies Needed
Printable Leopard Template (FOUND AT THE BOTTOM)
Keep scrolling to get your very own leopard craft today and start with your little ones and their leopard craft buddies today!
Leopard Craft Instructions
This free printable leopard craft template is so easy even your preschooler can do it on their own!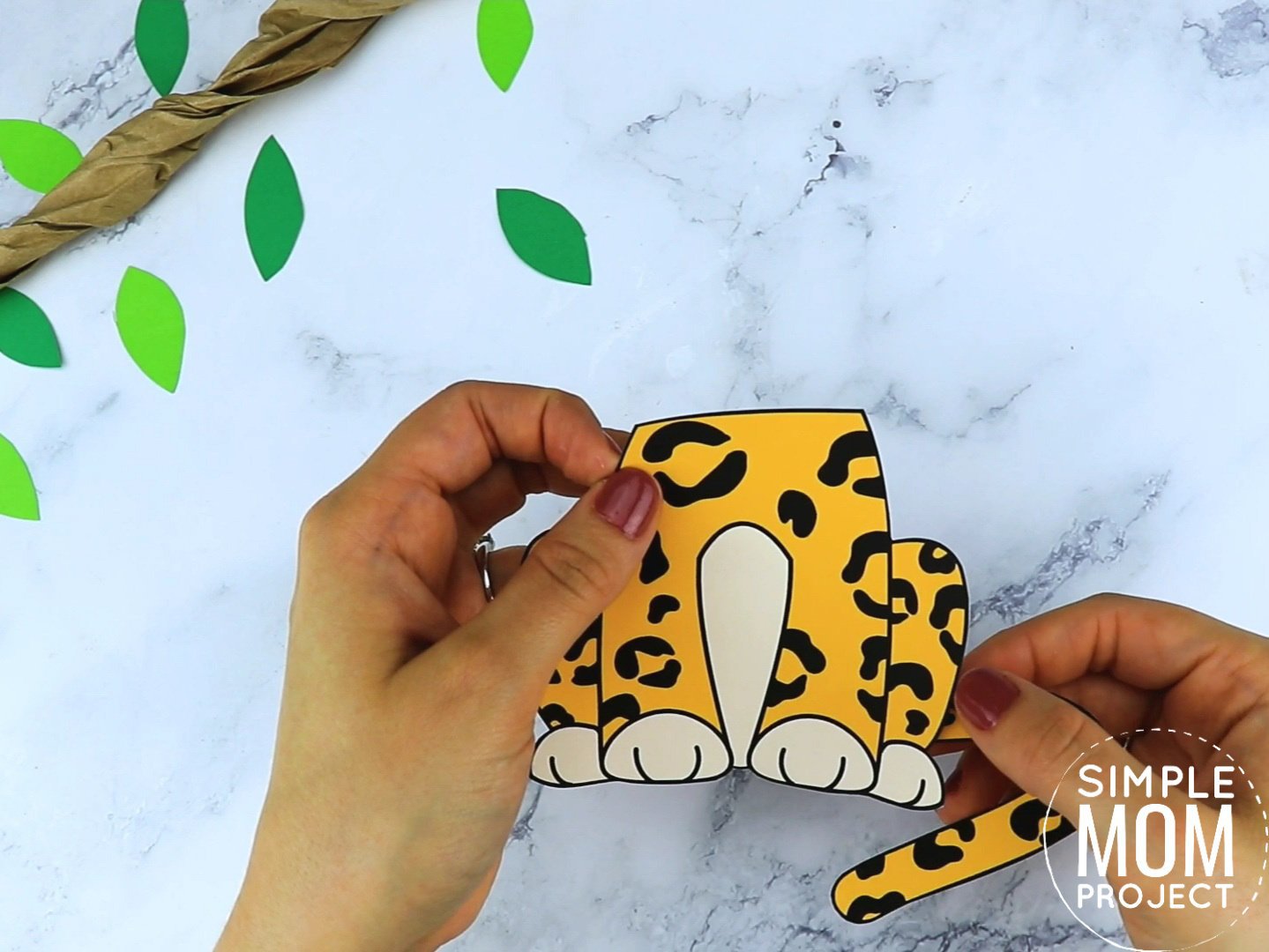 Download and print out which version of this simple leopard craft template your little one chose.
Start cutting each piece of the leopard template.
If you think your preschooler is ready to hold a pair of scissors, let them do it.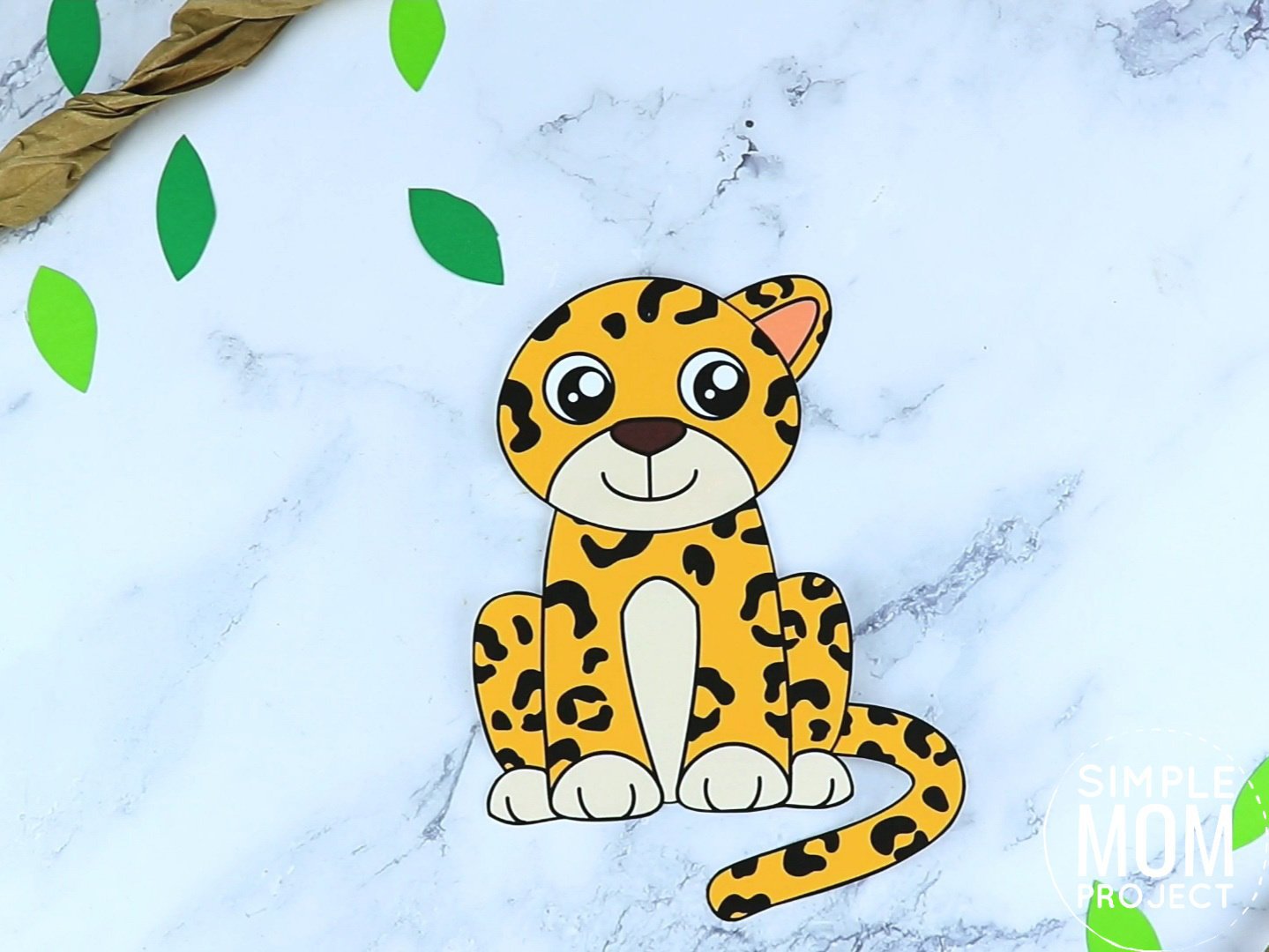 Glue the leopard's tail at the back of the body.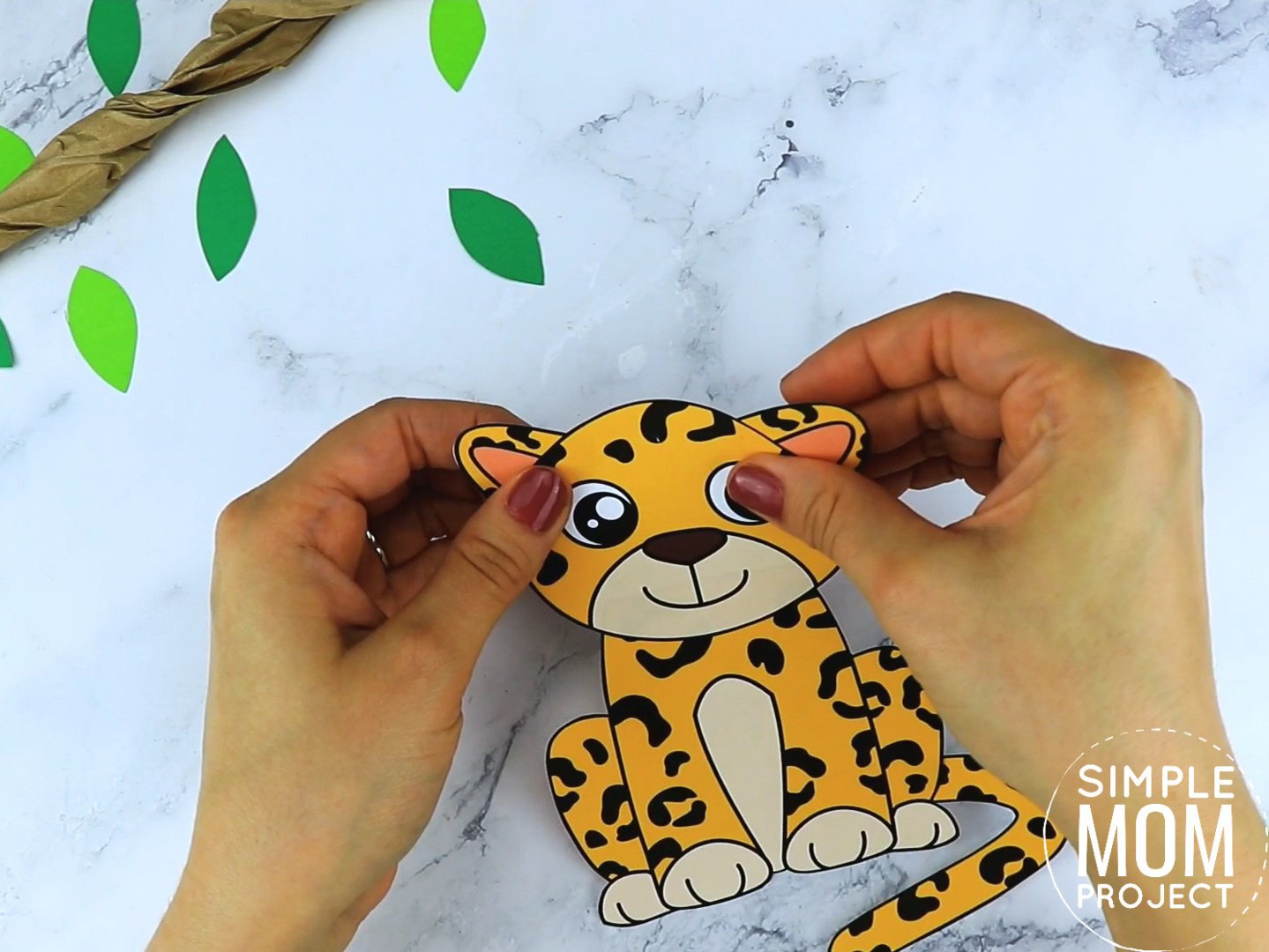 Next, attach the head and body together.
Glue the adorable ears on each side of the leopard's head, stick it up straight.
This cute leopard is ready to be part of your safari animal crafts collections.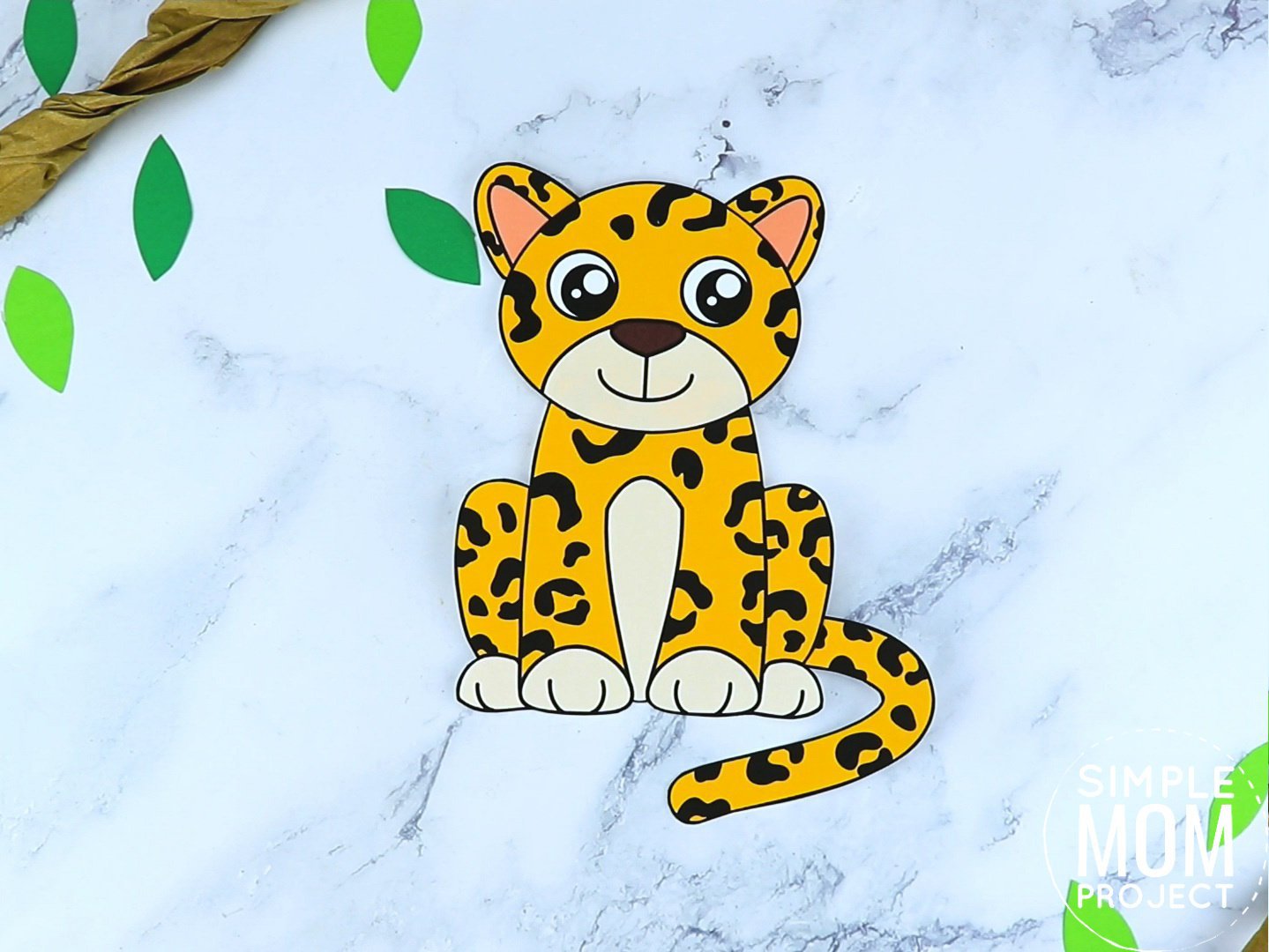 You can also watch the short video of the step-by-step tutorial.
More Options to Choose:
You can print the blank version and trace the cut outs on card stock paper for a sturdier leopard craft,
Print the leopard template in color for a simple and easy rainy day craft or,
Print the blank leopard template and use it as a fun coloring sheet activity and then glue the pieces of the leopard craft together.
Free Printable Leopard Craft Template
Stay productive during the weekend by making these two versions of a free printable leopard craft template!
We have the blank version of this leopard template to encourage your little one to play with various colors and the colored leopard version if they want to proceed in cutting and pasting the craft together.
Don't forget to share your learning plans in the comments.
Need more safari animals fun? Check out our packed list of safari animals for simple craft fun with your little ones.  
When you have finished, be sure to share your creation on Simple Mom Project's Facebook Page and follow me on Pinterest!

Kaitlen D.
More Safari Animal Crafts