If you're looking for an indoor space craft activity that excites your kids, get this printable Jupiter craft template!
This printable Jupiter outline template is the ideal activity for children who are studying the Solar System.
This easy printable Jupiter craft will inspire you to build DIY crafts using paper plates, paper Mache, Styrofoam, coffee filters and more.
Making our printable Jupiter craft template boosts your kids' creativity and fine motor skills.
Use this simple printable Jupiter drawing template to practice coloring, painting and cutting out.
Scroll down to see the step-by-step instructions and watch the tutorial video as you make your own Planet Jupiter craft.
*By the way, this post may contain affiliate links which means I may receive a small commission at no additional cost to you if an item is purchase through that link. For more information, click here.*
Printable Cut and Paste Jupiter Craft
Jupiter Craft Supplies Needed
Need more crafty fun? Check out our Saturn Craft, Moon Craft and Sun Craft.
 T
hey are perfect for those days when staying indoors is the only thing your family can do!
Ideas for Easy Preschool Paper Jupiter Craft
We came up with these incredible ideas on how to incorporate this easy printable Jupiter craft template in your kids' daily life.
1. Planet Jupiter Facts
Are you planning to study the planets with your little one?
Be sure to include our printable Jupiter craft template.
Did you know that Jupiter is the largest planet in our Solar System?
It's the fifth closest planet to the Sun.
Did you know that the planet Jupiter is a gas giant planet?
The surface of Jupiter is made up of a thick layer of hydrogen gas.
The other gas giants are Saturn, Uranus and Neptune.
Jupiter has 79 confirmed moons; can you believe it?
Around 50 of these are very small but there are four moons that are bigger than Pluto, namely Io, Europa, Ganymede and Callisto.
Making this easy cut-and-paste Jupiter outline craft will help your kids acquire knowledge about Planets.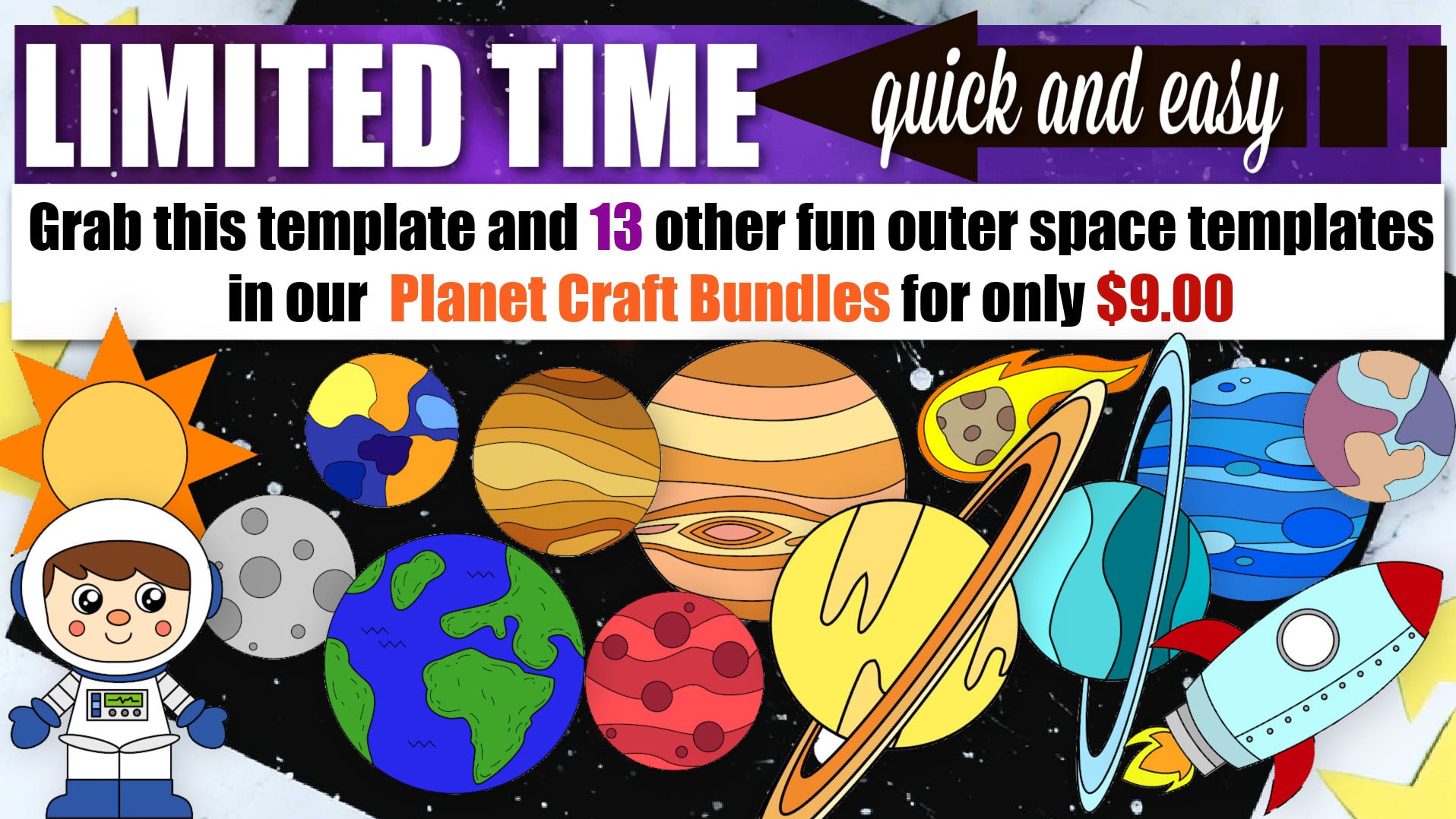 2. Jupiter Children's Books Collection
Make this space craft educational by pairing it with one of these children's books about Jupiter.
Reading to your kids is a great way to connect with them and strengthen the relationship.
Regular reading helps young children to communicate well, build self-esteem and brain development.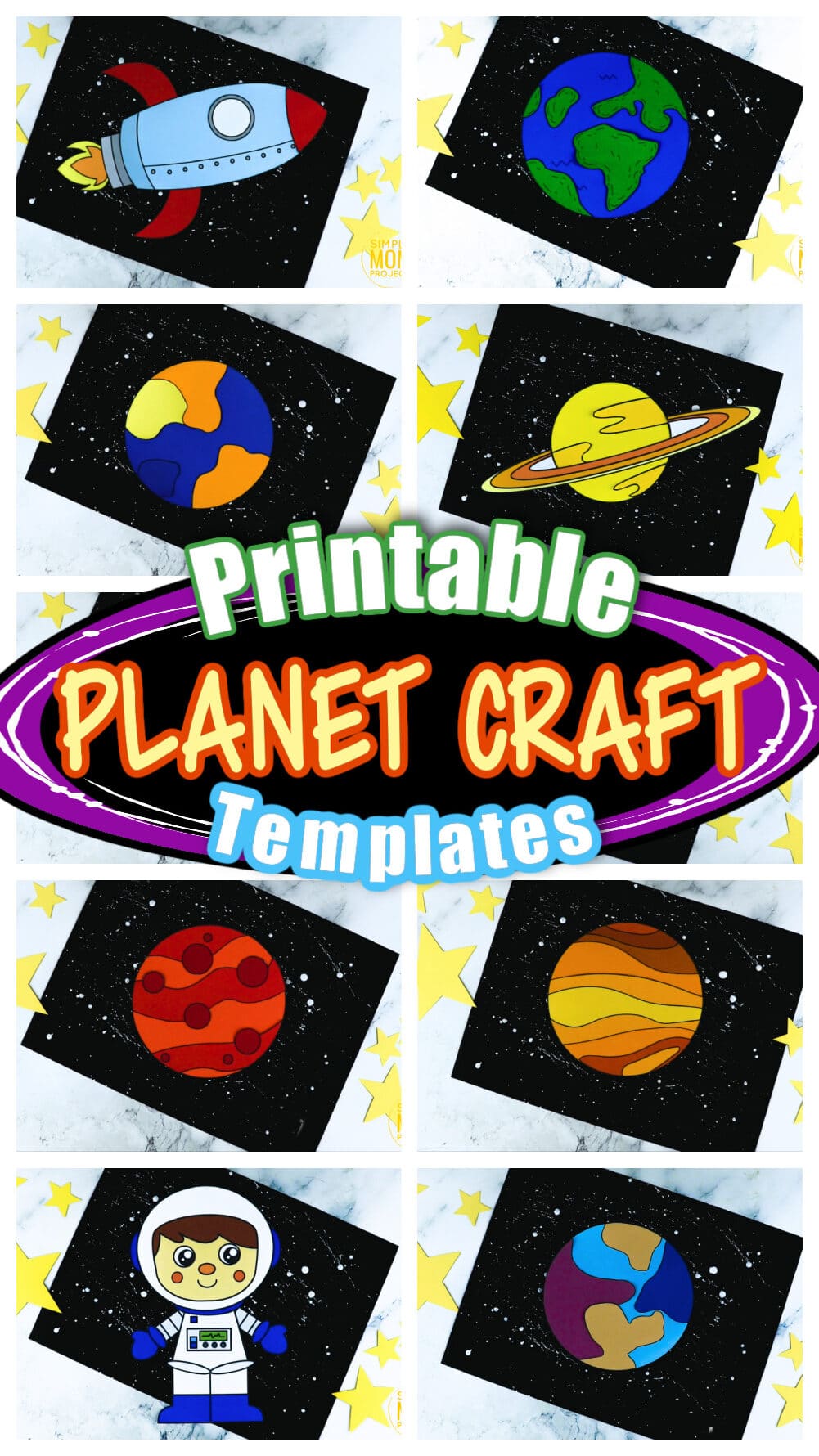 3. Cute Coffee Filter Planets
We love making DIY crafts using recycled materials we already have at home.
Sit down with your little crafter and let's create cute coffee filter planets!
Start flatten the coffee filters and let your little one color it using markers.
For the Planet Jupiter, we mixed in orange, red and yellow.
Make sure to not leave any spaces uncolored.
Spray the coffee filter with a small amount of water and set it aside to dry.
Repeat the process with the other planets.
Attach a nylon wire string at the back of the planet and arrange it on your window.
For more printable templates that you can turn into window decorations, try these:
4. Styrofoam Ball Jupiter Craft
This next DIY craft is perfect for Elementary students' Science projects.
First, stick a skewer into a Styrofoam ball.
Research to decide on what your Jupiter Styrofoam would look like and let your child paint it.
Repeat the process for the other planets and leave it for a few minutes to completely dry.
Create a stand for your model by cutting a large Styrofoam ball into half then stick all the planets according to their order in the Solar System.
We hope you enjoyed these great ideas we shared in using the easy printable Jupiter craft template.
We are confident that your kids will gain a lot of new knowledge.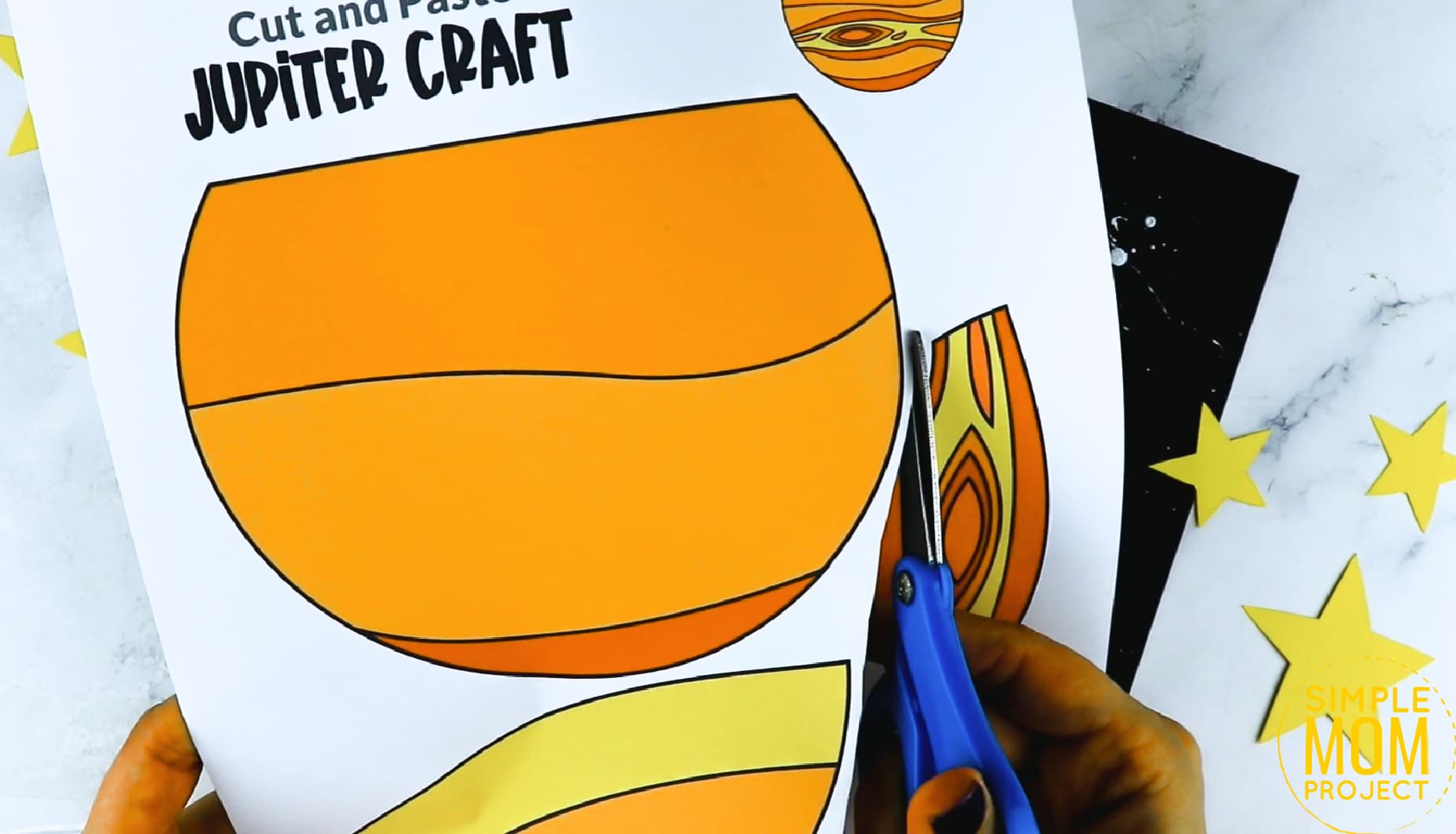 Keep scrolling to get your very own Jupiter craft today and start with your little ones and their planet craft buddies today!
Jupiter Craft Instructions
Making this printable Jupiter craft template is easy peasy.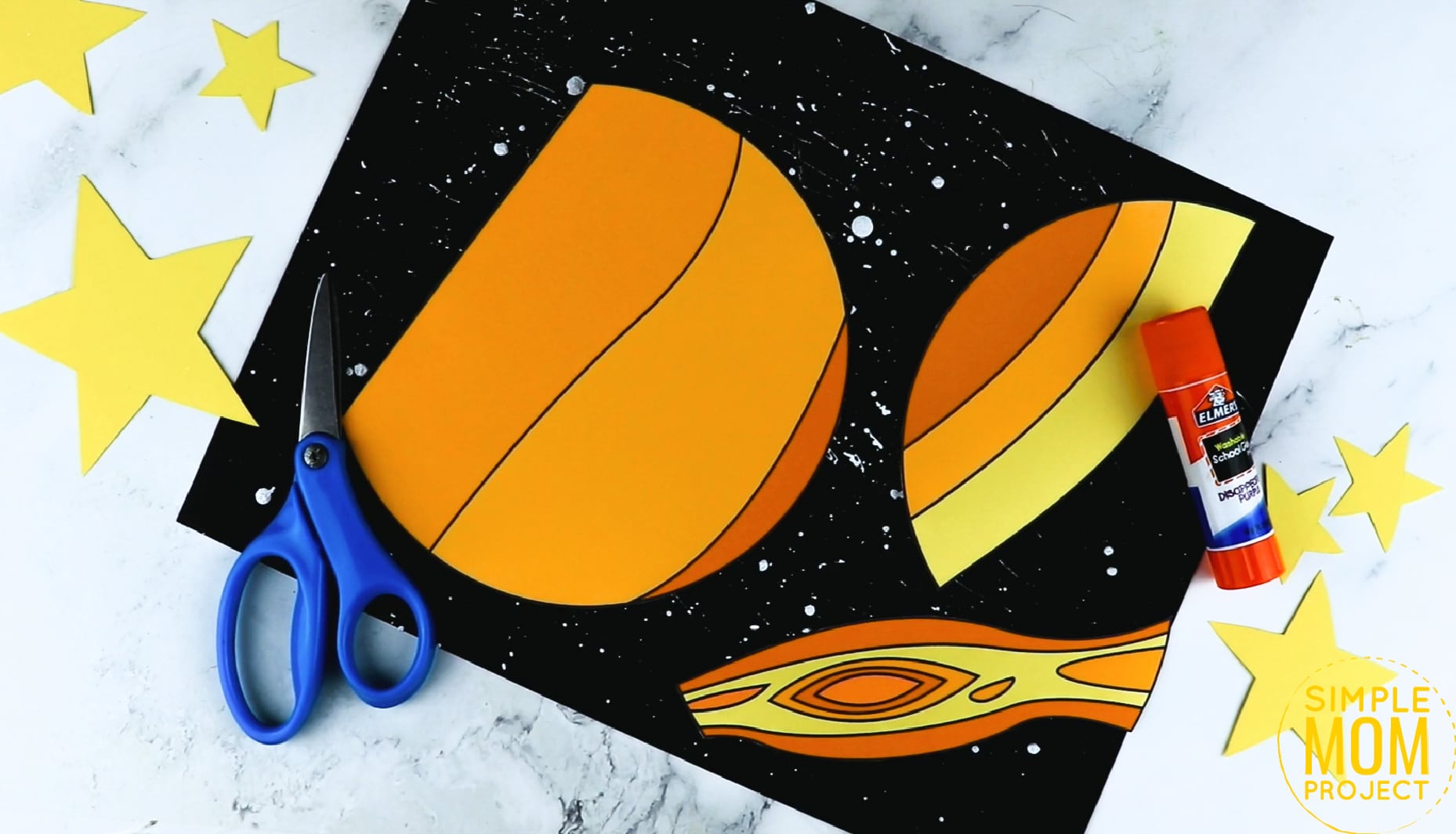 Even your preschool and kindergarten kids can do it on their own.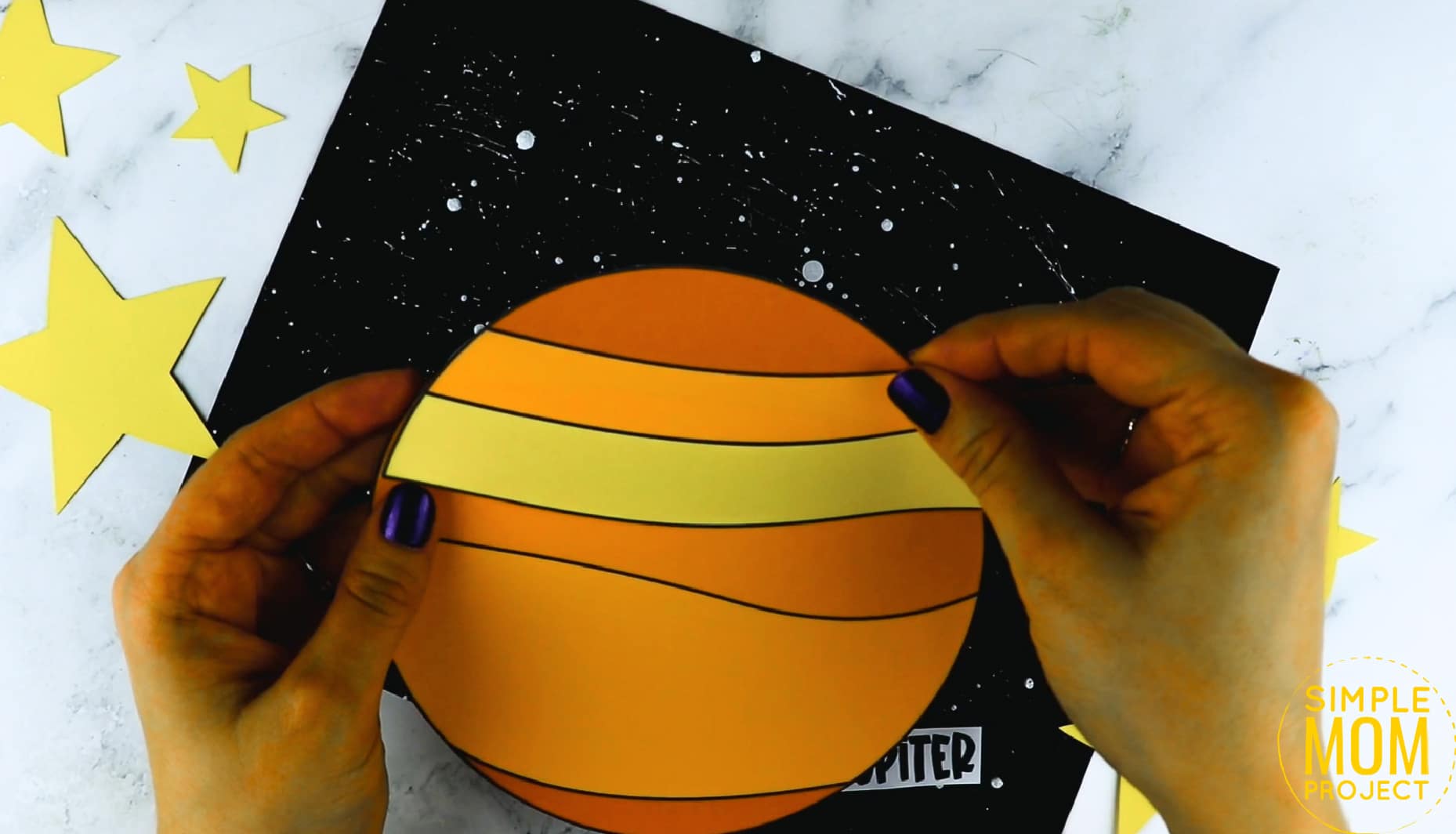 Print the Planet Jupiter craft template on a white sheet of paper.
Using a pair of scissors, cut the Jupiter craft out from the printable template.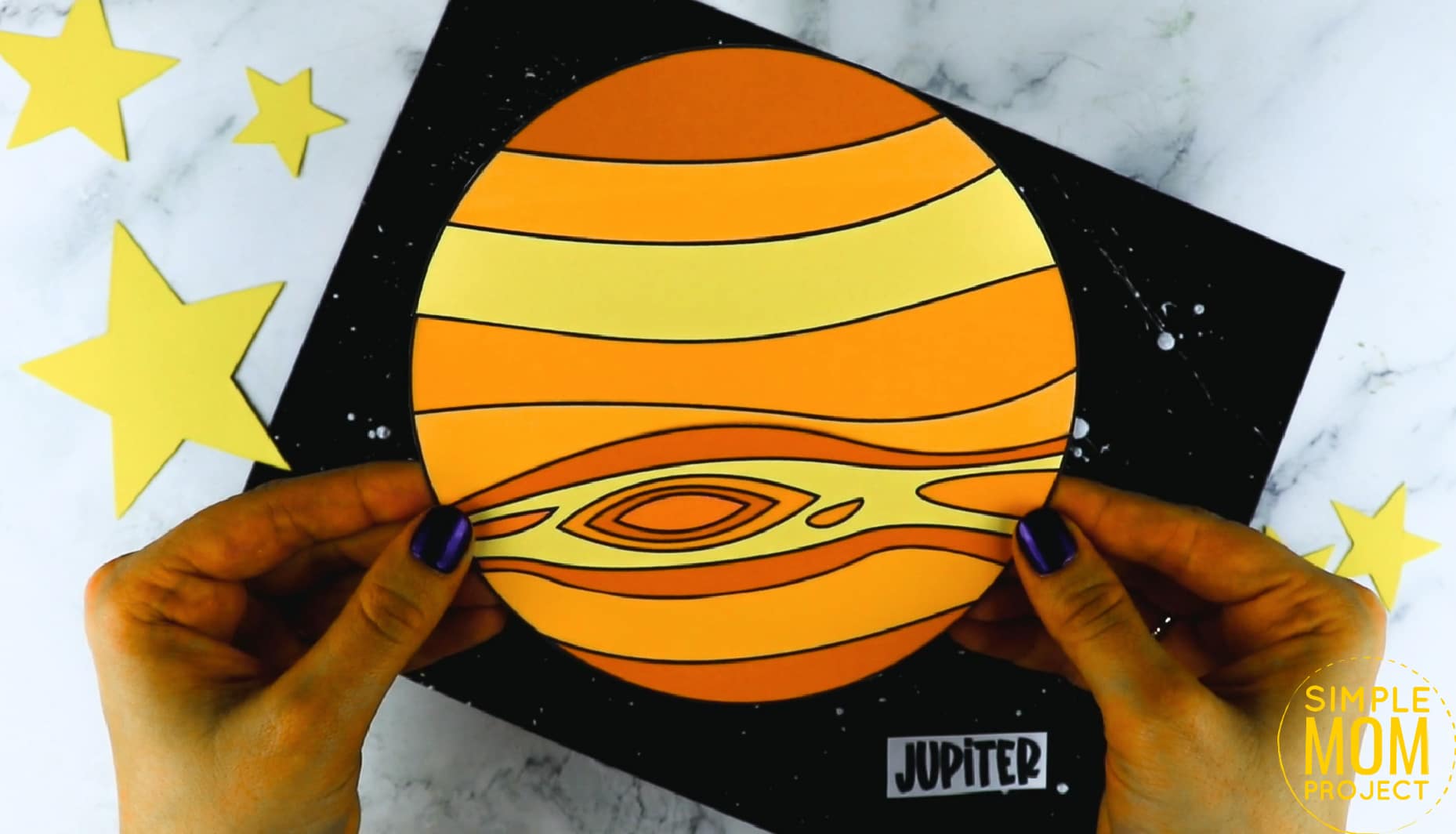 Glue the Jupiter pattern pieces according to the picture shown.
Now your massive Jupiter craft is ready to join the planet alignment in the Solar System.

More Options to Choose:
You can print the blank version and trace the cut outs on card stock paper for a sturdier Jupiter craft,
Print the Jupiter template in color for a simple and easy rainy day craft or,
Print the blank Jupiter template and use it as a fun coloring sheet activity and then glue the pieces of the Jupiter craft together.
Printable Jupiter Craft Template
Can't decide which of these two simple printable Jupiter craft templates suits best for your elementary kids?
No need to worry because you can have them both!
This basic black and white Planet Jupiter drawing and cut-and-paste colored version are ready for download.
Just simply click downloads and print as many as you like!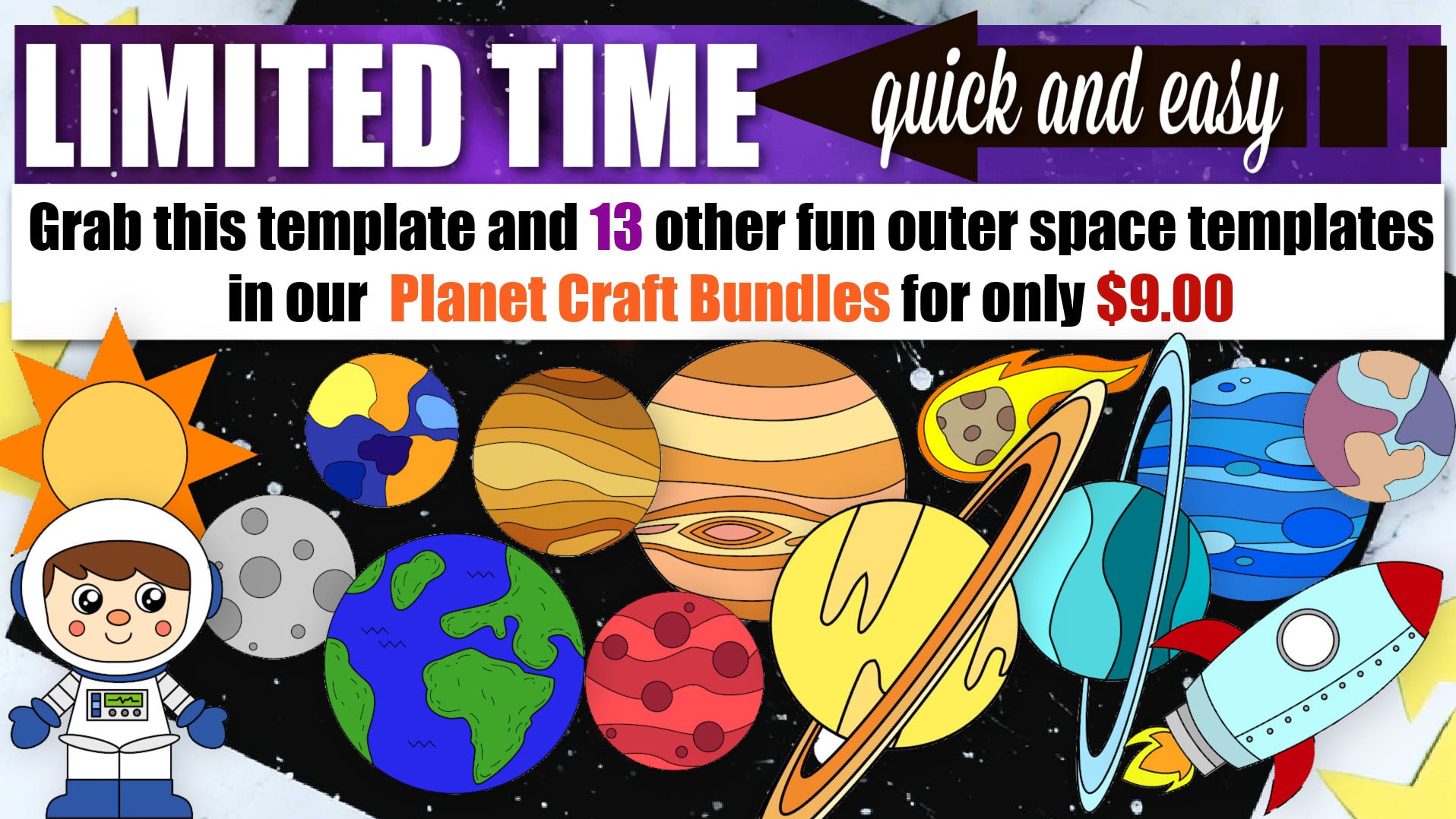 Don't forget to share your learning plans in the comments.
Need more planet fun? Check out our packed list of planets for simple craft fun with your little ones.  
When you have finished, be sure to share your creation on Simple Mom Project's Facebook Page and follow me on Pinterest!

Kaitlen D.
More Fun Planet Crafts