Get your kids excited about the science fair and have fun with these simple printable Saturn craft templates.
Cut out the Saturn outline and use it for coloring, stencils, space crafts, poster painting and more.
Making this basic printable Saturn craft template helps children improve their fine motor skills, hand-eye coordination, focus and creativity.
Our planet Saturn templates and coloring pages are great for home craft activities with your little kids.
Be sure to share it with your family and friends for some wonderful memories.
Follow the easy instructions or watch the step-by-step tutorial video we included in this post.

*By the way, this post may contain affiliate links which means I may receive a small commission at no additional cost to you if an item is purchase through that link. For more information, click here.*
Printable Cut and Paste Saturn Craft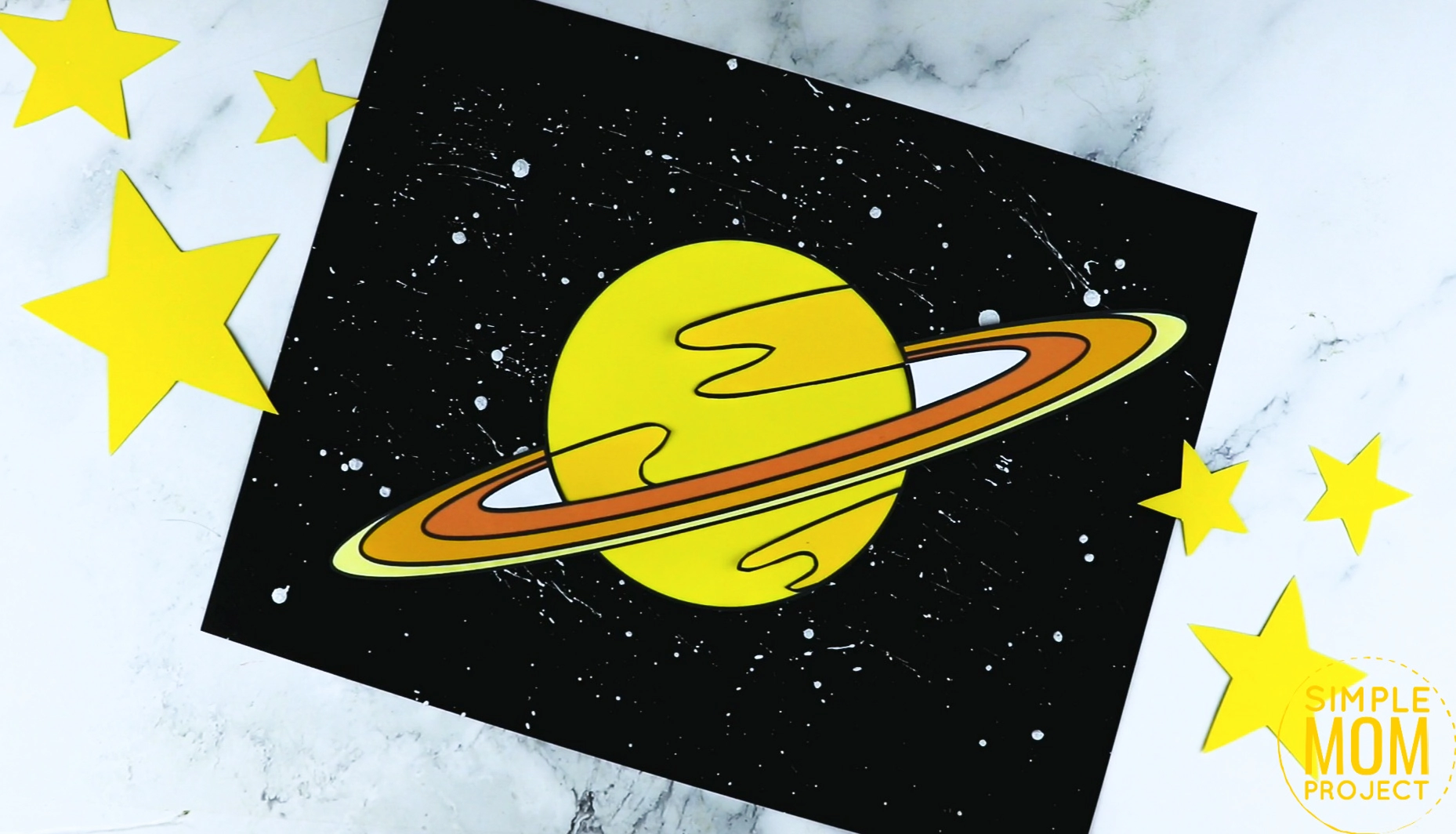 Saturn Craft Supplies Needed
Need more crafty fun? Check out our Earth Craft, Mercury Craft and Venus Craft.
 T
hey are perfect for those days when staying indoors is the only thing your family can do!
Ideas for Easy Preschool Paper Saturn Craft
Don't miss out these fantastic ideas on how to include this basic printable Saturn craft template in your daily life with kids.
1. Interesting Facts About Saturn
Making this fun cut-and-paste Saturn craft template will excite your little ones to learn the interesting Saturn facts!
Did you know that Saturn is the second largest planet in the solar system?
It's the sixth planet from the sun and it is known for its beautiful giant rings.
Did you know that Saturn has 82 confirmed moons?
The largest moon of Saturn is Triton, it is even bigger than the planet Mercury.
Saturn is very different from Earth.
Did you know that a year on Saturn is about 29 Earth years?
It takes Saturn about 29 Earth years to orbit the sun, which is a very long time.
Saturn is also known as the "Ringed Planet" and it has 7 layers of rings.
2. Planet Saturn Books Collection
When your kids are finished with this preschool printable Saturn craft template, look for a follow-up activity like reading books.
Reading as often as possible to our children is one of the most important things we can do as parents.
When we read with our little kids, we help grow their curiosity and memory.
Here are our favorite Saturn books that's suitable for kids from toddlers to 6th grade students.

3. Preschool Space Craft
The best way to entertain your child is to make amazing crafts together using recycled materials and this cut-and-paste Saturn template!
Let your child fill in the black and white Saturn drawing template with beautiful colors using crayons, color pencils or sponge painting.
Once your child is finished, glue on a popsicle stick at the back of the Saturn craft.
This fun activity is so easy that even preschoolers can do it.
It's also perfect to include in your next pretend play.
If you're looking for more printable templates to turn into a popsicle stick puppet craft, try these:
4. Outer Space Classroom Decoration
Using these easy printable Saturn craft templates, recycled materials and students' creative minds, you can create beautiful DIY crafts to dress up the classroom.
Have the kids enjoy the process of coloring, cutting and gluing the Saturn patterns together.
Once they are finished, turn it into a wall décor, bulletin board background or garland.
Students will get motivated to learn the planets when they are surrounded with amazing outer space themed decorations.
We hope you enjoy these marvelous Saturn craft ideas.
We are confident your children will ask for more printed planet craft templates!
Keep scrolling to get your very own Saturn craft today and start with your little ones and their planet craft buddies today!

Saturn Craft Instructions
Ready to start crafting with your kids?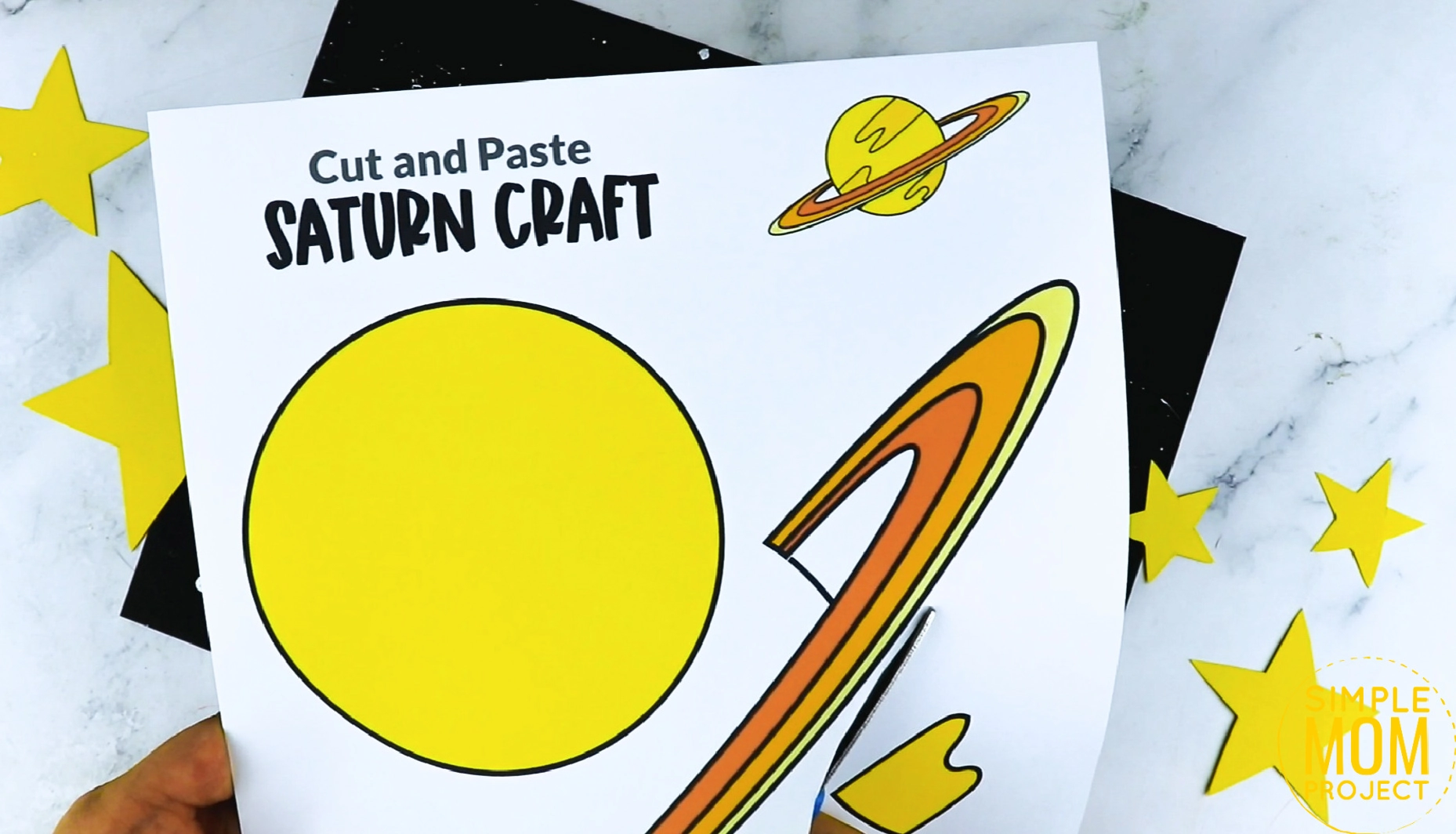 Grab all the common craft materials now!
Let your child pick which version of these planet Saturn printable templates they want to make first.
Click download and print the Saturn drawing on a white sheet of paper.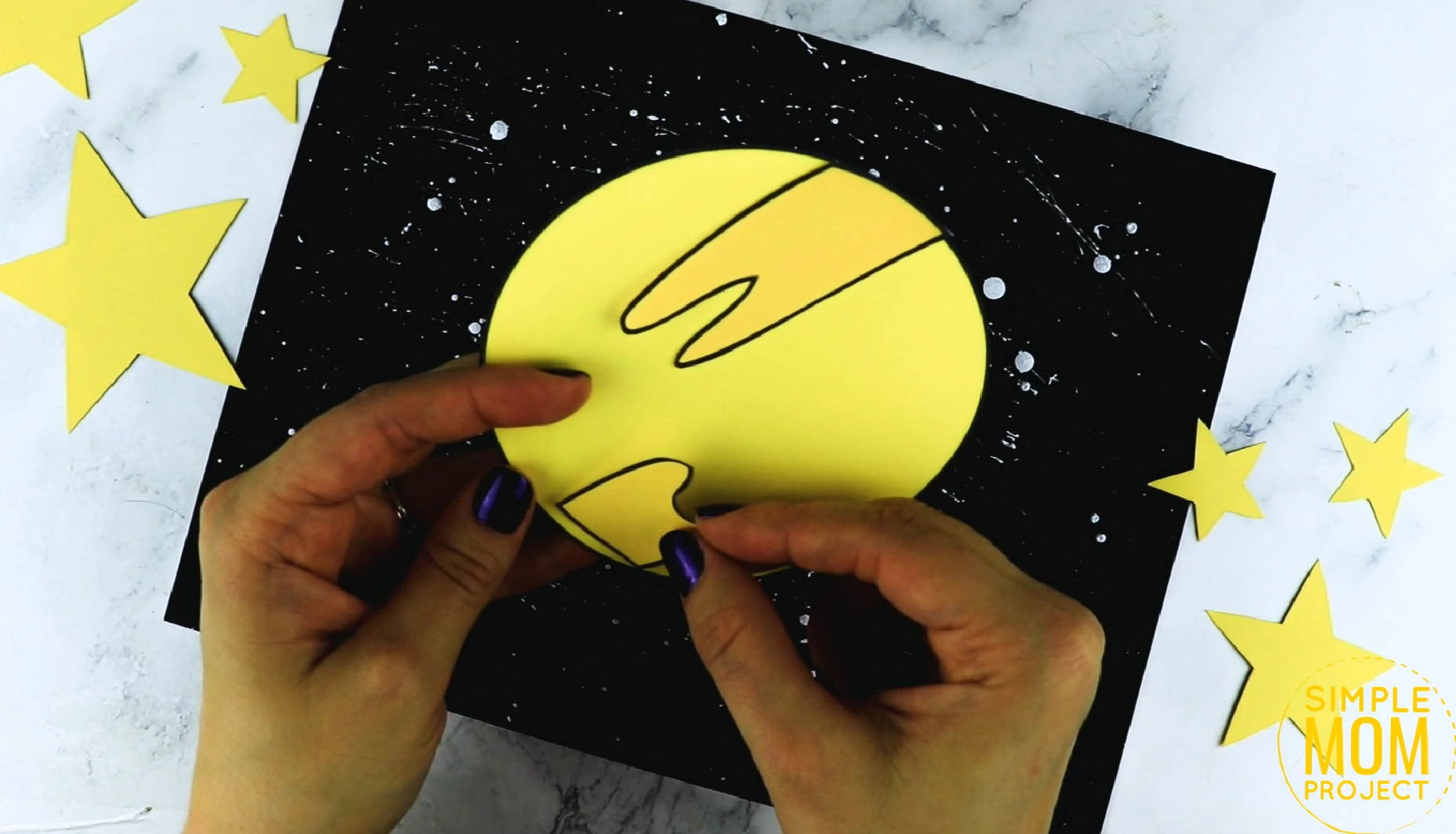 If your child is familiar with using scissors, motivate them to cut out the Saturn pattern template.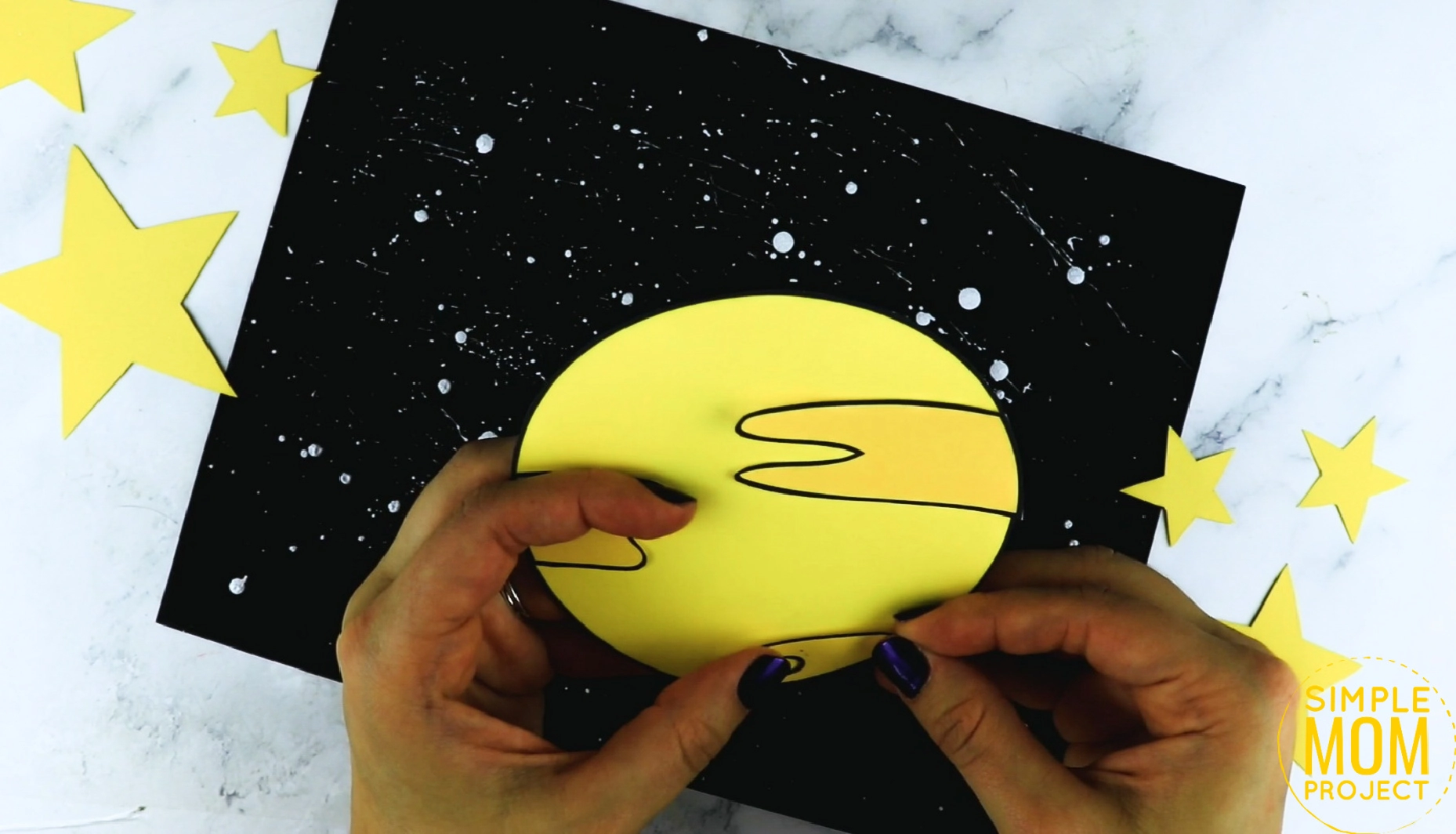 Start gluing the cut-out pieces onto the surface of the Saturn.
Then, glue on the ring around your planet.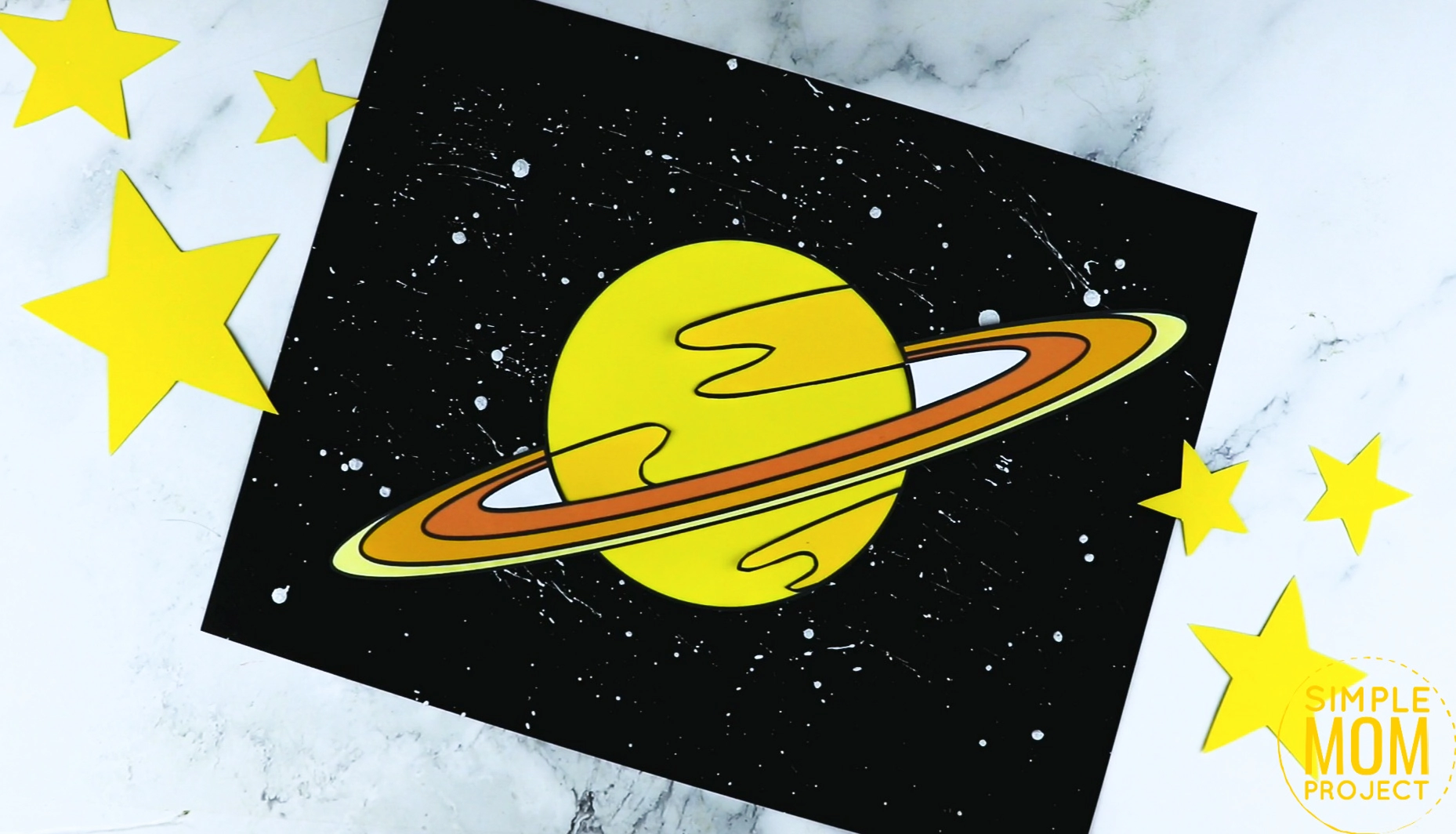 This finished Saturn craft is perfect to include in your Solar System learnings. 
More Options to Choose:
You can print the blank version and trace the cut outs on card stock paper for a sturdier Saturn craft,
Print the Saturn template in color for a simple and easy rainy day craft or,
Print the blank Saturn template and use it as a fun coloring sheet activity and then glue the pieces of the Saturn craft together.
Printable Saturn Craft Template
This fun printable planet Saturn craft template will surely keep your little ones occupied because it comes with two different versions.
We have the plain Saturn outline template so your child can color it and the colored Saturn craft template where they can directly cut it out.
Don't forget to share your learning plans in the comments.
Need more planet fun? Check out our packed list of planets for simple craft fun with your little ones.  
When you have finished, be sure to share your creation on Simple Mom Project's Facebook Page and follow me on Pinterest!

Kaitlen D.
More Fun Planet Crafts