Looking for a creative, easy and fun summer craft activity for your kids?
Look no further!
This printable sun craft template is perfect for welcoming summer in your home.
Making this simple printable sun craft template will improve the kids' fine motor skills, hand-eye coordination, focus and creativity.
Cut out the sun's simple shape and use it for coloring, mosaic, DIY crafts, fun art projects, charming parties, bulletin boards or classroom decorations.
Scroll down to see the best ideas, step-by-step instructions and video tutorial in making this preschool printable sun craft.

*By the way, this post may contain affiliate links which means I may receive a small commission at no additional cost to you if an item is purchase through that link. For more information, click here.*
Printable Cut and Paste Sun Craft
Need more crafty fun? Check out our Sun Suncatcher Craft, Letter S Craft and Rainbow Templates.
 T
hey are perfect for those days when staying indoors is the only thing your family can do!
Ideas for Easy Preschool Paper Sun Craft
Here are some spoonful of ideas that will help you incorporate this easy paper sun craft template with your kids.
1. Best Books About The Sun
This printable sun craft template is the ideal activity for kindergarteners who are learning about the solar system.
Did you know that the sun is a star?
It is located in the center of the solar system and it's extremely important for life on planet Earth.
When you're done stating fun facts about the sun, it's time to read some children's books to keep your kids interested.
2. Learn the ABC's: S is for Sun
If you're teaching the alphabet letters, especially the letter S, be sure to include this easy printable sun craft template.
Once your child is finished, provide tracing letter worksheets to improve their writing skills.
Show your little one the correct way to hold a pencil as they practice tracing the letters.
You may also want to print out a large letter S and pin it on the board as part of the visual aid.
Teach your kids the correct pronunciation for the word Sun, Sunshine, Sunny Day and other basic words that begin with the letter S.
If you're looking for more printable templates that involve letters, get this pack of A-to-Z Alphabet Craft Templates.

3. Handprint Paper Plate Sun Craft
While your little one is busy making this printable sun pattern template, look for sun-inspiration craft in Pinterest to occupy them in their active time.
We came up with a paper plate sun craft in sunny weather.
Let your child paint the paper plate yellow and leave it for a few minutes to completely dry.
Next, trace your child's hand on an orange construction paper and cut it out.
Cut out 5 or more handprints for the sun's rays.
Let your kids glue the handprints onto the yellow paper plate.
Finish it off by gluing the googly eyes and use a black marker to draw a smiley.
This morning sun ray craft will bring out your child's creativity and imagination.
4. Sunshine Photo Holder Craft
We thought it would be fun to make a cute sunshine photo holder once we are finished making this simple printable sun craft template.
Cut a circle shaped out from a cardboard and paint it yellow.
Let your little crafter paint the wooden clothespins yellow or orange.
Once it's dry, glue on the clothespins around the outside edges of the cardboard.
Draw a smiley face on the cardboard and add glitters, buttons or sequins to make the sun craft stand out.
Then you can clip all your adorable photos around the sun.
Attach a yarn at the back of the sun photo holder craft so you can hang it up to display.
All of these awesome paper sun craft ideas are very easy and would work well for toddler, preschool or kindergarten kids.

Sun Craft Supplies Needed
Keep scrolling to get your very own sun craft today and start with your little ones and their planet craft buddies today!
Sun Craft Instructions
Grab all the simple craft supplies because we're going to have so much fun today!
Print the sun craft pattern on a white construction paper and cut it into individual sections.
Glue on the sun's rays onto the outer layer of the sun.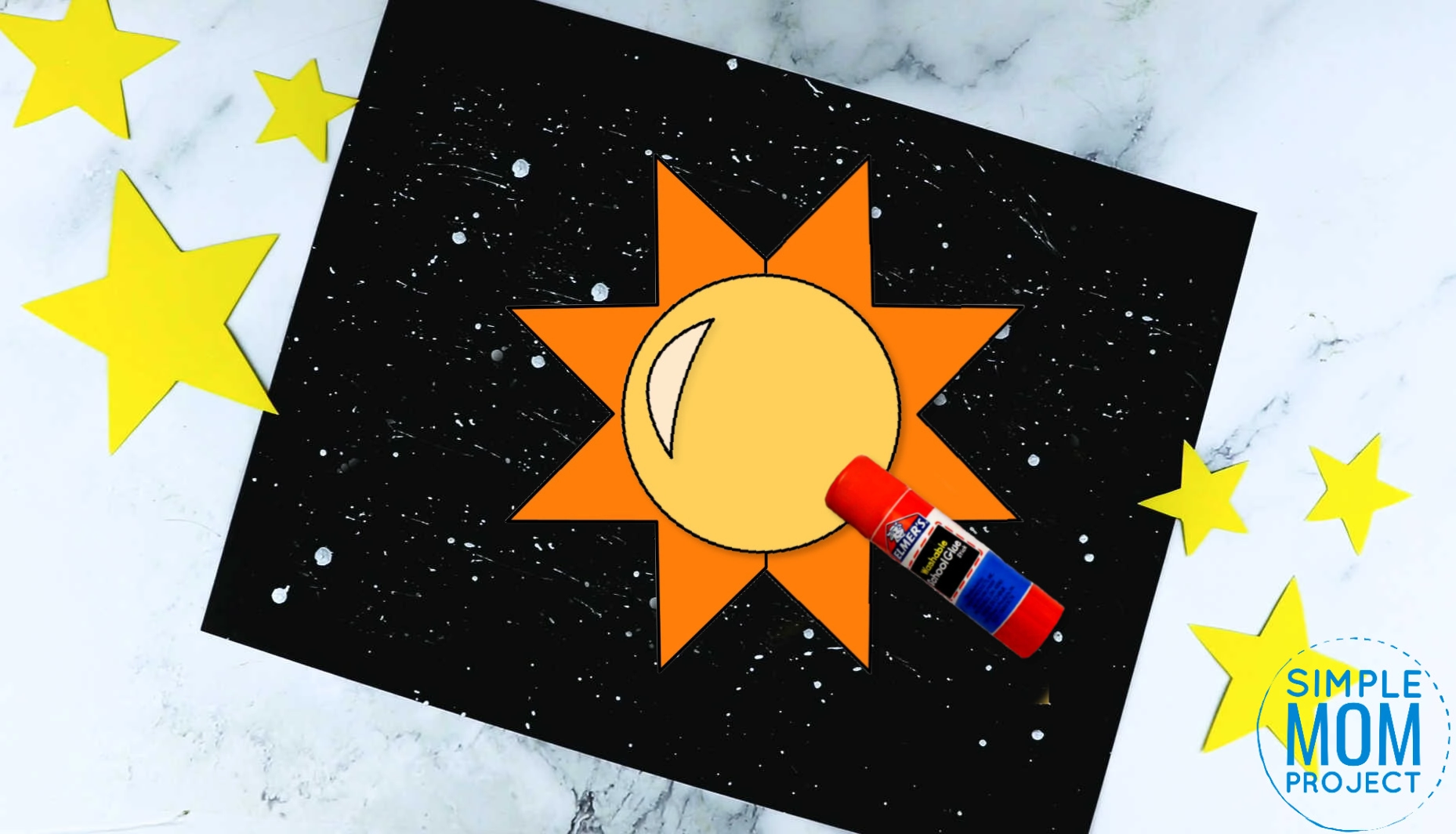 Now you have a cute yellow sun craft to add to your child's solar system crafts.
More Options to Choose:
You can print the blank version and trace the cut outs on card stock paper for a sturdier sun craft,
Print the sun template in color for a simple and easy rainy day craft or,
Print the blank sun template and use it as a fun coloring sheet activity and then glue the pieces of the sun craft together.
Printable Sun Craft Template
This printable smiley sun perfect craft template comes with two versions.
There's the black and white sun drawing template where your toddler or preschooler can color it first.
We also have the colored sun pattern template to directly cut it out.
Don't forget to share your learning plans in the comments.
Need more planet fun? Check out our packed list of planets for simple craft fun with your little ones.  
When you have finished, be sure to share your creation on Simple Mom Project's Facebook Page and follow me on Pinterest!

Kaitlen D.
More Fun Printable Craft Templates