Most children love to have pet dogs because of how friendly, affectionate and cute they are!
If you're looking for a fun activity that will boost your child's creativity, try this free printable dog craft template.
Work on practicing those scissor skills and hand-eye coordination with this simple printable dog craft template.
Cut out the dog craft and use it for coloring, stencils, crafts and lesson plans.
Making these free printable dog craft templates create a special bond for the whole family.
Scroll down to download the two free pdf files, follow the step-by-step instructions or watch the tutorial video.


Need more crafty fun? Check out our Paper Bag Dog, Letter D and Dog Masks.
 T
hey are perfect for those days when staying indoors is the only thing your family can do!
*By the way, this post may contain affiliate links which means I may receive a small commission at no additional cost to you if an item is purchase through that link. For more information, click here.*
Free Printable Cut and Paste Dog Craft
Ideas for Easy Preschool Paper Dog Craft
You wouldn't want to miss these great ideas on how to include this free printable dog craft template in your daily life with the kids.
1. Letter D for Dog
This free printable dog craft template is the ideal activity for children who are studying the alphabet letters, especially the letter D.
Improve your child's writing skills by providing tracing uppercase and lowercase letter D worksheets.
Lists down other words that begin with the letter D and teach them how to pronounce it correctly.
When your little one is finished with the crafts and worksheets, improve their reading skills by enjoying these wonderful books together.
2. Little Dogs DIY Puppets
Make adorable puppets using recycled materials to keep your kids entertained for hours.
Let your kids enjoy coloring, cutting and gluing together dog printable templates.
Place the finished dog crafts onto brown paper bags and secure it using glue.
Another option is, use the free printable dog craft template to trace the pieces onto construction paper or cardboard.
Help your child to cut them out and glue the pieces together.
Use a hot glue gun to add the popsicle stick at the back of the dog craft.
These cute dog puppets would be perfect for kids of all ages, especially the toddlers.
For more printable templates to turn into character puppets, try these: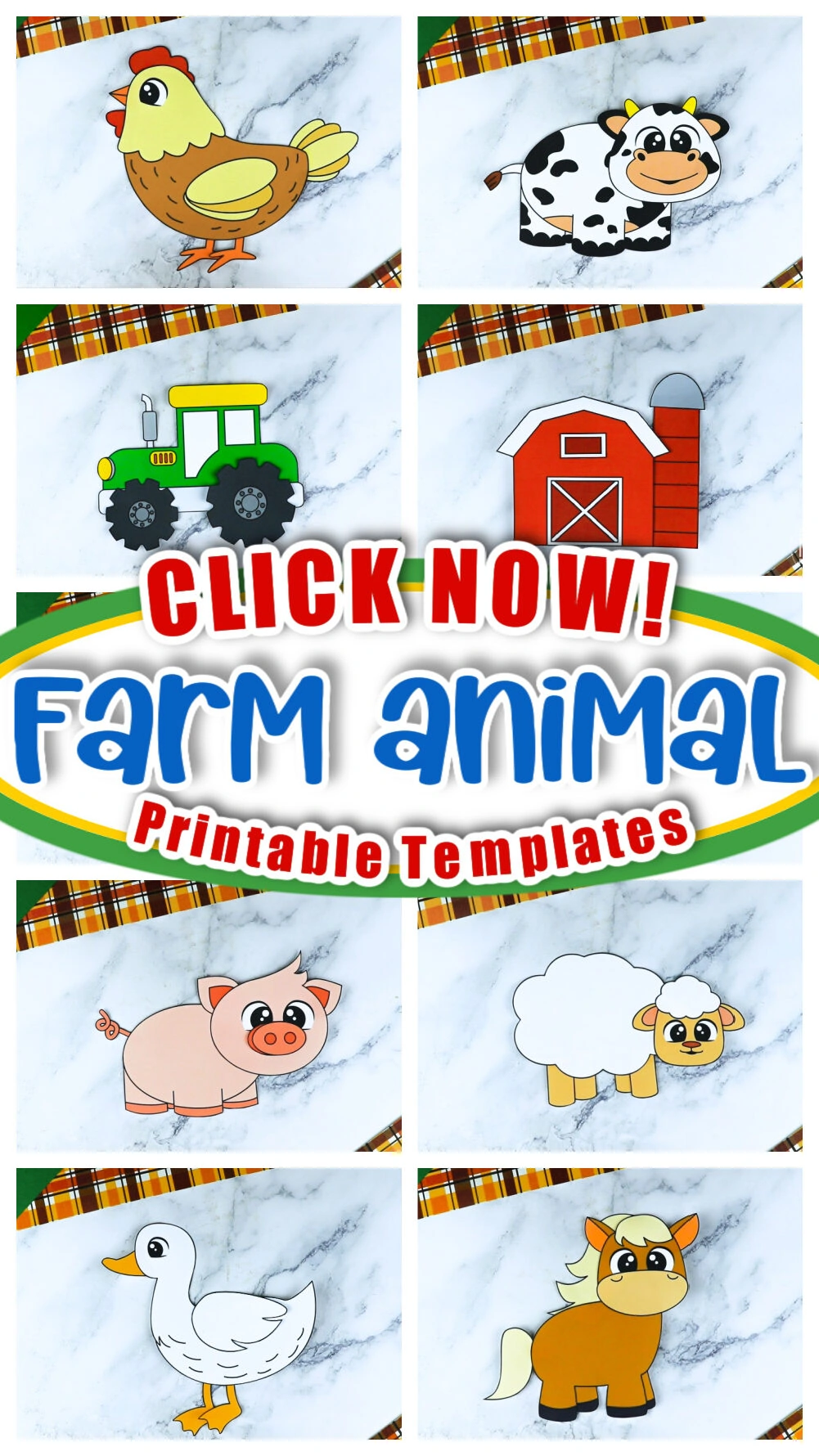 3. Easy Paper Plate Dog Craft
When making DIY crafts, we mostly focus on easy and doable low prep that won't require you to get expensive materials.
Let your kids paint the paper plate however they like.
They might want to make a Dalmatian, Siberian husky or Clifford the big red dog.
Trace the dog's ears, nose and collar on construction papers and cut them out.
Once the paper plate is dry, glue the cut outs onto the right place.
Use a black marker to draw a cute smile and glue the googly eyes.
Put the finished artwork up on display in your living room for all the guests and visitors to see.
4. Cute Puppy Greeting Cards
Some kids might prefer to write their feelings down on a small piece of paper or draw to express themselves.
Hence, we decided to make lovely handmade greeting cards!
When your little one is done with the printable dog craft, get all the different colors of paper and fold it in half.
Attach the cut-out dog craft on front of the folded construction paper.
Let your child write down all the sweet things they want to say to the receiver.
Glitters, ribbons, heart-shaped and paw print stickers are perfect additions to these beautiful greeting cards.
We hope you enjoyed these brilliant ideas we listed in making this easy cut-and-paste dog craft template.


Dog Craft Supplies Needed
Printable Dog Template (FOUND AT THE BOTTOM)
Keep scrolling to get your very own dog craft today and start with your little ones and their farm animal craft buddies today!
Dog Craft Instructions
Sit down and take out all the simple craft supplies you will need for these fun crafts.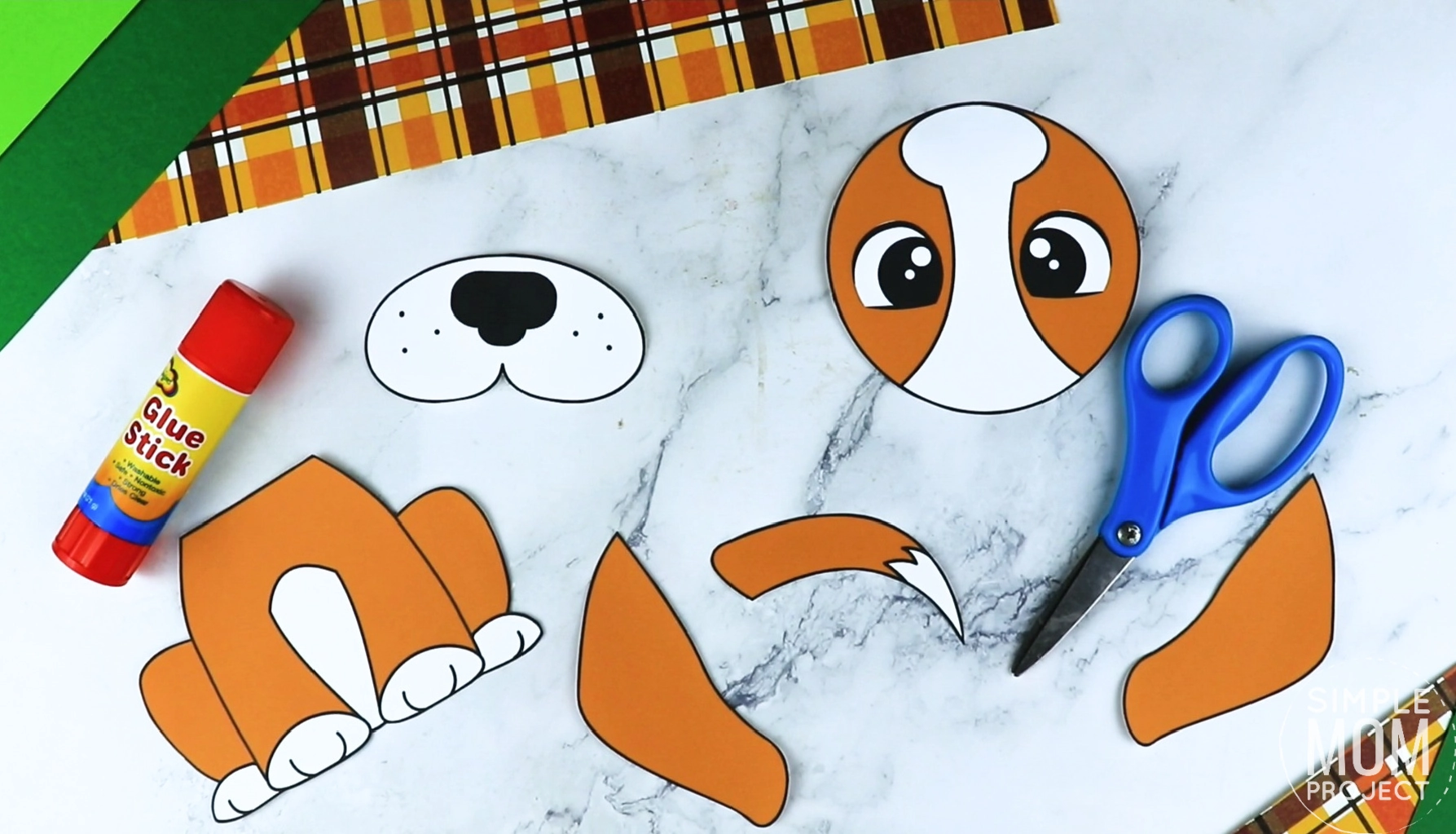 Get the printer ready, you're going to want to grab the two versions of these free printable dog craft templates.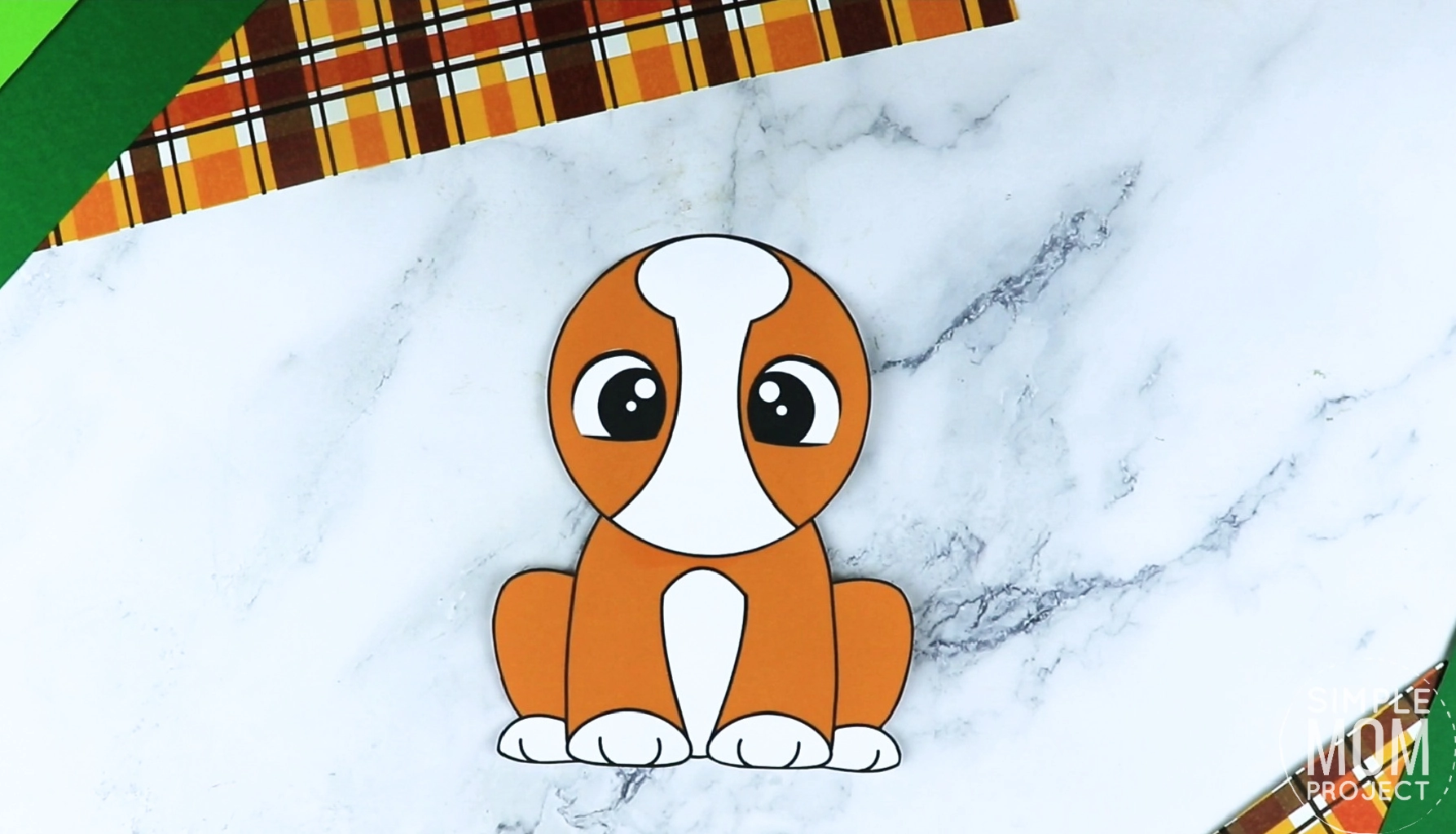 Help your kids get familiar with scissors by guiding them on cutting out the printable template into individual pieces.
Using a glue stick, attach the head and body together.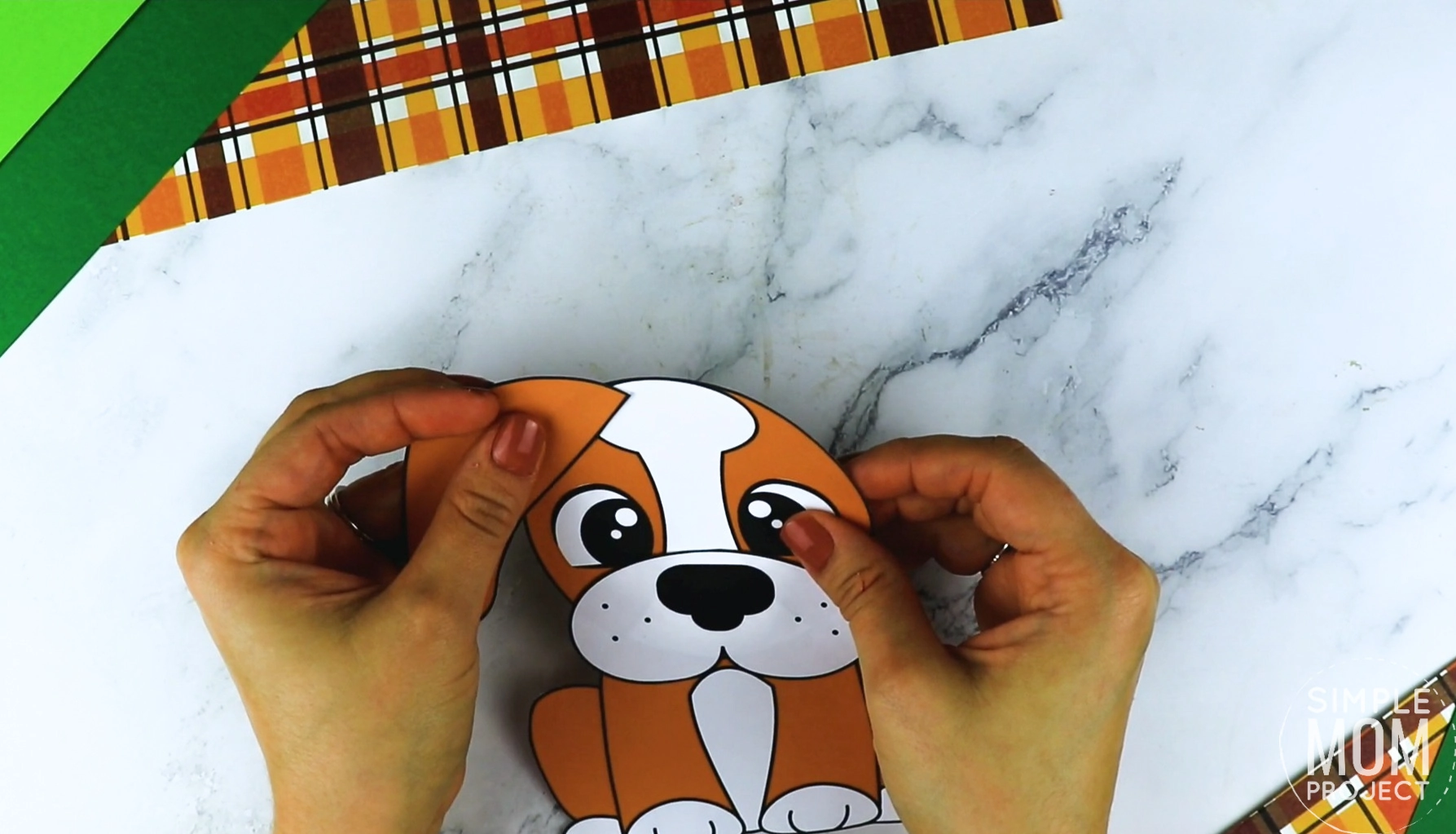 Next, glue the nose and mouth onto the face.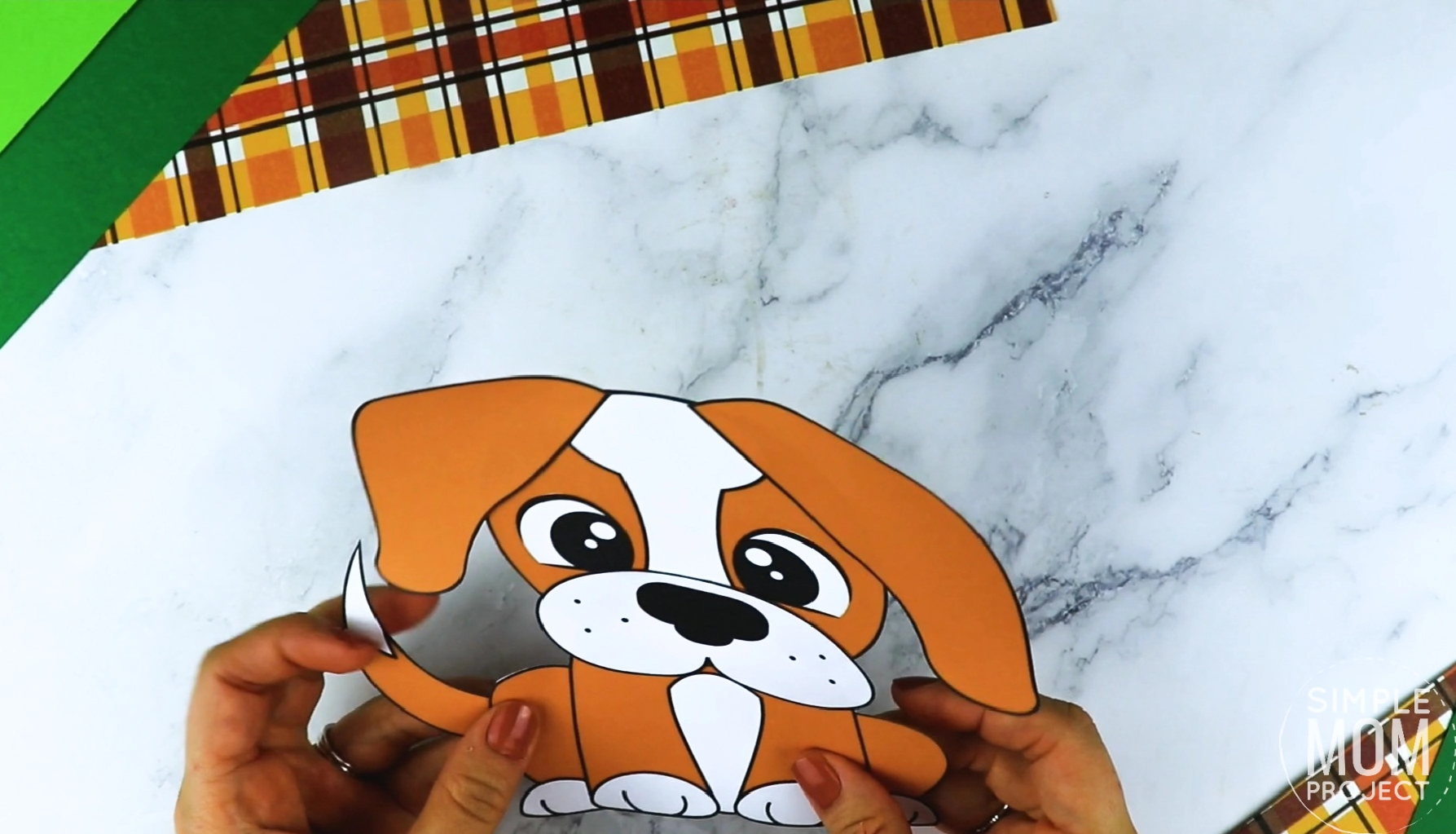 Glue the dog ears on each side.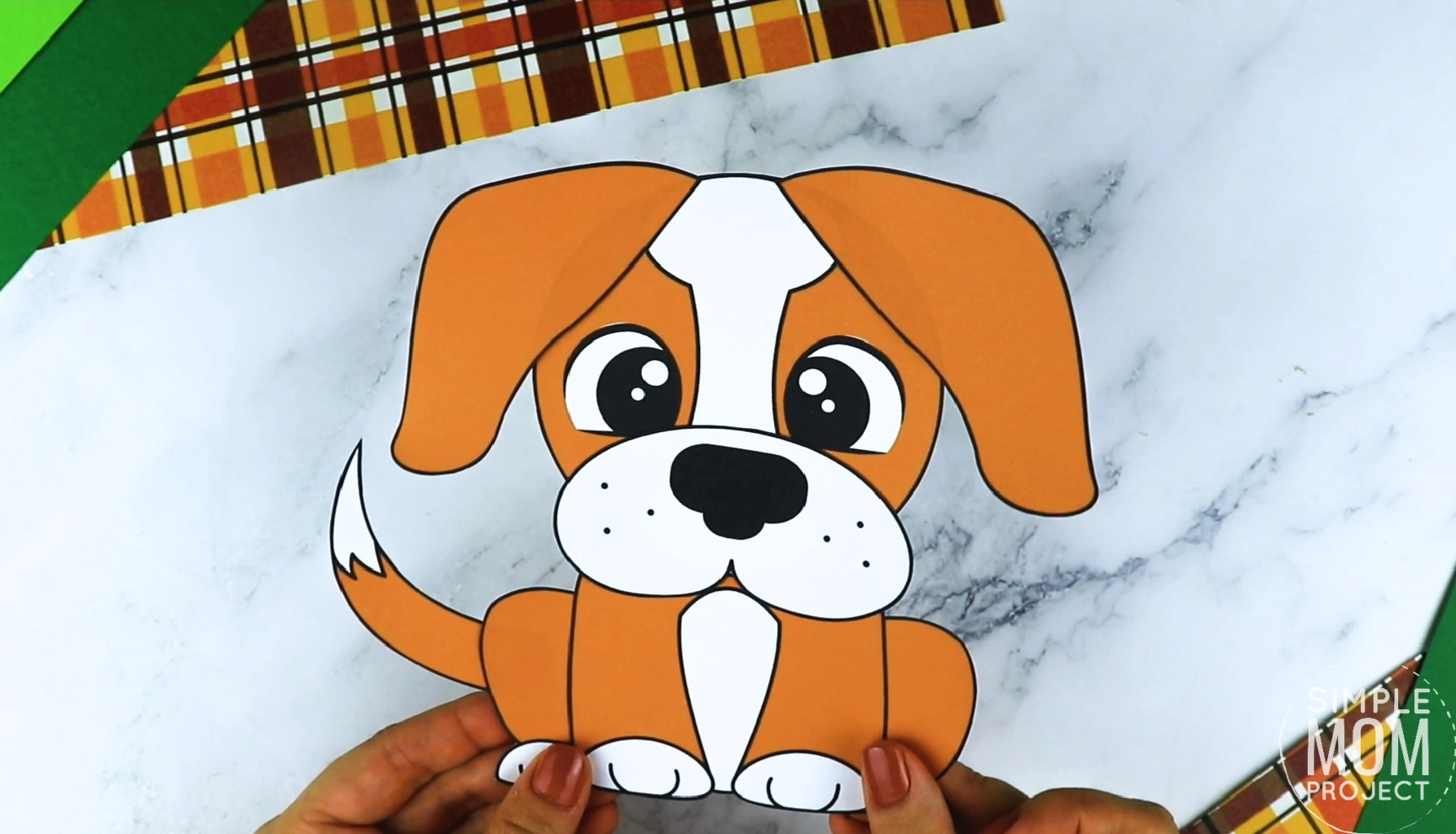 Finally, glue the tail at the back of the body.
Now your kids have their own pet puppy papercraft they can play around with.
More Options to Choose:
You can print the blank version and trace the cut outs on card stock paper for a sturdier dog craft,
Print the dog template in color for a simple and easy rainy day craft or,
Print the blank dog template and use it as a fun coloring sheet activity and then glue the pieces of the dog craft together.
Free Printable Dog Craft Template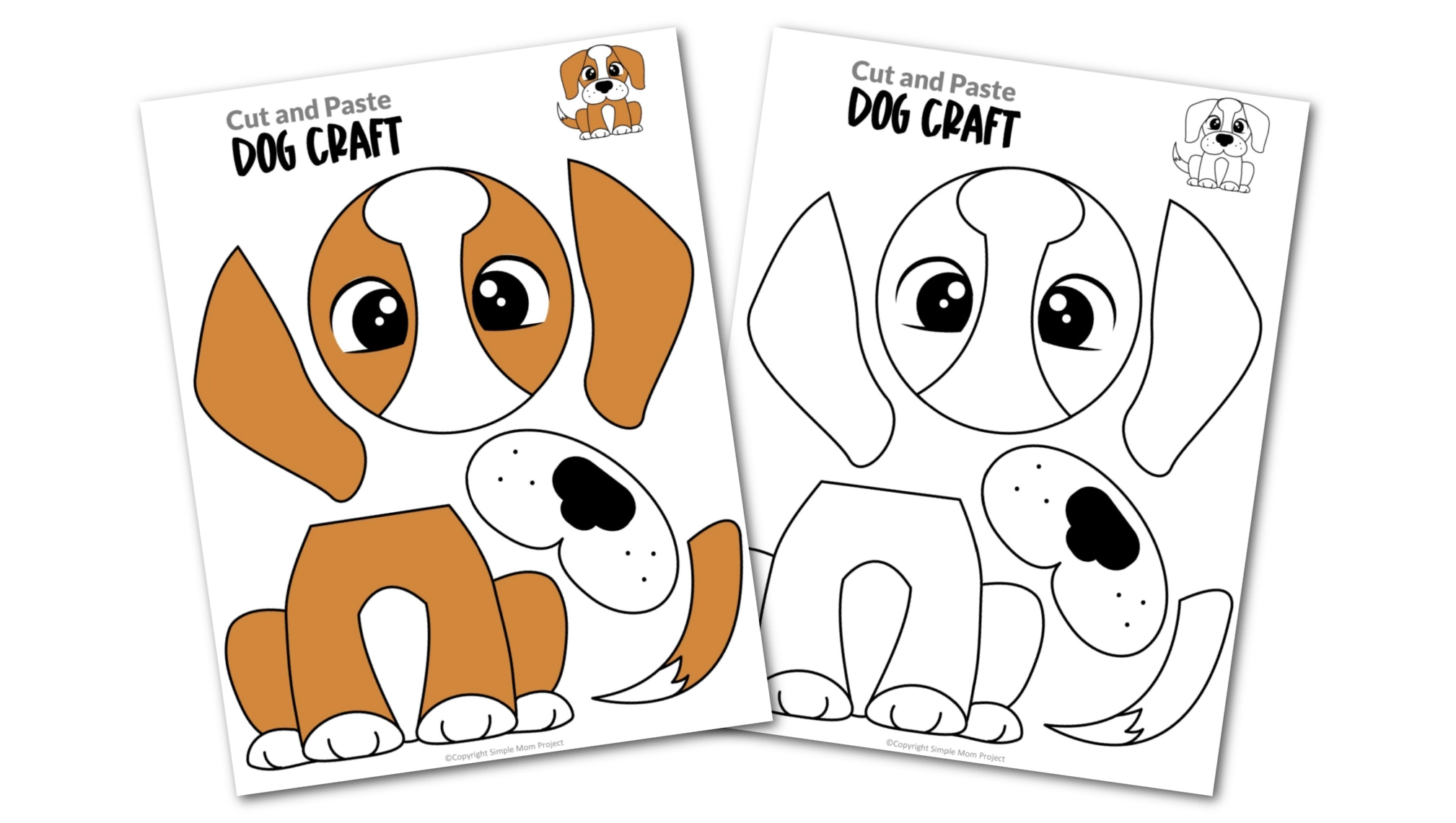 Why choose if you can have both versions of this free printable dog templates for your toddler, preschool and kindergarten kids.
There's the basic black and white dog drawing template so your little one can fill in with different colors.
There's also the colored dog printable template for kids who like to directly cut out.
Don't forget to share your learning plans in the comments.
Need more farm animal fun? Check out our packed list of farm animals for simple craft fun with your little ones.  
When you have finished, be sure to share your creation on Simple Mom Project's Facebook Page and follow me on Pinterest!

Kaitlen D.
More Fantastic Farm Animal Crafts