Are you ready to set sail on a sea of creativity and fun with all of these easy boat crafts and activities for kids?
Wondering how to keep your kids occupied for hours, rain or shine?
How about making simple origami boats or stick sailboats that float beautifully in a bowl of water using our free printable boat template?
This will not only provide hours of fun but also encourage creative thinking, fine motor skills, and a love of the marvels of the water.
And, hey, why not explore different kinds of boats this summer? 
Stuck in the same old activity loop, parents?
Well, it's time to navigate a change of course and set sail on a journey of boundless creativity!
Here are some great boat crafts, activities, and a free printable boat template that will change how much fun your kids have.
So, why stick to the same routines when you may venture into the uncharted waters of creativity?
Get ready for an adventure filled with limitless fun!
*By the way, this post may contain affiliate links which means I may receive a small commission at no additional cost to you if an item is purchase through that link. For more information, click here.*
Classic Summer Activities
What comes to mind when you hear the phrase "classic summer activities?"
Going to the beach?
Setting up a backyard kiddie pool?
What about racing paper boats and maybe kayaking?
That's what I'm thinking about as well!
Classic summer activities are truly fantastic!
It's all about having the best time on the water.
We know you're planning exciting activities for your kids this summer, and you've come to the right place!
We have a lot of things on the list, and we'd love for you to look over them all.
So, why spend time scouring stores or making endless trips to find the perfect supplies for classic summer fun?
We've got your back, right here, right now!
We have everything you need in one place, whether you're building magnificent sandcastles, racing toy boats, or sailing with paper boats.
With our hassle-free resources at reach, it's time to sail smoothly into a season of endless experiences!
1. Go play with these toy boats in a nearby pond or even in a tub of water! Allow the boats to drift and hold friendly races to see whose boat arrives first at the finish line.
2. Build wooden sailboats with your children as a hands-on activity. Use this kit to make your own designs out of materials such as wood or your own craft items.
3. Always put your kids' safety first! This swim vest is essential to pack whether you're going on a boating trip or just swimming at the beach.
4. Set sail on an adventurous expedition in quest of hidden treasures with this boat board game. Prepare for a voyage on the high seas and become a master captain at your own table!
5. Gather the children for a boat-themed story time. Any boat book will suffice, but this Boats on the Bay book was a big hit with my kids.
51 Boat Activities for Preschoolers
Are you excited to paddle your boats with all of these fun boat activities for kids?
Assemble your crew and get ready to rock the boat with these absolutely fun and exciting DIY boat ideas!
1. Free Printable Steamboat Template
Love Steamboat Willie?
Then you'll love our free steamboat template!
Decorate your steamboat templates with your children as you watch some Disney Steamboat Willie clips.
You may print as many as you like because they are free!
2. Free Printable Sailboat Template
Planning a Moana-themed party or feeling ready to sail in a room with a nautical theme?
Your ticket to a wonderful day at the beach is our free printable sailboat template!
Along with decorating with it, children will enjoy making crafts with it.
Get your free sailboat templates for your little sailor today!
Up for a creative adventure?
You'd be surprised at how many different activities you can do with this flexible steamboat craft template!
Use it to learn about boats, water transportation, or to create your own steamboat crafts.
Include this printable steamboat craft template in your décor if you're throwing a Mickey Mouse Steamboat Willie-themed party soon!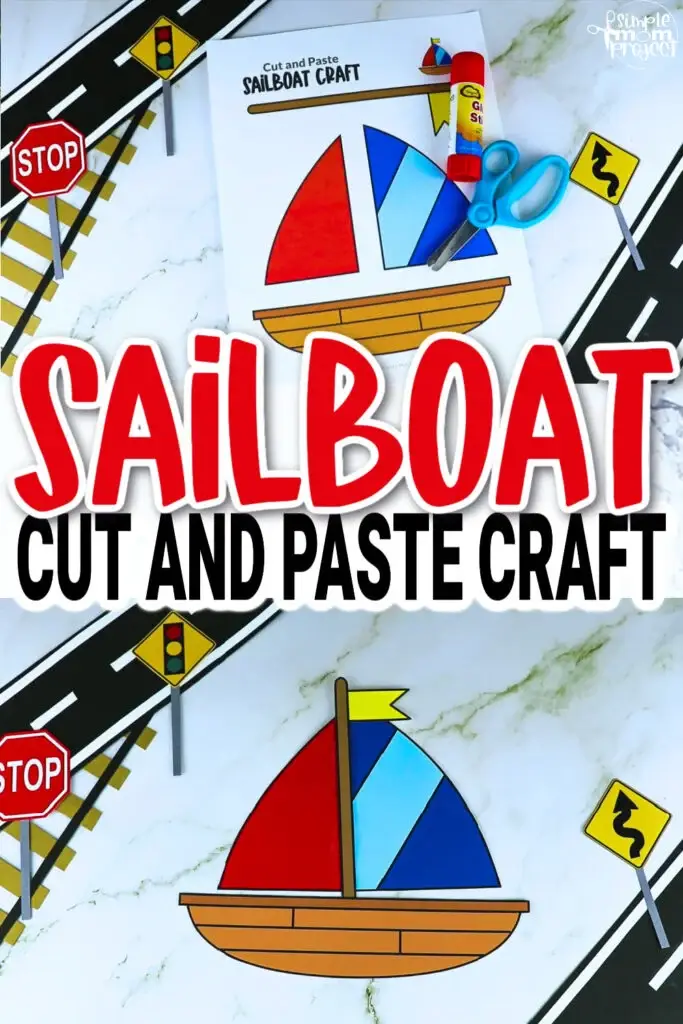 Want to make bath time an exciting science experiment?
Grab this printable sailboat craft and set it adrift on a sponge or craft sticks for an exciting sink or float adventure with your kids!
Read the entire article to learn how to create one right away!
5. Easy Preschool Sailboat Paper Craft for Kids
Got a stack of paper lying around that you don't want to throw away because you might use it later?
Then put them to use on this easy sailboat paper craft!
Kids can build their own sailboat paper crafts by cutting strips of paper and making shapes for the boat.
6. Free Printable Submarine Template
Do you want to make your own water transportation flashcards?
Make use of this printable submarine template!
It is incredibly simple and cost-free to download at any time or anywhere.
This might also be used as coloring sheets, so get your free printable submarine template today!
7. Free Printable Summer Sailboat Template
Counting down the days before summer?
Keep the excitement going by having your children color and decorate their very own summer sailboat while they wait for the sunny season to arrive!
You can print as many summer sailboat templates as you need for free, so invite your family members as well!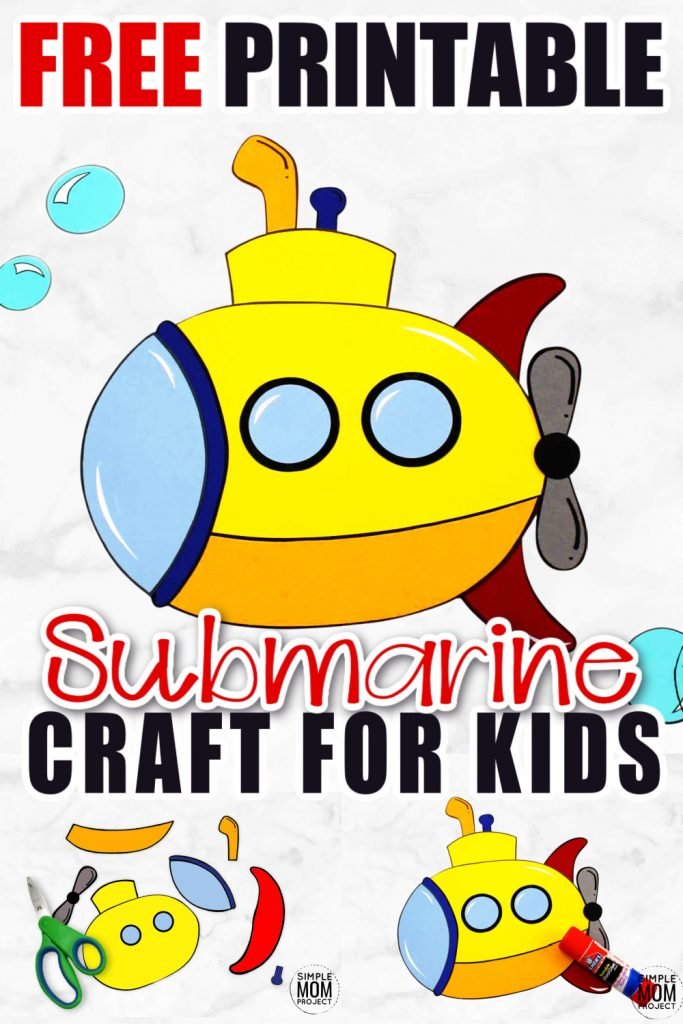 8. Easy DIY Submarine Craft for Kids with Free Template
Who doesn't love easy crafts with free templates?
It allows me and my children to do the crafts as soon as possible.
Just like this easy DIY submarine craft!
We made this craft as part of our water transportation lesson plans.
We were able to complete lots of these submarine crafts because the template is free.
Get yours today!
9. Easy Paper Plate Boat Craft for Kids
Want to breeze through summer art activities?
Make sure to include this simple paper plate boat craft in your plans and watch as your kids' imaginations sail off on a sea of fun!
Kids would be surprised to learn that they could make their own boats out of a paper plate.
Visit their website to see how easy it is to create one for yourself!
How much fun would water play on a hot summer day?
Definitely a lot of fun!
Making these fun boats out of jar lids is a fun way to teach kids about boats and how they float.
They can also play and learn at the same time!
11. Rocking Boat Craft for Kids
Are you ready to rock the boat in the most creative way?
Take a seat, then!
We'll be constructing a rocking boat craft, but please take a seat since you don't want to flip the creativity!
This is something that kids would like building because it rocks from side to side like a boat.
Read the post right away to learn how to make one with your kids!
Do you wish to seamlessly integrate playtime and learning?
Kids may learn with their senses and explore while having fun by playing with sensory bins.
Visit the website to find out what supplies you'll need to put up your own boat sensory bin.
This is a lot of fun to do on a summer day, indoors or out!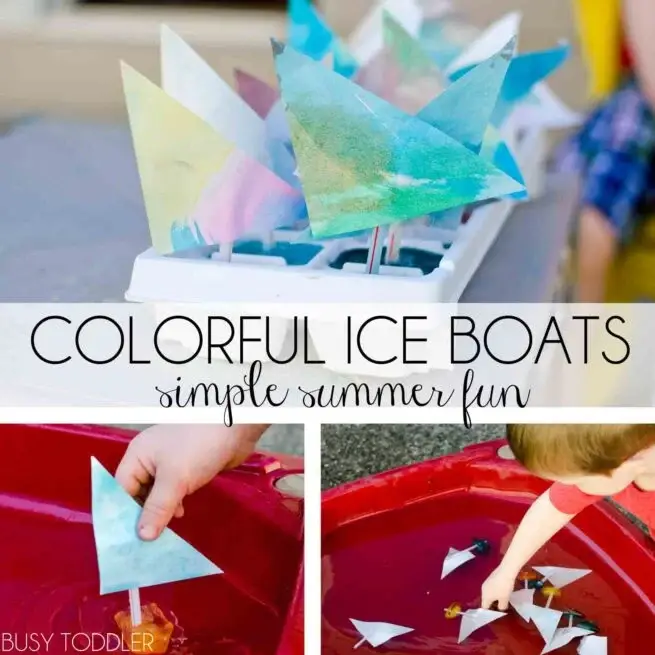 Preparing for the scorching heat this summer?
It was so much fun to make these colorful ice boats with my daughters!
They had no problem waiting for the ice cubes to freeze and then enjoyed playing with them.
You should visit the website to read the entire article since I know you'd like to do that too!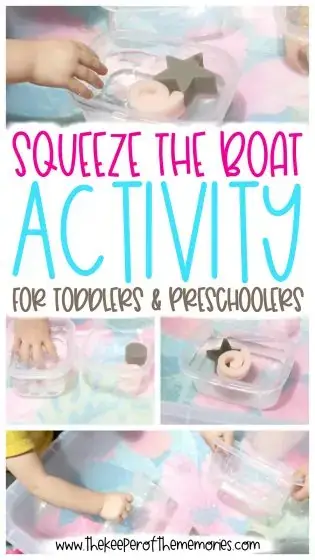 14. Squeeze the Boat Activity for Toddlers & Preschoolers
Do you wish to teach your children problem-solving skills in a fun way?
This squeeze-the-boat activity is a fantastic method to exercise both fine motor skills and creative thinking.
This would keep your kids occupied for hours this summer!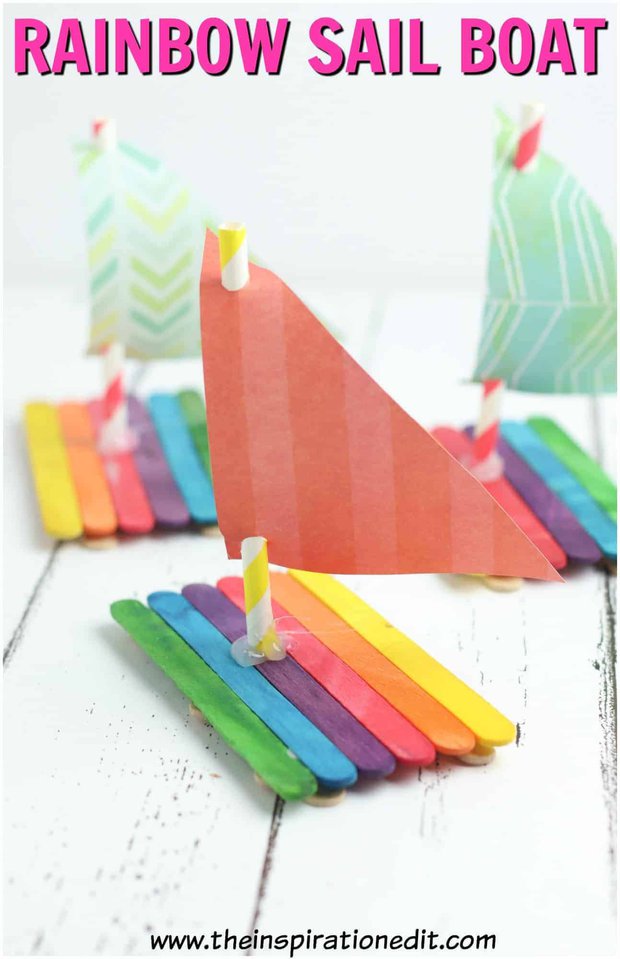 15. Preschool Boat Craft Using Popsicle Sticks
Who else agrees that popsicle sticks are the best crafting materials ever?
I made sure to hunt for popsicle stick boats, which is how I discovered this preschool boat craft for kids.
This summer, you could use these boat crafts for your boat racing games.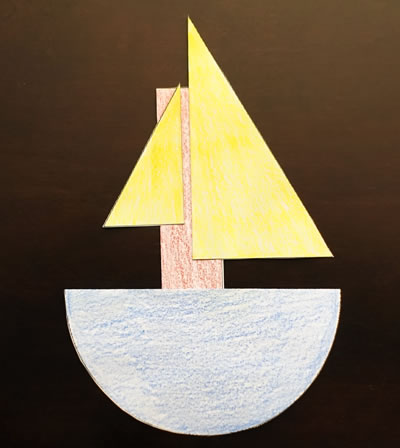 Are you teaching your kids about halves?
Then use this halves boat shapes craft to mix math and boats in your activity.
This is a perfect way to practice half shapes and colors.
Read on to find out how to get started with this halves boat shapes craft!
17. Easy Paper Boat Craft for Kids – Fun Summer Craft Idea with Template
Why look far and wide when a perfect summer activity for your kids featuring the ocean is already right here, ready to create a splash?
This easy paper boat craft has a 3D look that kids will enjoy crafting this summer.
Check it out today to make your own!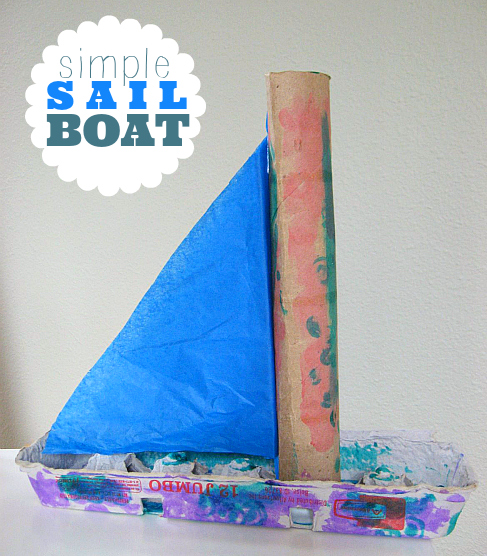 Got some paper towel rolls, egg cartons, tissue paper, and a sprinkle of imagination?
Our children may learn a lot about recycling and creating new things by making this egg carton boat craft.
Check out their website for more information on the process and more materials!
19. Floating Boat Craft for Kids
This summer, are you up for some boat racing and floating?
This floating boat craft for kids should be on your list of activities!
Prepare your craft foam, toothpicks, wine corks, and other materials now.
Visit the website right away to read the entire instructions!
Who else's little artists want their works to be as realistic as the great seas?
My girls had fun building and playing with this rocking paper plate boat.
You can create a rocking boat craft with just a few paper plates and some basic materials!
Make some for your kids today!
21. Ice Boat Racing for Toddlers
Summer activities are excellent since they don't require a lot of resources but still give a lot of fun for our children, don't they?
Just like the ice boat racing game we played during the first week of summer.
It is incredibly simple to build and loads of fun to play with the whole family!
22. Paper Plate & Coffee Filter Boat Craft
Did you know that coffee filters can be used to create a boat?
Without a doubt!
Bring out your paper plates because we're going to create a boat out of them and a coffee filter.
Check out the website for all the details on how to create it!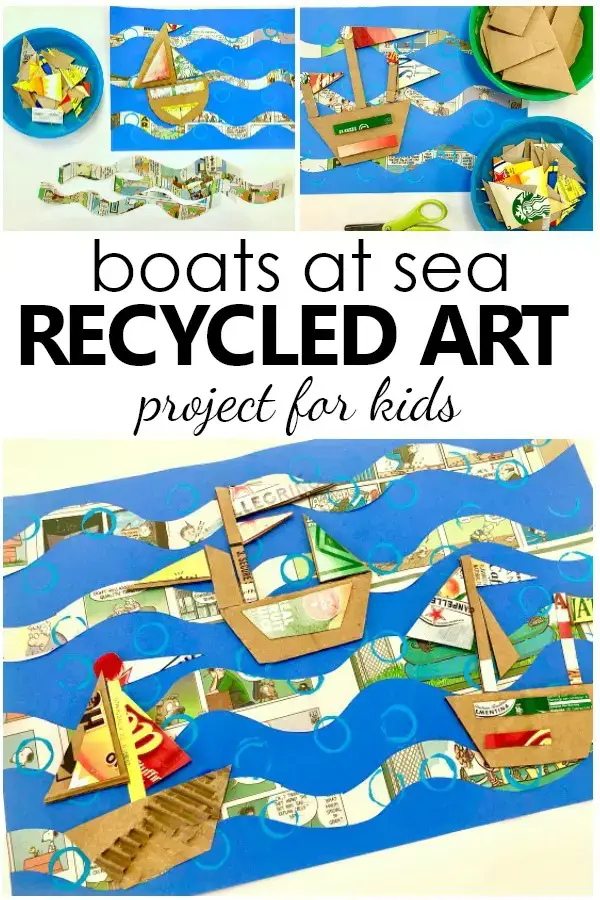 23. Recycled Art for Kids: Boats in the Sea
Who would have imagined that recycling could open up a world of creativity and adventure for our children?
Anything you have on hand that can be recycled can be used.
Read the complete article to find out more.
Do you want to watch your children add cute decorations to their crafts?
Why not try making this adorable paper plate sailboat?
You could also add stickers, glitter, and buttons to it.
It's easy to create and only requires a few simple supplies, but it's a lot of fun to decorate.
Have fun making one with your kids today after reading the post on the website!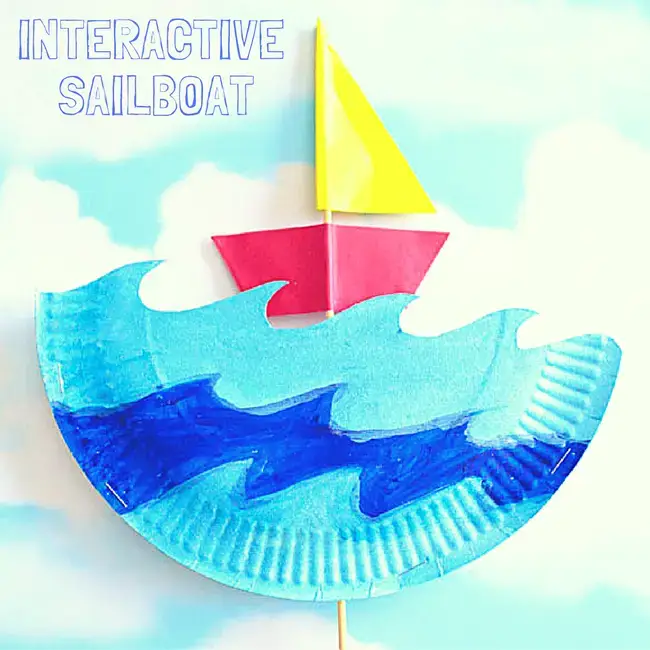 Isn't it a lifesaver for us moms when we come across a fun craft that kids of all ages can enjoy?
I had to look for an activity that would keep my kids occupied after playing.
Make and play with this interactive sailboat while singing "Row, row, row your boat" with your kids today!
26. Sponge Boat Craft DIY Toy for Kids
Isn't it a fantastic feeling when children get to play with their own creations afterward, sparking their imagination and joy?
This sponge boat craft DIY toy was a lot of fun to build with my girls.
After that, we played a racing game with our sponge boats.
Isn't it perfect for the summer?
Even for bath time games too!
Create your sponge boat crafts right now!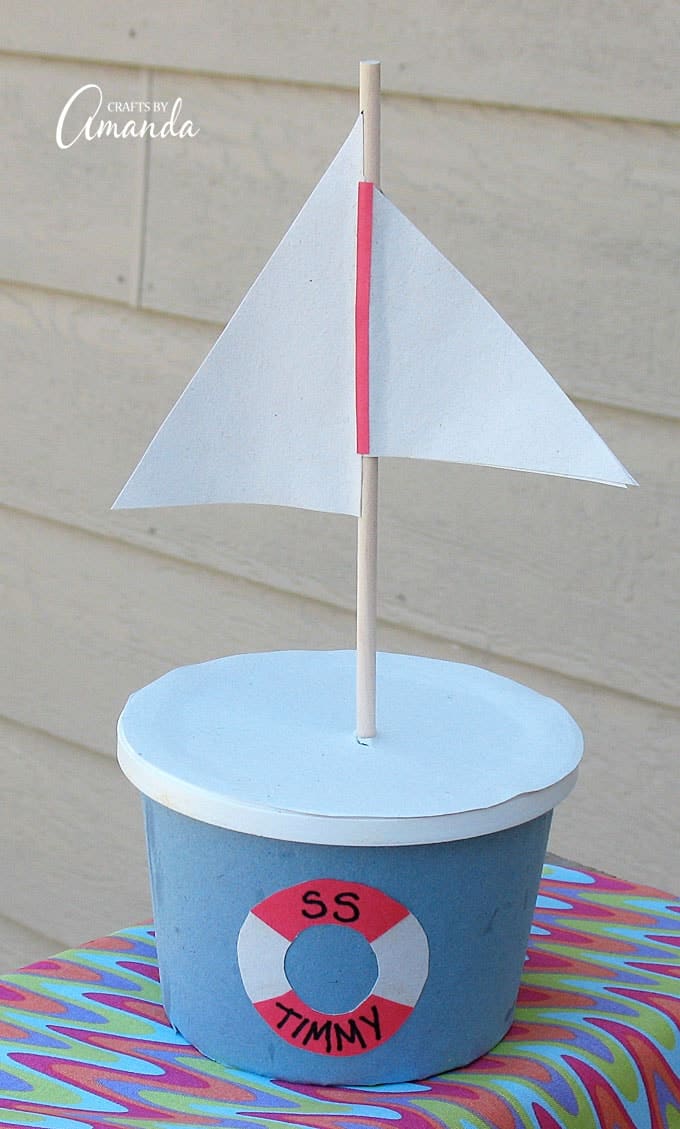 Who would have guessed that your margarine tubs could be turned into something like a boat?
This margarine tub boat is a wonderful nautical-themed decoration.
But, of course, it looks fun to play with.
Prepare your margarine tubs, then visit the website to read the entire article!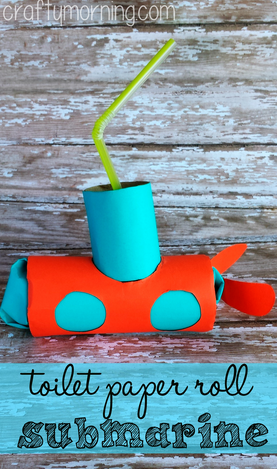 28. Toilet Paper Roll Submarine Craft for Kids
How can you not share the fun with your kids when you learn that toilet paper rolls may be transformed into the cutest submarine craft?
I had to collect every toilet roll we had at home for this craft because my children wanted to make a number of them.
Go ahead and read the article to find out how to make one; it's easy and takes only a short amount of time.
Looking for a one-of-a-kind paper plate boat craft?
One can be made with just two paper plates, yarn, construction paper, paint, and a few more materials.
Your summer decorations would look fantastic with this paper plate boat!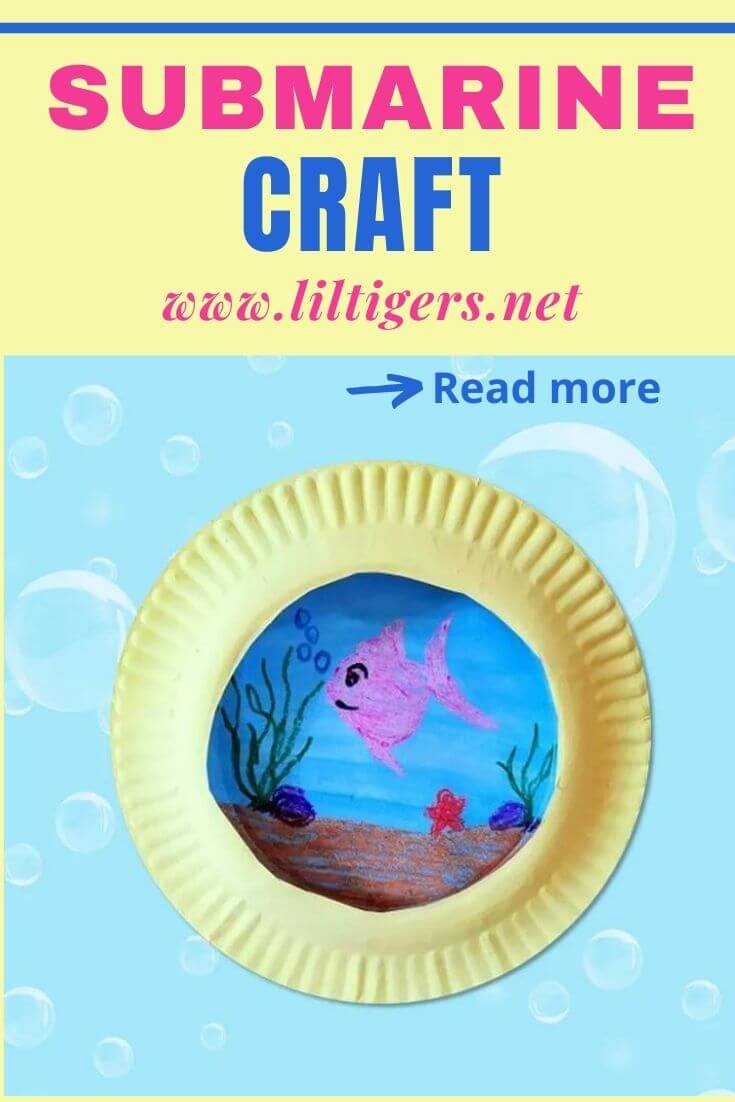 30. Yellow Paper Plate Submarine Craft – DIY Under The Sea Craft Idea
Having an under the sea adventure at home with your children?
This yellow paper plate submarine craft might be something you wish to include!
Though simple to create, it appears perfect for learning everything about the ocean.
This should be on your list of things to do, whether it is related to underwater creatures or water transportation!
31. Paper Plate Love Boat Craft
Guess what my daughters and I made for a family event?
These beautiful paper plate love boats!
These love boats were gifts we gave to family members to kick off the summer.
If you want to make one, read the entire post to learn how!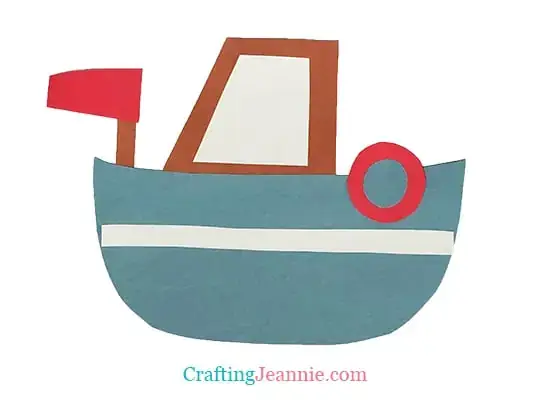 32. Paper Boat Craft (Free Template)
Thought about trying a quick and easy boat craft that comes complete with a free template?
It's ideal for toddlers who are just beginning to work on their fine motor skills through art activities.
Get yours today to create your own using the free template that comes with it!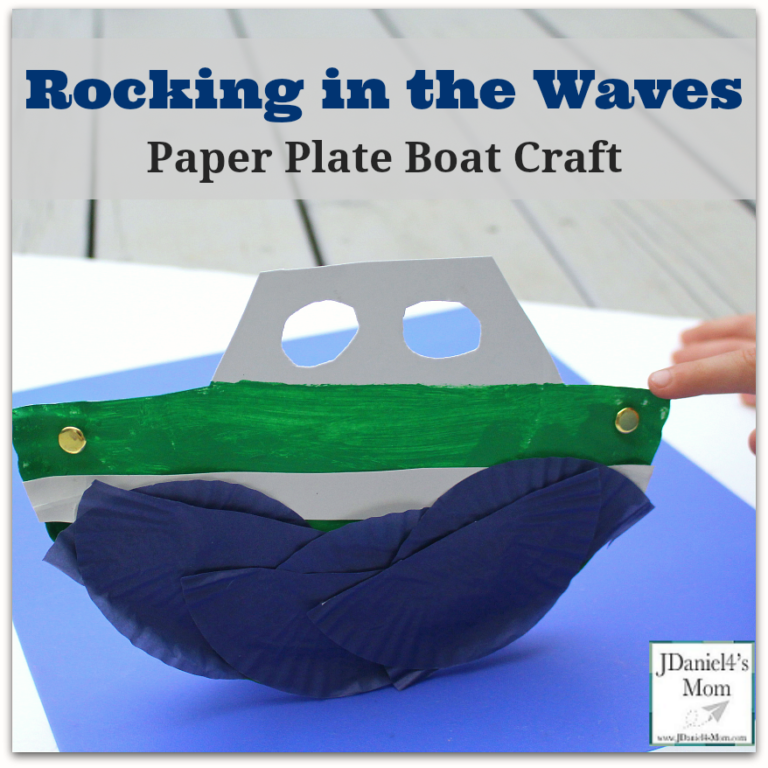 33. Boat Craft – Paper Plate Boat with Waves
Do you want to build a boat but don't have all of the necessary materials?
Try this boat craft instead, which only needs basic ingredients.
This is definitely something you could include on your list of recycled boat crafts for the summer.
Visit the website to learn how to create one right away!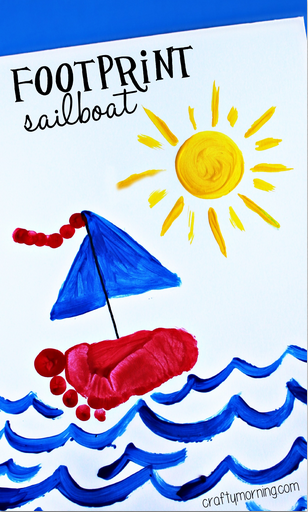 34. Footprint Sailboat Craft for Kids
How much fun would it be to build sailboats out of your own footprints?
I came across this footprint sailboat craft for kids that my daughters enjoyed completing during our water transportation activities.
Check out the whole post for the full process if you want to make one today!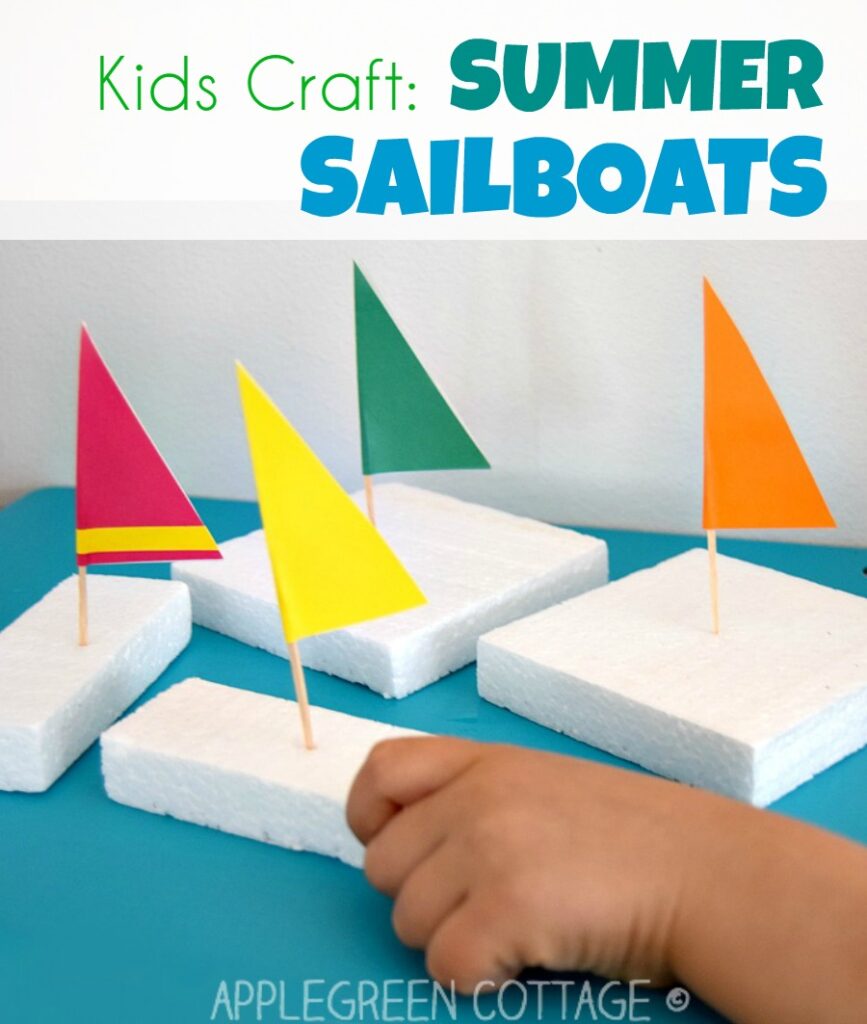 35. Sailboat Craft – Easy Kids Activities
Wondering what to do with leftover Styrofoam?
How about turning it into a simple sailboat craft for some creative fun?
This is a fun summer activity that is incredibly simple to make.
Prepare your materials and read the website's instructions.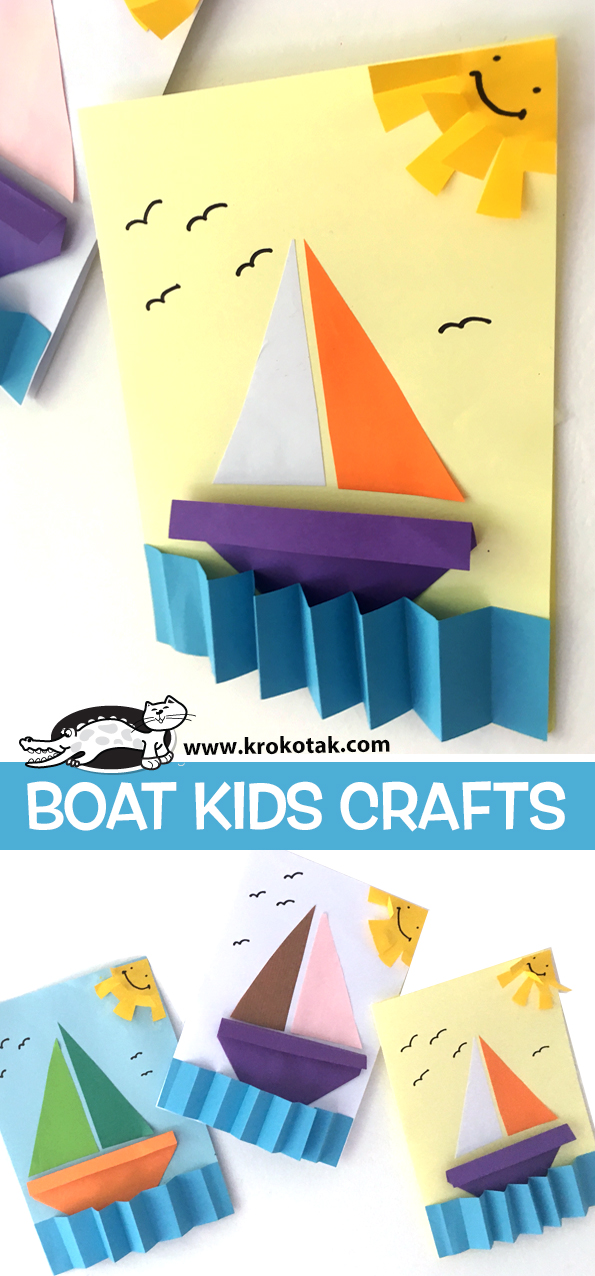 Looking for a fun boat craft for your kids this summer?
Why not cruise over to this website?
They have a fantastic boat craft that includes a video guide and will be much simpler for you and your children to complete.
List it now!
Why not go on a garden adventure and grab some twigs for a boat-building project?
This twig boat craft is a lot of fun to make with my kids, and it also looks great as a decoration.
Get as many twigs as you can so you can make a lot of these awesome twig boats!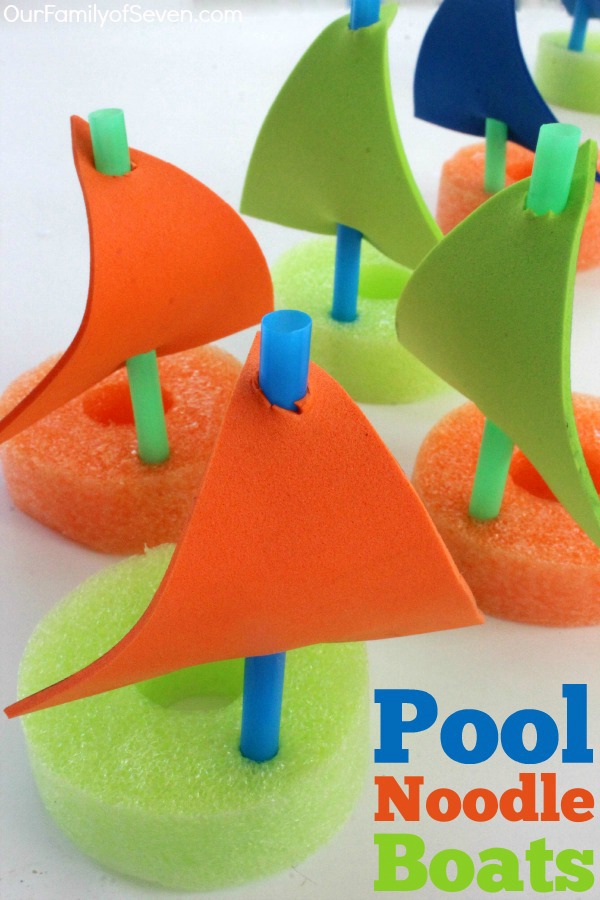 Have you ever wondered about building a boat out of the pool noodles you have at home?
It's incredibly simple to construct and a lot of fun to use!
We used these pool noodle boats for an indoor boat race one weekend.
You should make your own right away because your kids would enjoy it!
Did you know that your empty milk carton could be the secret to building an incredible boat?
My kids wanted to create this milk carton boat, so they patiently waited for their milk cartons to be empty.
This is a wonderful way to make your boats this summer!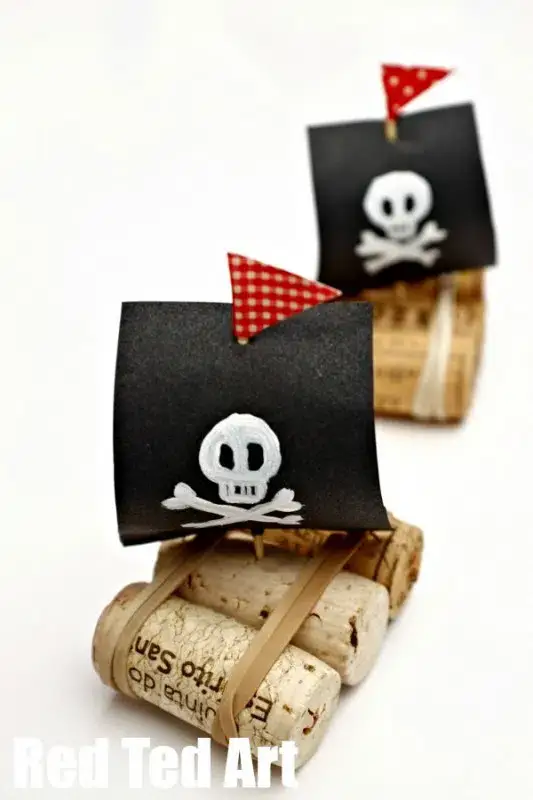 40. Easy Cork Boat Craft for Kids
Have you ever thought that making gorgeous boat crafts out of corks could be so very easy?
Include this in your décor if you're throwing a party with a pirate or nautical theme soon.
The best part is, they look very cool to play with and display around the house!
You thought you'd used up all your boat-building supplies?
Juice boxes make fantastic boat crafts, so don't toss them away!
You ought to check the website right away if you want to make one right now.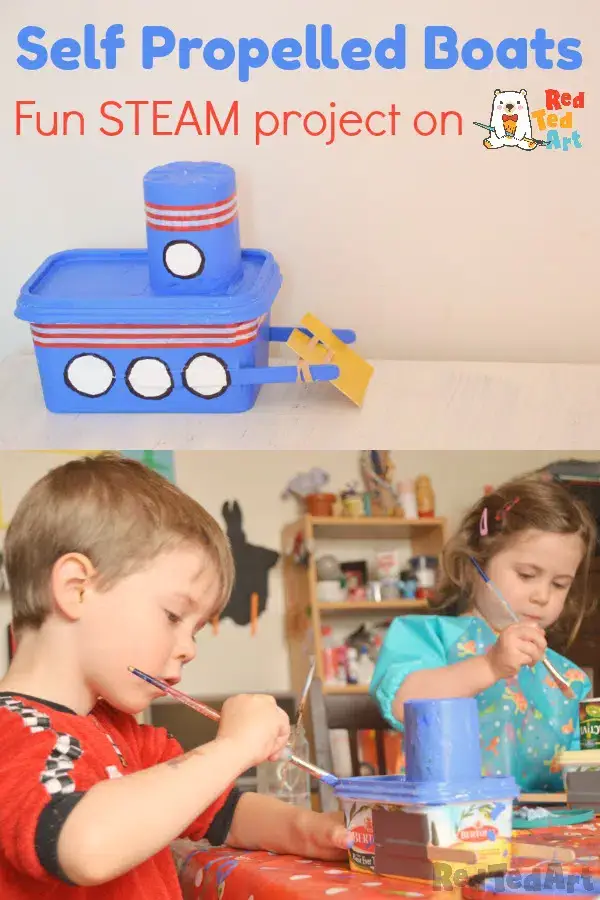 42. Homemade Self Propelled Boat
Do you want to take your boat crafts to the next level?
You could already create a boat with an empty margarine tub.
This is certain to keep the children occupied for several hours.
Make this boat craft part of your summer activities!
Who knew popsicle sticks could become your go-to crafting items for hours of fun and creativity?
They produce the best and simplest boat models.
Look at this if all you have are popsicle sticks and you want to construct a simple boat craft.
Simple and easy for a boating activity in the summer!
Once you've unlocked the secrets of constructing paper boats, is there any stopping the endless wave of creativity and fun?
We built a lot of paper boats after learning how to fold a boat out of paper from this website's post.
We used what we created for a tiny boat race in a tub of water.
What is summer without avocados?
I didn't throw away the avocado peels because they may be used to make a boat.
Isn't that incredible?
Going to the website to read the rest of the article is even better!
46. Wine Cork Sailboat Craft for Kids
Did you ever think you could make a sailboat for your kids out of wine corks, toothpicks, and scratch paper?
If you want an easy and quick boat craft this summer, this is the sailboat craft to try.
Go to the website to read the entire article!
47. Balloon Powered Sponge Boat
Want to incorporate STEAM (Science, Technology, Engineering, Arts, and Math) into your summer activities?
Why not have some educational fun by building a balloon-powered sponge boat?
This is a lot of fun to make and teaches kids a lot of STEAM skills.
Consider giving this a shot by reading the entire article now!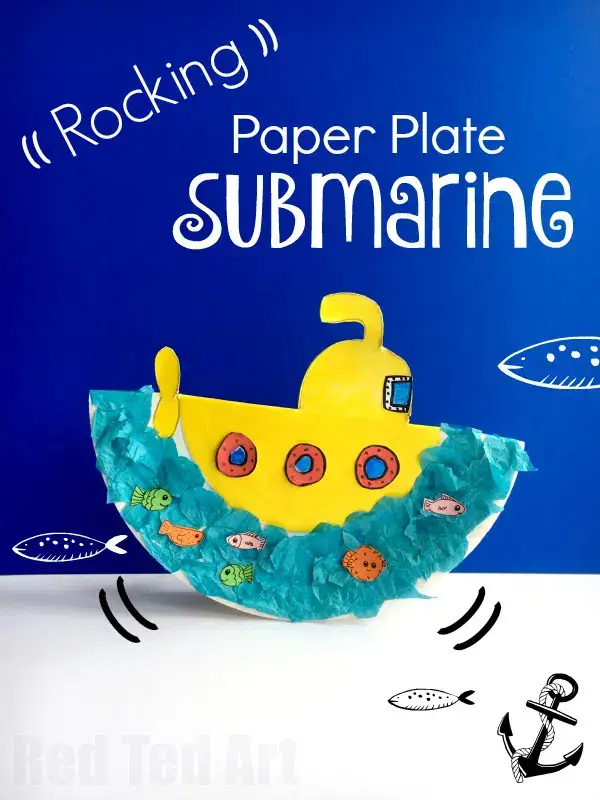 48. Rocking Paper Plate Submarine Craft for Preschoolers
Have you already sailed through countless boat crafts?
How about a rocking paper plate submarine craft to change things up?
You can create your submarines however you choose.
So, get out all your crafting supplies and check out the full instructions for making one.
Ready for a play dough adventure as exciting as a day at the beach?
Why not get your play dough out and start forming it into a submarine for an imaginative journey?
I mean, how awesome is it to build a submarine out of clay?
We came across this website and were immediately inspired to build a clay submarine.
Make one of your own!
What is your favorite color?
Because submarines can be any color you like.
My daughters were inspired to create a rainbow submarine after seeing one on this website.
This submarine requires a plastic bottle, so recycling is also a fantastic way to go about it.
Create your brightest rainbow submarines right now!
51. Build A Submarine Craft (Cut and Paste Activity for Kids)
Looking for something new to include in your water transportation worksheets?
Check out this cut-and-paste project for your kids that you might do during your water transportation lessons.
Check out the website to learn how to get your printable!
Is there a better way to make this summer absolutely unforgettable than by setting sail on boat crafts and activities?
There are countless options, from making your own boat crafts to starting from scratch by reusing various materials.
Using our free printable boat template, you may even have a pirate or nautical themed party.
Prepare your sunscreen, and make this summer one to remember!
Got your own boat crafts that are too awesome to keep to yourselves?
Snap a pic and send it to our email because your masterpieces deserve the spotlight! 
When you have finished, be sure to share your creation on Simple Mom Project's Facebook Page and follow me on Pinterest!

Kaitlen D.