Welcome back to another wonderful week of learning about these incredible modes of transportation!
As we construct new water transportation crafts, our collection of vehicles just keeps growing better.
Whether your children are fans of Mickey Mouse Steamboat Willie or you are a Titanic enthusiast, this printable steamboat craft template should be on your list!
With this printable steamboat craft template, kids will have a great time learning about steamboats.
You'd be surprised at how many topics this steamboat craft may be used in!
You can easily use this printable steamboat craft template into your science and art classes at home or at school.
We've provided two steamboat templates for your preschoolers to use individually or in groups as they build this steam engine.
The blank and colored steamboat templates make cutting and coloring fun and simple for kids.
This printable steamboat craft template is also a great place to begin teaching kids how to do a project on their own using our simple instructions.
Use this printable steamboat craft template to highlight your transportation week learning about steamboats!

*By the way, this post may contain affiliate links which means I may receive a small commission at no additional cost to you if an item is purchase through that link. For more information, click here.*
Printable Steamboat Craft

Steamboat Craft Supplies Needed
Need more crafty transportation fun ideas? Check out our Sailboat Craft, and Submarine Craft.
 T
hey are perfect for those days when staying indoors is the only thing your family can do!
Ideas for Easy Preschool Paper Steamboat Craft
It is important to keep the children involved in simple yet exciting activities while they learn.
That's why we came up with these great ideas for incorporating the steamboat craft template into your activities.
These activities are a terrific way to keep the kids occupied while you complete household duties.
These water transportation-related learning activities are sure to be a hit with preschoolers and kindergarteners.
Take note of these as you continue reading!
1. Great Steamboat Items for Kids
Do you have any plans to use this printable steamboat craft template for your lessons?
You could find these fantastic steamboat items useful for planning your activities.
These educational resources can also be used to introduce the printable steamboat craft pattern.
Or, if your children are obsessed with making crafts using steam engines, give them access to these interesting things.
Children will have the opportunity to read two excellent books on steamboats and play with toys while learning about them.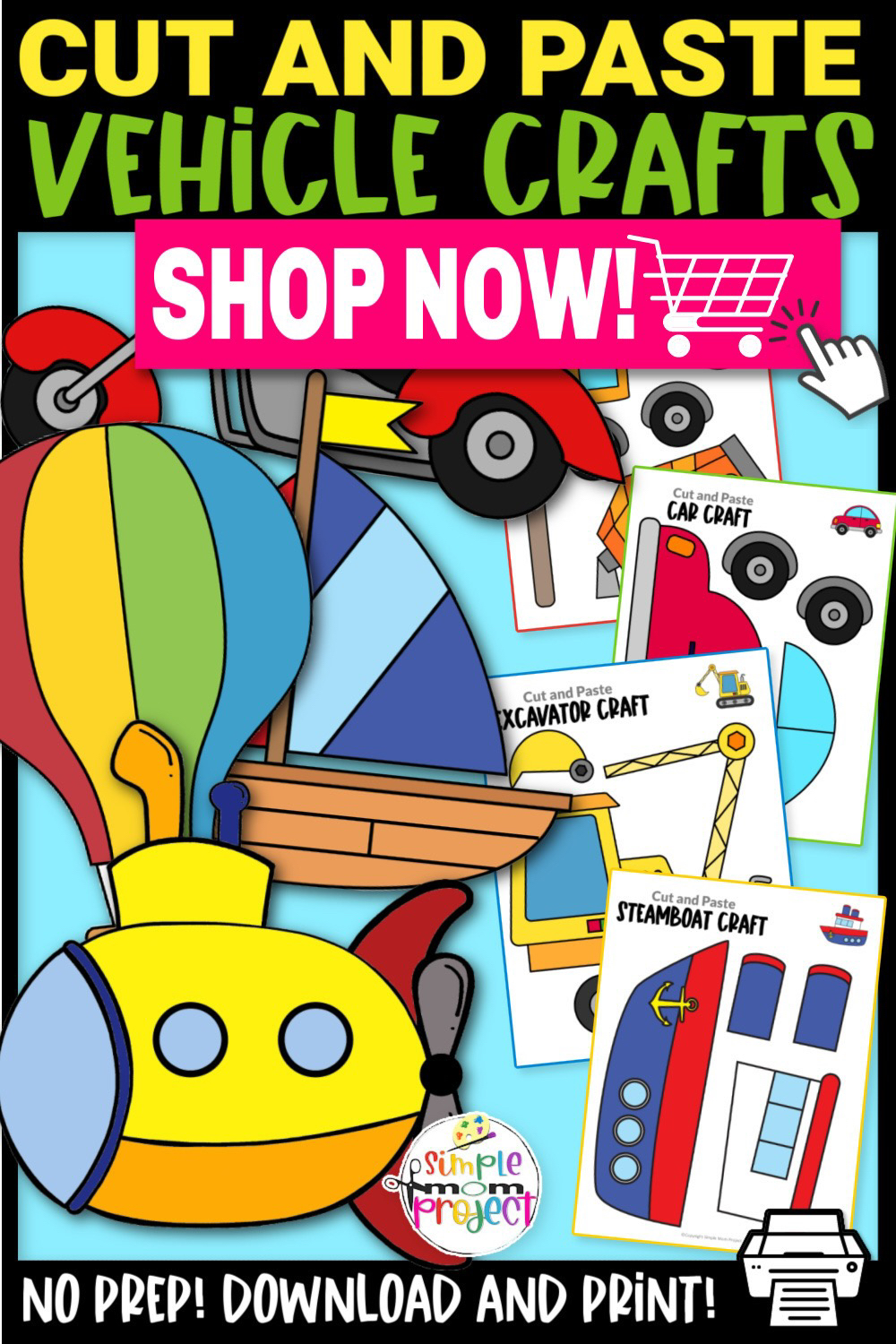 2. Popsicle Stick Sailboat
Are there a ton of papers piled up in your house?
Besides recycling them, do you have any other ideas for using them?
Use all those papers to create an interesting craft with the help of this printable steamboat craft template idea!
This paper boat origami is also a fine motor exercise for our children because they will be folding the paper into a boat with their small hands.
Bring out your papers and let's start building paper boat origamis!
Start with an A4-sized piece of paper, or any other type of paper you have on hand.
Fold the paper in half horizontally.
Then fold it once more in half.
Using the center fold as a guide, fold the corners down to form two triangles.
After that, a rectangle will appear underneath the triangle.
Fold up both sides of the rectangle.
Open the center outward until a square is formed.
One flap's corner should be tucked under the other.
Each side should be folded upward.
Open it again while placing your thumb in the center so that it forms a square.
Pulling the corners out will make it easier to press flat.
Open the sides to form a boat shape.
3. Lego Ideas
We love using Legos for play.
My children, and even I, are always engaged with Legos!
Playing with Legos is a lot of fun and is really beneficial for our kids.
It promotes hand-eye coordination, problem-solving abilities, fine motor skills, and persistence and patience.
My kids instantly recommended that we build a steamboat out of Legos once I showed them the printable steamboat craft template!
This printable steamboat craft template idea was born out of my inspiration for it.
I printed a copy of the steamboat template and used it as a reference to assemble our Lego steamboats.
You might also use this idea in your school activities or in your classroom's building blocks corner.
Give your kids the freedom to express their creativity as they assemble their steamboats from Lego or other building blocks.
4. Mickey Mouse Steamboat Willie Party
If you are a true Disney fan, you will remember Steamboat Willie!
Steamboat Willie is a hallmark in animation history.
It was during the time when Mickey Mouse appeared in a Disney film.
Include this printable steamboat craft template in your list if you're hosting a Mickey Mouse Steamboat Willie theme party to bring back memories of the Disney classics.
Make party banners, table decorations, invitations, and more with your steamboat craft templates!
As one of the party activities, you may have the kids work on the printable steamboat craft template.
Prepare for a spectacular week of steamboats with these printable steamboat craft template ideas!
We are also excited to share them with you and be a part of your child's transportation learning experience.
All of these activities are sure to make kids smile and have them excited for more in the future.

Steamboat Craft Instructions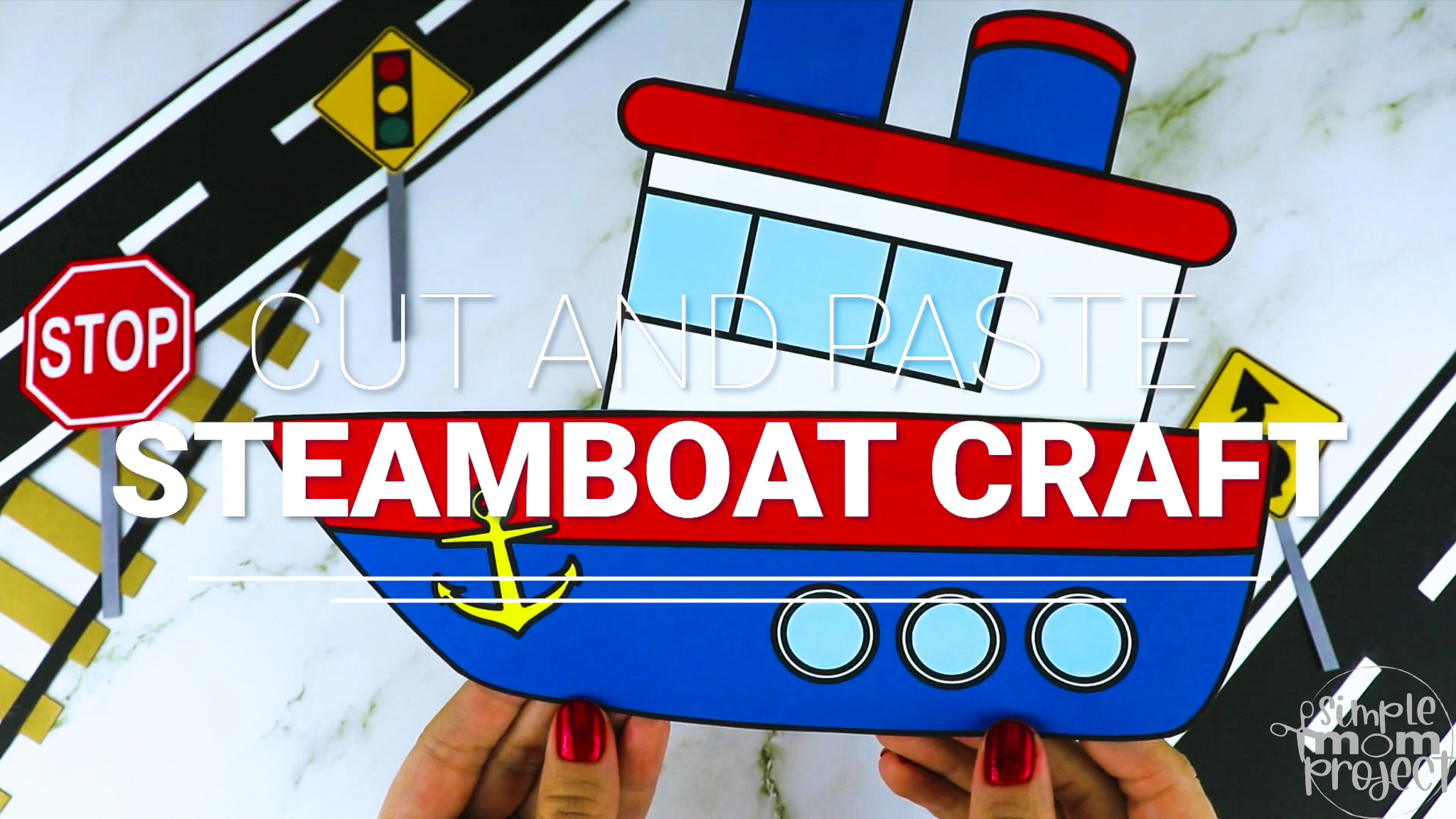 If you have everything prepared, follow these easy instructions to make your steamboat crafts.
Make your plain black and white steamboat craft template unique by using all of your decorative materials.
Help your children carefully cut out each piece of the steamboat one at a time.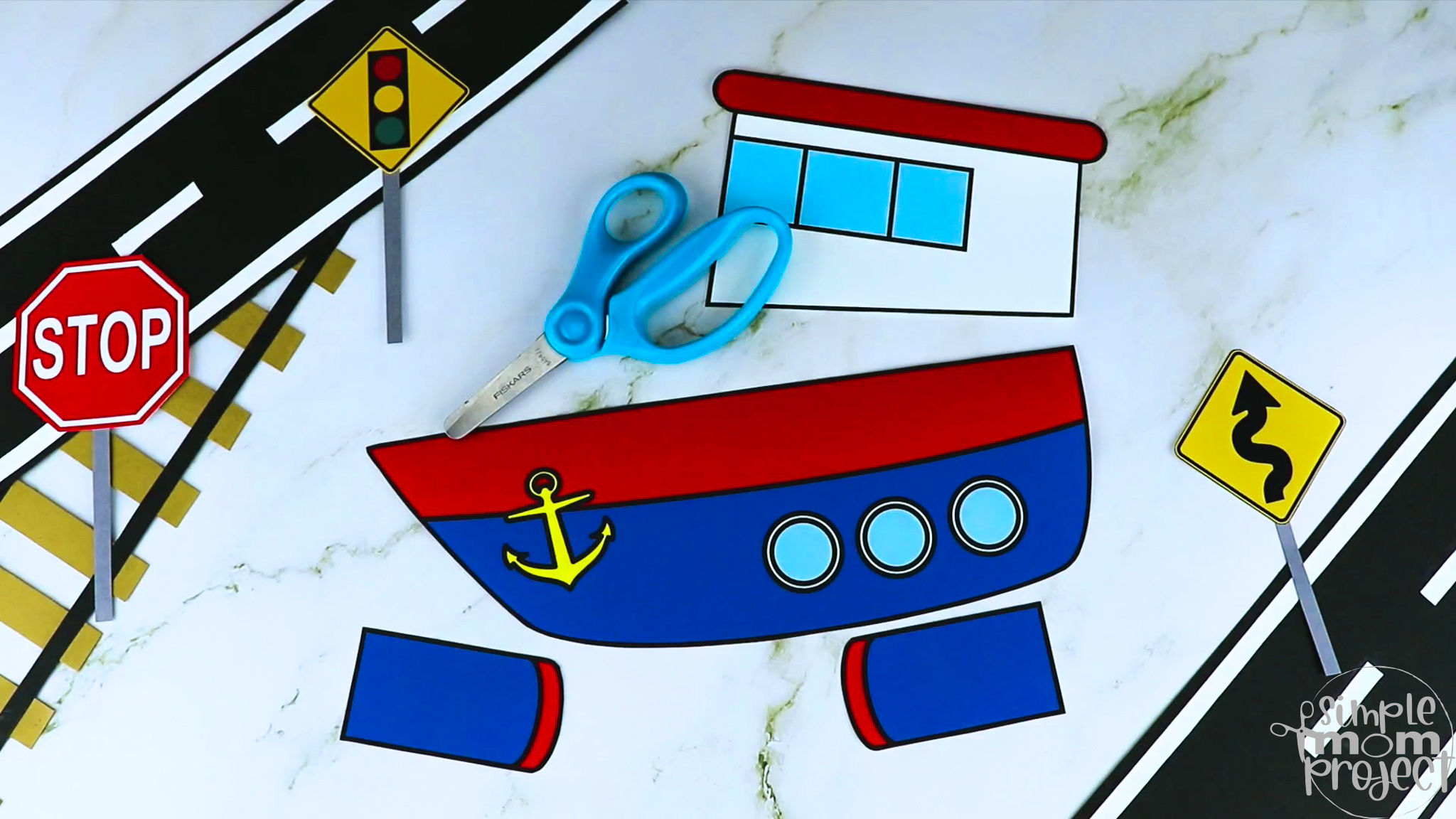 Start with placing the deck on the steamboat craft.
Then add one smokestack on top of it.
Attach the second smokestack to the upper right side of the deck to complete it.
Your steamboat vessel is now complete and set for sailing!
More Options to Choose:
You can print the blank version and trace the cut outs on card stock paper for a sturdier steamboat craft,
Print the steamboat template in color for a simple and easy rainy day craft or,
Print the blank steamboat template and use it as a fun coloring sheet activity and then glue the pieces of the steamboat craft together.
Printable Steamboat Craft
Looking forward to those little hands working on some steamboat crafts?
Print a copy of this steamboat craft printable template right away!
If your children have never been on a steamboat, working on this watercraft will give them an idea of what it is like.
This easy cut-and-paste steam engine project is ideal for enhancing creativity, following instructions, and fine motor skills.
Children will be able to choose between two sailboat templates.
If they want to build more of these steamboats, they can work on both the plain and colored templates.
With this printable steamboat craft template, you can have a great learning experience about steamboats with your preschoolers!
Share this with anybody you know who likes boats and transportation!
Need more transportation craft fun? Check out our packed list of transportation crafts for simple craft fun with your little ones.  
When you have finished, be sure to share your creation on Simple Mom Project's Facebook Page and follow me on Pinterest!

Kaitlen D
More Printable Transportation Craft Templates