What is the most effective method for teaching children an alphabet letter?
Combine it with crafts with animals!
Prepare something from what we've prepared that the kids will definitely love for your alphabet and animal-themed lesson plans.
This printable kangaroo craft template is a simple animal craft that could be used to teach the letter K as well.
Include kangaroo in your activities since it's one of the few words that accurately describes the letter K.
Kids will be eager to learn more about kangaroos as they work on this no-prep, cut-and-paste craft.
You may create a whole new set of DIY crafts with this printable jaguar craft template!
Get all your crafting materials ready, and get your copies right away!
Kids will surely jump for joy like kangaroos because learning about the letter K and an animal has never been more fun!

*By the way, this post may contain affiliate links which means I may receive a small commission at no additional cost to you if an item is purchase through that link. For more information, click here.*
Printable Kangaroo Craft

Kangaroo Craft Supplies Needed
Need more crafty fun? Check out our Letter K Craft, Koala Craft, and Deer Craft
.
 T
hey are perfect for those days when staying indoors is the only thing your family can do!
Ideas for Easy Preschool Paper Kangaroo Craft
Planning activities for the kids can take a lot of time, but don't worry because we've got you covered!
Along with creating the printable kangaroo craft template, we made sure to come up with ideas for how to make the most of it.
Check out these unique ideas that would make your lesson plans on the letter K and animals more engaging and exciting!
Feel free to include any or all of these ideas into your lesson plans this week!
1. Great Kangaroo Materials for Kids
If you're still wondering how to present the printable kangaroo craft template to your children, keep reading!
The printable kangaroo craft template is designed to be versatile, so you can present it with any kangaroo-related material.
We've compiled a list of the greatest materials for teaching the kangaroo, all of which complement the printable kangaroo craft template.
All of these learning resources have been carefully selected to be age-appropriate, fun, and, of course, reasonably priced for children.
These resources can be used in any of the activities you have planned.
It might be during circle time, reading time, or even before your kids go to bed.
Have fun learning more about the kangaroos with these materials today!
Click on the links we've provided below to check them out!

2. Easy DIY Kangaroo Crafts
There are numerous ways for kids to enjoy the printable kangaroo craft template.
We always make sure to design something for them that they can transform as they choose.
They can express their creativity using a variety of basic and affordable materials.
Kids can use a variety of materials to create fun and simple kangaroo crafts.
They might utilize the printable kangaroo craft template with a paper plate, toilet roll, paper cup, or felt paper.
If you're learning the letter K, cut out the letter K and glue the printable kangaroo craft template to it.
All of the kangaroo crafts you make can be displayed in your classrooms and learning spaces at home.
3. Hop Like a Kangaroo
Kangaroos are very cute when they hop around with their joeys.
Kids would definitely want to hop like kangaroos after using the printable craft template for one!
Allowing children to hop like kangaroos after they finish their crafts is a great gross motor exercise.
This idea might also be used as a warm-up exercise before class each day.
You can have them hop around the classroom like kangaroos while holding their finished artworks.
Children would love this activity while strengthening their balance and coordination.
The kids may also be kept active and healthy with this brilliant idea!
4. Learn the Letter K
You can use the printable kangaroo craft template to learn the letter K because kangaroo is one of the everyday words that represents it.
Ask the children what letter kangaroo starts with after showing them the printable kangaroo craft template.
If they recognize it, you can also introduce the phonic sound of the letter K.
To help children become familiar with how the letter K should sound, have them say the word kangaroo several times.
Children in preschool and kindergarten may practice writing the letter K if you are teaching them the alphabet.
We hope you and your children will incorporate these ideas into your daily activities!
We're delighted to be a part of your children's experience as they learn about kangaroos and the letter K.
These ideas will certainly add excitement and fun to your everyday routines.
If you want to make more of these simple, no-prep animal crafts, check out the rest of our animal templates!

Kangaroo Craft Instructions
With our detailed step-by-step directions below, get ready to easily complete your kangaroo crafts!
As they begin to learn using their small hand muscles, help your children cut the kangaroo pieces one at a time.
Kids can choose whether they want to use the colorful kangaroo or the blank kangaroo craft template.
Start by using glue or paste to attach the kangaroo's head to its body.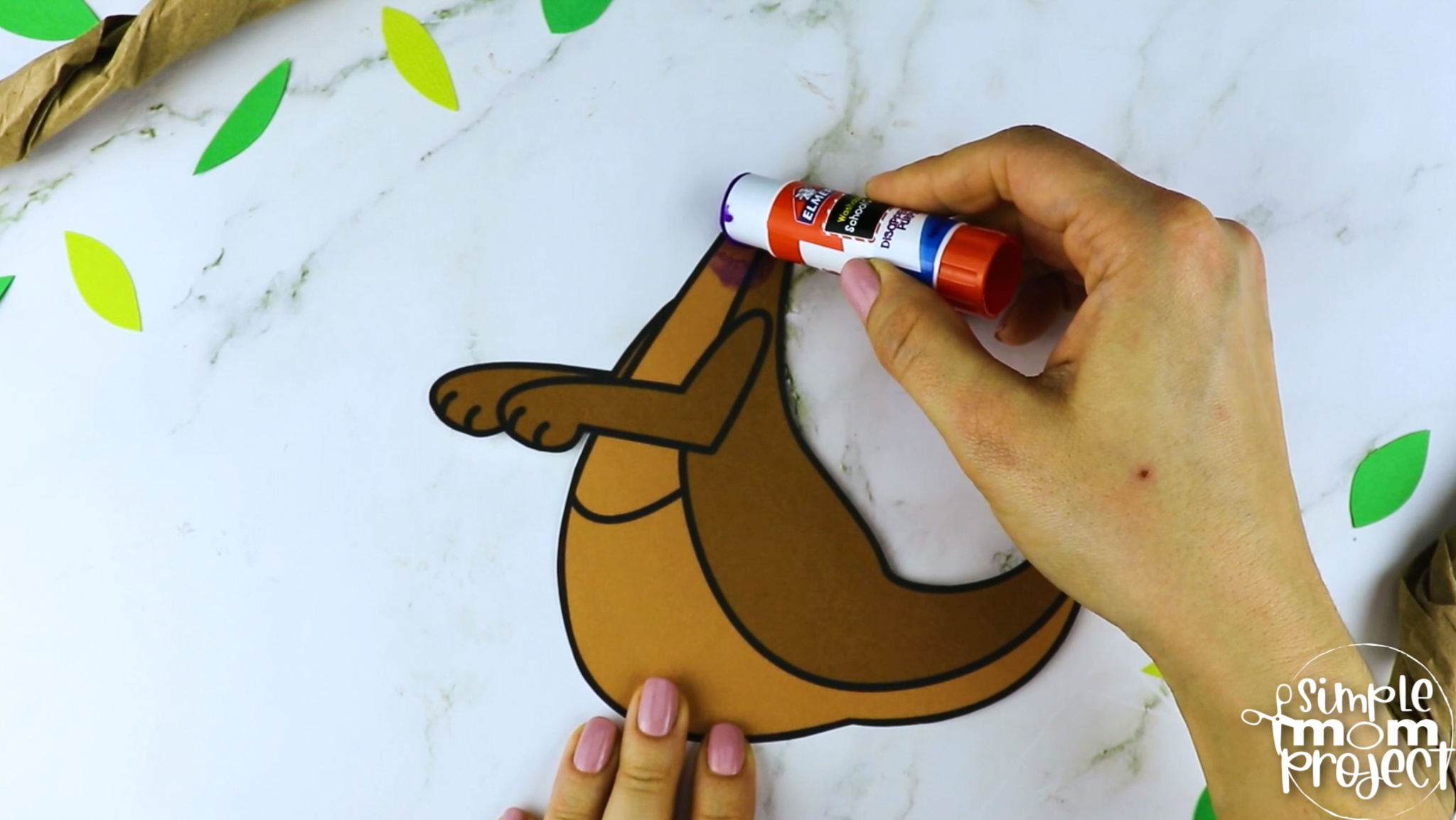 Place the cute kangaroo's head in the position shown in the figure below.
Place one of its legs on the body's side.
Then the other leg on the opposite side.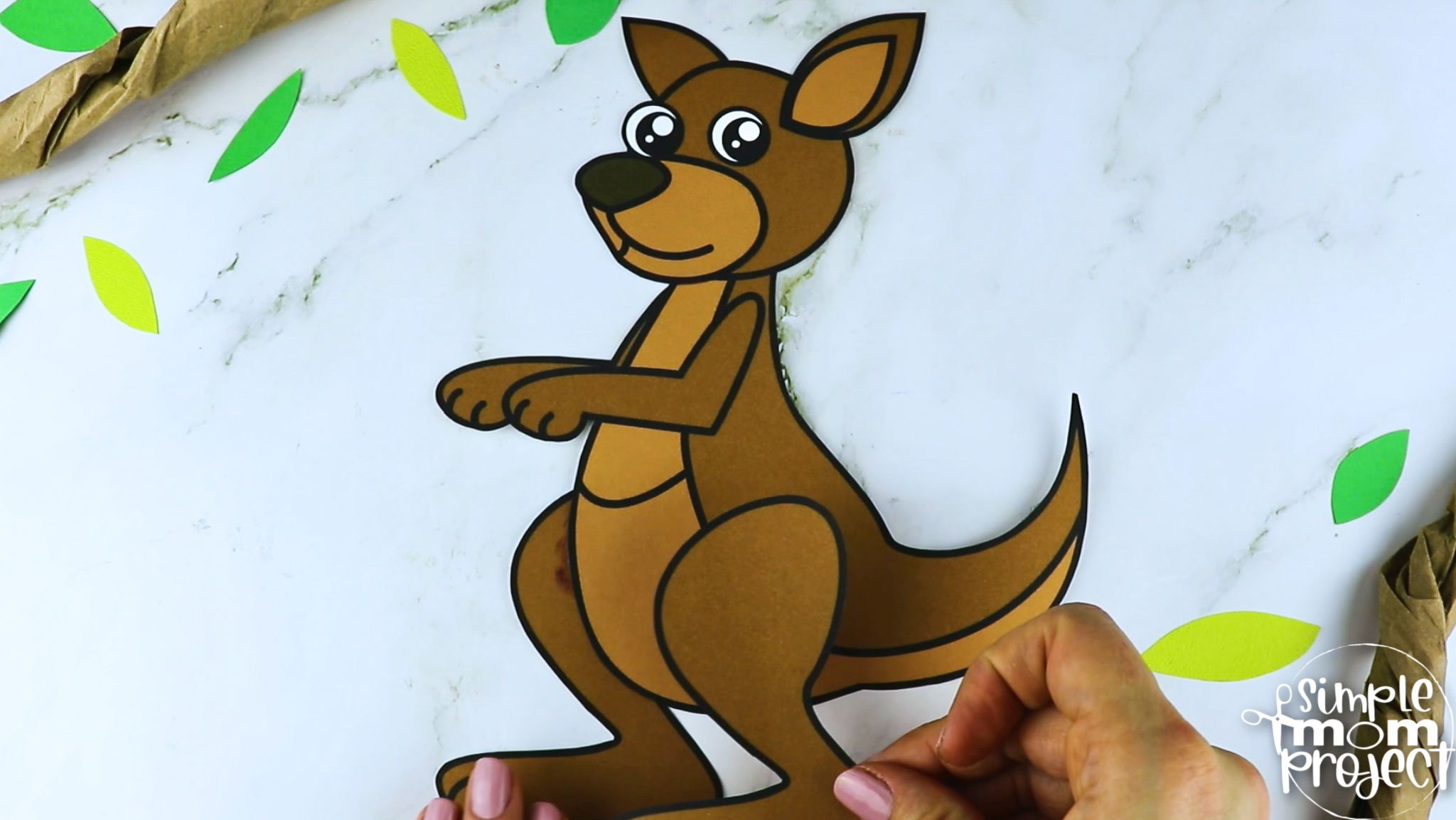 Your cute kangaroo is all ready to jump in on the fun today!
More Options to Choose:
You can print the blank version and trace the cut outs on card stock paper for a sturdier kangaroo craft,
Print the kangaroo template in color for a simple and easy rainy day craft or,
Print the blank kangaroo template and use it as a fun coloring sheet activity and then glue the pieces of the kangaroo craft together.
Printable Kangaroo Craft Template
Use the printable kangaroo craft template to learn all the fun things about kangaroos and the letter K!
Enjoy cutting and pasting the kangaroo and using it however kids like.
They will be able to improve their skills as they cut and paste the kangaroo parts.
The printable kangaroo craft template is a great way to practice creativity, hand-eye coordination, and fine motor skills.
As they make their own unique kangaroo crafts, children can develop their independence.
Enjoy making your cute and wonderful kangaroo crafts today using simple materials available around the house!
Get your copies right away and share the printable kangaroo craft template to anyone who likes kangaroos and learning the letter K!
Need more animal craft templates? Check out our packed list of animal craft templates for simple craft fun with your little ones.  
When you have finished, be sure to share your creation on Simple Mom Project's Facebook Page and follow me on Pinterest!

Kaitlen D.
More Fun Printable Animal Craft Templates