If your kids love birds, we have something fun for them to do this weekend!
Include this easy cut-and-paste toucan craft with their bird-themed art projects.
Learn more about toucans and how fascinating they are in their natural environments.
We produced two templates for the printable toucan craft, so have fun making more crafts with it.
Use any recycled materials you may have, like paper plates, construction paper, toilet paper rolls, and cardboard boxes.
Use the printable toucan craft template to help your kids express their creativity and strengthen their fine motor skills.
This weekend, have fun teaching your kids about toucans and creating crafts inspired by them!

*By the way, this post may contain affiliate links which means I may receive a small commission at no additional cost to you if an item is purchase through that link. For more information, click here.*
Printable Toucan Craft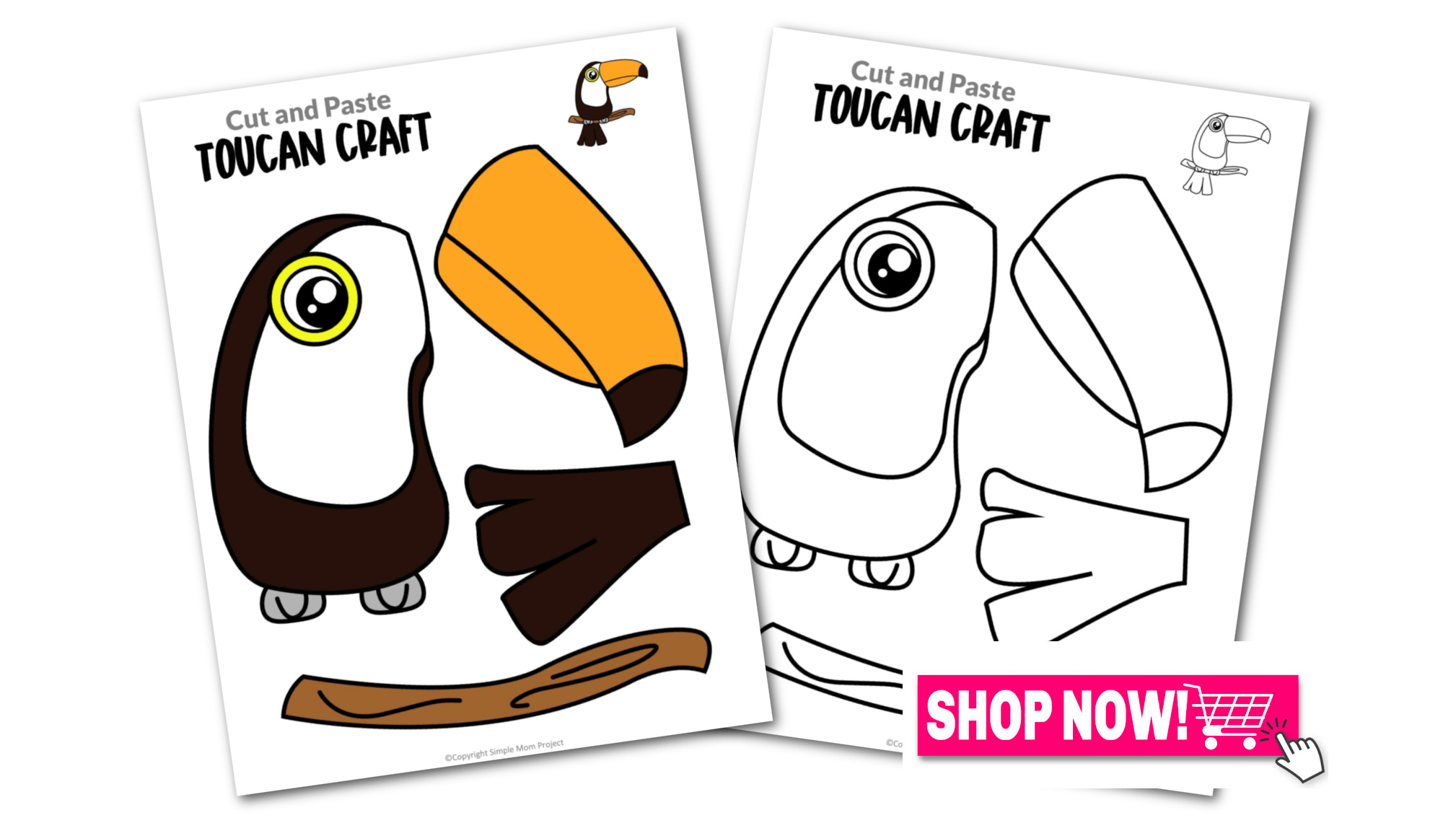 Toucan Craft Supplies Needed
Need more crafty fun? Check out our Parrot Craft, Sloth Craft, and Ultimate Bird Crafts
.
 T
hey are perfect for those days when staying indoors is the only thing your family can do!
Ideas for Easy Preschool Paper Toucan Craft
Along with the printable toucan craft template, we'd like to share these amazing ideas for incorporating it into daily routines.
All of these will surely be fun, affordable, and appropriate for children of all ages.
Check all of these before you begin organizing your lesson plans.
Please feel free to include any or all of these ideas into your everyday routine for both school and home activities.
1. Terrific Toucan Resources
This printable toucan craft template is perfect for including in your weekly planning!
Along with all of these terrific toucan resources from which children can learn a lot.
You might want to make a list of the materials you could use to show the toucan craft.
Include these resources in all of your preschool, kindergarten, and even elementary school activities.
These toucan-themed items can keep kids engaged throughout reading, circle time, and even free time.
Allowing children to read interesting toucan-related books and snuggling a toucan plush will help them learn about these birds.
Click the links below to explore all of these terrific toucan resources!
2. Everything Toucan
It is best to introduce children to these wonderful birds before they begin their toucan crafts.
Use this printable toucan craft template to add some science to your lessons this week.
If kids learned more about these birds, they'd appreciate their toucan crafts even more!
Toucans are usually found in the tropical rainforests of South America.
They peel and consume fruit with their distinctive beaks.
Some of their species eat insects, frogs, and the eggs of other birds.
Among all of their traits, their beaks are the most impressive.
Although it may appear large and heavy, it is made of protein and keratin that makes it feel light.
They are not the best flyers of all birds, so they spend the most of their time in trees.
Toucans do not fly high in the sky or migrate because they prefer to live in trees and eat their favorite fruits.
Their bills may lead some people to confuse them for woodpecker birds, but they are unrelated.
Wild cats and big birds that attack toucans are two examples of predators seen in the rainforest.
Watch a short video on toucans that you may get on the internet to show the children how they live!
After sharing these interesting details, go to work straight away on the printable toucan craft template!
3. Rainforest Animals
You can also use the printable toucan craft template if you plan to learn about different types of rainforest animals this week.
The toucan is one of many fascinating species found in the rainforest that you shouldn't miss.
This idea is great for science lessons in preschool and kindergarten when kids learn about the habitats of various animals.
You can use the printable toucan craft template as a visual aid by attaching it to a popsicle stick or cardboard.
Kids can make their own toucan crafts using the printable toucan craft templates after learning about rainforest animals.
Use the printable toucan craft template to decorate your learning spaces at home and in the classroom with a rainforest theme!
4. Easy DIY Toucan Crafts
This printable toucan craft template is more than simply a craft template because it can be used to make a variety of new crafts!
If kids are inspired to create more of these toucan crafts, they may use other materials.
They may use whatever they choose.
We always recommend that kids use recyclable items to help them learn about reusing materials.
They can create their toucan paper crafts with a paper plate, several colors of construction paper, a cardboard box, a toilet paper roll, and other materials.
They can even make a toucan handprint with paint if they'd want to.
Have fun crafting easy DIY toucan crafts with your kids this weekend!
These ideas are as much fun to do as they are to read!
How did these ideas assist you in organizing your activities focused on birds or rainforest animals?
We can't wait to see your kids put all of these ideas into practice and create stunning toucan crafts!
You may always check back for more of these easy cut-and-paste crafts for kids because we have more animal craft templates!

Toucan Craft Instructions
You won't have to worry about finishing your toucan crafts because we'll show you how!
Once all the toucan pieces have been cut, use glue to attach the toucan's body to the tree branch.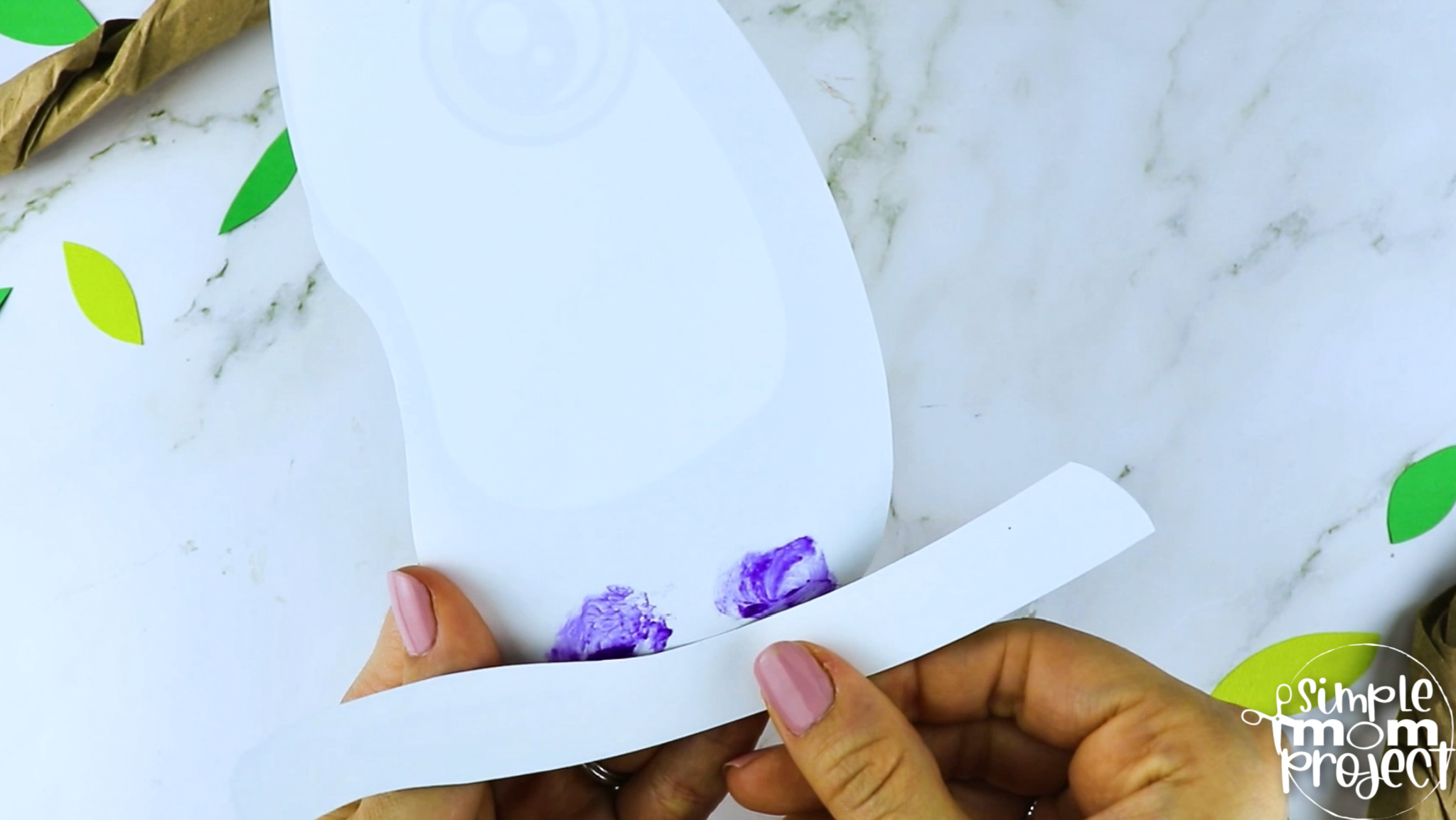 Afterward, fasten the toucan's beak as shown in the figure below.
Do not forget to add the tail feathers to complete your toucan crafts!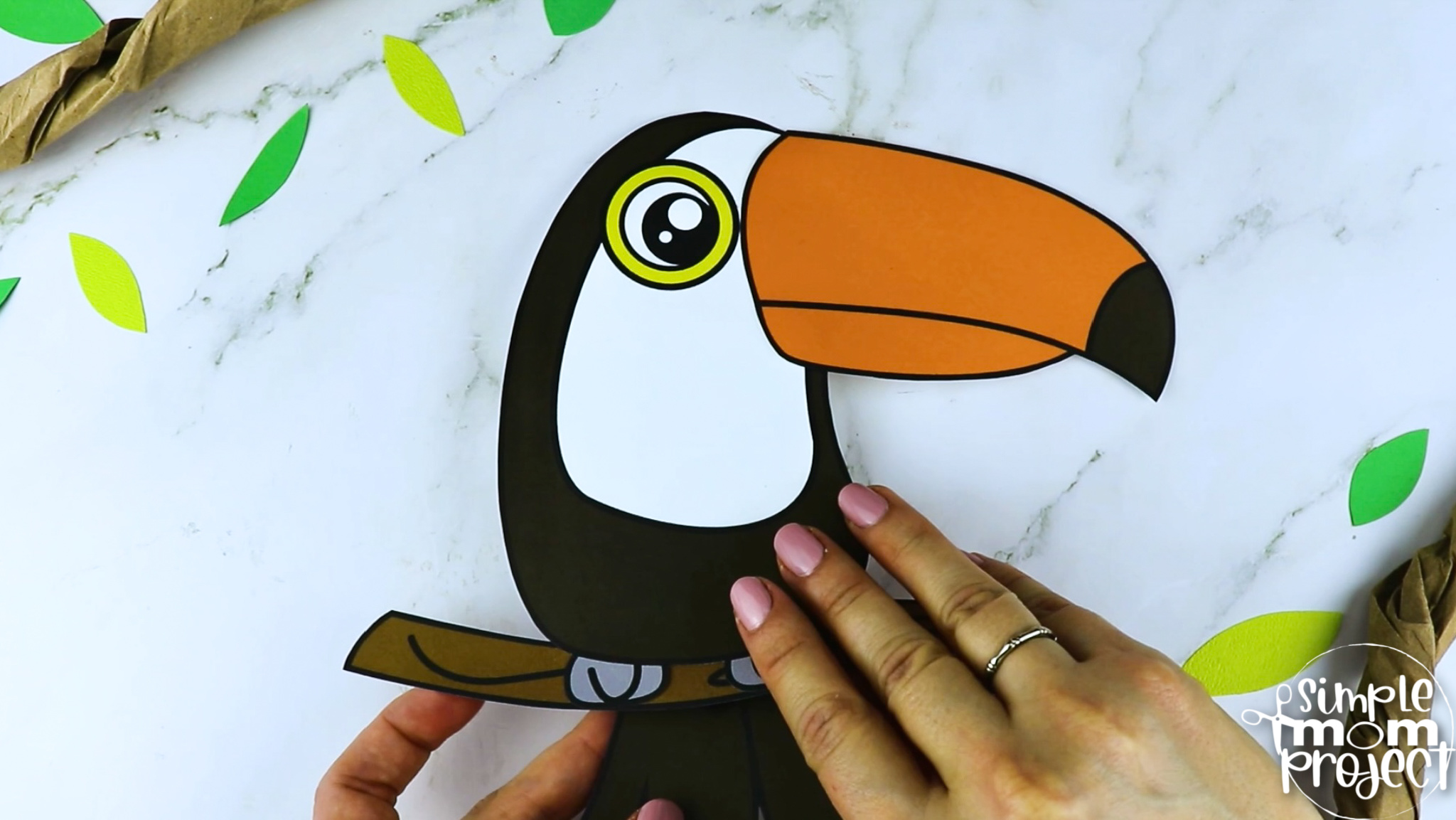 Your toucan craft is a perfect addition to your rainforest-themed rooms!
More Options to Choose:
You can print the blank version and trace the cut outs on card stock paper for a sturdier toucan craft,
Print the toucan template in color for a simple and easy rainy day craft or,
Print the blank toucan template and use it as a fun coloring sheet activity and then glue the pieces of the toucan craft together.
Printable Toucan Craft Template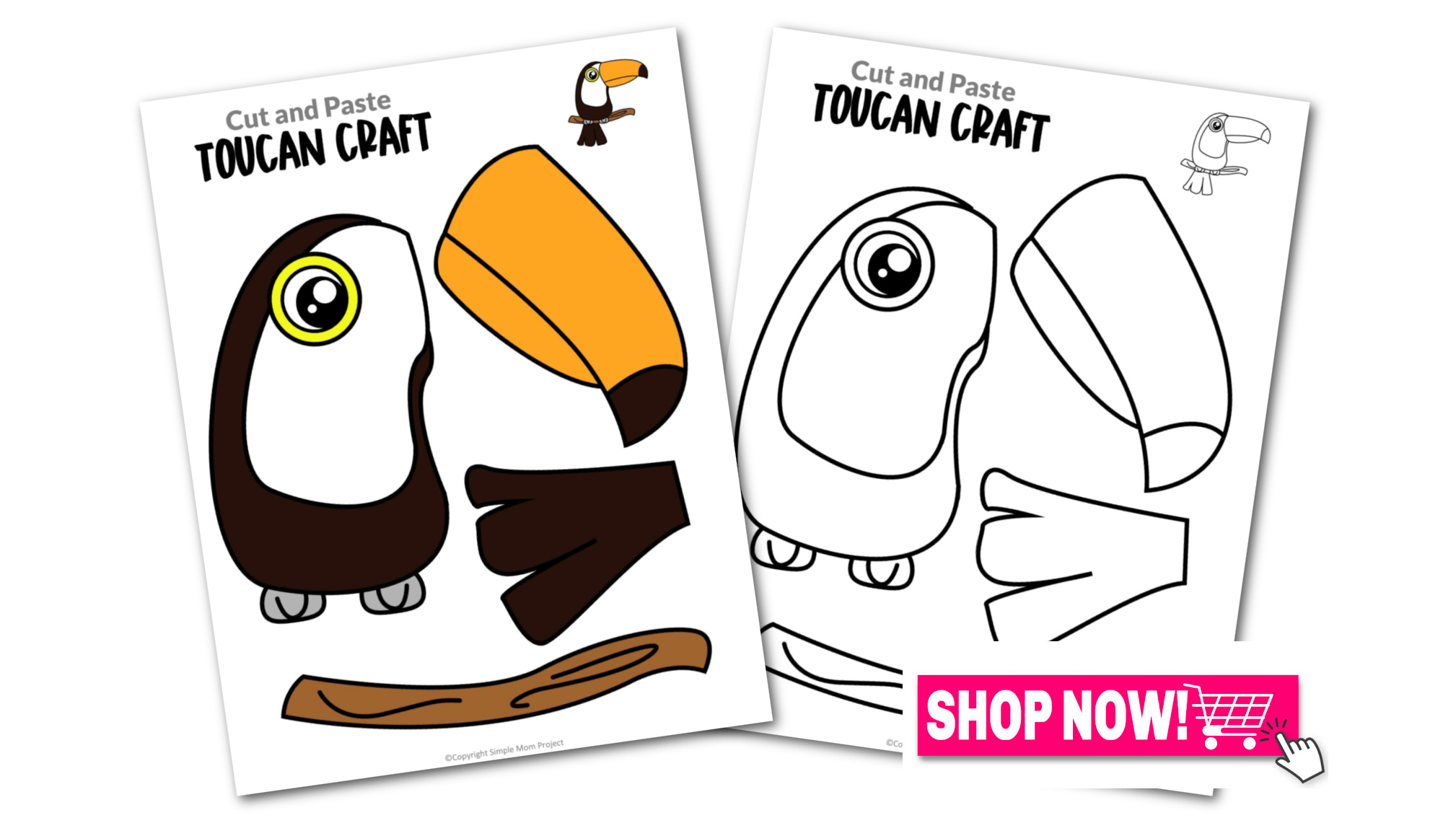 Are you excited to get started with the printable toucan craft template?
Print your copies immediately and don't wait any longer!
Children will definitely appreciate your bird-related lessons and have a blast creating their special toucan crafts.
The black and white toucan template and the colored toucan template are the two choices available.
If they selected the basic black and white template, give them the option to modify it with various coloring supplies.
Help them cut out each toucan piece one at a time if they are using the colored toucan template.
Both templates will certainly assist children in developing their fine motor abilities, hand-eye coordination, focus, and, of course, creativity!
Have fun using any materials you have on hand to make more toucan crafts.
This weekend's family time will be more memorable thanks to this printable toucan craft template!
Need more animal craft templates? Check out our packed list of animal craft templates for simple craft fun with your little ones.  
When you have finished, be sure to share your creation on Simple Mom Project's Facebook Page and follow me on Pinterest!

Kaitlen D.
More Fun Printable Animal Craft Templates