If you enjoy our free vehicle templates, you'll love this one because we're adding another one today!
We enjoy showing children various vehicles for land, water, and air.
Include this printable steamboat template in your week's lesson plans on water transportation.
This blank, black-and-white template is perfect for a simple, fun arts and crafts project at home or school.
Play around with various materials to make a steamboat of your own design or something that resembles Steamboat Willie.
This printable steamboat template can make your water transportation lessons more interesting and entertaining.
Did we also mention that it's free?
You may print as many steamboat templates as you wish to use in your activities this week!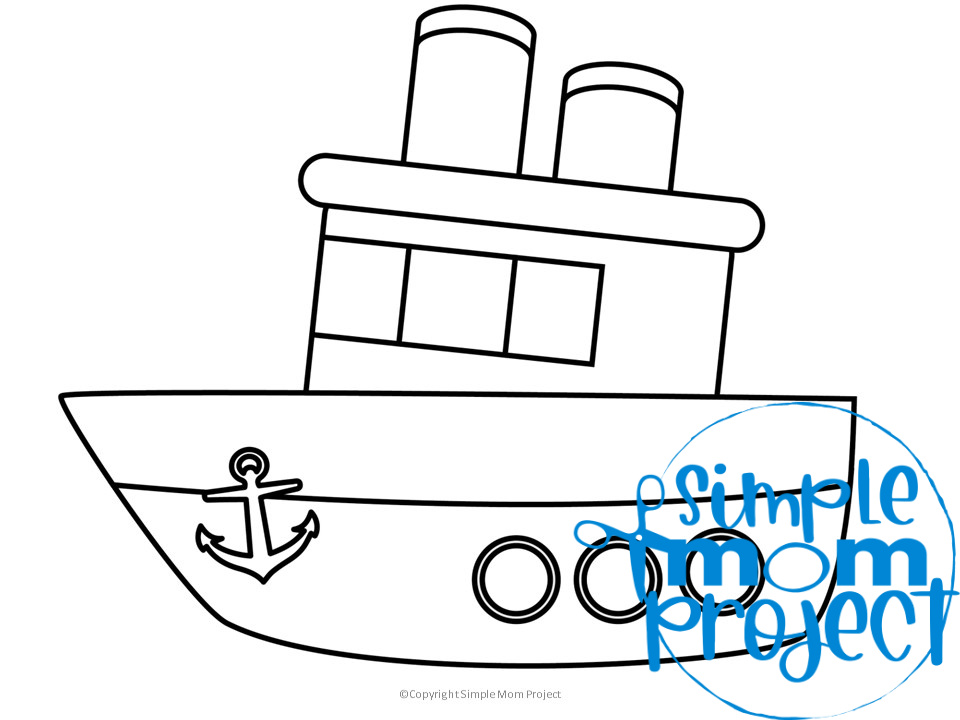 *By the way, this post may contain affiliate links which means I may receive a small commission at no additional cost to you if an item is purchase through that link. For more information, click here.*
Printable Steamboat Template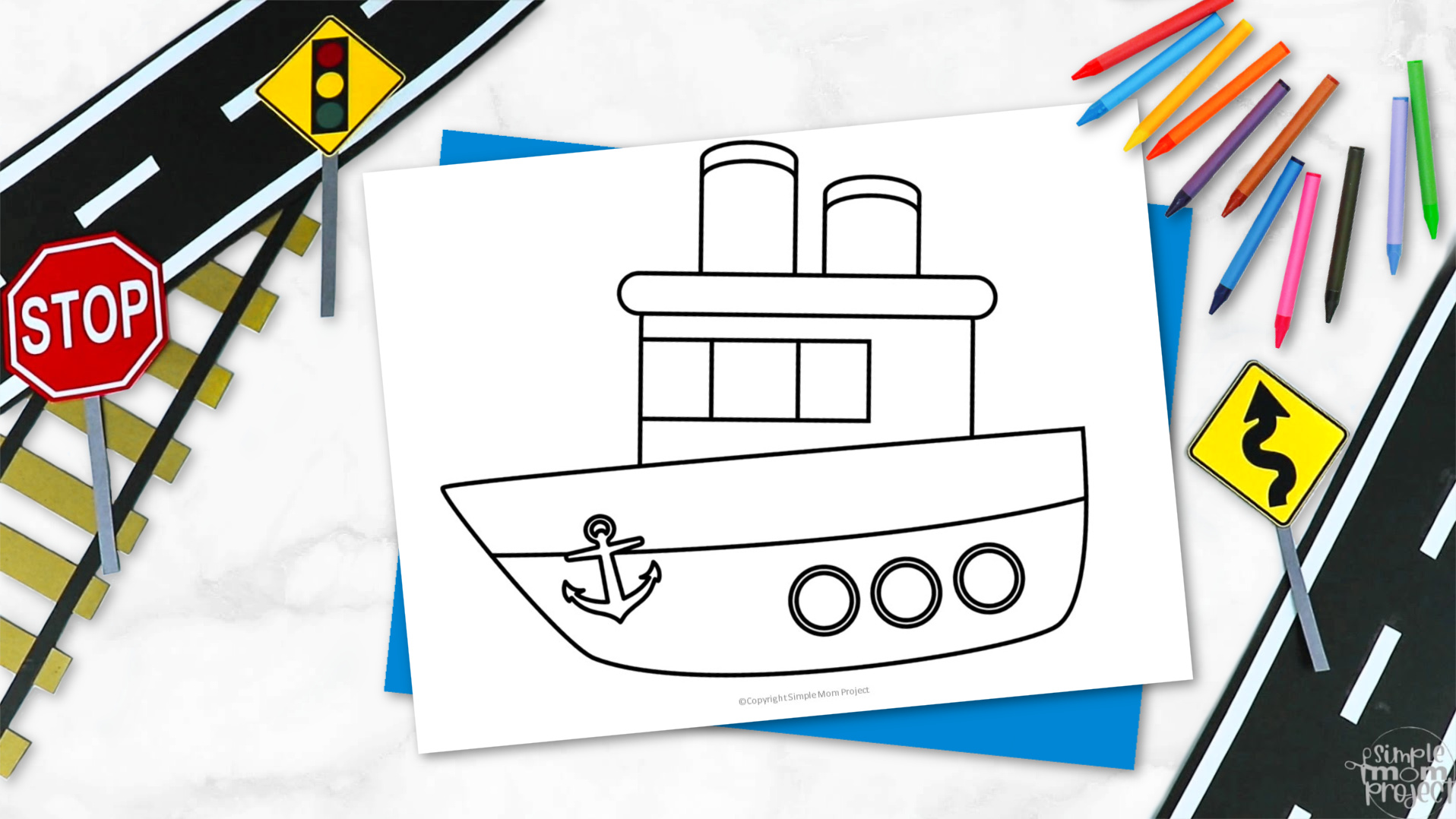 Steamboat Template Supplies Needed:
Printable Steamboat Template (FOUND AT THE BOTTOM)
Ideas for Steamboat Template
Along with making the printable steamboat template, we also gathered useful ideas for incorporating it into your daily activities.
We made certain to develop ideas that are appropriate for children of all ages, as well as exciting and simple to implement.
Check them out as you read on, and feel free to include them into this week's lesson plans!
1. Best Steamboat Learning Materials
One of the things I do before organizing my children's learning plans is develop a list of possible learning materials.
So, after creating the printable steamboat template, we made a point of looking for materials that would go well with it.
We'd be happy to share these best resources for learning about steamboats with you so you can incorporate them into your water transportation lessons.
All of these will certainly create the ideal environment for learning about these incredible steamboats.
These objects could also be used to decorate your children's study areas or classrooms.
We included an interesting book about a steamboat mystery, a Disney steamboat toy, and a ship building blocks set.
Check them out using the links provided below!
2. Steamboat Willie
If you're a Disney lover, you're definitely familiar with Steamboat Willie.
Mickey Mouse piloted a steamboat down a river in 1928.
Steamboat Willie first featured in Walt Disney's animated picture.
Steamboat Willie became a landmark in animation history at that time.
The Mickey Mouse movie included synchronized sound for the first time ever.
Amazing, isn't it? Share Steamboat Willie with your children right away!
End the day's activities with a movie once they have completed the printable steamboat template.
Enjoy watching Mickey Mouse and Steamboat Willie!
3. Nautical Theme Bulletin Board
Looking for classroom decorations for your water transportation themed week at school and at home?
Make one with the printable steamboat template!
You may easily turn it into anything you can picture because it is made as a black and white drawing.
In addition to arts and crafts, you might decorate your classrooms with a bulletin board or wall with a nautical theme.
You may cut it out and use it as decorations by printing it for free on colorful paper.
You could also assign the kids the printable steamboat template first, then use their finished creations to adorn your bulletin board or walls.
By doing this, you decorate their space and let them appreciate their own creations.
4. Paper Steamboat Craft
We'll need your stack of papers for this printable steamboat template idea, so get it ready!
Children would surely enjoy making more of these steamboats on their own.
So why not make a paper steamboat craft today.
The printable steamboat template can also be used as a guide while building your projects.
Or, kids are able to decide however they like.
Start by using a variety of leftover papers, such as newspaper or magazine pages.
Using scissors, cut the papers into the steamboat's component pieces, and glue them all together.
Allow children to accomplish things their own way to foster independence and confidence in their work.
How did these ideas fit into the week's planning?
We hope you enjoyed them as much as we did sharing them with you.
These ideas will certainly liven up your water transportation-themed lessons at home and in the classroom.
Children will surely look forward to learning more about these automobiles in the future.
Browse our collection of vehicles to find more free templates!
Printable Steamboat Template: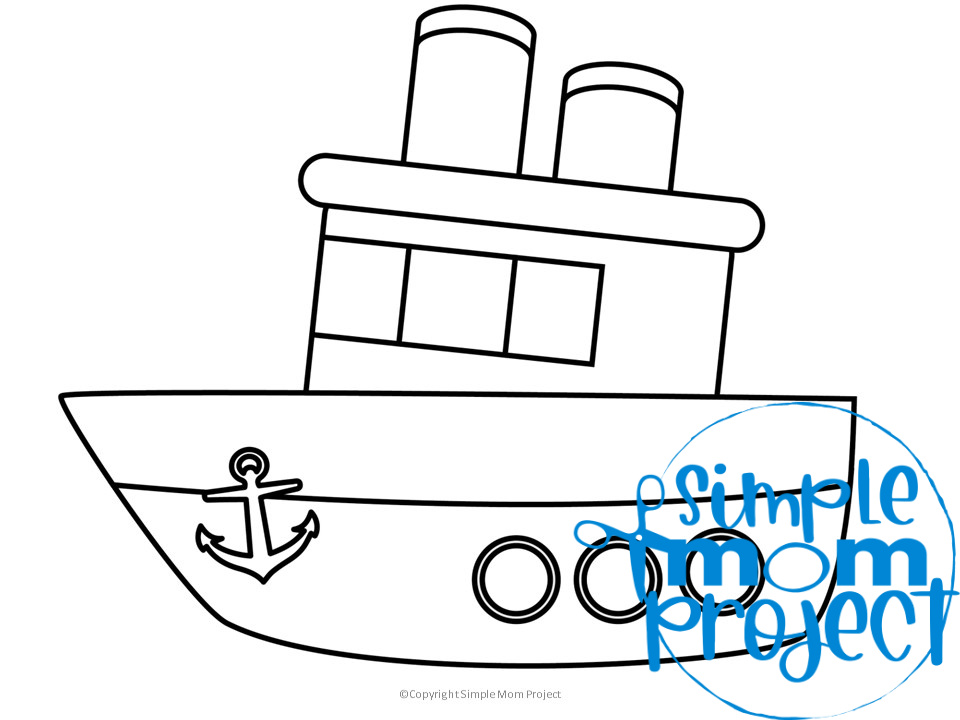 We know how excited the kids are to get their hands on the printable steamboat template!
Grab your supplies and print your copies right away.
Have fun letting your kids use their creativity to complete this black-and-white steamboat drawing.
With it, they are free to draw, color, or even cut out their own steamboats.
This no-prep steamship template should be on your list if you want to simplify your water transportation activities.
Working on it through coloring, painting, or drawing will help children strengthen their fine motor abilities.
Cutting it out gets better with concentration and hand-eye coordination.
Kids will love learning about steamboats while doing what they love with the help of this printable steamboat template!
Don't forget to leave a message in the comment section.
When you have finished, be sure to share your creation on Simple Mom Project's Facebook Page and follow me on Pinterest!

Kaitlen D.
More Free Printable Vehicle Templates