With something special we have for your kids this week, let's move on to learning about water transportation.
This printable sailboat template is perfect for little sailors and Moana fans everywhere!
Learn about sailboats while encouraging your child's enthusiasm for these amazing boats and engaging them in fun things that fit both daily routines at home and in the classroom.
This was designed in a simple black-and-white pattern so that you could use it for any upcoming activities.
It can be used for drawing, DIY paper crafts, coloring, classroom and party displays, and even as a coloring page.
With this printable sailboat template, you can learn a variety of skills and abilities!
Boost creativity, independence, hand-eye coordination, fine motor skills, and a love of sailboats.
Did we also mention that this is free?
Yes!
Therefore, you are free to print as many copies as you need for whatever purpose!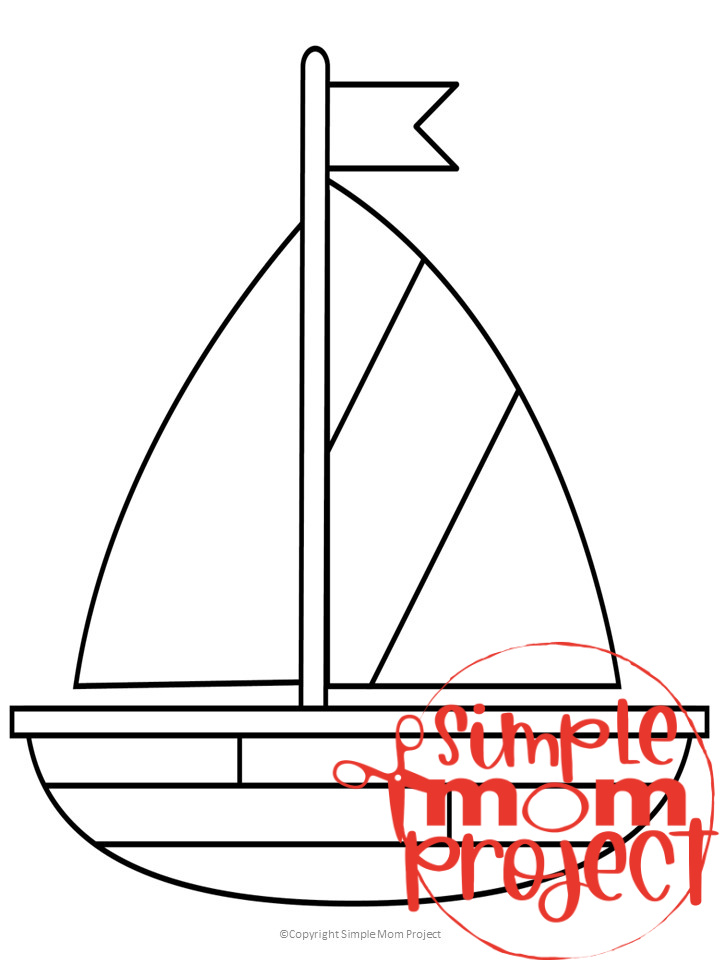 *By the way, this post may contain affiliate links which means I may receive a small commission at no additional cost to you if an item is purchase through that link. For more information, click here.*
Printable Sailboat Template
Sailboat Template Supplies Needed:
Printable Sailboat Template (FOUND AT THE BOTTOM)
Ideas for Sailboat Template
Along with the printable sailboat template, we gathered unique ideas on how you may incorporate it into your daily activities.
You won't need to worry because all of these are fun while also being easy to put into practice.
Use these freely in your plans for this week!
Enjoy making notes as you read further!
1. Simple Sailboat Learning Materials
We've got you covered if you're wondering what materials to use with this printable sailboat template!
Check out these simple sailboat learning materials we've put together for your kids.
We are confident that your children will love these resources.
Include these materials in any of your daily activities at home or at school.
You may also use them to present the printable sailboat template or after they have completed their templates.
We included two fantastic sailboat novels for children, as well as a sailboat playset for them to enjoy at the end of the day.
No need to worry because these are all inexpensive and easy to find!
Simply click on the links below to see them all!
2. DIY Paper Boat Craft
Are your kids motivated to do more projects after working on the printable sailboat template?
If so, keep reading because this idea is for them!
Bring out any paper you have on hand, including newspaper and magazine paper as well as scraps.
We'll be using them to create a paper boat craft.
This idea is also excellent for showing your kids how to transform one object into another.
They would also love this because they will be able to play with the DIY paper boat creations afterwards.
You may find basic instructions for making an origami paper boat craft that children may easily follow.
Prepare a tub of water, then have a sailboat racing game once the kids have made their own paper craft boats!
3. Water Transportation
This printable sailboat template could be the first step in learning about water transportation.
There are many fascinating and amazing watercraft that you can learn about, but you might start with sailboats.
Use this printable sailboat template as a visual aid or flashcard to explain what they are.
Include the parts of the sailboat as well as how they are constructed and used by individuals for a living.
Once the kids have a better understanding of these sailboats, you may have them work on the printable sailboat template.
Allow them to use all of their art supplies to color or embellish it however they desire.
Feel free to use this printable sailboat template idea if you're planning a water transportation week at home or at school!
4. Nautical Themed Party
Do your children have a party this weekend?
Use this printable sailboat template to plan a nautical-themed party if you have a little sailor-to-be!
Although this blank template appears simple, you can make it into anything you can think of.
This may be used into a party banner, tabletop decoration, invitation, favor-bag design, and more!
You may use it not only for a party with a nautical theme but also for a Moana-themed celebration for your kids.
You are welcome to use it for fondant cake designs, décor outlines, or whatever else you have in mind.
This printable sailboat template makes creating anything so simple!
Simply print, cut out, and use as desired!
We hope you enjoyed yourself as much as we did sharing all these ideas with you and your children.
They will love these ideas because they are fun and simple to implement no matter where you are.
Children would be inspired to learn more about water transportation after learning about these amazing sailboats.
So, keep coming back because we'll be adding more free vehicle templates soon!
Printable Sailboat Template: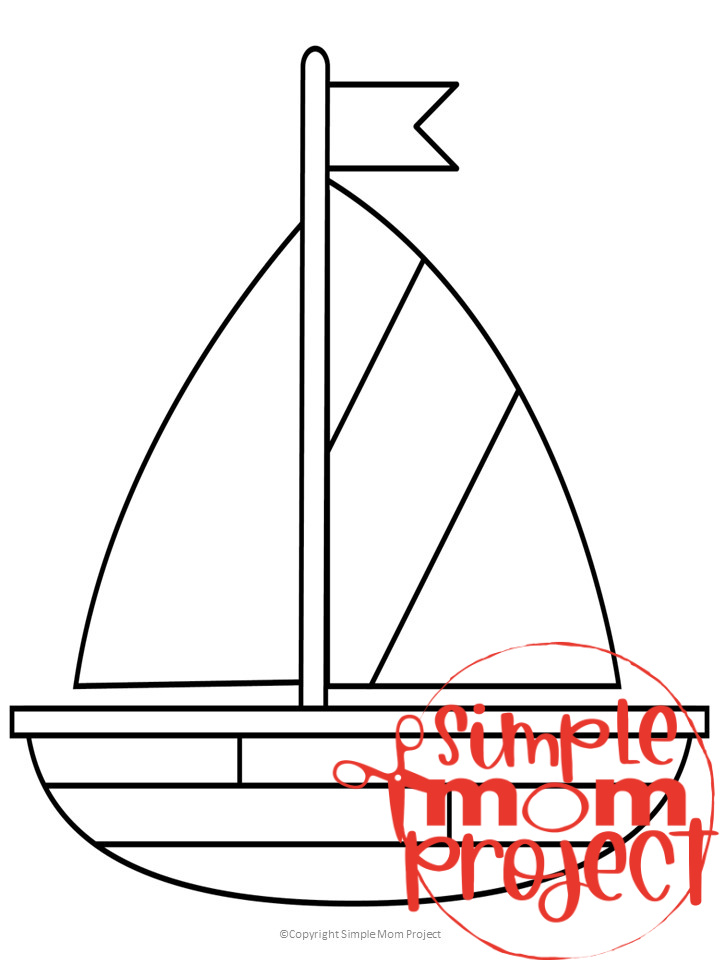 This printable sailboat template will help you get ready to sail this week!
Enjoy learning about sailboats and water transportation by printing your copies as soon as possible.
It is a basic black and white template that you can use for a range of educational tasks.
It's free and incredibly simple to print, so you can make as many copies as you'd like!
The more copies you print, the more kids will appreciate it and learn a lot.
Working with this printable sailboat template can enhance one's fine motor skills, hand-eye coordination, artistic abilities, and understanding of water transportation.
Feel free to incorporate this into your activities this week and have a great time learning about sailboats!
Don't forget to leave a message in the comment section.
When you have finished, be sure to share your creation on Simple Mom Project's Facebook Page and follow me on Pinterest!

Kaitlen D.
More Free Printable Vehicle Templates