Today I'm sharing a fun preschool sailboat craft for kids. You'll enjoy hours of fun making this adorable summer transportation craft for kids. Using a few supplies and a big imagination you'll create a gorgeous sailboat craft for kids.
The paper water at the bottom of your kids' sailboat craft ripples to make it appear as if the water is moving on the page. This 3D toddler sailboat craft will give you something to hang in the home as part of your beach theme décor plans.
Keep scrolling to find several ideas you and your kids can do with your new simple sailboat craft!
*By the way, this post may contain affiliate links which means I may receive a small commission at no additional cost to you if an item is purchase through that link. For more information, click here.*
Easy Sailboat Paper Craft for Kids
How to use Preschool Sailboat Craft for Kids
1. Recycled Artwork
Second, you can use this preschool sailboat craft for kids as a way to use recycled paper. Take a look in your craft supply closet for scraps of paper and your paper recycle bin for colorful flyers or other paper to use.
This can help you transform unusable paper into recycled artwork such as this beautiful sailboat craft to keep more items out of the landfill.
This sailboat craft doesn't have to be fancy, just has to be fun!
2. Boat Safety Education
Perhaps your family enjoys going out on a boat during summer break. You can use this sailboat craft for kids as a way to open the conversation about boat safety education.
While your kids are busy completing this construction paper craft you can discuss the many safety tips that they must follow when out on a boat with their family during your summer vacation.
3. Craft Day for Kids
Lastly, you can use this sailboat craft as part of your activities to host a craft day for kids. Summer break is full of lax days where kids just want to have fun and run around.
You can use my preschool sailboat craft for kids as a way to encourage a love of arts and crafts. This activity can be combined with other beach-themed activities to occupy your toddlers while you clean the house or get other chores done.
Grab the short list of supplies and lets get on board!
Sailboat Craft Materials Needed:
How to Make this Sailboat Craft
This preschool craft for kids includes an adorable sailboat template to make this sailboat craft easier for toddlers to complete. Simply follow my instructions below to make this construction paper craft for kids. 
Cut one long strip of white paper, one long strip of light blue and two long strips of dark blue.
Starting at the edge of your blue cardstock paper, use the dark blue strip you just cut and glue about 2 inches, buckling your strip to give it a wavy appearance.
You will continue to do this for each of the strips of paper, alternating the places you've glue. The pattern will be dark blue, light blue and then white.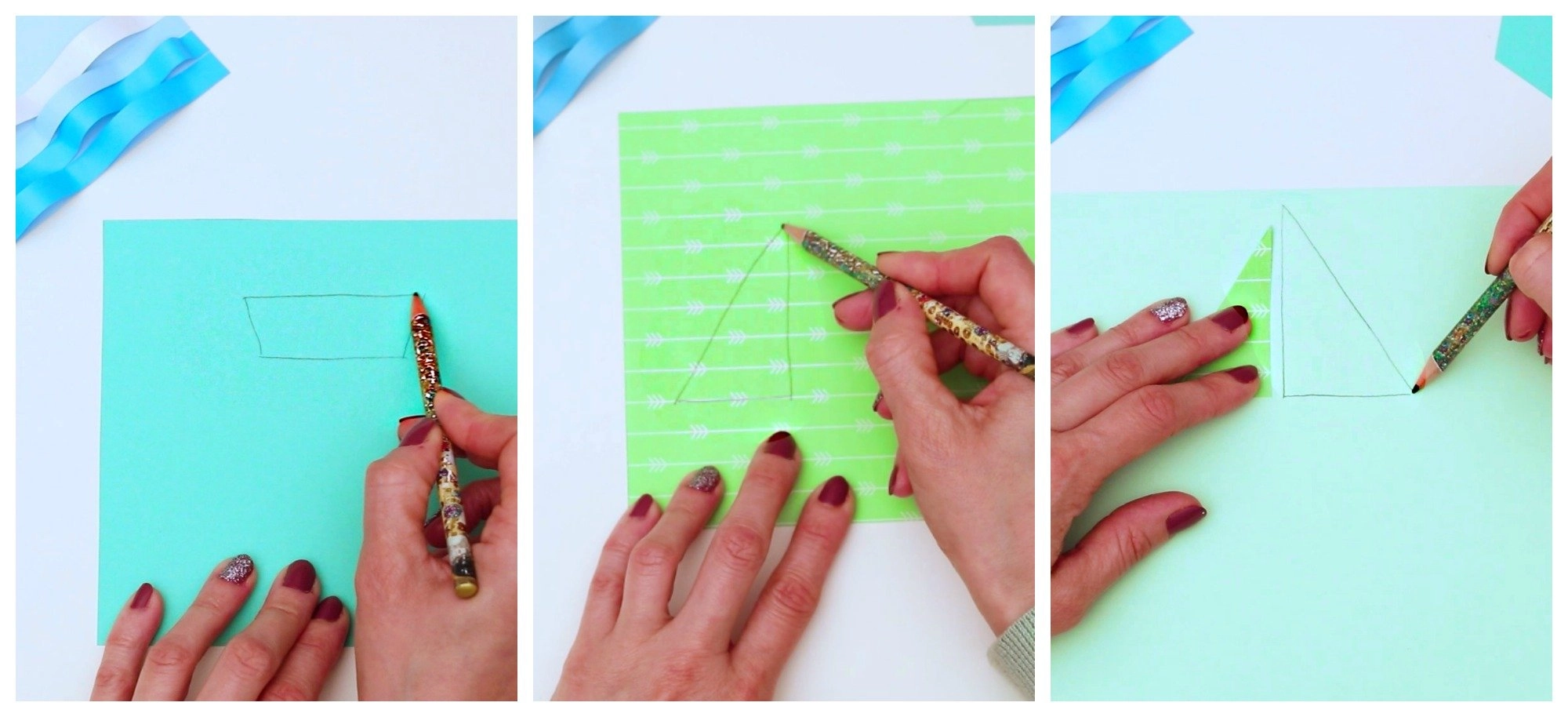 You can free hand the next step or use the template below. If you use the template below, cut out the shapes first and use these to trace out your sailboat's shapes.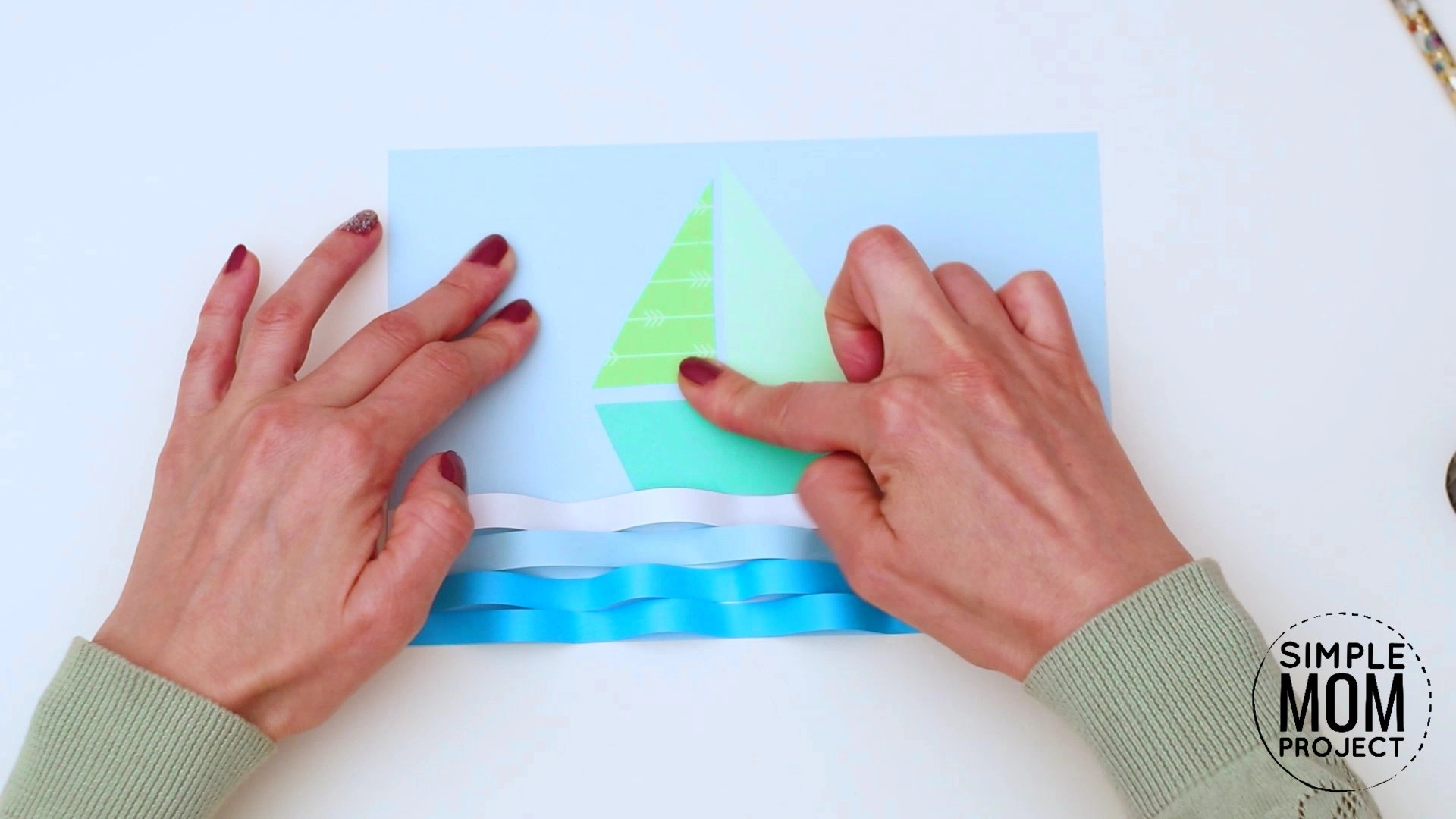 Then glue all of your boat's shapes right at the edge of your white waves.
Then with yellow paper, cut out a little sun. To add a little bit of character to your sun, you can also cut small strips of yellow paper to give it some sun rays as well.
Finally, top it off with some simple flying birds and you are now ready to display your sailboat craft proudly!
We chose green and blue for our boat, but you can pick whatever color you'd like. Be sure to tell us in the comments what color your boat is!
Free Printable Sailboat Template
When you have finished, be sure to also share your creation on Simple Mom Project's Facebook Page and follow me on Pinterest!

Kaitlen D.
More Fun Paper Crafts for Kids: