Do you know Neil Armstrong?
He's an astronaut who made history by becoming the first man to walk on the moon.
Now let's start these outer space fun craft activities with this printable astronaut craft template suitable for kids of all ages.
If you plan to study the solar system and letter A sound with your children, be sure to include this cute printable astronaut craft template.
Making this simple printable astronaut craft template gives your child the opportunity to work on their fine motor skills, focus, imagination and creativity.
Cut out the astronaut outline and use it for coloring, stencils, lesson plans, fun space crafts and art projects.
Check out the step-by-step instructions or watch the short tutorial video to make your own astronaut photo craft.

*By the way, this post may contain affiliate links which means I may receive a small commission at no additional cost to you if an item is purchase through that link. For more information, click here.*
Printable Cut and Paste Astronaut Craft
Astronaut Craft Supplies Needed
Need more crafty fun? Check out our Spaceship Craft, Earth Craft and Moon Craft.
 T
hey are perfect for those days when staying indoors is the only thing your family can do!
Ideas for Easy Preschool Paper Astronaut Craft
Here are the coolest ideas on how to include this easy printable astronaut craft template with your kids.
1. Best Space Books for Future Astronauts
Reading and sharing stories with your kids helps to develop their brain.
Children who are fascinated with spaceships, rockets, aliens or planets will surely enjoy making this cute astronaut printable template.
Once they are done, encourage them to read their favorite books together for a follow-up activity.
2. DIY Astronaut Helmet Craft
This printable astronaut craft template inspires us to create our own space helmet craft using common items we found at home.
Start tracing a rectangle shaped that looks like a little window in the paper plate and cut it out.
Grab the silver paint and let your child paint the paper plate.
Once it's dry, let your little one decorate astronaut helmet craft however they would like.
Cut a strip out from a construction paper and glue it on the side of the paper plate that looks like an antenna.
Punch a small hole on each side of the paper plate and insert elastic strings so your child can use it as a mask.

3. Little Astronaut Puppet Craft
Do you have kids that love to pretend-play?
Great news because you can turn this printable astronaut craft template into puppet crafts.
Pretend play lets your child be a princess, police officer or astronaut!
Making this astronaut pattern template is as easy as color, cut and glue.
When they are finished, glue on a popsicle or paper straw at the back of the astronaut craft.
It's the perfect activity to nurture your child's imagination.
Play together face to face so your little one can copy your gestures.
4. Space-Themed Decorations
You don't need to be an expert to decorate a classroom or party venue.
Let your kids enjoy the process of coloring, cutting and gluing the astronaut patterns together.
Use it as a bulletin board background design to encourage the students to learn the solar system.
If you're planning to have a space-themed party, use the finished astronaut craft as cupcake toppers, invitation cards or banners.
This fun activity will motivate your kids to unleash their creativity.
Use this simple printable astronaut craft template to spend quality time with your little ones.
We are confident they will never get bored during the weekend!
Keep scrolling to get your very own astronaut craft today and start with your little ones and their planet craft buddies today!
5. More Letter A Crafts
For more printable templates that begin with letter A, try these:

Astronaut Craft Instructions
Take out all the craft supplies you'll probably need for this simple craft activity.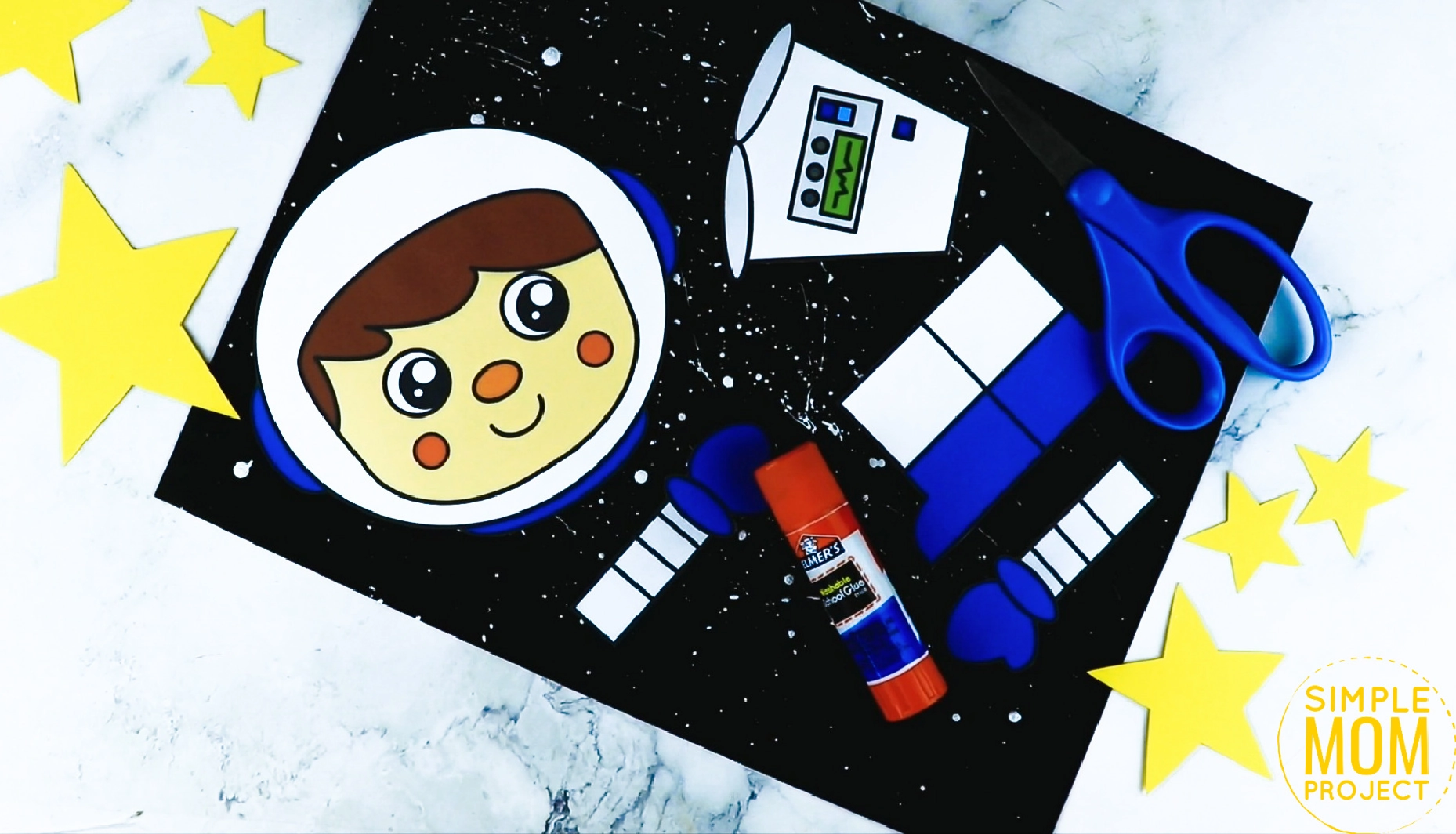 Print one or more of these simple printable astronaut craft templates on a white paper.
Cut out the astronaut pattern pieces from the printable template.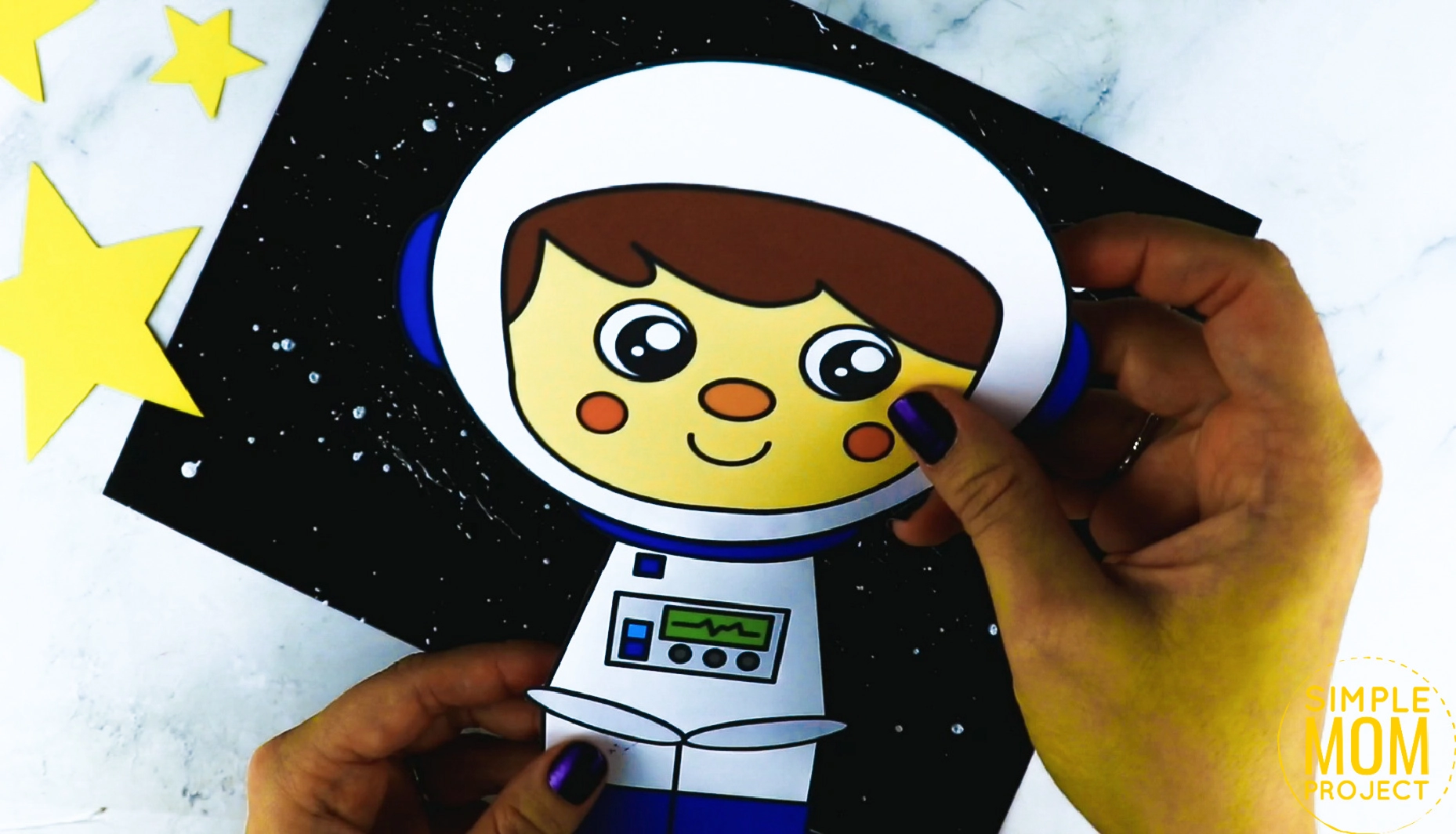 Start gluing the helmet piece onto the body.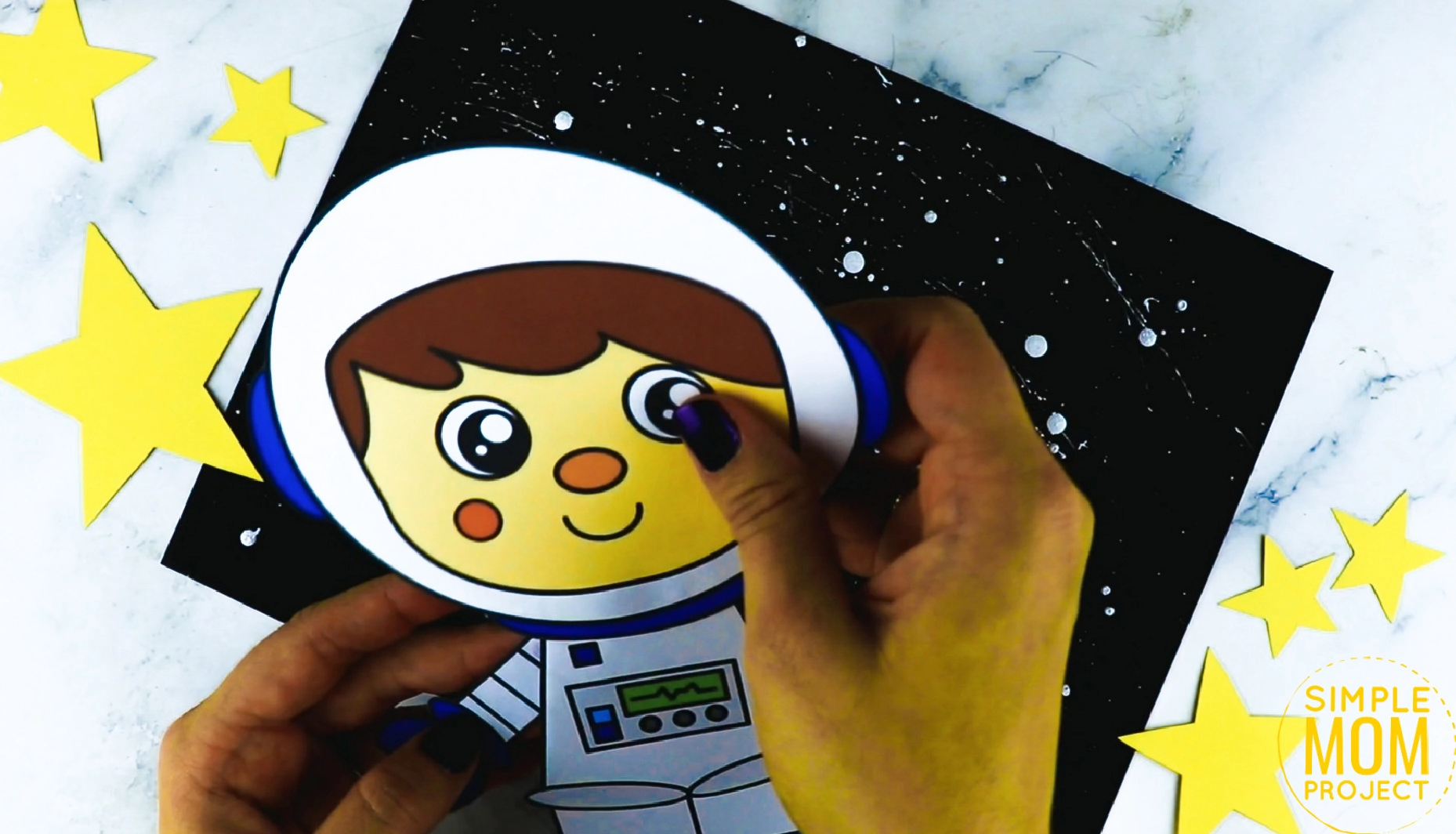 Next, glue on the astronaut's legs and arms.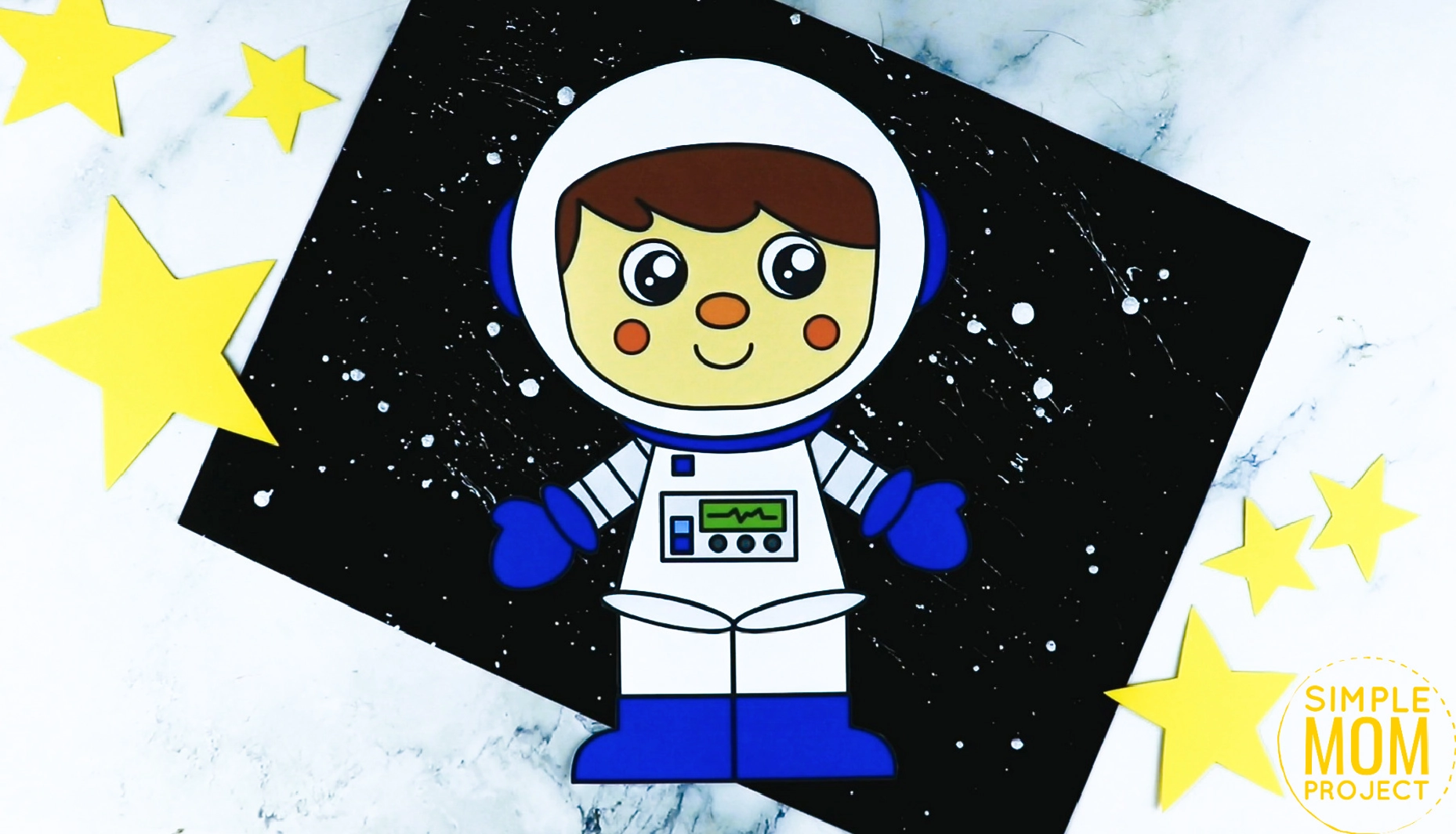 Now, your little astronaut craft is ready to travel in space with your kids.
More Options to Choose:
You can print the blank version and trace the cut outs on card stock paper for a sturdier astronaut craft,
Print the astronaut template in color for a simple and easy rainy day craft or,
Print the blank astronaut template and use it as a fun coloring sheet activity and then glue the pieces of the astronaut craft together.
Printable Astronaut Craft Template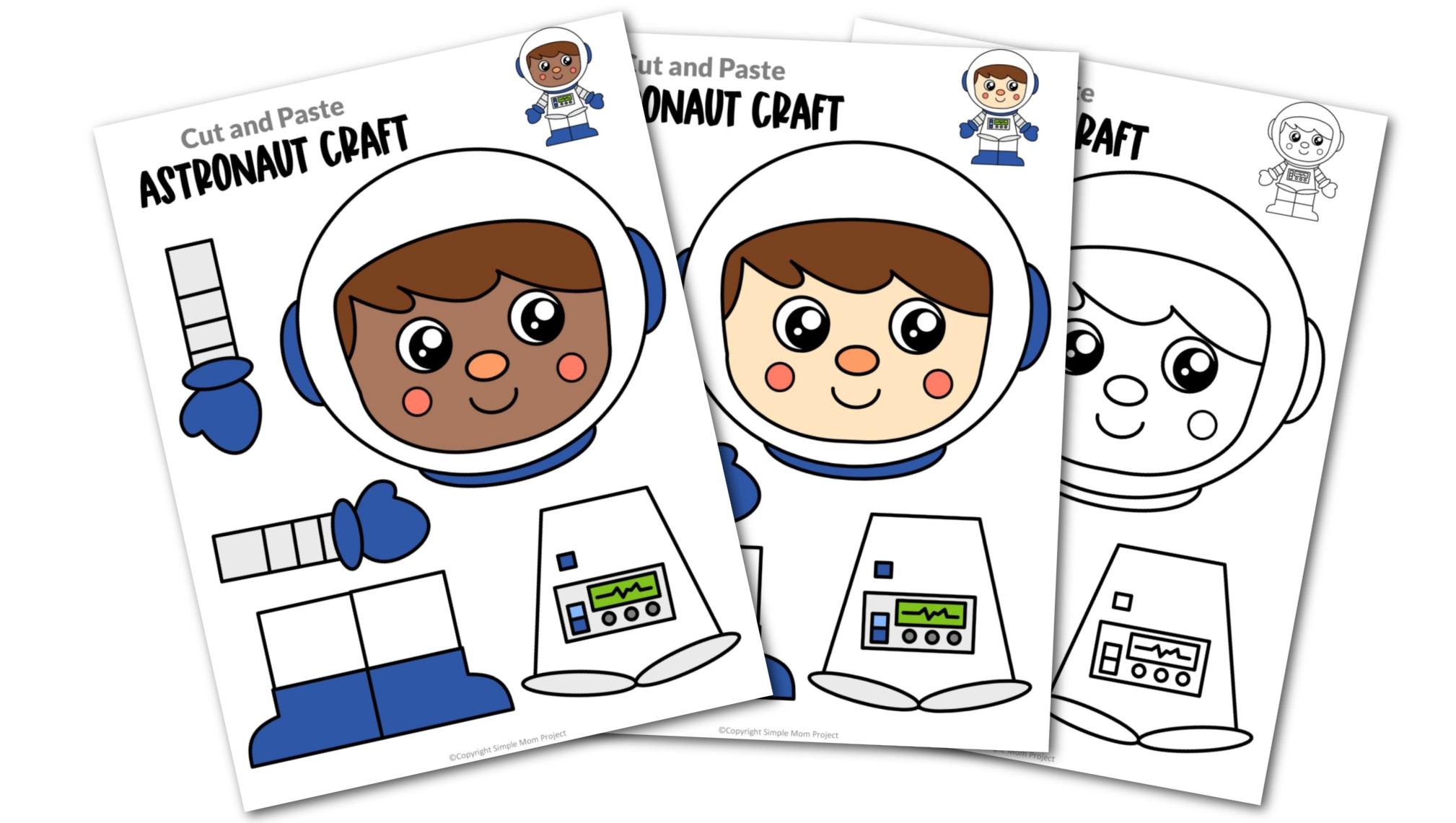 Your toddler, preschool or kindergarten kids will have a blast with these three different versions of astronaut craft templates.
Get a pack of crayons or coloring pencils for the black and white astronaut outline.
Then, there are two sets of colored astronauts to practice your child's scissor skills.
Don't forget to share your learning plans in the comments.
Need more planet fun? Check out our packed list of planets for simple craft fun with your little ones.  
When you have finished, be sure to share your creation on Simple Mom Project's Facebook Page and follow me on Pinterest!

Kaitlen D.
More Fun Planet Crafts