Want to encourage the kids to minimize the use of cellphones or playing on the computer?
Well, why not try to develop their interest in coloring and making crafts using our printable space rocket craft template!
This easy printable space rocket craft template is great for developing your kids' fine motor skills, focus, imagination and creativity.
Cut out the rockets and use it for coloring, stencils, crafts, art projects and more.
Print as many spaceships as you want and share them with your family.
Scroll down to see the step-by-step instructions or watch the tutorial video in this post.

*By the way, this post may contain affiliate links which means I may receive a small commission at no additional cost to you if an item is purchase through that link. For more information, click here.*
Printable Cut and Paste Space Rocket Craft
Space Rocket Craft Supplies Needed
Need more crafty fun? Check out our Astronaut Craft, Mars Craft and Moon Craft.
 T
hey are perfect for those days when staying indoors is the only thing your family can do!
Ideas for Easy Preschool Paper Space Rocket Craft
Here are the coolest spaceship craft ideas on how to include this printable rocket ship template in your kids' life.
1. The Best Spacecraft Books for Kids
This simple printable spacecraft template is perfect for your little ones who love outer space, planets and aliens.
Once your child is finished with this printable template, look for space-themed books to read.
Choose books with many pictures, and it doesn't matter if you don't read all the words because you can tell a story from the pictures.
We'd love to share these lists of my child's favorite books that will probably be loved by your kids, too.

2. Easy Bottle Rocket Space Craft
If you look in Pinterest, there are a lot of DIY crafts made with recycled materials but we personally love this bottle rocket space craft!
There are two options whether you like to paint the water bottle with acrylic paints or wrap it with thick strips of colored papers.
Cut a long oval shape out from a cardstock paper for the window and glue it on the rocket ship.
Next, cut out two right triangles from cardboard and glue it at the bottom.
Cut out a semi-circle and fold it to form the nose cone of the spaceship.
Glue the cone on top of the plastic bottle spacecraft.
Design your alien spaceship craft by adding colors, glitters, sequins, sticker sheets or other decorative items.
This easy preschool craft is worthy of such epic travels!
3. Make a Straw Spaceship Craft
Making a paper rocket ship craft is as easy as color, cut and glue.
Keep the kids occupied by providing them these printable alien spaceship templates.
Using a hot glue gun, attach the paper straw at the back of the spaceship craft.
Decorate your straw spaceship craft using glitter or black marker pen to make it stand out.
Once you're satisfied with the outcome, you can also do it with these planet templates and make your own solar system craft project.

4. Paper Plate Outer Space Craft
Make great use of the spare paper plates by turning it into outer space paper crafts!
Gather all the materials needed and have your child paint the paper plate with blue paint.
Print a smaller size of our printable space rocket craft template that will fit in your paper plate.
Let the kids enjoy the process of coloring, cutting and gluing together the spaceship craft patterns.
Attach an adhesive tape at the back of the rocket and glue it onto the paper plate.
Add other solar system themed decorative items such as planets, astronauts, moon, sun and star stickers.
You can also print out smaller pieces of the following to include in your paper plate outer space craft:
We are confident that these amazing rocket space craft ideas will provide a lot of fun and knowledge to your children.
Keep scrolling to get your very own space rocket craft today and start with your little ones and their planet craft buddies today!
Space Rocket Craft Instructions
Let's gather all the simple craft materials because we're about to have some fun space activities with the kids.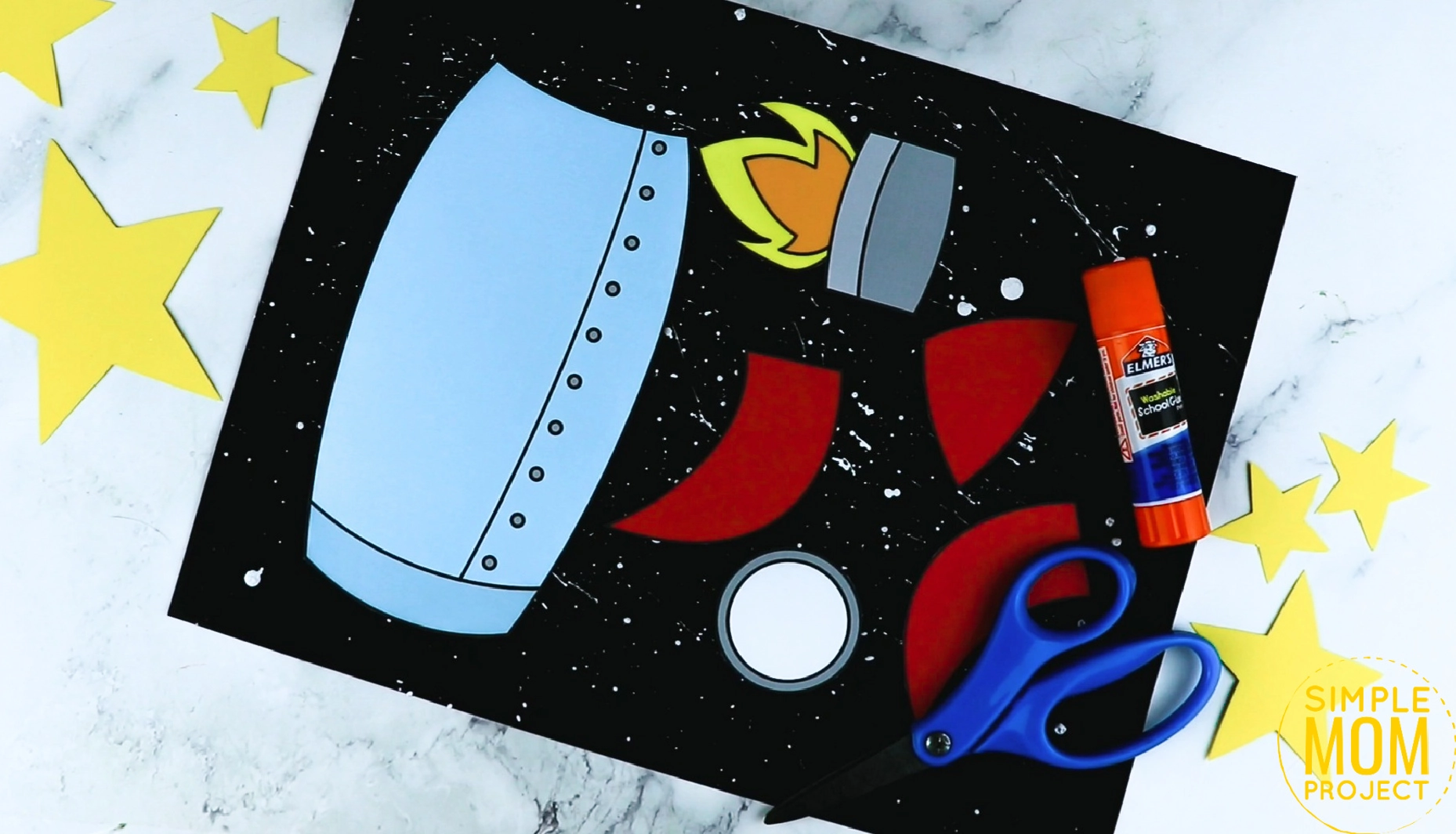 Download and print the printable spaceship templates on a white sheet of paper.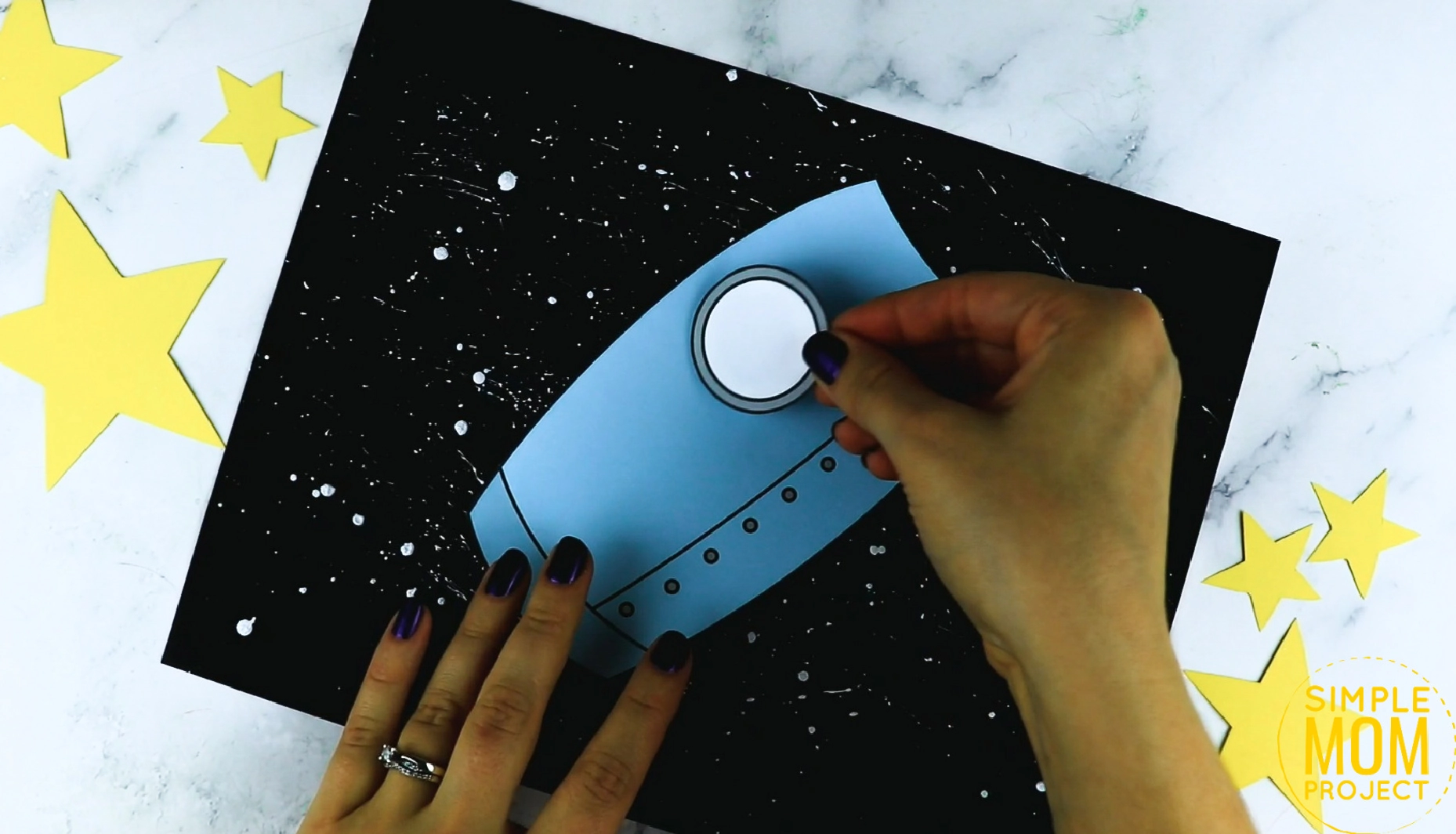 Let your kindergarten kids cut out the space craft patterns into individual sections.
Using a glue stick, attach the tiny round shape window.
Next, glue the fins on each side of the space shuttle.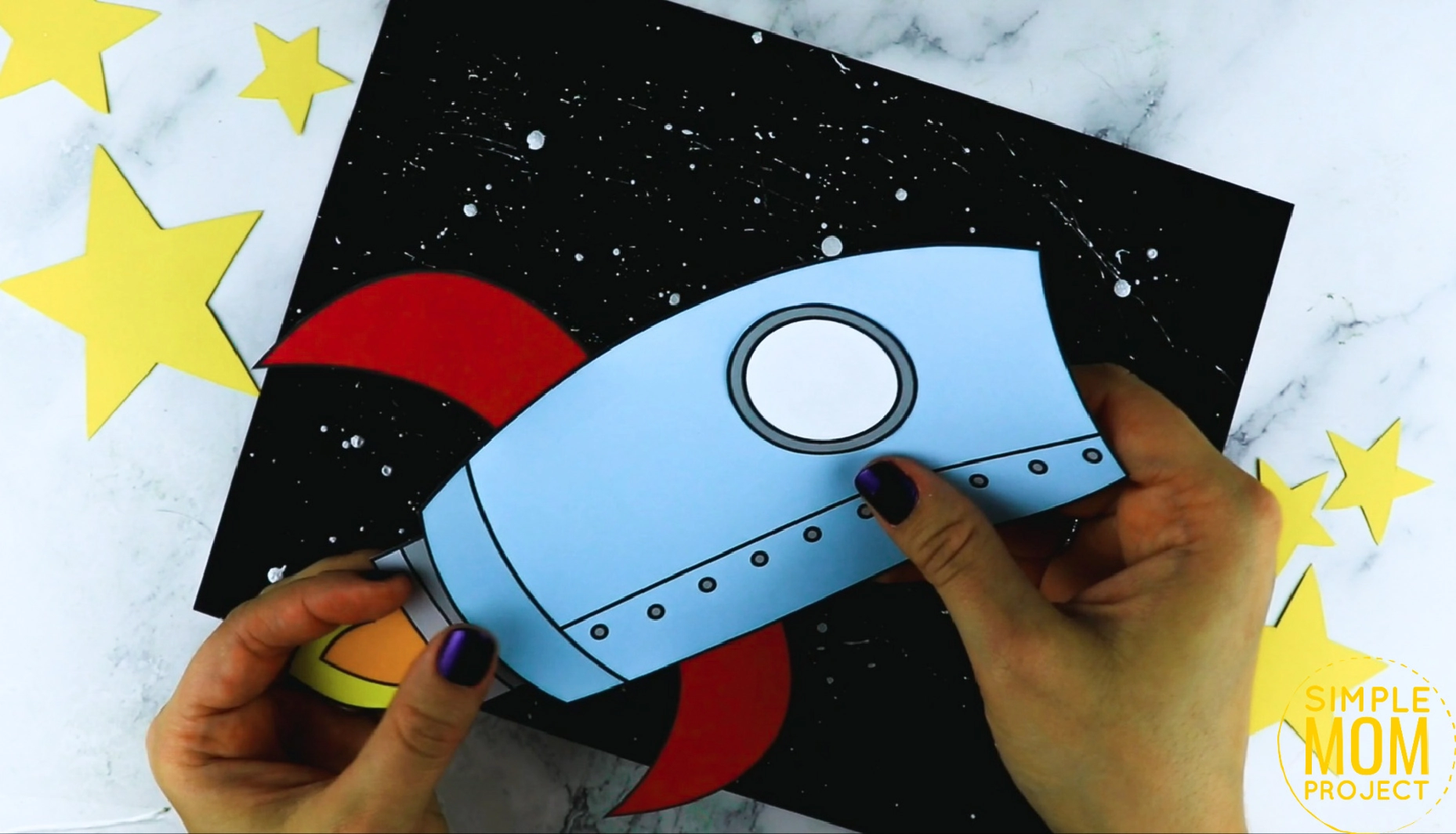 Glue the exhaust flames at the bottom parts of the spaceship.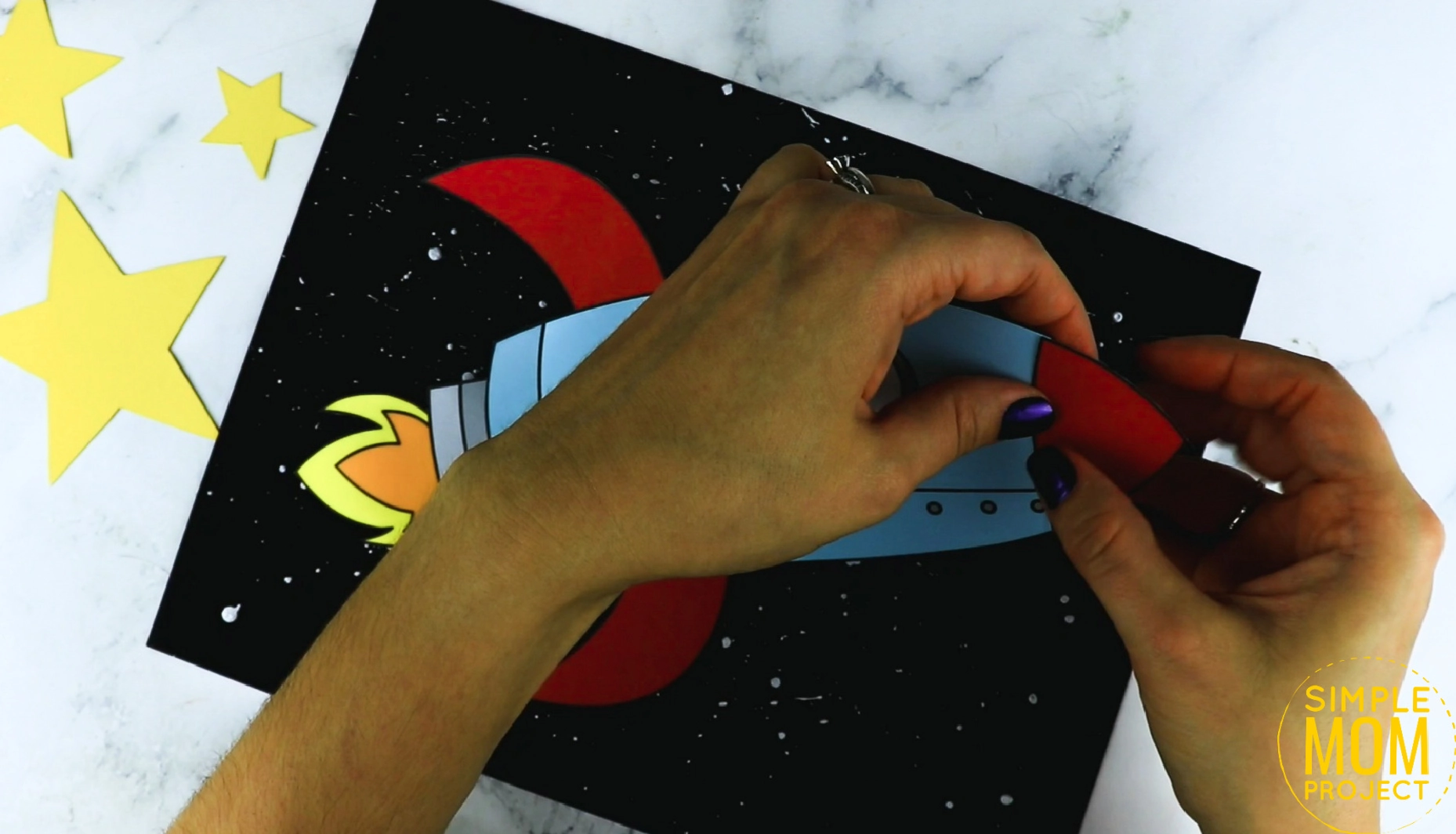 Lastly, glue the nose cone at the top of the rocket.
Now your toddler and preschooler have a spaceship craft they can play around with.
More Options to Choose:
You can print the blank version and trace the cut outs on card stock paper for a sturdier space rocket craft,
Print the space rocket template in color for a simple and easy rainy day craft or,
Print the blank space rocket template and use it as a fun coloring sheet activity and then glue the pieces of the space rocket craft together.
Rocket Ship Craft Template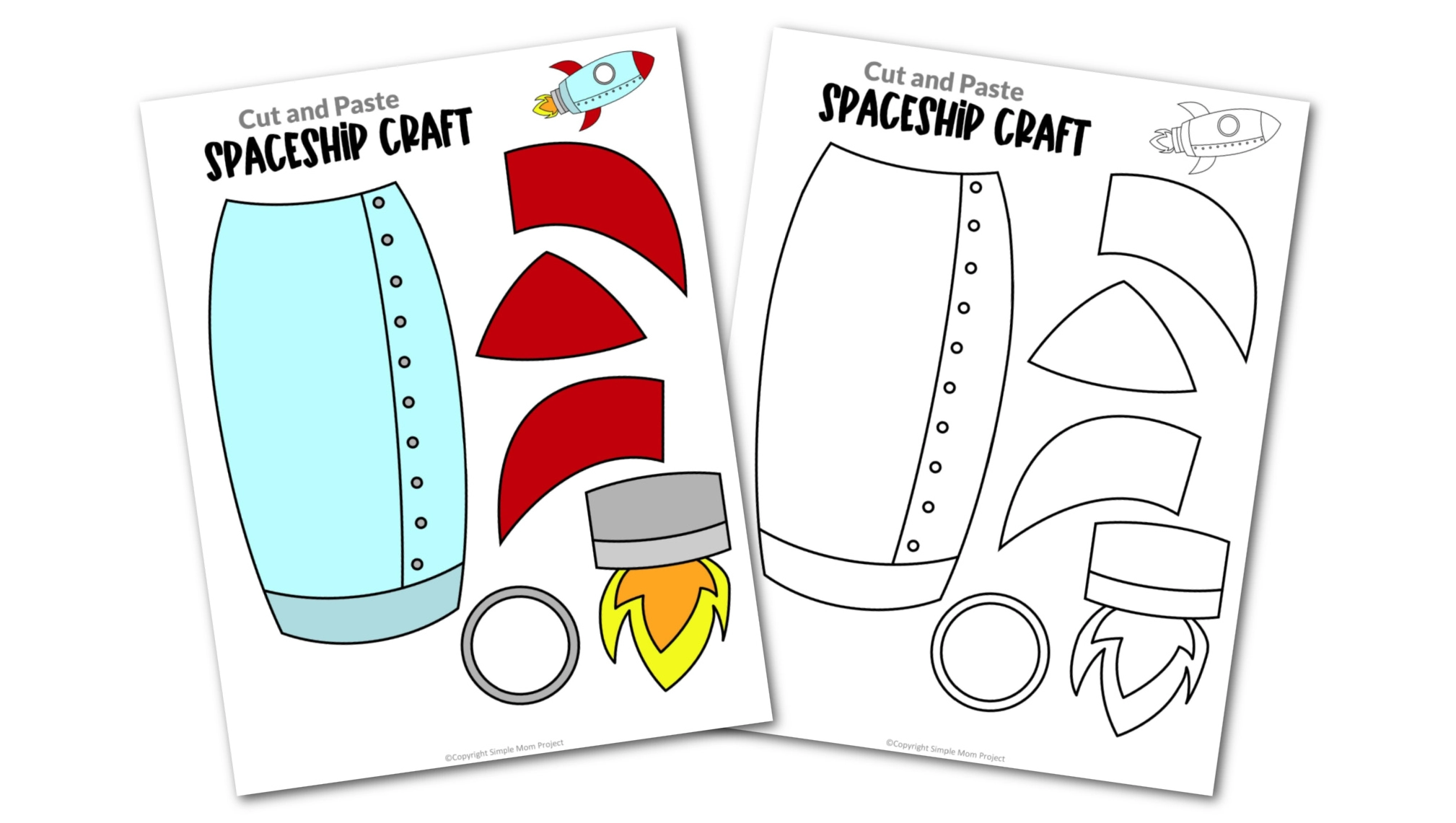 It's time to fulfill the mission by traveling to outer space with these two printable fun space crafts!
We have basic black and white spacecraft for little kids to fill in with different colors.
We also have the colored printable spaceships to practice your child's scissor skills.
Don't forget to share your learning plans in the comments.
Need more planet fun? Check out our packed list of planets for simple craft fun with your little ones.  
When you have finished, be sure to share your creation on Simple Mom Project's Facebook Page and follow me on Pinterest!

Kaitlen D.
More Fun Planet Crafts