My children's favorite superhero is Spider Man.
They love watching this Marvel movie over and over again.
That's why we decided to create and share this free printable spider craft template to all of you!
This cute printable spider craft template is not scary at all!
In fact, this simple activity will motivate your kids to practice their scissor skills, develop their color recognition, learn how to count and many more!
Come and have fun making this easy cut and paste spider craft template.
You can download and print as many as you want to offer it with your friends and family.


Need more crafty fun? Check out our Hanging Spider Craft and Pumpkin Template.
 T
hey are perfect for those days when staying indoors is the only thing your family can do!
*By the way, this post may contain affiliate links which means I may receive a small commission at no additional cost to you if an item is purchase through that link. For more information, click here.*
Free Printable Cut and Paste Spider Craft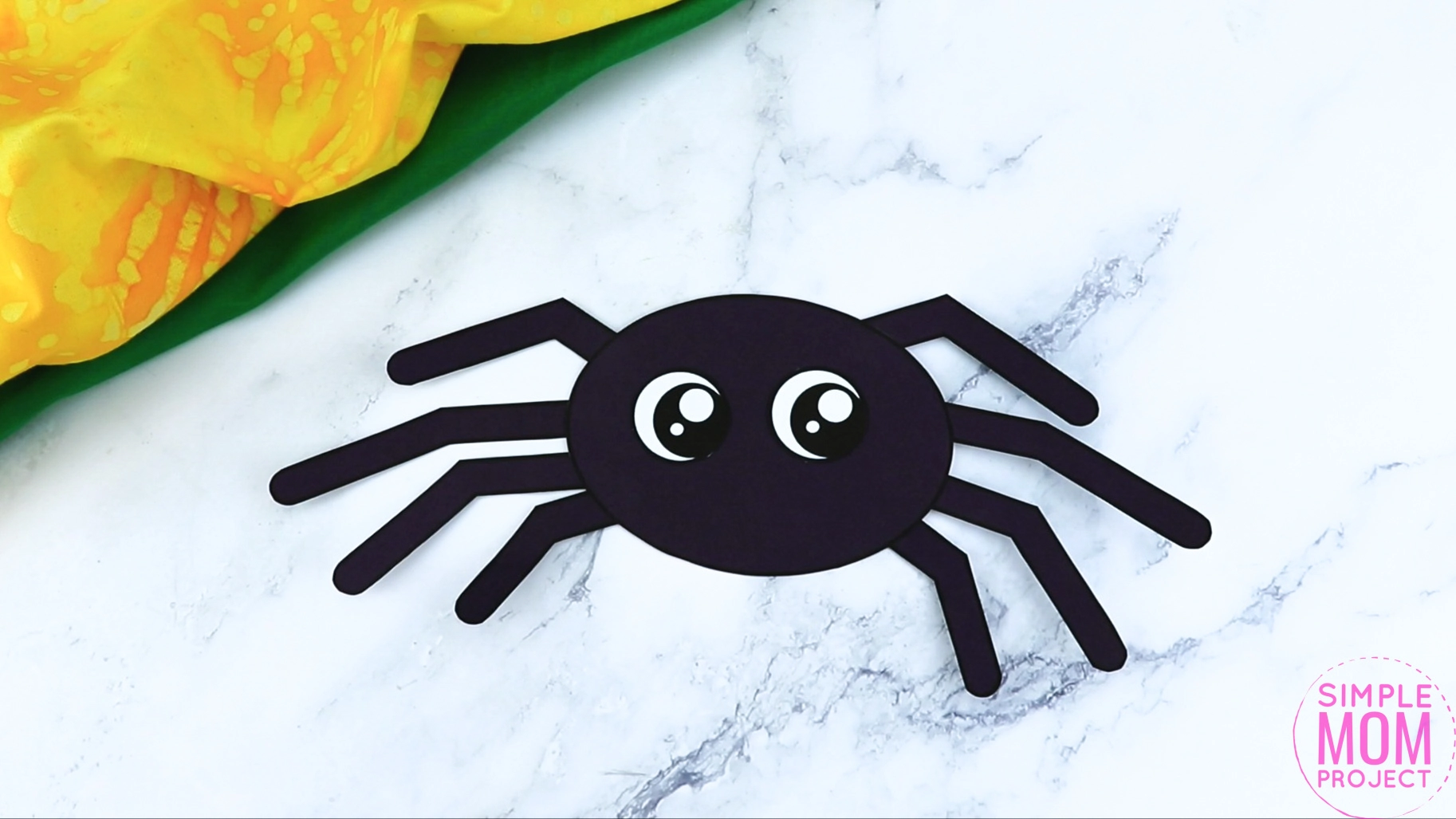 Ideas for Easy Preschool Paper Spider Craft
Below are the few lists of marvelous ideas on how to incorporate this free printable spider craft template in your daily life with your children.
1. Interesting Facts About Spiders
Let your kids have some eight-legged fun by making this easy printable cut-and-paste spider craft template.
Did you know that spiders are not insects? They belong to the arachnid family.
Did you know that abandoned spider webs are called cobwebs?
Spiders can build a web in an hour, and they normally build a new one each day.
Most spiders spin webs so they can catch other prey to eat.
Did you know that most spiders are not dangerous to humans?
There's nothing to worry about and with the help of this cute printable spider craft template, your child will be fascinated with different types of spiders!
2. Spider Stories for Children
My preschooler really enjoys watching the movie, Charlotte's Web which gave me the idea to buy the book so they can practice reading.
It's important to encourage your child to read at any age!
If you're looking for awesome spider books for your children to read. We highly recommend the following:


3. Learning Letters and Numbers
If you are teaching your little one their ABC's and counting numbers, this free printable spider drawing craft will help you!
Once your child is done making this easy spider craft template, sit with your little one and take turns counting the spider's legs.
As time goes by, your little learner will be counting big numbers and they will be adding and subtracting numbers before you know it.
This simple printable spider craft template will also encourage your child to practice writing letter S as well as pronouncing it correctly.
Print a traceable upper and lowercase letter S worksheet for your preschooler to work on their writing skills.
Aside from "spider", ask your kids what else are the words that start with letter S.
4. Easy DIY Spider Crafts
Making this free printable spider craft template inspires us to create different spider crafts from recycled materials we already have in our house.
First, have your kindergartener paint the paper plate, use eight pipe cleaners for the spider's legs and glue eight googly eyes.
Now, let's make a smaller version of spiders!
We use colorful pom pom as the spider, glue small paper strips for the legs and some small googly eyes.
You can either attach this cute spider on a popsicle stick, straw or yarn to pretend-play that it's moving.
We hope you enjoyed these amazing ideas using this realistic printable spider craft template.
Your toddler, preschooler and kindergarten will never get bored during the weekend!


Spider Craft Supplies Needed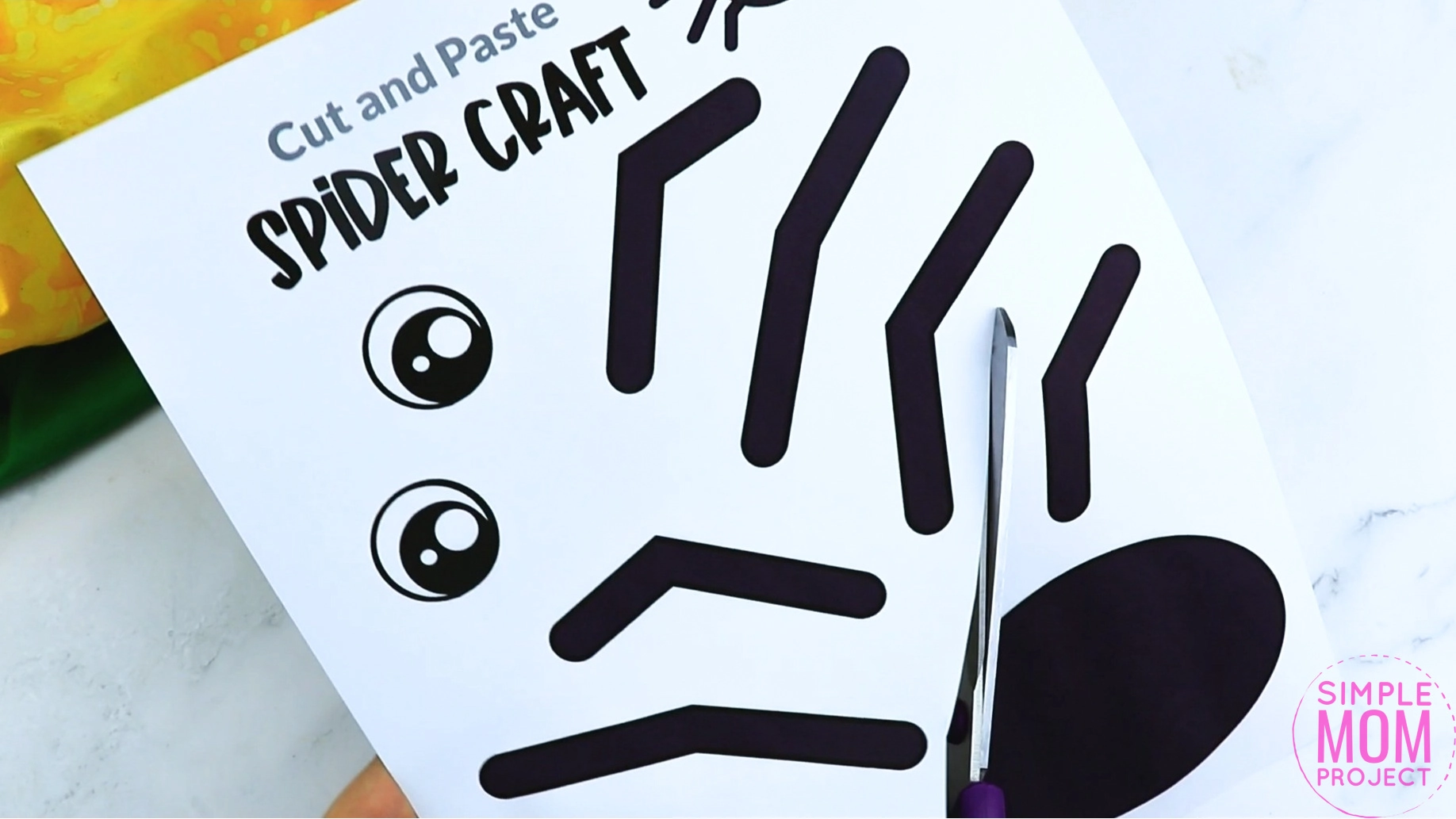 Printable Spider Template (FOUND AT THE BOTTOM)
Keep scrolling to get your very own spider craft today and start with your little ones and their spider craft buddies today!
Spider Craft Instructions
Take out all the craft supplies and print out which free printable spider craft template version your child chose then cut it out into individual pieces.
Have your little one to glue the spider's eight legs to its body.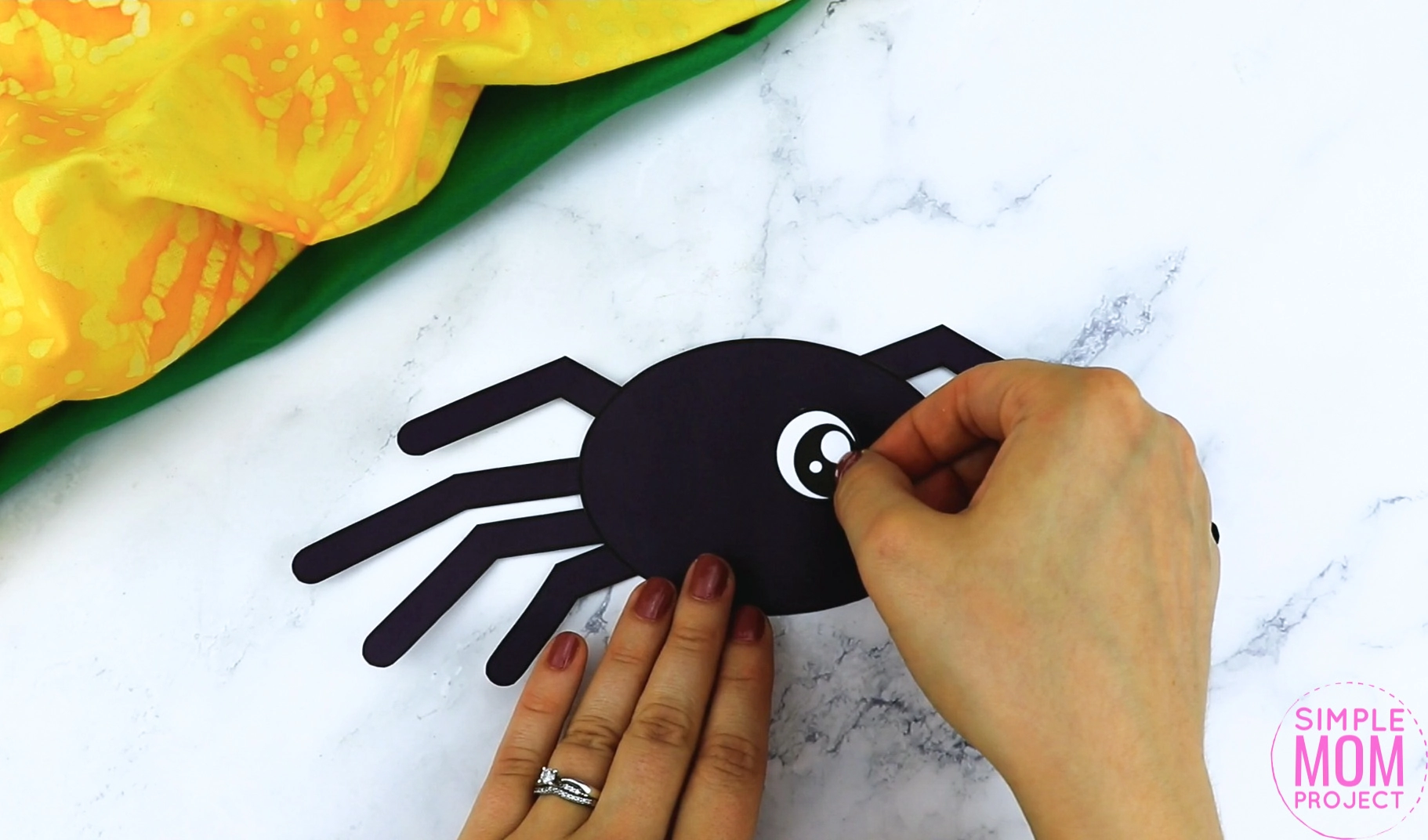 Then, glue its big adorable eyes.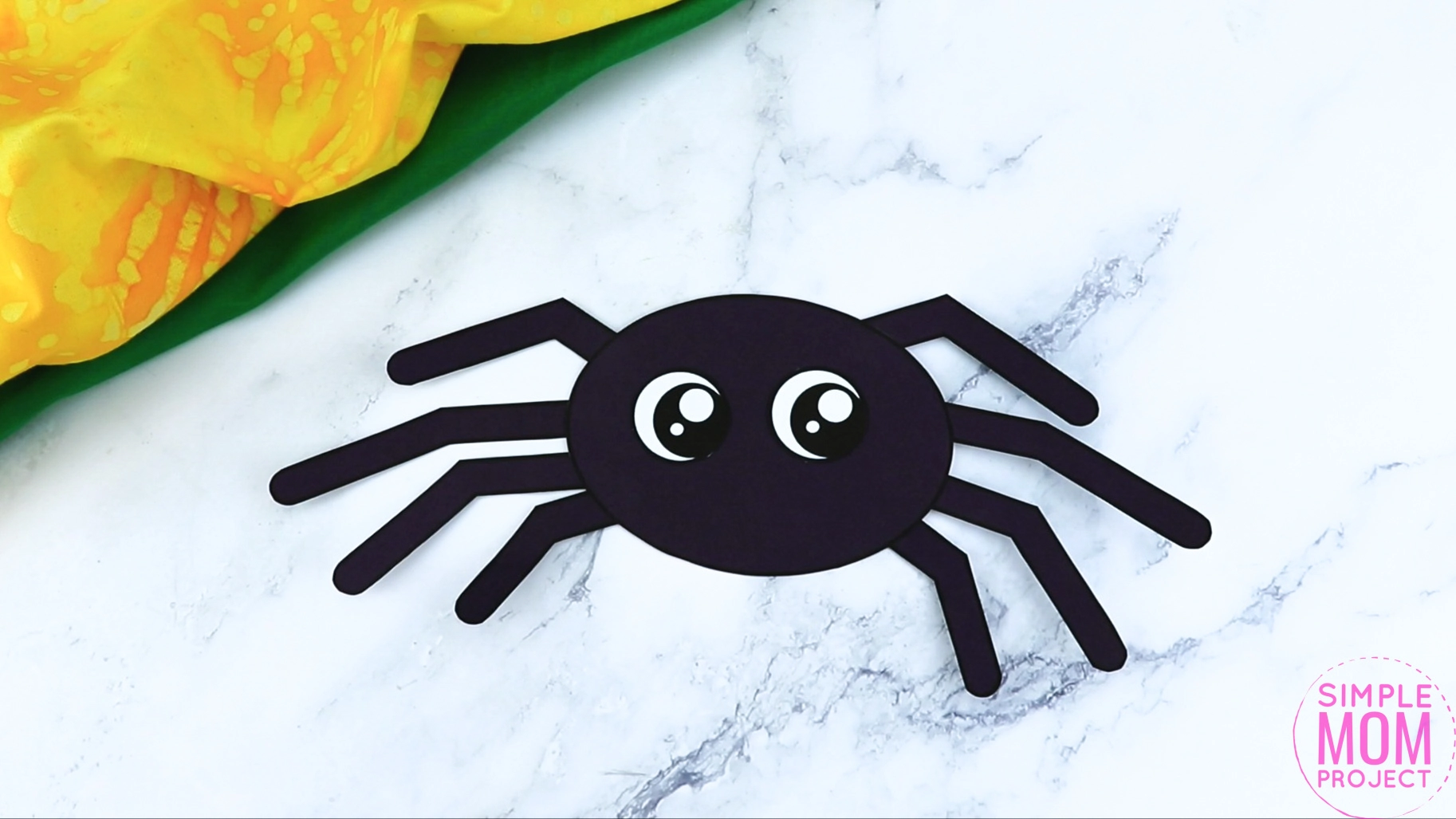 This easy 5-minute cute spider craft is perfect for kids of all ages.
More Options to Choose:
You can print the blank version and trace the cut outs on card stock paper for a sturdier spider craft,
Print the spider template in color for a simple and easy rainy day craft or,
Print the blank spider template and use it as a fun coloring sheet activity and then glue the pieces of the spider craft together.
Free Printable Spider Craft Template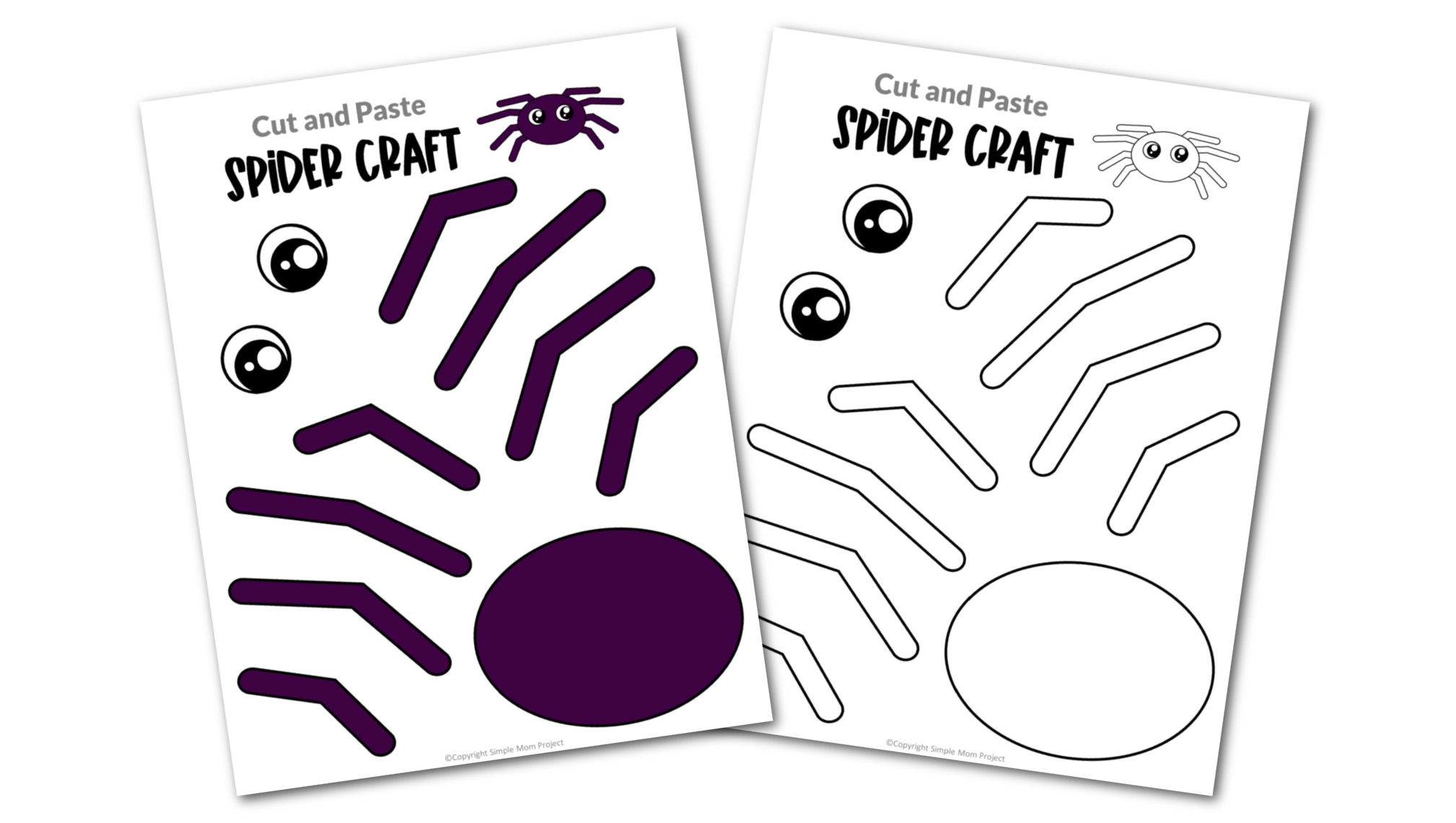 Keep your children entertained during the rainy days using the two versions of simple printable spider craft templates.
We got the basic black and white spider drawing and the cut-and-paste colored spider craft template.
Don't forget to share your learning plans in the comments.
Need more insect and bug fun? Check out our packed list of insects and bugs for simple craft fun with your little ones.  
When you have finished, be sure to share your creation on Simple Mom Project's Facebook Page and follow me on Pinterest!

Kaitlen D.
More Exciting Bug Crafts