While the children were having fun playing outside near the garden, they spotted a snail coming out of its spiral shell.
They were fascinated by how slimy it looks as it slowly moves.
If you plan to study snails with your preschooler, be sure to add this free printable snail craft template to your preschool activities.
You can also use this cut and paste snail craft activity if you're teaching your child to learn the alphabet, especially the letter S.
Scroll down to read the complete directions or watch the simple tutorial video.
Click download and print the template to share it to each member of your family.


Need more crafty fun? Check out our Ladybug and Mushroom craft.
 T
hey are perfect for those days when staying indoors is the only thing your family can do!
*By the way, this post may contain affiliate links which means I may receive a small commission at no additional cost to you if an item is purchase through that link. For more information, click here.*
Free Printable Cut and Paste Snail Craft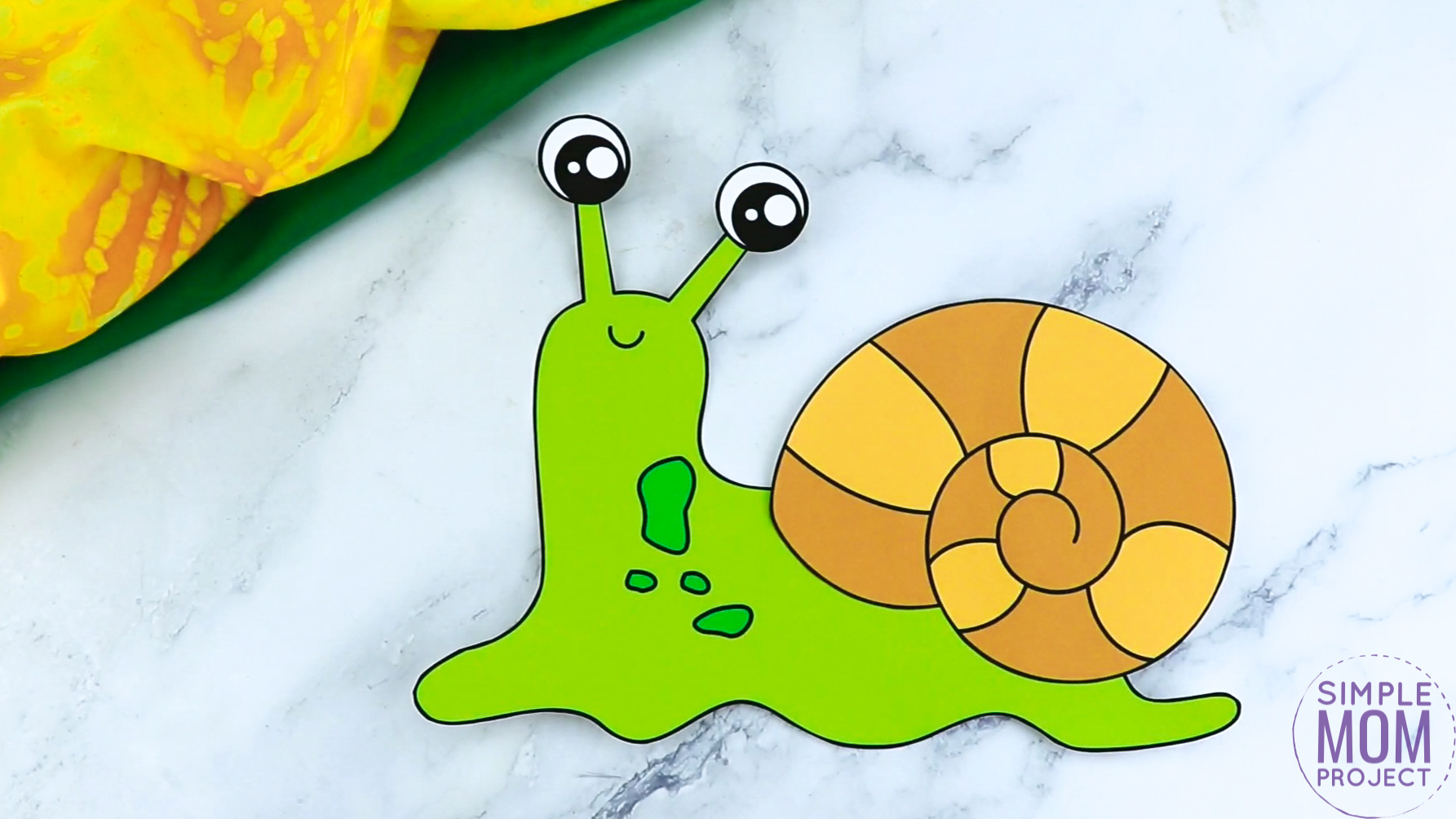 Ideas for Easy Preschool Paper Snail Craft
We love to share with you these awesome ideas on how to maximize the use of free printable snail craft templates with your kids.
1. Fun Snail Facts for Kids
Having a lot of fun making this simple printable snail craft template?
How about we pair it with some fun and educational facts!
Snails are invertebrates, which means they don't have a backbone.
Did you know that snails and slugs are similar animals?
The main difference between the two is that a snail has a shell while the slug doesn't.
Snail is one of the slowest creatures on Earth.
Did you know that snails have a ribbon-like tongue?
It's called radula and it contains thousands of tiny teeth.
Snails are divided into three groups – the land snails, sea snails, and freshwater snails.
2. Bedtime Story for Children
Sharing a bedtime story with your child helps them to relax and listen calmly after a long day of playing and releasing their energy.
It will also strengthen the emotional bonds between parents and children.
You can use the finished printable snail craft template while reading a bedtime story to your toddler or preschooler.
Here's a few of our favorites and we know you will love them, too.


3. DIY Paper Plate Snail Craft
If your kids love watching DreamWorks animated movie "Turbo."
They will definitely enjoy making their own friendly snail crafts.
First, draw the head snail on colored construction paper.
Glue the googly eyes on a short pipe cleaner, this will become the snail eyestalk.
Attach the pipe cleaners onto the head and draw a cute smiley face.
Now, let's make the shell. Take out some old newspapers or magazines and cut it into small, square pieces.
Make a spiral pattern on a paper plate and glue all the cut-out pieces onto it.
Lastly, connect the head and shell together.
This friendly snail craft is super easy to make and uses only simple art supplies.
4. Rainbow Button Snail Craft
Making DIY craft is always a good idea if you want to keep your little one busy while they are at home.
Start by drawing the snail's head on cardstock paper and cut it out.
You can either use a sharpie to draw the eyes and mouth or glue the googly eyes.
Next, take out all the rainbow-colored buttons and use a hot glue gun to stick each button onto an old cd.
Decorate the shells with glitters or gems.
Then, attach the head and shell together.
Remember to supervise your children using the glue and scissors.
These amazing craft ideas include our free printable snail craft template, making it perfect for home, school or daycare.


Snail Craft Supplies Needed
Printable Snail Template (FOUND AT THE BOTTOM)
Keep scrolling to get your very own snail craft today and start with your little ones and their snail craft buddies today!
Snail Craft Instructions
Once your preschooler has chosen which simple printable snail craft template they want, click download and print it on a construction paper.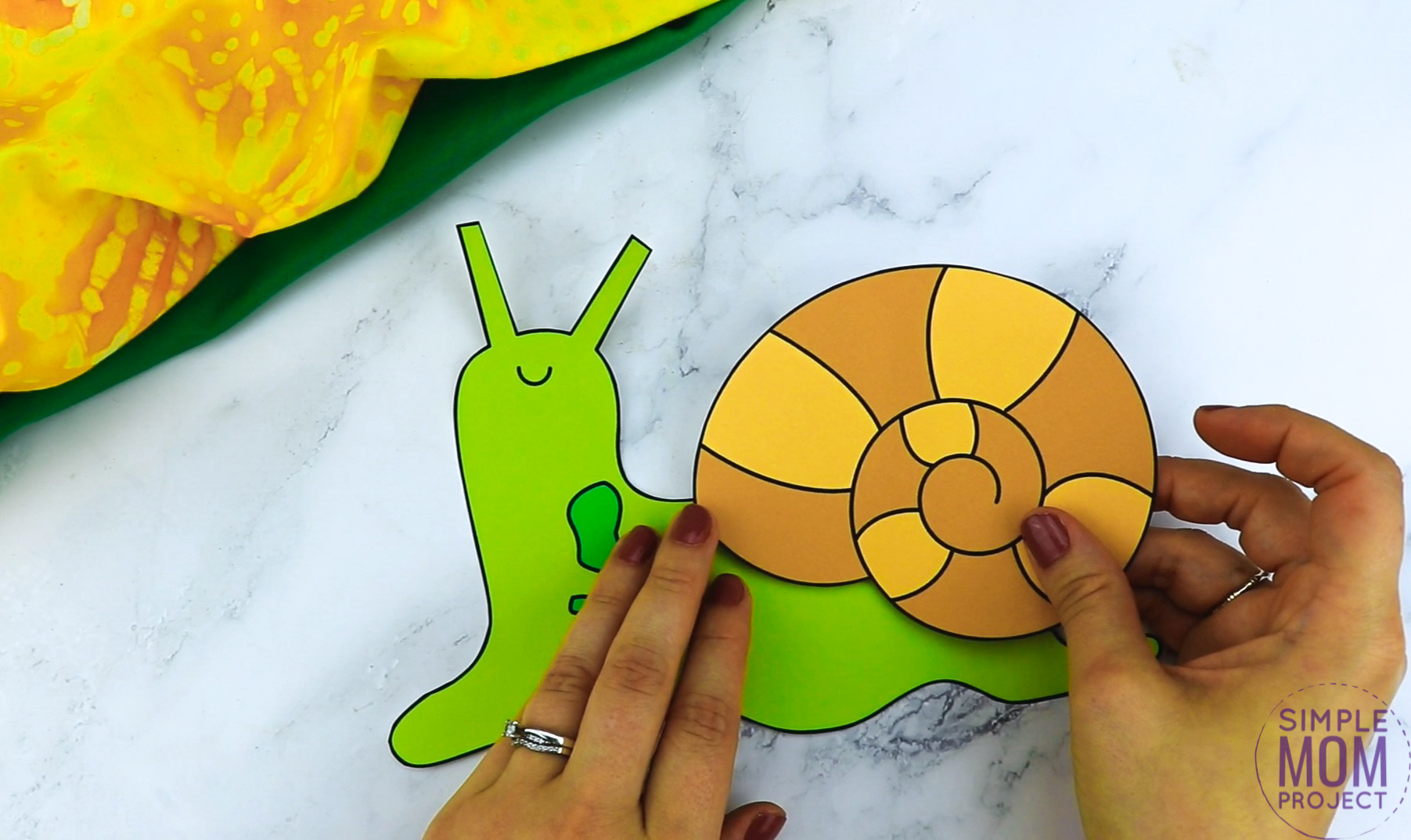 Cut out the snail pattern pieces. If you think your child is ready to hold a pair of scissors properly, allow them to do it.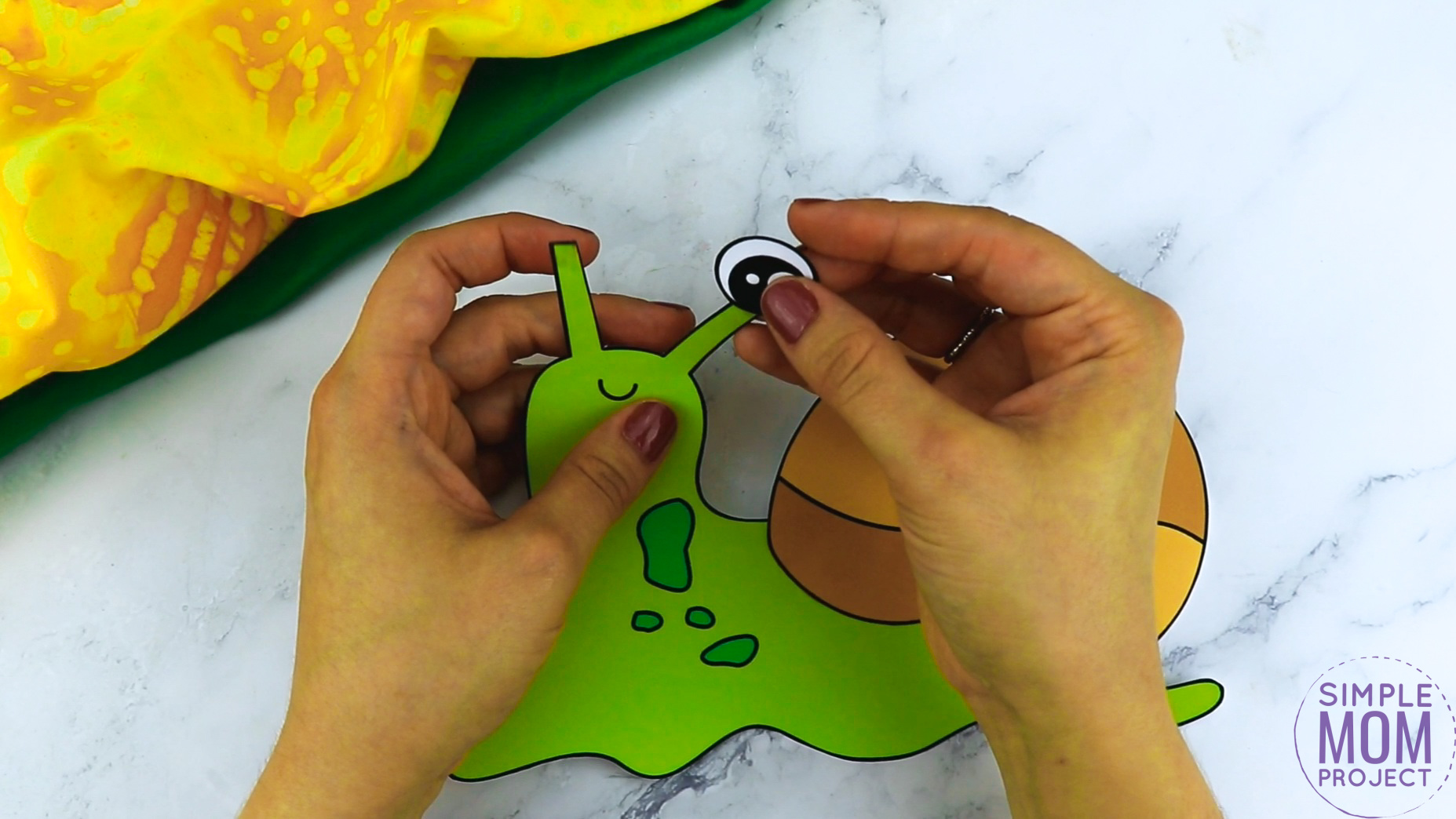 Use a glue stick to adhere the snail's shell to its body.
Finish it off by attaching the adorable eyes.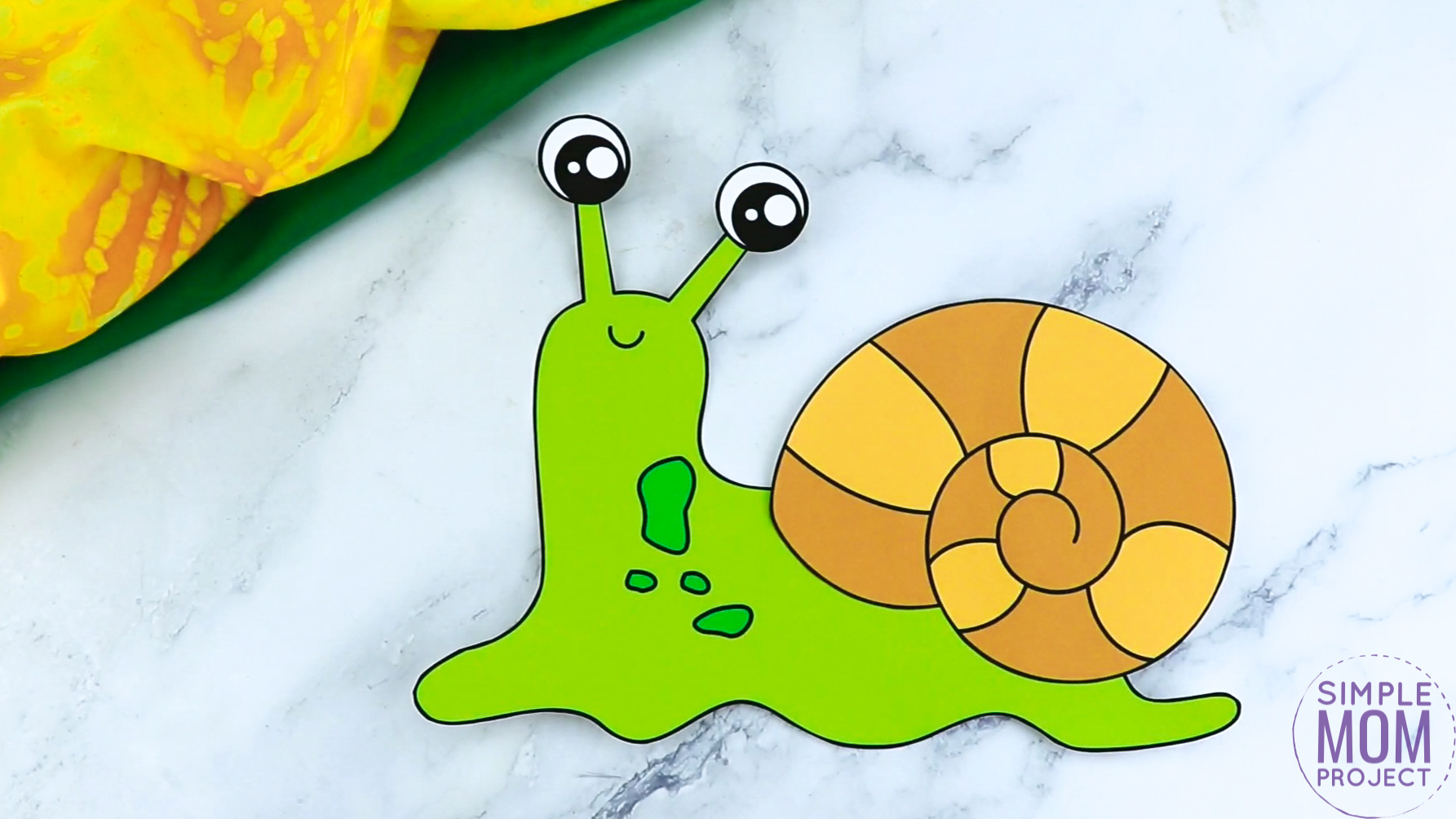 Now your cute printable snail craft is ready to be played with! 
More Options to Choose:
You can print the blank version and trace the cut outs on card stock paper for a sturdier snail craft,
Print the snail template in color for a simple and easy rainy day craft or,
Print the blank snail template and use it as a fun coloring sheet activity and then glue the pieces of the snail craft together.
Free Printable Snail Craft Template
Looking for a simple cut and paste printable craft template to make during the weekend?
Great news! Our free printable snail craft template comes with two different versions for your kids.
There's a black and white snail outline template or the cut-and-paste colored snail template.
If your little one is having a hard time choosing which one, they like the most, you can download both!
Don't forget to share your learning plans in the comments.
Need more insect and bug fun? Check out our packed list of insects and bugs for simple craft fun with your little ones.  
When you have finished, be sure to share your creation on Simple Mom Project's Facebook Page and follow me on Pinterest!

Kaitlen D.
More Exciting Bug Crafts