Today's free printable craft template is L for leaves and focuses on the letter L, both the uppercase and lowercase.
Working on this simple printable letter L for leaves craft template improve children's fine motor skills, concentration and creativity.
Cut out the letter L drawing and use it for coloring, stencil, preschool crafts and scrapbook projects.
This cut and paste printable letter L template is one of the easiest we've done for our alphabet craft activities.
Share these preschool letter L activities to your friends and family for a memorable craft experience!


Need more crafty fun? Check out our Letter A, Letter R and Letter X craft.
 T
hey are perfect for those days when staying indoors is the only thing your family can do!
*By the way, this post may contain affiliate links which means I may receive a small commission at no additional cost to you if an item is purchase through that link. For more information, click here.*
Free Printable Cut and Paste Letter L Craft
Ideas for Easy Preschool Paper Letter L Craft
Here are some of the classic craft ideas that will help you include this free printable letter L template with your toddler, preschool and kindergarten.
1. Must-Have Books for Kids
Enjoying a book with your little one is an incredible way to help them learn to interact and share the experiences together.
The most fun part about this free printable letter L craft template is, you can pair it with kids' alphabet books.
Here are my child's favorite ABC books that will surely be loved by your kids, too!
2. Identifying the Letter L
Look for great techniques on how to teach your children the alphabet in the most exciting ways!
There are a lot of words that start with the letter L around us, like lamp, light, lollipop and more.
Encourage your child to list down or recite all the letter L words they see inside your home.
Read a book that highlights the letter L as the subject to help them grow their knowledge.
Print out tracing uppercase and lowercase letter L worksheets to enhance their writing skills.
3. Learn to Count
Did you know that making this preschool letter L for leaves craft template also helps children learn numbers?
That's right!
Encourage your kids to count all the small green leaves as they glue it onto the letter L.
Recite one, two, three, four and so on, while pointing on each leaf so kids can easily understand and memorize it.
Children will learn numbers and counting up to 10 to recognize the numerals 1 through 10.
Practice as often as possible until your child will feel confident to recite it by themselves.
Next thing you will notice is your child being motivated to learn the numbers 11 to 20 and much more.
4. Letter of the Week: Letter L
Let's bring letter L to life by creating quick and easy DIY crafts!
If your kid is having a great time making this simple printable letter L for leaves craft template and they are already familiar with the /L/ sound.
Start grabbing all the craft materials and print this free printable ladybug craft template on a white sheet of paper.
Let your child enjoy the process of coloring, cutting and gluing the pieces together.
Using a hot glue gun, attach a clothespin at the back of the cut-out ladybug craft.
Add decorative items such as glitters, sequins or one of the free printable leaf templates.
Clip the ladybug craft on your little one's bulletin board next to the letter L craft for a fun learning day!
We hope you love these marvelous ideas we listed in making this simple cut and paste letter L craft template.


Letter L Craft Supplies Needed
Printable Letter L Template (FOUND AT THE BOTTOM)
Keep scrolling to get your very own letter l craft today and start with your little ones and their alphabet craft buddies today!
Letter L Craft Instructions
Download and print the easy printable letter L craft template your little one would like to make first.
Cut the letter L and leave out from the printable template.
Glue the small leaves onto letter L however you want.
We hope you and your kids enjoy this fun letter L craft project.
More Options to Choose:
You can print the blank version and trace the cut outs on card stock paper for a sturdier letter l craft,
Print the letter l template in color for a simple and easy rainy day craft or,
Print the blank letter l template and use it as a fun coloring sheet activity and then glue the pieces of the letter l craft together.
Free Printable Letter L Craft Template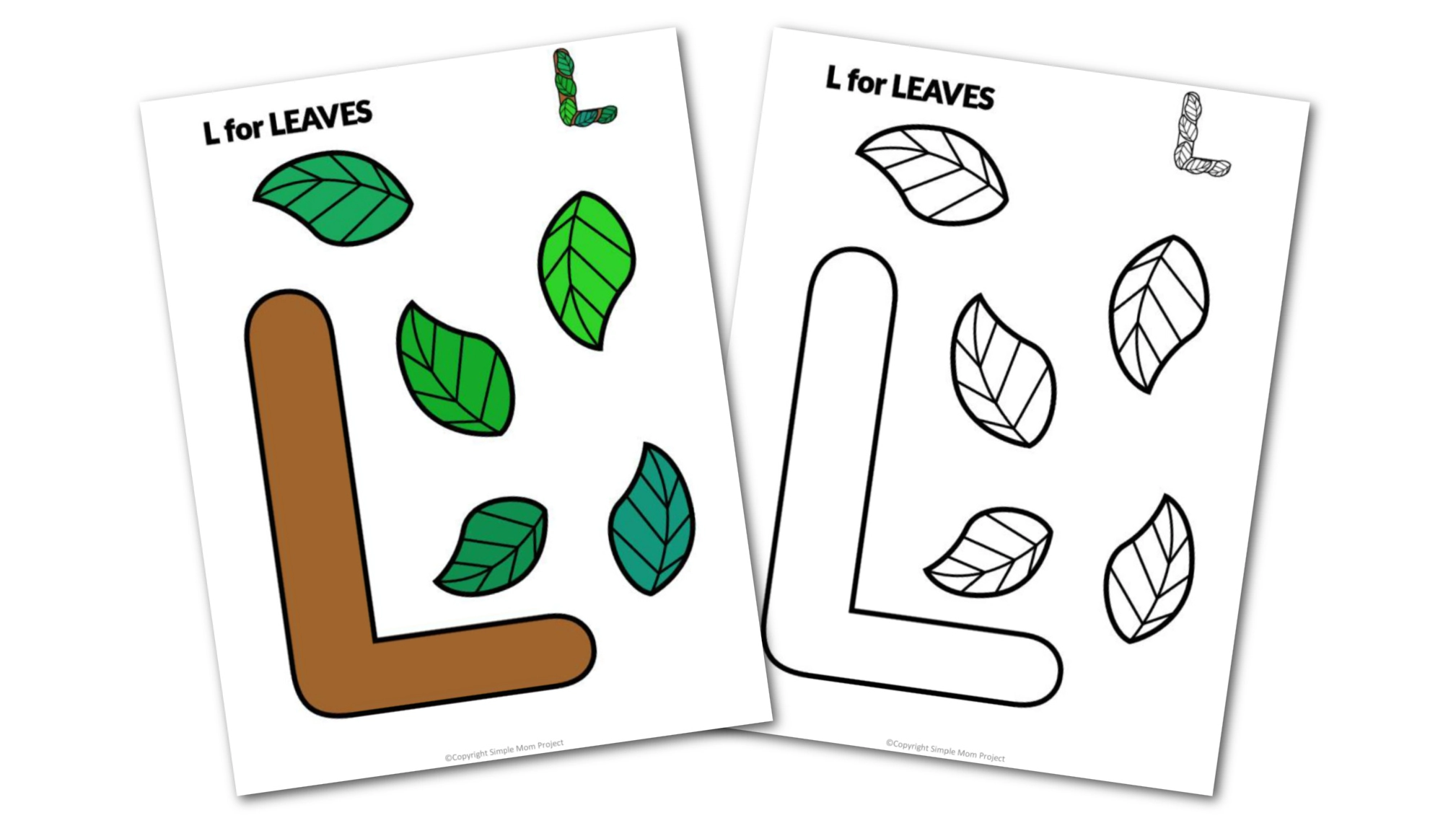 Enjoy the two versions of this simple printable letter L for leaves craft template now!
We have the plain letter L craft template with no color and the easy cut-and-paste colored letter L template.
Don't forget to share your learning plans in the comments.
Need more alphabet letters fun? Check out our packed list of alphabet for simple craft fun with your little ones.  
When you have finished, be sure to share your creation on Simple Mom Project's Facebook Page and follow me on Pinterest!

Kaitlen D.
More Fun Alphabet Crafts