Are your children ready to learn the letters of the alphabet?
If so, let's start with this free printable letter A for alligator craft template.
Making this simple printable letter A craft template improves kids' fine motor skills, color recognition, creative minds and focus.
Let's learn the alphabet! What letter comes next?
This free printable alphabet activity will help introduce the uppercase and lowercase letter A to your toddler, preschool and kindergarten.
Think of other words that start with the letter A, like apple, art, ant, airplane or astronaut as you work on this letter A craft patterns.
Once your little one is done with our cut-and paste letter A for alligator craft template, be sure to check out other printable templates that start with the letter A!
We have the free printable apple templates, apple craft, ant craft, angelfish coloring page and arctic animal coloring pages.
Keep scrolling down to see the step-by-step instructions and video tutorial on how to make this adorable letter A for alligator craft!


Need more crafty fun? Check out our Letter G, Letter O and Letter Z craft.
 T
hey are perfect for those days when staying indoors is the only thing your family can do!
*By the way, this post may contain affiliate links which means I may receive a small commission at no additional cost to you if an item is purchase through that link. For more information, click here.*
Free Printable Cut and Paste Letter A Craft
Ideas for Easy Preschool Paper Letter A Craft
We're glad to share with you these amazing ideas on how to maximize the use of free printable letter A craft templates with your kids.
1. Great ABC Books for Kids
It's important to encourage our children to read at an early stage.
Reading to your kids begins to teach them to recognize the sounds and rhythm of language while being relaxed.
The more your kids enjoy reading, the more they will be motivated to read by themselves.
Here are a few lists of my child's favorite alphabet books that can be paired with this free printable letter A craft template.
2. Interesting Alligator Facts
Take an imaginary trip to the zoo, when you make this easy cut-and-paste printable letter A for alligator craft template.
Here are some of the interesting facts about the alligator that would be perfect to discuss with your kids as part of the lesson plans.
Did you know alligators belong to the reptile family?
Which means that they are cold-blooded, have a backbone, and are covered in super dry, scaly skin.
Did you know that there are two types of alligators in the world?
The American alligator and the Chinese alligator.
Did you know that alligators are top predators in their environment?
They don't have a preference for what they eat.
Did you know that the temperature of each alligator egg will determine if it's a male or female?
Amazing, isn't it?
It's a male in warmer temperatures while a female in cooler temperatures.
3. Alphabet Bulletin Board Décor
Making this easy cut and paste letter A for alligator craft template brings so much and what's best is, it can be used to decorate the classroom's bulletin board.
Let your preschool and kindergarten have the best time in cutting and gluing the alligator pieces.
Use a hot glue gun to attach the clothespin at the back of each finished alligator craft – be sure to supervise them in using a hot glue gun or do it for them.
Add decorative items such as glitters, beads and sequins to make the alligator craft stand out.
Pin a memo or sticky note using this cute alligator craft or simply display it in the bulletin board.
4. Letter of the Week: Letter A
Making DIY crafts are so exciting and fun especially if it involves using recycled or inexpensive materials.
After making this cut-and-paste simple printable letter A for alligator craft, we decided to pick another letter A craft template that we transform into a party invitation.
Print out these free printable apple templates and have your child fill in the apple drawings with any color they like.
Glue the finished apple template at the front page of the folded construction paper.
Use a black pen to write down all the party details and distribute it to your loved ones.
We are confident your little one will never get bored making these cute printable alphabet letter A craft activities during the weekend.


Letter A Craft Supplies Needed
Printable Letter A Template (FOUND AT THE BOTTOM)
Keep scrolling to get your very own letter a craft today and start with your little ones and their alphabet craft buddies today!
Letter A Craft Instructions
Download and print the easy printable letter A craft template on a white sheet of paper.
My little one prefers to make the simple black and white version as it gives them the chance to fill in with great color combinations.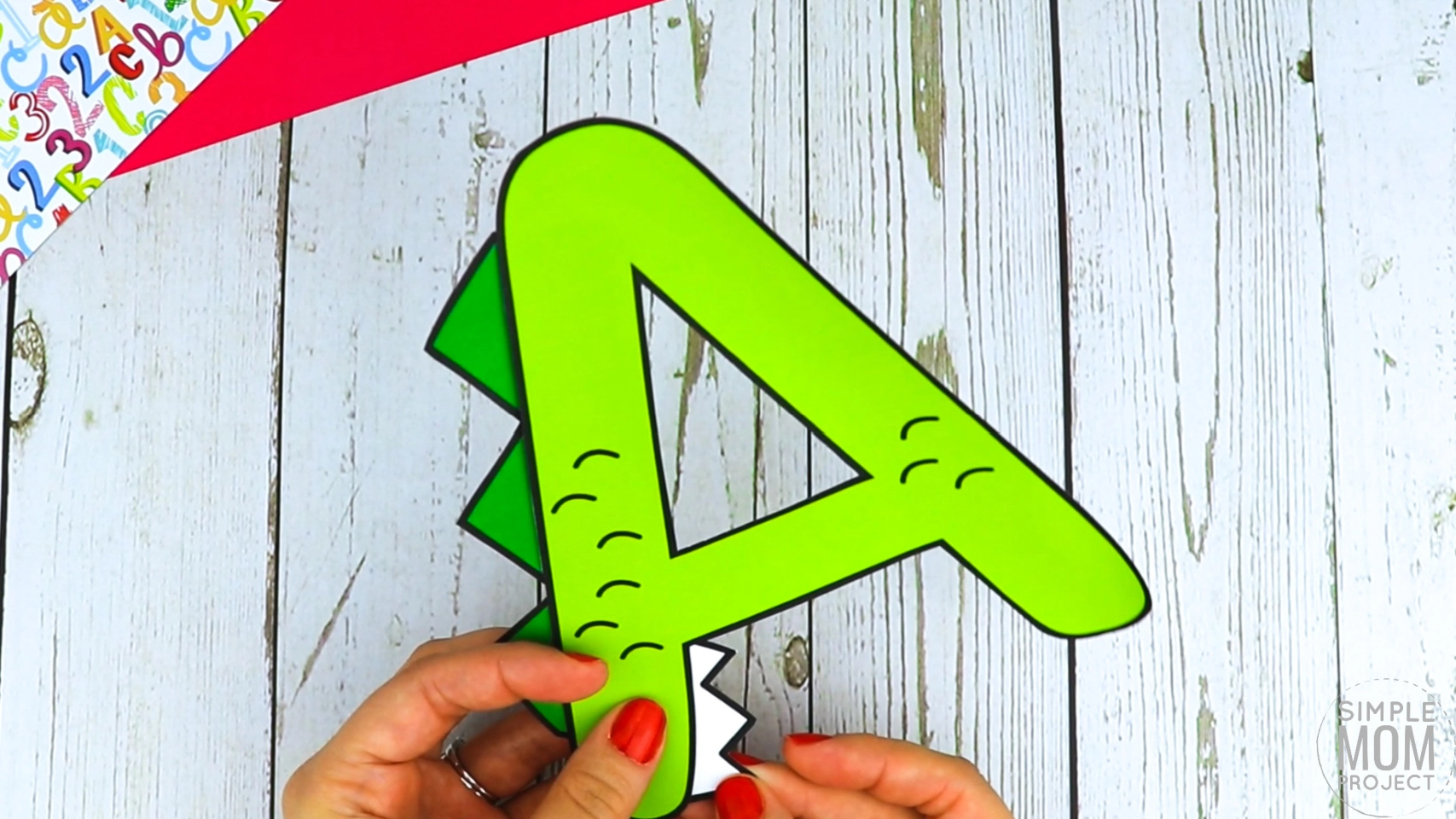 With the help of a pair of scissors, cut the entire letter A for alligator pattern out from the printable template.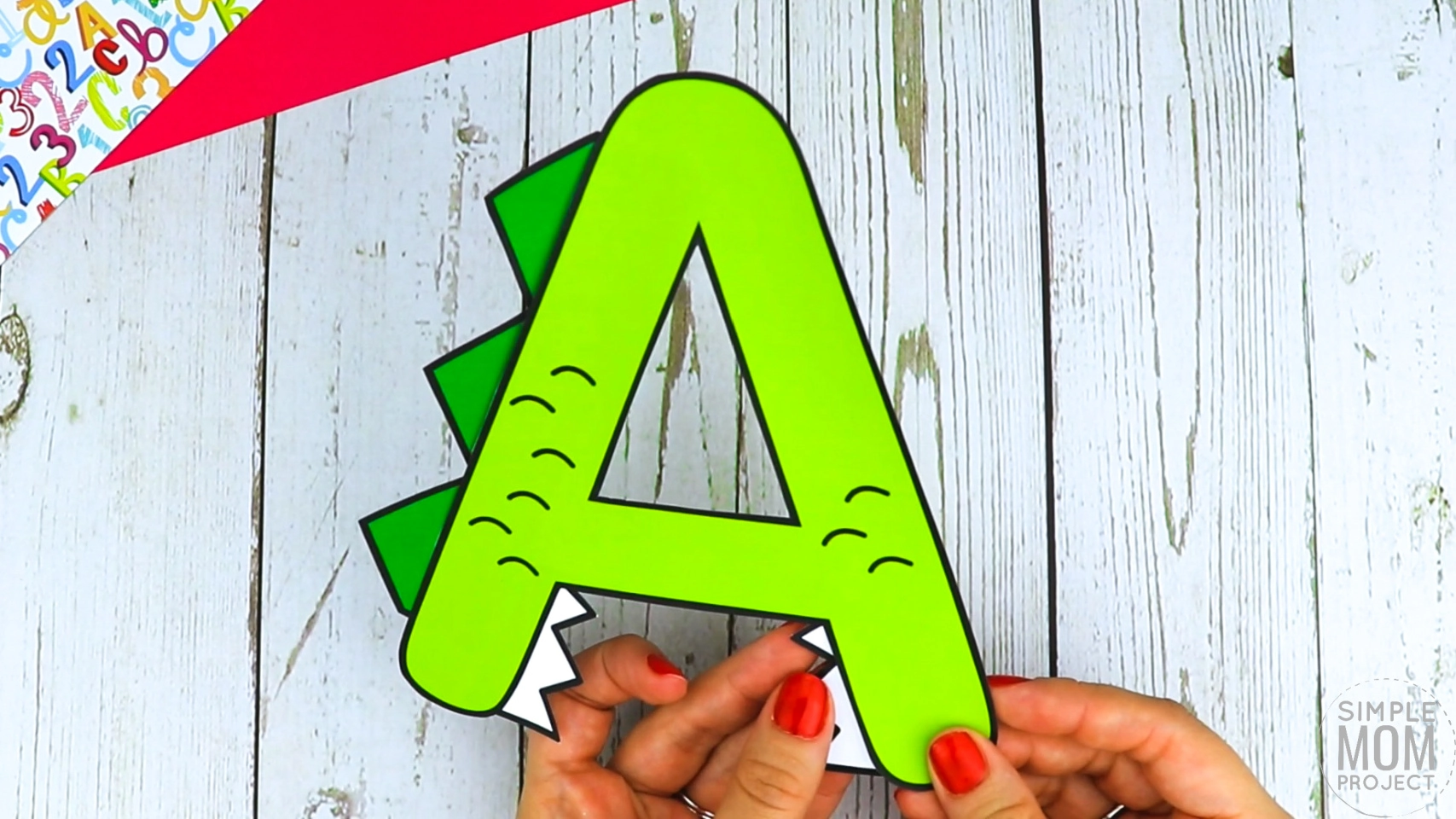 Use a glue stick to attach the scaly skin of the alligator on the left part of the letter A.
Glue the sharp teeth at the bottom part of the letter A.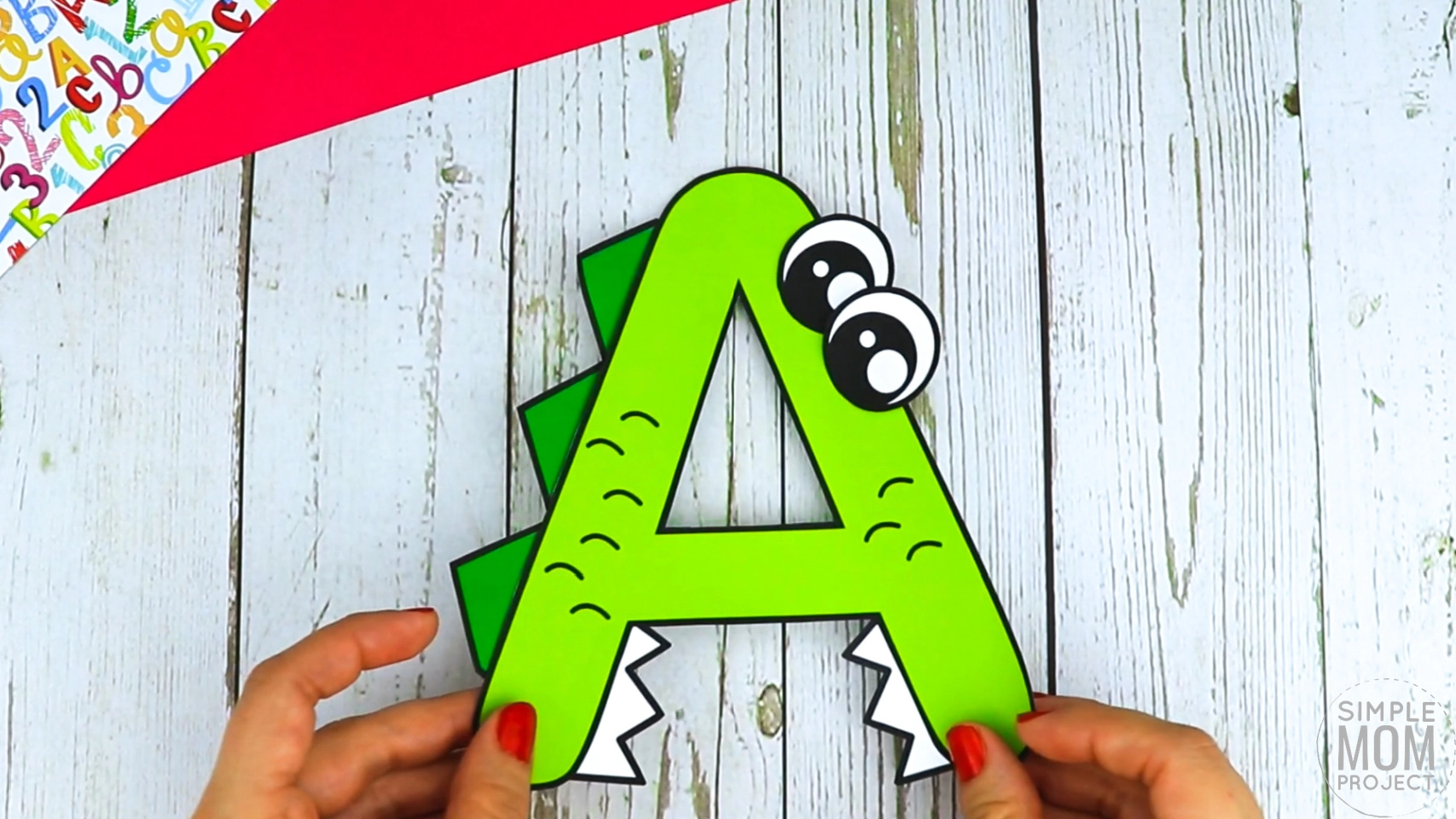 Lastly, glue the adorable eyes at the upper right part of the letter.
Your friendly alligator craft is complete and ready to join the alphabet learning.
More Options to Choose:
You can print the blank version and trace the cut outs on card stock paper for a sturdier letter a craft,
Print the letter a template in color for a simple and easy rainy day craft or,
Print the blank letter a template and use it as a fun coloring sheet activity and then glue the pieces of the letter a craft together.
Free Printable Letter A Template
Keep your children occupied for hours using the two different versions of this free printable alphabet letter A for alligator craft templates.
We have the plain black and white letter A for alligator template and the cut-and-paste colored letter A for alligator craft template.
Don't forget to share your learning plans in the comments.
Need more alphabet letters fun? Check out our packed list of alphabet for simple craft fun with your little ones.  
When you have finished, be sure to share your creation on Simple Mom Project's Facebook Page and follow me on Pinterest!

Kaitlen D.
More Fun Alphabet Crafts